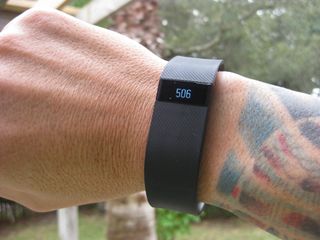 Fitness trackers seem to be attracting quite of bit of attention lately, and those looking for a tracker have a wide variety of options to consider. But while there are plenty of available options — one company seems to have risen to the top in terms of market share. Fitbit, who first launched back on October 2007, is closing in on 70 percent of the market with the number two player sitting down in the teens.
The stats by themselves may show Fitbit as being a dominant player, but that doesn't necessarily mean a Fitbit branded tracker will be the best option for everyone. That being said, given the wide range of models and price points — as well as the wide range of mobile device support — Fitbit does seem like a good place to start looking. We've seen the folks at Fitbit release several trackers over the years, including some that clip to your waistband, and some that are worn on the wrist. Just last month the Fitbit lineup grew by three. The new models include the Charge, Charge HR, and the Surge — and we took one of them for a spin over the last week.
The Fitbit Charge is essentially a replacement to the recalled Fitbit Force. It's a wrist-worn tracker that sports a rubber strap and small OLED display that shows your current data such as time, steps, and calories burned. It's a click up from the popular Fitbit Flex which doesn't show your data on the actual device, so it makes it a better option for those looking to view stats right on the device.
The Specs
OLED display
Battery Life: 7-10 days
Charge Time: 1-2 hours
Internal Memory: Detailed (minute-by-minute) data for 7 days, daily totals for 30 days
Bluetooth 4.0
Syncs with Android, iOS, and Windows Phone as well as Mac and Windows computers
Water-resistant to 1ATM
Band: Flexible elastomer material, with a surgical-grade stainless steel clasp
Band Size: Small (5.5 - 6.7 inches), Large (6.3 - 7.9 inches), X-Large (7.8 - 9.1 inches) and 0.83 inches wide
Records steps, distance, floors climbed, active minutes, calories, sleep
Ships with USB charging cable and wireless sync dongle (used to sync with a Mac or Windows computer)
Colors: black, slate, blue, burgundy
Price: 129.95
The Band
As mentioned, the Fitbit Charge is available in four different colors — those include black, slate, blue, and burgundy. I've been wearing the black model, and overall is has been a comfortable experience. The band is a soft rubber that feels similar to a band you would find on a sports watch. The folks at Fitbit describe it as being made of a "flexible and durable elastomer material". There are a few size options for the band, and regardless of whether you opt for the small, large or x-large size — you'll have some play. The Fitbit Charge secures to your wrist with a stainless steel clasp which simply snaps into the openings on the band. Otherwise, the band is smooth on the inside, and textured on the outside.
Aside from the band and clasp, those looking towards the Charge can also expect a small OLED display. This allows you to quickly and easily check your current stats, and also shows the time of day and date. You activate the display using a small button on the left side. A single press of the button will cycle through the details and a press and hold will activate an activity timer. The band tracks your steps, distance, floors climbed, active minutes, calories, and sleep using a three-axis accelerometer. There is also a vibration motor which will buzz for alarms or for when you meet daily goals. The vibration motor was strong enough to wake us from a sleep, and was also easily noticeable when we hit our 10,000 daily step goal. Overall the vibration seemed to work well as long as the band was tight enough on the wrist.
Sticking with the topic of sleep — the sleep tracking on the Fitbit Charge is automatic. Basically, this means you'll be able to go to sleep and not have to worry about pressing any button to activate the sleep mode. As someone that had been using a tracker where the sleep mode needed to be manually started — this is a killer feature. But on the flip side, this also means there is some room for error on lazy nights. One night in particular I was laying down watching television — not asleep but also not moving much — and the next morning the band showed I was "asleep" during that idle television time. Overall though, assuming I wasn't being lazy and laying around watching television before bed, the sleep tracking seemed pretty accurate. You'll be able to see the time you fell asleep, and the time you woke up. Fitbit also details any awake and restless times during the night. There's always the option to tweak the actual times you were asleep too, so you can correct any errors like this that may arise in your sleep cycle.
Another perk of the Fitbit Charge is the long battery life. Fitbit estimates up to 10 days, and it seems that may even stretch a bit further. Starting with a full battery, we first checked after 5 full days of use and had more than 50 percent remaining (with background sync turned off in the mobile app). From there it took us less than one hour to bring the band back up to a full charge using the included USB cable. The cable is easy enough to connect to the band, and the charging port sits on the inside and under the display. The one drawback would come if you loose the cable as a replacement would need to come from Fitbit.
Our last point here is how it can handle some water. Officially, the Fitbit Charge is water-resistant to 1ATM. Essentially this means you should not have to worry about some sweat, or even getting caught out in the rain. On the flip side, we wouldn't suggest trying to swim or wear this regularly in the shower — however the unit we have been testing did accidentally step into the shower a few times without issue.
Depending on your activity you'll also likely want to wash the band every so often. The folks at Fitbit suggest using a soap-free cleanser, and if the band should get wet they say to remove and dry it thoroughly.
Mobile App
Along with tracking all the key items and accurately reporting them, one of the bigger perks for the Fitbit comes with device support. Fitbit devices, including the Charge, are compatible with Android, iOS and Windows Phone devices. The folks at Fitbit have said this includes support for more than 120 mobile phones, and tout this as being "more than any other tracker brand." Device support is as follows;
Android: Version 4.3 and Bluetooth Low Energy (LE) are the key points. Bluetooth LE support was officially added with Android 4.3, which means most devices with 4.3 or later should be supported. This also means select devices with older versions of Android may work.
iOS: Requires iOS 6.0 or later, and can be used on an iPhone, iPad, or iPod touch.
Windows Phone 8.1: (Also noted was that Lumia devices need to be running the Lumia Cyan firmware).
Essentially this means you should not have much trouble getting the Charge to sync with a newer model smartphone. We'll get more into the computer sync in a bit, however there may be some value with installing and using the mobile app even if it doesn't support direct sync with your smartphone. Fitbit is cloud-based, which means the data entered using the mobile app will be available using the web interface, and vice-versa. This means you can use the mobile app to keep current with your water and food intake as well.
The mobile app shows details on steps, floors, distance, calories, active minutes, sleep, and weight. These items are presented in a list and they can be adjusted so the items you feel most important are towards the top. Along with the daily totals, a tap of any of the activity data points will bring a more detailed look. Using the steps as an example, you can easily see your current daily count, as well as the count for the previous day, and previous week. The detailed look also shows when (what time of day) you are taking those steps.
Once your Charge has been paired you can do a bit of customizing. Using the left-hand navigation menu you can tap Devices, then hit the Charge. From here you can see the current battery life, when it last synced and whether the Charge is set to sync in the background. We found that keeping background sync turned off helped quite a bit with battery life. This means you will need to launch the app to sync you device. Otherwise, this is where you'll set whether you want incoming call notifications on the Charge. Remaining Charge specific options include stating whether it is being worn on the dominant, or non-dominant wrist, the clock style, greeting, main goal, and the order in which to display the stats.
Desktop Sync
As mentioned, your data syncs over the cloud. This basically means your data will be viewable on the web and on a mobile device — regardless of which you actually sync with. Those unable to sync directly with a smartphone should look towards syncing with a computer. In our experience, the computer sync works well. The included USB dongle is small, and therefore is able to be left in the computer if you choose to do so. More important is that you can sync with either a Mac or Windows computer. On the Mac side that means 10.6 or later, and on the Windows side that means Vista or later.
Web Interface
Similar to the mobile app, the Fitbit web interface (dashboard) offers a customizable view with quick access to daily totals. The web setup is tile based, and users are able to drag and drop tiles to show the data in the order they feel is most important. You'll be able to see details on steps, floors, distance, calories, active minutes, sleep, and more. Clicking any of the daily total cards will bring a more detailed view. Using the daily steps as the example, a click of that card will show your current week totals, your daily average, and more. The web dashboard also makes it easy to view other items such as friends, and any badges (awards) you may have received. Fitbit offers badges for items such as most steps in a day, lifetime distance, highest amount of floors in a day, and weight.
Mobile vs. Web
Overall we found the mobile setup to be most useful, however the web interface (and desktop sync) is a nice plus — especially for those who may not have a compatible mobile device. Both of the setups allow for easy viewing of daily and detailed stats, but in our experience it felt easier (maybe more convenient) to enter items such as weight as well as water and food intake using the mobile setup. And although we felt battery life was more important than background syncing, it was nice to be able to sync at any time, as opposed to when you are in front of your computer. Of course, the display on the Charge means you can view current stats at any time.
Bottom Line
I should mention I went into this Charge review as a Fitbit user. I've always liked the device support offered by Fitbit, and how you can access your data from a mobile device or regular computer. I've also used it long enough, and feel comfortable enough in making a recommendation. My Fitbit of choice had been the One because I've preferred to wear a tracker that clips on my waistband, as opposed to taking up wrist space. In fact, while the Fitbit Charge worked really well, and was comfortable to wear all day and every day, my only real complaint was in regards to available wrist space.
The Charge isn't able to replace a smartwatch, and as a result I found myself wearing a Pebble on the left, and a Charge on the right. That by itself isn't all that bad, except I run frequently and always wear a Road ID just in case something happens. This meant doubling up on the right wrist. Naturally, this is a personal use case.
Basically, what I can say is that the Charge was comfortable to wear, and that it fits perfectly in the Fitbit device lineup. Or in other words, it works with the mobile and web interface as well as any of the other Fitbit trackers. If you are looking for a wrist-worn fitness tracker, the Charge should be one to consider.
The Charge is priced at $129.99, and otherwise, it sits below the Charge HD and Surge in the Fitbit lineup. In comparison, the Charge HR and Surge both offer continuous heart rate monitoring, and the Surge steps up even further with GPS tracking. Additional specifics on the other Fitbit trackers, as well as many others can be found in our fitness tracker buyers guide.
hope if real Madrid can use Microsoft band. this would be a promoting band for sales on europe if Microsoft ever wants to release it there

Is it any better than the MS band?

Absolutely Not even with a longer battery life

It is so basic, MS Band is more complete.

Why does connectedly care more about ps4 than Xbox one? Been meaning to ask that for a while.

Yeah u read my thoughts , when xbox was released, it was like huh nobody cares!

the PS4 has bluetooth, and the xbox one does not. that means any bluetooth LE device can connect to a playstation.

The ugliest.
Edit: Apple watch aglier

Agree. And Apple Watch is thick, too.

BAND is much much Better!

Looks great and you could probably find one at the store.

Nope. They wont be available until after the holidays (unless that has changed since a week ago).

After the holidays is fine with me. If it comes earlier, even better. I just don't see owning a Band yet. The band it too thick. Reminds me of Jawbone.


Jumped from version 4.1.1.2 to 4.1.2.1
I guess bug fixes

Thanks good to know u Fahmi, where u from ? Im from lebanon.

Fahmi Bassem, 17 years old, I'm from Saudi Arabia, and owns the awesome Lumia 720

I own two lumias:920 and 520 and im 15 years old

Nice to meet you :)
I would like to be friends

Add me on facebook
Fahmi Bassem Mukbil

The same as the one on this site

Good to see you people in the middle east are optimist despite all the wars that's been happening.

Thx dude we are all in one hand but u know isis and other stuff affects arabic govermental relationships!

Cool. I'll still get the band when it's available though.

anyone know if this will this sync to the HTC 8x

I'm planning to buy this, just one question. Can it differentiate walk to jog or sprint on the steps tracking part? Cause I do a lot of running lately and I know that the calories burned differ when you're running or just walking.

My wife and kids got me a fitbit flex for fathers day (force was recalled), my main question is the charger any better. I have been through two of the flex because I think if you are active the design is horrible, I find myself spending 5-10 minutes just to get the charge started.

The Charge is a nice upgrade from the Force. It's one major drawback is that it does not Windows Phone support for caller ID.

Damn that was one of the main reasons I was going to get this. Is this a Windows Phone API problem or something that could get added with an app update?

It's my understanding Fitbit is working on supporting Windows Phone with the caller ID feature but there's no ETA on things. You would think it's an easy fix seeing that the Band has this feature.

Does it work with Microsoft Health?

The battery on my flex has taken a dive after only 5 months. I noticed moisture inside the tracker itself through the clear plastic. Haven't been able to get a replacement yet.

Sorry to hear that. If you want to PM me your customer support number I can try and escalate it for you. :)

*Site double posted my comment.

When will the Surge be available and should I get it or the MS Band?

Mine wont sync with either my surface pro or lumia 920, so I think it is faulty

You're gunna show us the andoid fitbit app on windows central? Wtf

I am waiting for the Fitbit Charge HR..

Thanks, looking forward to the Surge review in the future.

A better comparison. To the MS band is the Fitbit Surge.

1ATM is 33feet (10m) of water... presumably they mean 1ATM below the water (which is actually 2ATM, since 0ATM is in space).
If that is the case, swimming and snorkling should be no problem. Not sure why you'd recommend not taking it into the shower.

Can it be synced with Surface 2(RT)?

I have the Fitbit flex which shares most of the features with Charge including the wristband and the steel clasp. The clasp will snap out by itself. I dropped my first device few times. I always tracked it back using the phone sync but finally I lost it in the Airport. Fitbit guys were so good, they quickly sent me a free replacement. May be they are aware of the poor design. I started to secure my replacement device with a small velco band. It was a nice and easy fix. But after two weeks, the device stopped holding the battery charge. The device will discharge from a full charge to zero in about 6 hours. Contacted Fitbit once again and they are sending me another replacement. May be I got a lemon, but I am really impressed with Fitbit and their customer care. When the device works, it is awesome.
Windows Central Newsletter
Thank you for signing up to Windows Central. You will receive a verification email shortly.
There was a problem. Please refresh the page and try again.