Why Grover Pro is still the best podcast app for Windows 10
By Richard Devine published
It's been a while since we talked about Grover Pro. And guess what? It's still the best podcast app on Windows 10.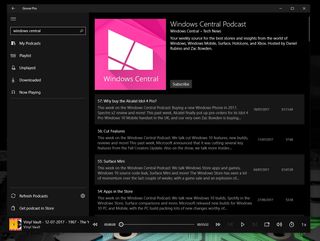 Grover Pro comes highly recommended by our own executive editor Daniel Rubino, and you can read all about it in his post from early 2016. Back then the phone version was still in development, but time has passed and the app, and its developer, hasn't stopped.
For example, this excellent Universal Windows Platform (UWP) app is now also available on HoloLens and Xbox One. OK, basically no one has the first device, but lots of people have an Xbox One.
Over a year after we last took a proper look, we're going back into Grover Pro to see why it's still the one to choose for Windows 10 podcast fans.
Download Grover Pro from the Windows Store (opens in new tab)
Grover Pro feature list
UWP app available on Windows 10 PCs, tablet and Mobile, HoloLens, Surface Hub and Xbox One
Import and export OPML feeds
Stream audio podcasts
Video podcasts with casting support
Search and subscribe to podcasts using the search box
Option to automatically remove podcasts already listened
Option to show system notification
Option to automatically download new podcasts
Reorder the podcasts catalog (drag and drop)
Light and dark themes
Great form and function
I've often said that there are third-party apps on Windows 10 that outperform equivalents on other platforms and apps from big developers. The same is true of Grover Pro. It's definitely better than Microsoft's own podcast app, and I'm happy to say it's better than the Apple app you'd find on an iPhone or iPad.
If you're looking for a lesson in what Windows 10 apps should "look like," Grover Pro is towards the top of that class. It uses the split view/hamburger/☰ menu to hide the options while your podcasts fill the main bulk of the screen.
The default view is "My podcasts," and on start, Grover Pro will refresh them all, pulling in new episodes. This, like many other options, can be disabled, but I find this better than having a background task to do the same thing. If I open the app I want to listen to a podcast, and that few seconds for it to refresh doesn't hurt me.
You've also got a two-fer in terms of downloading new episodes. There's an option in settings to download all new episodes, but you can also disable downloads over metered connections. That way you can load up at home on your latest shows just by opening the app, saving your data for when you need it most.
I'm also a big fan of using OneDrive to sync the app data across devices. No other accounts are required, just the one you already have. Grover Pro also uses the iTunes API if you want to use it to help you find new shows. iTunes is probably the biggest database of podcasts around so that doesn't hurt.
A top app on all devices
I don't have a HoloLens or a Surface Hub to try this out on, but I'm sure it's very good. It's also very good on mobile as well as on the Xbox One.
Our previous look at the app focused a lot on mobile, and everything above applies. There's no shortfall in going to the smaller screen, you get all the same options as you do on PC, and it's absolutely the best choice for podcast fans on the go.
Since our first look, Grover Pro made the jump to the Xbox One.There are no corners cut, so you get everything you might want. That is, all the features from the PC and mobile version, but with a slightly tweaked interface for the bigger screen.
The "now playing" screen is a little different, and by that, I mean better, and you've got full background audio support too. So if you'd rather listen to podcasts while gaming, you can, and you also get the little audio control widget for the app in the Xbox Guide.
Navigating with a controller is very easy, and since everything is in the same place as it is on the PC version, it's immediately familiar if you already own it.
Getting apps like this on the console is one of the big wins from the UWP project.
Bottom line
In our original look, Rubino said he couldn't see a better podcast app for Windows 10 at that time. Fast forward just over a year and that still stands. Only now, that $2.99 asking price is an even better value. You're getting a slick, well-designed application, and you're getting it on your PC, tablet, phone and your Xbox. HoloLens support already means we're looking good for the future inside Windows Mixed Reality.
If you like podcasts and you like great apps, go buy this one.
Download Grover Pro from the Windows Store (opens in new tab)
Richard Devine is an Editor at Windows Central. A former Project Manager and long-term tech addict, he joined Mobile Nations in 2011 and has been found on Android Central and iMore as well as Windows Central. Currently you'll find him covering all manner of PC hardware and gaming, and you can follow him on Twitter and Instagram.
I've been using Grover Pro pretty much since it released. It's been great, but since build 1.5.5 or so, most of the interface has stopped accepting mouse/trackpad input, so I am forced to tab around to access anything. Anyone else experience something like this with the app, or any other apps? As far as I can tell, it is only affecting Windows 10. Windows 10 Mobile and XBox don't seem to exhibit the problem. Despite the issue, I still prefer it to anything else, especially grateful that he continues to support W10, W10M and XBox

No issues with that here. Wrote this post this week and everything is still hunky dory.

Well dang! Because I use this everyday and it is really a hassle :( I've tried uninstall/reinstall and the issue persists. Not sure what else to try other than a wipe.

Maybe a full store cache reset?
http://www.thewindowsclub.com/reset-windows-store-cache

great app, I am having the same problem. most likely due to me being on insider fast ring. already notified the developer and see if it is fixed on next insider build. or app update. the non-pro Grover still works.

Not sure why the negative vote here. Just asked a question and then I gave thanks to the developer. I guess that deserves a negative response.... In any case, the developer released a new build today that fixed all of the issues I was having, so even MORE KUDOS to the developer. He's doing an awesome job.

would love it if they did an android version. loved it on windows phone and they way it syncs across all devices. however since I've got a crappy S8 I can't find anything that will sync with my surface and desktops

Pocket Casts will, but you have to use the web interface on desktop (which costs extra). They do have a Windows mobile app, but I don't think it's been updated in ages. Their Android app is so good (and that's generally what I use), I live with their sparse Windows support.

Pocket casts is very good on Android. It's my go to for podcasts. As to the windows app: they scammed us. Took our cash, threw out two updates and went down the street to get cigarettes at the corner store two years ago. RIP.

I've just been looking at podcast apps, I tried a few but settled on Podcasts (Beta). But I'll give this a try.

It would be awesome to be able to try before you buy it, it's not a cheap app here in my region, and to be honest, it doesn't necessarily sound like it's a lot better than the one I'm using now. Besides this, it wouldn't hurt if MS updated the native podcast app, which is pretty good too. Lately I got periodic errors that made it impossible to play podcasts unless I rebooted the phone. That's why I searched for new apps.

I've been using Podcasts(Beta) also. It seems to have the same features as Grover Pro.

I've been using Podcasts(Beta) also. It seems to have the same features as Grover Pro.

it even has a nice interface for Driving and being open source allows for little tinkering. I forked it and added CompactView. Another feature that I didn't realize just how awesome it is is the optional video playback, I can have the same Podcast on mobile and desktop and only have the video playing on desktop.

Yeah, it's really solid and to begin with, the interface is better designed. This one looks like it's straight out of the WP 8.1 days.

never had that problem. I would suggest a cache reset as well.

I really like Grover Pro - simply because it can 'find' more podcasts than the stock Podcasts app can. But, my two biggest frustrations (which I believe have more to do with Windows 10 Mobile than GP itself...) is that when I'm listening to a podcast and also the stock Maps app for directions the podcast DOES NOT pause. Frustrating that I'll lose 5-10 seconds of audio (especially when I'm in the car). The other frustration (and this is W10M wide) is that doing some actions on the phone while listening to a podcast/music through Bluetooth headsets/speakers can really mess with the audio quality. Other than that - GP is excellent.

I'm a big fan of the Grover app. Use it on W10M on my Elite x3 as well as Windows 10 on my Surface Book.

Got it 2 week ago a great buy

There's just one little thing though. When you're playing, let's say, episode 328 os a certain podcast, and want to play the next one, you have to manually enter the podcast list and scroll aaaaall the way down until you find the episode 329. On the official windows phone 8 podcast app, if you click on the podcast name, it automatically jumps to the list at the right position. Other than that, I absolutely love Grover Pro. Specially cause the developer is from Brazil like I am, makes me a little proud!

It can't do that?? It's a joke of an app, then! This recommendation is so off.

What I don't understand is why Microsoft has no official podcast app on Windows 10.

I like ACAST quite a lot. I'll have give this one a try.

I can also recommend this app. Have tried the native windows app. But the functionality, build layout and options has surpassed it. Tried pocketcast, but I kept going back to grover because I like it's functionality and full support in the windows ecosystem better. I use it almost daily, more on windows 10 mobile than the windows 10 app, But I sometimes interchange use of one or the other depending on convenience or mood. A nice thing too is the possbility to download podcasts for offline listening.
Only drawback is that it is a bit more difficult to listen and download podcasts with paid subscriptions because you often need a login for that. Would be nice if there was an in app solution for that. One bug I have continually had is that when I want to pause or start a grover podcast from the lockscreen, I have to press the play or pause button twice. Other apps don't have this.

The native podcast app also let's you download podcasts for offline listening, you know. It's how I used it.

its better than any wp and droid podcast app!

Grover Pro looks nice but Podcast Lounge is still the most functional on phone to me. In addition to everything Grover Pro does (except a desktop equivalent) it also has "smart playlists", a must have feature for me.

Podcast Lounge has issues with releasing ghost files on windows 10 mobile causing it to use up storage space

The only issue I have with the app is the cross device syncing is terrible. I listen to podcasts on my phone and desktop and like to have them synced. Grover constantly has problems syncing. Pocket Casts handles that well but doesn't look like it will ever get updated on Windows.

The only thing missing is Bluetooth seek control support; being able to skip forward/reverse using an external control

I like the app, but my but am annoyed when I have a playlist all set and accidentally hit play on a different podcast. My playlist is wiped out and replaced with the one episode I hit - usually by accident. No prompt, no way to get it back - just a playlist that needs to be rebuilt again.

Amazing app, I use it every day.

Not a good buy for me.. Rather a waste of money. On PC.... The free edition supports a podcast which I pay for (enter user name and password), however the PRO version just doesn't pick up this show when I do my import (Jim Rome Show). While I emailed the developer that the free PC version gives me a function the Pro on fails at.... It's still not fixed and it's a deal breaker for me. Using Podcasts(Beat) but on PC... I lose the last 4 or so seconds of each show for some unknown reason if I have a playlist loaded. Weird

Personally, I think it's the best Windows app period.

Now that windows phone is defunct, any chance grover pro will show up on Android?
Windows Central Newsletter
Get the best of Windows Central in in your inbox, every day!
Thank you for signing up to Windows Central. You will receive a verification email shortly.
There was a problem. Please refresh the page and try again.