Rising from the ashes, the Zune HD still lives?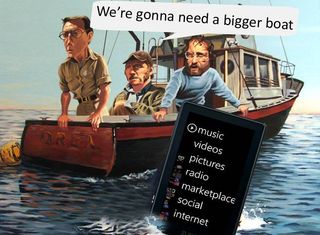 You've got to wonder if Mark Twain had the Zune HD in mind when he said, "The rumors of my death are greatly exaggerated". Yep, that's right. It looks as if the Zune HD is still kicking.
Remember yesterday when we shared the Zune HD support page that said the devices were no longer in production? Where Microsoft would continue to honor warranties and support the devices but were focusing on the Windows Phone as their mobile music and video devices? Well that page is now gone.
You also have a tweet from @ZuneSupport stating that support page was added in error. Just as pulling the Zune HD from sales channels was a publishing mishap?
We still believe that Microsoft will end production of the Zune players. Microsoft may just need a bigger boat to pull the Zune HD off the market. Either that or get the Zune Team all on the same page the next time they report the unfortunate death of the Zune HD to avoid a trilogy.
via: @WP_DownUnder/WP Down Under
George is the Reviews Editor at Windows Central, concentrating on Windows 10 PC and Mobile apps. He's been a supporter of the platform since the days of Windows CE and uses his current Windows 10 Mobile phone daily to keep up with life and enjoy a game during down time.
ouch they could still stay in the market maybe

No doubt this is the biggest mindf*ck of all time!

I'll say it again that the HD with a full 2 year production run is actually quite a feat. If it's discontinued now it's not a real plug pull. They never specifically said new players were completely off the table, although unlikely at this point with the way the market in general is trending but if they don't it's not for lack of demand for a new Zune as it is a lack of demand for a dedicated PMP. I don't expect Samsung's Galaxy Players to last very long, although if they do take off to any extent Microsoft could very well say "why not put WP7 on that" and there's your new Zune. You never know.On a sidenote, with all of these death confirmations and retractions I kind of now want to nickname my HD Rasputin.

I agree, put wp7 on a non phone device. Especially now since Zune pass has expanded to other countries. I say offer a competitive price Zune HD device running wp7 and include a 1 year Zune streaming pass.

We all know the truth MS. The Zune is dead. Make it official and stop toying with us. And once you kill the Zune make a new Metro PMP to replace the Zune. Actually, Metro isn't a bad name for a PMP. Microsoft, make it happen.

I've loved Zune from the start, but I actually thought the plug was pulled 6+ months ago!

yes now i just want them to cross platform the apps and the zune HD will come to live... if they can somehow make the zune able to use wp7 apps it can grow once again... personally i wouldnt give my HD to anyone let alone all my other zune devices

Hey George!That's MY Tweet you appropriated :P The least you could do is give my article on this a by-line LOLhttp://www.wpdownunder.com/?p=2743Grumble grumble grumble :DSheeds.

PS the error may be to do with the TIMING of the page post, not its actual publication date :P

Tnx Daniel (and George) :P :) YOU guys miss NOTHING! (Did you see I added you to my links session! #Winning!)

See that confuses me a bit, anyone who has a Zune HD like me might notice that there are still new apps by Microsoft still being added for that device.

I love my ZuneHD and I'd totally by a WP7 based PMP. Something that could run apps and play my music first and foremost. I don't like the idea of using my phone as my primary PMP. :/

For you guys that have a Zune, have you connected it to your car and will it be recognized as a USB device?The reason why I ask is because my car can play MP3s from anything I plug into its USB port provided it can show up as a mass storage device like a USB key. Most of the time I just plug in my 16gb USB key and the radio does the rest. Would love to use the Zune instead that way I can take the music with me when I leave the car

My car supports playing and controlling most MP3 players via its USB port. It supports iPod/iPhone and Zune, among other players. Unfortunately, even with Mango, Windows Phone still does not work. I really wish they could have at least brought over the same USB interface that the Zune uses so that compatible accessories/devices would still work.

I feel it's time to kill the Zune brand. Even though we all know it's awesome the rest of the world kind of looks at it as a joke. It's time to rebrand it and relaunch it. I'm for making it part of the Xbox family. Maybe call it the Mbox or Zbox or Xbox Music Player. I don't know but the Zune brand failed and it's time to rename it to something else.
Windows Central Newsletter
Thank you for signing up to Windows Central. You will receive a verification email shortly.
There was a problem. Please refresh the page and try again.