Roccat Kova AIMO review: A top ambidextrous mouse at a phenomenal price
By Richard Devine published
Roccat's Kova AIMO is an excellent gaming mouse for both right and left-handed players, now with RGB.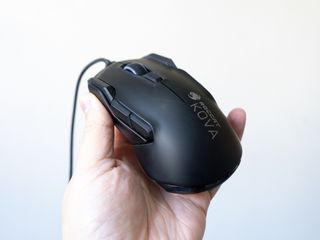 (Image credit: Windows Central)
It's sadly all too common that the best gaming mice around are exclusively available to right-handed players. Using your left hand shouldn't exclude you from the best hardware, and thankfully there are some manufacturers who take this into account.
One of these is Roccat, which has had the Kova, a superb ambidextrous mouse on sale for some time. The latest revision is the AIMO, and the good news is that it's still a superb ambidextrous gaming mouse.
(opens in new tab)
Bottom line: Roccat still makes one of the finest ambidextrous mice money can buy and it's amazingly affordable.
For
Ambidextrous
Ergonomic design
Lots of customization options
Fantastic price
Against
Stiff cable
Fairly rubbish software
No real upgrade over previous Kova
What you'll like about the Roccat Kova AIMO
The shape of the Kova AIMO has been around for a number of years now, with this latest model a refinement rather than a reinvention. I spent some time with its predecessor as my own go to, and I'm pleased that the basic form has remained intact.
That's in part thanks to its ambidextrous design. I may be a right-handed gamer personally, but I appreciate a product that doesn't exclude my left-handed friends. You simply tell the Swarm companion app which hand you intend to play with and you're good to go.
The ambidextrous design doesn't come at the cost of ergonomics, either. The symettrical shape sees three programmable buttons on each side of the mouse, along with the scroll wheel and DPI switch in the center. The position of the buttons is pretty much perfect, with all easily pressed without the need to adjust your grip.
The switches in each of the buttons are nice and clicky, too, with a quite firm, but quite crisp feeling as you click each of them. It's very satisfying, and importantly, when you're playing something like a shooter, you've got excellent response for rapid fire and maximum fragging. The scroll wheel is equally good, with a nice firm resistance, good for making sure you don't accidentally switch out to your sidearm at the wrong moment.
The Kova AIMO boasts a 1ms response time, a 1000Hz polling rate and on the bottom, a 7,000 DPI Pro-Optic Sensor. That's not the highest DPI on a gaming mouse by a long stretch, but for the vast majority even 7,000 is too high to actually game with. Don't be lulled into thinking it's bad because that number is lower than others.
I generally use my mice at 1,800 DPI for every day use, and the Kova AIMO is no exception. It's fast and accurate for regular computing, and I prefer using in-game settings to adjust the sensitivity while keeping the mouse set the same. Performance wise it feels excellent with no signs of latency.
The weight is pretty good, too, coming in at 99g. It's a lot heavier than something like a Razer Viper, but still not to the point it's going to cause any wrist discomfort.
Oh, and the big visual change to the AIMO over the previous Kova is RGB lighting. It's not really a mouse that screams out for it, but if you like a splash of color it's done tastefully, with accents at the rear and around the scroll wheel about all you get. But it's customizable, too, so go nuts.
What you'll dislike about the Roccat Kova AIMO
The Kova AIMO is pretty hard to pick genuine faults with. Probably the biggest nag I have with it is the cable. It's very stiff, though that should change over time, but it does also lead to snagging. A mouse bungee is a simple way to make this better, but if you don't have one, it's hard to suggest you need to spend money to make using your mouse better. If you don't though, be prepared to catch the cable on pretty much anything on your desk.
The Roccat Swarm application is also, well, just OK at best. If you're only going to interact with it sparingly, it's fine, equally Roccat is certainly not alone in perhaps needing to spend a little more time on software design. But it's far too much of a pain to get set up properly, is horribly dated looking and just not something you want to spend any time in.
It's also not really an upgrade if you already own a previous Kova. Aside from a little subtle lighting, it's basically identical to the older one, so you can probably skip the 'upgrade.' And honestly, unless you're buying into the Roccat ecosystem, the lighting is probably lost on you anyway, because you won't be keeping it synced up with anything else.
Should you buy the Roccat Kova AIMO?
The Kova AIMO is a very good mouse, if certainly a little frustrating to use out of the box thanks to the rigid cable. It's especially good if you're left-handed, because it's absolutely packed with customizable buttons and has excellent in-game performance while retaining some solid ergonomics.
It might not be much of an upgrade over the previous model, but the fact the Kova is still kicking around many years later is testament to its overall quality. Getting a good ambidextrous mouse is harder than it needs to be, and this is one of the best ambidextrous mice you can buy.
Right or left
(opens in new tab)
Doesn't matter if you're left or right-handed

Still a great design, packed with customization options, a ridiculously attractive price and the chance to be used whatever hand you like to game with.
Richard Devine is an Editor at Windows Central. A former Project Manager and long-term tech addict, he joined Mobile Nations in 2011 and has been found on Android Central and iMore as well as Windows Central. Currently you'll find him covering all manner of PC hardware and gaming, and you can follow him on Twitter and Instagram.
Windows Central Newsletter
Get the best of Windows Central in in your inbox, every day!
Thank you for signing up to Windows Central. You will receive a verification email shortly.
There was a problem. Please refresh the page and try again.