Rogers has new international roaming plans and they're still awful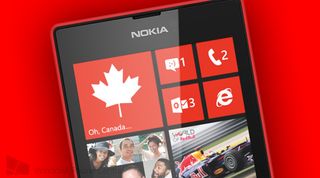 Rogers has announced some new roaming add-ons for Canadian travelers. Not too long ago, Rogers unveiled a $7.99 daily roaming plan for the U.S. (which already faces stiff competition against WIND's $15 unlimited plan), and this new one is built for roaming worldwide. But don't get too excited; it's $9.99 for a day for up to 20 MB (depending on where you're going), with no voice or text. That's better than the $10 - $15 they'd normally charge per megabyte without a package. This add-on will be applied automatically after you start using data abroad, though you'll get SMS alerts about usage.
Travelers to Europe can expect to pay $9.99 a day for 20MB. If you're headed to Asia, Latin America, the Caribbean, Oceania, or the Middle East you'll be looking at $9.99 a day for 10MB, and visitors to Africa can expect to pay $9.99 a day for 3MB. That's $3.33-per-MB. Those crossing the border into the United States will still see $7.99 per day for 50MB, which while still absurd, seems downright palatable in comparison to their overseas rates.
New monthly travel packs offer two talk, text and data packages for each major region, like Africa, Europe, America, and the rest of the world. Europe is the most forgiving of the bunch, though that's not saying much. For $60, you get 40 minutes of talk, 150 outgoing texts, and 40 MB of data. On the upper end, you've got a $200 add-on for Africa for 100 minutes of talk, 150 outgoing texts, and 25 MB of data.
When browsing maps and uploading pictures, you'll blast through the caps for most of those add-ons very quickly. Though it's an extra hassle, it's probably worth your while to pick up a local SIM and unlock your device rather than get one of these packs with Rogers. Even compared to American roaming rates, these are pretty atrocious. We had a lengthy debate about the state of roaming and carriers as part of Talk Mobile 2013, and since then things haven't gotten much better. The comments are there and below if you feel like venting.
Source: Redboard
Windows Central Newsletter
Get the best of Windows Central in your inbox, every day!
That's the worst deal, EVER. These telecommunications companies are only concerned about their bottom line, absurd.

We need unregulated competition baby. It wasn't government action, or corporate altruism, that dropped Microsoft Office prices to $6.99 a month, or Windows for free on <9" devices. It was Google Docs, Android and Chrome OS. I don't even like Google, but competition makes life better for everyone. Does Europe make it hard for others to enter the cell business? Maybe something innovative like Facebook internet drones and VOIP could threaten the current telecomm oligrachy?

I would guess, looking at a map, that Canada is a country with a smaller population spread out over an enormous area. That probably contributes heavily to the cost when compared with a large population in a geographically small country. But the roaming this is absurd. Whenever I have had to go to Canada, I just turn off cell data and don't hassle with it.

This is exactly why prices are relatively more expensive; larger infrastructure costs but with a lower population/market share base.

Wow, and I thought the US was bad. That sounds terrible.

Yeah. I thought AT&T was crappy to me...

It gets worse. AT&T uses Rogers for roaming in most of Canada. So not only are the plans atrociously overpriced, the fact is the service just doesn't work. The problem is that Rogers won't register your phone with their system in a persistent manner, even if a cursory check with AT&T would tell them you have a monthly"Canada" plan. Instead, for every single data call it requires a new check with AT&T to see if it "should" deliver you the data. This would be ok if that happened seamlessly in the background, but in reality the Servers timeout 9 times out of 10, resulting in no connection, even though you have paid for it. Its a complete waste of time and as a frequent cross border traveler I have given up. I just use voice and text and free WiFi now.
Rogers and AT&T are a match made in hell.

Canadian carriers are probably the worst at this stuff. Went travelling a while ago and even dropped calls were charged for. Absolutely atrocious. What's worse is how it actually probably costs them way less to offer the service than what they charge for...the mark-up on roaming rates is just ridiculous.

How do the carriers get away with it.
Here in the EU the charges have been capped by law to prevent customers being mugged by the carriers

And they want to remove it for when you travel to all EU countries. They made several studies that says that carriers "lose" more money than they win, because, most of the travelers just put the phone in airplane mode and use Wifi to contact when they are abroad.

The Canadian government tried to do this, but Rogers, Bell, and Telus are basically finding ways to spite the government. They increased the price of devices because of the mandatory reduction from 3 to 2 year contracts, and they almost doubled the price of plans. Now, they make you pay $30 for 200 local minutes, no data, (with a country the size of Canada, local minutes should be outlawed) if you want data, you can get a $50 plan with a whopping 200MB of data and 150 minutes (thankfully Canada wide) there is also a reasonable plan with 1GB of data, unlimited Canada wide minutes for $85 ☹

What CRTC did was basically a scam... They intentionally put so many loopholes in new laws to be exploited by the big three. It is a well known fact that CRTC is being operated by the retirees and ex-exployees of the big three...

And the soon to be employees. I knew a member of the Bell Canada team that prepared their annual submission to the CRTC. They just laughed at how stupid the CRTC people were, never challenging them on absolute lies and nonsense they spouted to justify rates going up and loopholes being permitted.

Makes sense, and it's not like the CRTC can't tell the public how much they don't agree with political leaders. Politicians have to walk a line between keeping the public happy, and the media happy... CTV news ( Bell) was quite against Verizon entering Canada- remember the "analysis" that it would be worse for Canadians to have more competition?

And I thought Indian operators were bad

We are still good the main fact is that we don't have 4g connection here. 3g is there but very expensive so we have rely on 2g connection. 2g connections can be just used for watsapp quickly. Downloading videos on u tube and other stuffs still requires a pc and WiFi connection

I have a funny problem with my 2g, wondering whether any of you all Indians have had it. It works fine 90% of the time, but with hike, viber and WhatsApp, it first keeps me waiting for 3-4 minutes (upto 10 if I'm unlucky) before it connects and retrieves new messages, online status, and sends my 'sending' messages. After that, as long as i dont close the app, it works like magic. Only that it requires me to wait a hell lot before i can use the app. Does anyone encounter this problem ? (doesn't happen with WiFi)

Does Rogers really make your Phone tile say,"Oh, Canada...." with a maple leaf?

Our carriers are probably the worst in the world, we overpay for everything, not just roaming.

Roam Mobility offers some sweet roaming rates for Canadians heading to the USA. I haven't actually used them yet, but I believe they are tied to T-Mobile.
I guess you still have to be unlocked, but probably simpler and better for Canadians than pay as you go with USA carriers.

I travel to the US quite a bit, and Roam Mobility has saved me a LOT of $$. Recommend. Apparently only good for major urban areas though, where T-MO had good coverage.

I used Roam Mobility and it was awesome. I paid $4/day for unlimited Talk, Text and 2GB of data. I live in Vancouver, but had gone to New Orleans a few weeks ago and gave the phone to my buddies I went with to call back home. All free. And Texting. The only caveat is you HAVE to have an unlocked phone

I don't like the general news category...

Rogers sucks. All the big carriers in Canada. Hence I refuse to sign up for a data plan. I'm living off free Wi-Fi :)

Have never used roaming. I have mine off 100% of the time, and it's also advised generally in europe. I'd rather go the extra mile to find a free wifi spot.

we canadians are well aware of the scamming by the big 3 (robbers, bell, telus). And instead of plans getting cheaper, they ALL increased their default plans by $5.

Forget the big three in Canada, get an off contract phone and go with Koodo or Fido. Manitoba and Saskatchewan get the cheapest rates in the country.....I get 400 minutes with unlimited evenings and weekends and 400mb data for $35 and data overages are only $5/250mb.....of course plans are always changing

Both owned by TELUS and Rogers respectively. These smaller brands are just their cheaper plans advertised by the big three without looking like they are rearing us from behind. Its all to save face and brand loyalty.

I'm with a prepaid plan from Vodafone Italy... Roaming in europe and north america will cost me 3 euros per day and i'll get 50 minutes(called or received), 50 sms and 50 mb ... And I thought it was bad !!

I just use Roam mobility on my Rogers 1020. Pop in the SIM and choose my dates to the USA. Costs $3.99 a day for 300mb of data and unlimited text and talk to anywhere in USA or Canada. So awesome. Uses T Mobile which gets me 4G because my phone is pentaband.

Is Rogers or any Canadian carrier ever getting the Nokia Lumia 1520 & 2520?

Maybe, but knowing Rogers they'll release it wayyyy later than anyone else. It's sad, because Rogers was really good and supportive when WP initially was released and were one of the first to release hardware and updates.

Doubt it, WP only has 2% of the market. Even blackberry still owns 15% of the Canadian market. Makes no sense to go for 2% of our already small market

There are two sides to this. They say they don't sell enough. I say, you don't sell enough because you don't offer enough. People cannot buy what isn't available.

That's why I'm with Wind. $15 flat unlimited nationwide calls, text and data for the month if in the US. That just eliminated my need to go to T-Mobile for the $2/day unlimited talk, text and data.

I'm glad I'm in Sweden 50mbps up/down. 10gb, unlimited calls, and free roaming in Norway, Denmark, Finland for 400sek or about 35$ a month. But yeah, what do we expect from Canada XD

We expect an Olympic Hockey Gold Medal ;P

Bahahaha. Fuck Rogers. Cellunlocker.net is cheap. Do it, then get a temp SIM where you are going.

Dam here in the US it's 60$ for unlimited everything!!

They should be called Robbers

they all.. that's what we all call them

Can someone disrupt these Canadian carriers please? They've been fat-cats for too long. I've never felt like they've been 'pro-active' about improving their offerings. It's always been a 're-active' approach. Just barely keeping up with our American counterparts.

I'm on WIND, used the $15 plan last month, worked perfectly. There is however another option for people stuck with the big 3 (Bell, Rogers, Telus) and that's Roam Mobility, I used them when i was with Bell but it does require an unlocked phone as it uses a different SIM.

Fellow Canadians... If you aren't with Wind already, you need to seriously reconsider your choices. I pay $45/month for essentially unlimited everything (data included). Spend the extra money you save with them on buying a phone they don't carry. That's my plan! I'm saving up to upgrade my Nexus 4 to a WP. Posted via the WPC App for Android!

Wind sucks for coverage. I live 45 minutes of Vancouver and I have terrible coverage for wind zones. No thanks. Their roam away rates are ridiculous. I pay $50 with Rogers on a corporate plan with ridiculous options and add ons and I can use my phone anywhere.

Wind is great if you stay in the city which is why I got both my kids on it. Not so great if you travel.

Unfortunately, I'm in Sudbury most of the time... There is no wind here. Just the 3 hippos.

Unlock your phone and get a prepaid SIM when you get there.

Yeah in Canada a 250MB plan is $45 a month so horrible. $70 a month for 2G & it comes up to about $100 with taxes

I'm with Koodo on my unlocked Nokia Lumia 920, unlimited Canada calling, texting, picture messages, and 2.5G if data for $60.°° a month, and I couldn't be happier. There were a few issues getting my 920 working on their network, but all is fine now. Screw you Robbers!