Rogers reveals Windows 8, Windows Phone 8 excitement through exclusivities and carrier apps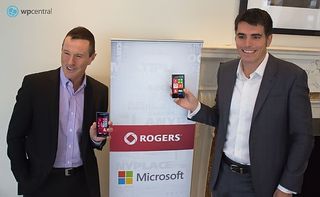 Rogers has published a blog post detailing what hardware the carrier will be sporting from Microsoft for both Windows 8 and Windows Phone 8, as well as any exclusivities Rogers will hold on said devices. We're already aware of which Windows Phones the carrier will be taking, but the blog post also touches on carrier apps that will be pre-loaded.
The Lumia 920 will be offered in black, which will be exclusive from the carrier (in Canada only). The Samsung ATIV Smart PC and ATIV S Windows Phone will both be stocked, with the former being another exclusive. HTC is on-board with the 8X. Rogers will offer both a blue 16GB and exclusive black 8GB versions.
Rogers My Account, available on a Samsung Focus
Software wise, Rogers My Account will be installed on Windows 8 tablets, which will enable consumers to manage wireless accounts directly through the app without the need for navigating via the web browser - perfect for a touch interface. Within the app, one can select and activate a mobile Internet plan, check current usage, view account balance and make payments. We've previously seen this app available for Windows Phone.
Rogers Anyplace TV Live for Windows Phone 8 and Rogers Anyplace TV (on demand) for Windows 8 tablets will also be available to subscribers. With the Windows Phone 8 app, users will be able to enjoy Barclays Premier League football (soccer), Blue Jays baseball, Raptors basketball, hockey, tennis, real-time news (CityNews) and more. The mobile app will come with a $5 /month subscription.
As for the Windows 8 app, on demand content is available through a number of channels, including Citytv, CBC, W Network, TMN, Treehouse, Teletoon, and Family Channel. If that wasn't enough, free movies, trailers, and more is all packed into the app. Rogers Anyplace TV is currently available for Xbox to Rogers customers.
Finally Rogers One Number for both Windows Phone 8 and Windows 8 tablets will enable users to use existing wireless phone numbers to make calls, create SMS messages and video chat with other Rogers One Number users. Synchronising contacts with the service is easy in Windows Phone 8, providing a Skype-like platform for Rogers customers to use.
Some good content on its way, as well as strong support from the Canadian carrier. Rogers has opened up reservations for the HTC 8X and Lumia 920, should one be interested in making the leap.
Source: Rogers; thanks, bilzkh, for the tip!
Windows Central Newsletter
Get the best of Windows Central in in your inbox, every day!
Rich Edmonds was formerly a Senior Editor of PC hardware at Windows Central, covering everything related to PC components and NAS. He's been involved in technology for more than a decade and knows a thing or two about the magic inside a PC chassis. You can follow him on Twitter at @RichEdmonds.
Only stocking the black Lumia 920!? Not surprised but Rogers just lost potential income from this buyer! IMO one of the best features of these new Nokia and HTC handsets is their color options. Rogers is really missing the boat, just like they did with the Lumia 900.

Not having the color that you want is a poor excuse to not get the best WP8 (IMO) out there. I will however be getting a 920 when they are released cause it don't mater if it's black or white........or red, or yellow or whatever.

Well you can add me to the poor excuse list. The 920 might be the best WP8 phone out there but what would have been the harm in Rogers offering us Canadians a little choice? I'll probably buy the 920 as well, but unless Rogers offers Cyan, I will be looking to import an unlocked version from AT&T.

Ditto this. I won't buy a black one. How can they be so stupid. If they carry other colours, their own customers will be a walking advertisements for the phone, creating extra interest and excitement.

I'd buy anything other than black or white...so I'm in the boat for waiting for more colours down the line or buying unlocked to activate on Rogers.

What's great about Windows Phone is that it's easy to remove the crapware that carriers, like Rogers, stuff onto the phone.

I find the my account isn't crapware (personal opinion) since I willingly installed it and prefer it to going out to rogers.com for the same info...but i'll probably be dropping anything else they load on the phone. I'm not big on watching video on a small screen for any length of time, so I can't see using anyplace tv ever.

I'll be buying one, just not directly from Rogers (need colour). It's funny because in their blog posts on the redboard.rogers.com they said that black was the most prefered colour by their cutomers...

Fuck Rogers. I hope the red Lumia 920 I eventually order works on Telus.

The sad truth is that most consumers *people that dont even know that windows phone 8 is coming out only want black as it looks close to iphones and samsung galaxy's it is a sad truth, but anybody that is looking for a windows phone is looking for colour. Yea we got internal memos about this deal today so its good to see rogers pushing windows 8.

PS: I work for rogers

I'm getting a black one because that's what there is (I would have wanted a red one) and that's ok with me. Every phone I've had in the last 15 years or so has been black. If there weren't other colors and only black, nobody would bitch about it....so go out, buy an otterbox or whatever case you desire in whatever color you want cause most are going to do that anyway and be happy :-D

As someone who doesn't hide their phone in a bulky case, I'm gonna continue to complain about the lack of choice...I've got probably until mid-December until i'm eligible for an upgrade anyway...hopefully more colours will come later like the 900.

What is wrong with Canadians?
No color for Lumia, then no color for Surface
WT?

Why does Rogers Anyplace TV cost $5/month? It is free on android and iphone.

Rogers Anyplace TV Live costs $5/month for iOS and Android phones as well, Rogers Anyplace TV for the tablet (including Windows 8/RT) is free. While basically bloatware, I've seen carrier reps promote these features (esp. Rogers One) to prospective smartphone buyers, the latter initially seeing it as a bonus (given the Rogers adverts and all). There are many people who may not need everything, may not use everything, but will like knowing they have access to it all. I'll be honest though...I've been using Rogers One quite a bit, calling clients in AB, SK and MB. So I'm happy about seeing it come on the Windows handset and tablet.


Yeah Colour matters. I'll be buying from AT&T too.

Black is exclusive?! *slow clap* congratulations at failing to rise above ultra-conservative level

I'm surprised they don't offer a red Lumia, since that's Rogers colour. They could have at least had black and red.
Windows Central Newsletter
Thank you for signing up to Windows Central. You will receive a verification email shortly.
There was a problem. Please refresh the page and try again.