Windows Phone App Review: WPRemote for Roku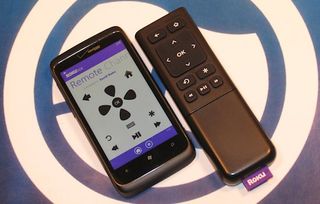 Here's something I've been wishing Windows Phone would get for quite a while: a Roku remote control app. It's called WPRemote for Roku and it comes from indie developer Localyf. (Note that this app was previously called ROKUbox before the Roku company asked Localyf to change its name.)
"What's a Roku?" you might wonder. That's what I love about you, dear reader – your inquisitive nature.
Had past the break for our full review.
Roku Devices
Roku is a video streaming device for TVs and HDTVs. The official description:
There are multiple tiers of Roku units, but they're all affordable ($70-100), support 1080P video, and Wi-Fi. The top-tier Roku 2 model, the Roku 2 XS, even includes a Bluetooth remote/game controller and the Roku version of Angry Birds.
Virtual remote
WPRemote for Roku emulates all the functions of a standard Roku remote (not the Bluetooth gaming remote). To do this, it scans the user's home network for Roku devices and establishes a connection with them. Since users may own more than one Roku device (one for each TV, natch), the app can save and switch between multiple profiles.
The remote portion of the app emulates all of the functions of the standard Roku remote (not the Bluetooth game remote). Switching between menus, making selections, playing, and scanning videos using the touch screen interface is a snap. It even includes the convenient Instant Replay button (for when you miss just a sentence or two of dialogue) that Roku 2 remotes lack. The buttons could be larger/have more defined hitboxes though.
Because WPRemote for Roku does not use IR like a remote control, it can control the Roku without a direct line of site. You can even be in a different room and it will still work, as long as you remain connected to the same network as the Roku. So what the virtual remote lacks in tactile feedback, it makes up for with convenience.
Extra features
WPRemote for Roku goes above and beyond the standard remote in a few other ways. Swiping to the right from the remote screen reveals a Channels page. From here, icons allow users to jump instantly to any saved channels instead of navigating to them from the Home screen. While I have a lot of channels saved on my Roku (mostly free junk), I spend the majority of my time with Netflix and Hulu Plus. The Favorites page makes switching between oft-used channels even quicker.
WPRemote for Roku also has a keyboard button on its virtual remote. It works with channels that allow text entry for searches, such as Netflix. Press the keyboard button on the app's remote and the Windows Phone virtual keyboard pops up, allowing users to touch type search strings rather than slowly choosing one letter at a time as with the standard remote. Fantastic concept, but A – text defaults to all caps even with functions that allow for lowercase letters, and B – type numbers and they come out as the letter D. Neither issue is a big deal, but hopefully they'll be fixed in an update.
Speaking of which, the developer is already promising new features to come. Chief among them is the Netflix Connect feature. From what I can tell, it will allow users to directly browse and select Netflix programs from the phone. The selection then loads up on the Roku. I haven't tried it out yet, but Netflix Connect could potentially be a much faster and easier way to use Netflix on the Roku.
Almost perfect
The debut version of WPRemote for Roku sports a few limitations due to the use of Wi-Fi. Normal Roku remotes use IR to control the unit, while the gaming remote uses Bluetooth. Since WPRemote for Roku works exclusively with Wi-Fi, there is a brief lag between pressing buttons and the Roku receiving those presses. It's barely perceptible unless you try to scroll between selections quickly.
Also, if the Roku disconnects from the network for some reason, WPRemote for Roku can't control it until the main device reconnects. That shouldn't be a problem unless you're silly and use WPRemote for Roku to change your Wi-Fi password, like me. Once I reentered the information with the standard remote, both the Roku and ROKUbox started working again. Since the Roku 2 has a Bluetooth receiver but the Roku 1 doesn't, I'd like to see ROKUbox retain Wi-Fi and add Bluetooth support in the future.
Overall Impression
WPRemote for Roku is a fantastic accessory app for Roku owners. It works great and even does a few things the real remote can't do, like jumping straight to other Roku channels. It's convenient to use and could be a lifesaver should the real Roku remote ever go missing. With so many features and more on the way, this little app will likely prove almost as indispensible as the Roku itself.
WPRemote for Roku costs $1.99 and there is a free trial. Get it here on the Marketplace.
Get the Windows Central Newsletter
All the latest news, reviews, and guides for Windows and Xbox diehards.
Paul Acevedo is the Games Editor at Windows Central. A lifelong gamer, he has written about videogames for over 15 years and reviewed over 350 games for our site. Follow him on Twitter @PaulRAcevedo. Don't hate. Appreciate!