App Roundup: The Official Telco Apps for Windows Phone in India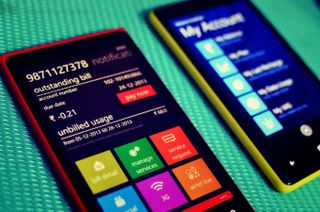 It's been good last few months for Windows Phone users in India. There were several marquee apps that made way to the Windows Phone Store from Android and iOS. Also, a lot of companion apps for real-world services arrived on Windows Phone.
One of the domains was telecom service providers or carriers. The apps from carriers are meant to facilitate easier billing and payment for customers, the ability to watch your usage history, and to switch on or off specific services.
In general, these apps provide the ability to instantly check your balance and recharge your prepaid account. Postpaid customers can check outstanding amount, pay their bills, and look at payment history.
The apps also provide information about data consumption to give the customers an idea about their usage patterns. Finally, customers can check out new services and offers, and subscribe to or unsubscribe from different services or offer packs.
All these apps use the primary phone number for signing up to use. Incidentally, the three apps are available for Windows Phone 8 devices only.
Airtel
The first one on the block was from Airtel, India's leading telecom service provider. The my airtel app allows you to manage Airtel mobile, broadband & digital television accounts.
While the app is functional in most respects, it does not give past usage details which is a bummer. It is a good thing though that the app integrates all services from Airtel in one app.
Download the my airtel app from Windows Phone Store.
Reliance Mobile
The next one was Reliance InstaCare, and is clearly the best in the business. It brings the convenience of managing Reliance Mobile prepaid or postpaid account on the go with a beautiful app with rich and intuitive interface.
While the usage information is displayed as neat graphs, there's also a Live Tile that displays account balance and bill details.
Download the Reliance InstaCare app from Windows Phone Store.
Vodafone
The recent arrival is the My Vodafone app that for some strange reason is only available to Nokia Lumia 1520 customers as of now. Yes, that insanity is true!
UPDATE: Lot of folks here have commented that they are now able to install the app on other Nokia Lumia devices. On my Nokia Lumia 920, the app is still not available. We don't have any idea on the broad availability of the My Vodafone app.
The app though is pretty good, and functional. The data usage chart is though just a list, and not a great experience.
Download the My Vodafone app from Windows Phone Store.
Windows Central Newsletter
Get the best of Windows Central in in your inbox, every day!
hey i'm able to install the vodafone app for my 720...

I installed My Vodafone app on L520 yesterday. Then how is it only available for 1520 users?

Lot of stuff happening for or about India. To bad I don't live there. Been pretty boring in the states.

I am waiting for the official app for idea the telecom operator...

Same here. Idea may have the best plans but their site suks
Very hard to find information about the plans

BSNL app was out way before Vodafone, why have you not included that?

I installed Vodafone app on my 920 yesterday and tipped you that this app arrived.
By the way, BSNL app also available for more than 4 months

Its really weird that you missed BSNL app... Working perfectly and I didn't expect such an excellent app from a government authority... I don't have even a single issue with that app...
I'm using both bsnl and airtel network... But my airtel app is miles away from bsnl app... Coz in my Airtel app, when i click the recharge option, I'm being redirected to airtel website... Sometimes i feel like haggard...

abhishek, u missed bsnl. Which is launched along with android and prior to ios . It is also smoother than airtel .

Vodafone app is exclusive to Vodafone users it seems .. Mobile operator exclusive

Why would a non-Vodafone customer want to install a Vodafone app? Its not a game app or something useful to non-Vodafone customers.

My mom uses both BSNL(old number she retained for her office use in a feature phone) and AIRTEL for personnel use (in a Lumia 820). She uses both Airtel app and BSNL app in her Lumia 820 to keep them recharged and active. It is easy for her instead of running and searching for the store on sunday afternoon. So there are users like that for whom it is useful. BSNL is good here works on any carrier phone unlike Vodofone.

This was one useful article. Vodafone app installed on my 820.

I agree idea sucks.. But when its done docomo sucks next.

I tried to install vodafone app on my L520 but "this app is not avaialable for your device this might be because your phone software need to be updated".

I'm using Reliance Netconnect 3G dongle for broadband but this app cannot be used to check the data usage/balance of the same. Registration requires OTP generation via SMS. Hope they'll upgrade it to be usable for all services.

OTP verification is one time! You can get OTP and insert into app only once, than keep using it!

can you please explain how I can read the OTP sms sent to my 3G dongle?

You will have to insert your card once in your phone!

I couldn't install it on my L520 :|

What problem did you face?

Its not available for business /corporate customers.

could not install the app in my Lumia 720... :( "this app is not avaialable for your device this might be because your phone software need to be updated" i am using GDR3 Developer Preview..

Strange, because I was able to install the app on my L720. I am also running on GDR3 developer preview


Loved the airtel app in my Lumia 1020, 920 and 820. Thanks but still it could be improved and more polished.

Installed it on my wife's 720 and it works flawlessly.

Abhishek, Do inclued BSNL app which is one more top notch app

Reliance app not working in my 820

What problem are you facing?

Available for my Lumia 920

L720. Using my airtel from quiet some time now. Also have airtel network in this phone. Tried to download Vodafone as i hv vodofone connection also but not possible. Understand that its operator dependent and can be downloaded only if Vodafone sim is used.

I use myAirtel App on my L920 and it is pretty convenient to manage my postpaid & broadband account together. Too bad I cannot handle more than one mobile connections using the same account. Hopefully they will add that soon. Surprisingly the BSNL app is much lighter & easy to manage as well. Maybe you can add that to your list :)

I've been using Reliance InstaCare app for sometime, it is really helpful. They can still imporve data usage part. What do you say?

Why not BSNL is here. Working well in field.

Hi.... I'm using the My Vodafone app... I am a Vodafone customer since 2005.... I guess to first time activate the app you need a Vodafone connection...

Now the app is available for all WP 8 phones.
Windows Central Newsletter
Thank you for signing up to Windows Central. You will receive a verification email shortly.
There was a problem. Please refresh the page and try again.