Running Circles, a Windows Phone game that will have you spinning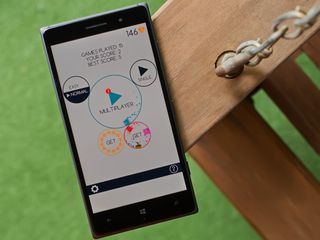 Running Circles is one of the latest installments in the Windows Phone endless runner game genre. While you may sigh at the sound of another endless runner, Running Circles steps outside the box in many ways with this type game.
The Windows Phone game has you guiding a cube-shaped character around and across a series of circles. Golden gems line the course that can be collected and used to purchase power-ups or unlock character styles, plus there is a host of obstacles that you will need to avoid. The game has two difficulty levels (don't let the word "easy" fool you), as well as single and multiplayer modes.
The game play relies on your skills at timing and can drive you nuts at times. It's not an overly difficult game to pick up but may take a little while to master. After playing Running Circles for the past few days, it comes across as a fun and entertaining addition to the Windows Phone gaming library.
Running Circles greets you with a minimalistic styled main menu that contains options to choose your difficulty level, play either the single or multiplayer games and make in-app purchases for gems or unlock additional characters with your gems. You will also find options to access the game's settings and a tutorial on game play.
Gaming options include sound settings and an option to restore any purchases you have made should you need to reinstall the game. While you can probably figure out the game through trial and error, it is best to go ahead and complete the tutorial. It will ease a little bit of the frustration the game will deliver.
Speaking of frustration, while the game has two difficulty levels the "easy" level plays out more like a "medium" difficulty. This isn't a bad thing, but I think the developer could easily rename the two difficulties "difficult" and "painful".
Again, the object of the game is to travel your character across a series of circles. Movement is done by tapping the screen. You can tap the screen to transition from the outside of the circle to the inside of the loop and tap the screen to move from circle to circle.
Here is where timing is essential. You can only travel from circle to circle when your character travels across where the two circles meet. Tap too early and your character will crash into the neighboring circle, ending the game.
Golden gems will line the inside and outer rims of the circle. Your gaming character can collect these gems and use to unlock additional characters or save your gaming progress to restart a game where you crashed (a do-over of sorts). You also have obstacles positioned on the inside and outside of the circles that will have to be avoided.
The single game is straightforward in that the goal is to travel across the circles as far as you can without crashing. The multiplayer game's goal is the same, but you are competing against the ghost of another players attempt at the game. Opponents are selected at random, you can invite a particular opponent to compete against, or you can log in with your Facebook account to compete against friends. The multiplayer mode is fun, challenging and a nice addition to the single player games.
Overall Impression
Running Circles is an enjoyable time waster of a game. The minimalistic graphics work and game play is definitely challenging. It is a game the will test your skills at timing and concentration as you avoid dangers and transition smoothly to the connected circles.
My only nit with Running Circles is how the game ends. You can spend gems to re-start the game at the point you crashed but to refresh and start from the beginning you have to exit the game to the main menu and choose your gaming mode. It is a minor nit, but it would be a lot better to reset the game and start from a new without having to head back to the main menu.
Overall, if you are looking for a challenging Windows Phone game to help you pass the time, Running Circles should do the trick.
Download Running Circles for Windows Phone (Free)
George is the Reviews Editor at Windows Central, concentrating on Windows 10 PC and Mobile apps. He's been a supporter of the platform since the days of Windows CE and uses his current Windows 10 Mobile phone daily to keep up with life and enjoy a game during down time.
Great game.... Very addictive...

I'll give it a whirl.. And believe it or not, I actually downloaded this game yesterday when I saw it highlighted in the store.

It was too difficult for me :(

Ran through 3 circles then uninstalled out of shame

Too much difficult.....i can't even pass more than 5 circles..... :)

love this game, so much fun!!! current high score is 41!!!

There is another game similar to this. From the sane developer of geometry dash, but that game is not available wp. Only geometry dash. I was wondering when the developer would release that game but I guess someone else came with the game already. Thanx

Found this game 3 days ago, as well as the 2 others games from the same dev': Bird Climb and Spider Square that are also really excellent. Really good game, Running circle is the hardest one I think. The multiplayer mode is amazing too.

Great game. Smooth transitions. Current highscore is 43 :)

This game is fun but hard got this one after I downloaded Spider Square also made by BOOMBIT I still suck at both these games but that's nothing new I suck at most mobile games =/
Windows Central Newsletter
Thank you for signing up to Windows Central. You will receive a verification email shortly.
There was a problem. Please refresh the page and try again.