Salesforce1 Mobile app now available for Windows 10 Mobile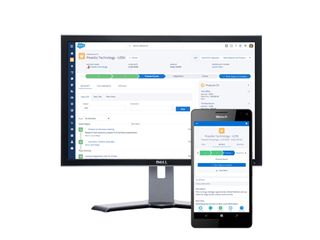 Just as promised, customer relationship management service (CRM) Salesforce has released its Salesforce1 Mobile app for Windows 10 Mobile. With the Salesforce1 Mobile app, business users can keep track of real-time data for their businesses right from their mobile device.
Even better, Salesforce1 can transform for the big screen with what Salesforce calls the Salesforce Lightning for Continuum. Through Continuum, users cans hook their phones up to a monitor to get a more robust look at their data from the app residing on their phone.
If your company uses Salesforce, you can now grab the Salesforce1 Mobile app by heading to Salesforce's website on your phone and logging in.
Source: Microsoft
Windows Central Newsletter
Get the best of Windows Central in in your inbox, every day!
Dan Thorp-Lancaster is the former Editor-in-Chief of Windows Central. He began working with Windows Central, Android Central, and iMore as a news writer in 2014 and is obsessed with tech of all sorts. You can follow Dan on Twitter @DthorpL and Instagram @heyitsdtl.
Oh man, this has the potential to be huge for business use (as long as it isn't gimped).

This is pretty sweet. Now just waiting for the promised NetSuite app.

NetSuite did. http://m.v3.co.uk/v3-uk/news/2407317/netsuite-announces-apple-watch-wind...

Awesome thanks. I didn't know they announced this.

Now if we can get Concur to update their worthless piece of crap expense report app and make it WM universal.....then we will be talking business friendly

I think getting Concur is one of the most crucial business apps that we need. The current Windows app is useless.

I think MS will end up acquiring Salesforce.

I heard that rumor but competing dynamics crm is really good too.

Great!! All we need now is a quick books app, and I'll be a happy camper!

I need intuit go payment so I can swipe the card. The extra % is taking a toll on my bottom line

Except for "my" V&H Fulepack app... That's the only app I'm dying for.. I gotta have it,,, which means I gotta have iDroid.. Sucks. Don't want o buy a stupid second phone just for one app,, but it's that critical.

I'm thinking of getting a bike with my bonus this year (used of course... I don't got it like that haha). What do you ride?

I wish Microsoft wouldn't ignore Business Contact Manager (BCM, a software CRM solution) and it had a mobile solution for small businesses and sole proprietors.

Salesforce isn't a Microsoft service.

Re: Zapella Tiago,
Yes, you are correct.
Microsoft owns Dynamics CRM, for large businesses and enterprise. Dynamics is too expensive for small businesses and sole proprietors, just as Salesforce is. Microsoft recommends (at least they used to?) their Business Contact Manager (BCM) software for smaller businesses, but they have neglected BCM and it has never sync'ed to the cloud or even
connected to the internet and thus has no app like Salesforce will.
.
I was just bemoaning the fact that there is no app for BCM for small firms.
Best Wishes

Oh sorry. Now I get it. I think Dynamics CRM it's available through Office 365. Right?

Dynamics CRM is actually pretty reasonable for a single license.

I have been needing this for the last 1.5 years. Now I just need a phone with W10M.

That's the spirit, this is what universal apps suppose to do, bring people in. I recommend the 950XL or the 1520

It's not available yet for mobile. I just searched the store.

Looks like it isn't searchable. You need to logging in and use a direct link. Or just isn't there yet.

Oh you have to go to your actual SF account online to get the mobile app. Interesting.

Where in SFDC do you go to download it? I don't see any links to get it, and SFDC help says that you can get the Salesforce1 for Mobile app from the Play Store or iOS App Store, so I'm assuming it should be showing up in our app store once it's indexed for search.

I can't seem to find it either. Would be nice if there were some directions somewhere other than "just log in".

I noticed that if you log in to SFDC with Edge set to display the Mobile Version of web sites instead of the Desktop Version, there's a 'Go To Salesforce1' link at the bottom of pages. That takes you to a different web interface which looks exactly like the screenshot on the phone in this article, and also has 'lightning' in the url hostname... I really hope this app isn't just a web wrapper for that with Continuum support :/

Anyone get the download? Logging in to salesforce isn't allowing me to download it. This is the last puzzle in my domination of not working in the office at all anymore!

Comment above you might help

This is the perfect continuum app for salespeople that are constantly away from an office or desk.

Great! I hope a SalesForce IQ app and Edge support for IQ will be close behind the release of this app.

I logged in and I still can't get the app

Glad I'm not the only one. Did WC even check this before posting?

Is anyone else able to get this app? When I log into Salesforce it logs me into my SF account it doesn't give me an option to get this app.

I can't locate this through the store or Salesforce website.

Thank God!! Now for God sake, release WM 10. Need to update :)

MS is gunjumping, why not wait until Salesforce is ready to co-announce so they can answer people's questions such as whether the app is truly available right now and instructions about how to download and install it? Probably the timing is due to something dumb like needing to get the announcement out before the month end financials are done

SFDC posted this announcement on their blog (Gabe Aul retweeted it). So no, MS didn't 'jump the gun' here. However, I too cannot find a link to download the app, either in the Windows Store or on SFDC when I log into my dashboard.

Well I don't see it on their site. It's only for android and apple.

I don't see it either. Bummer. I want to get my hands on it so badly!

Yea, i did a live chat with Salesforce rep to ask...they sent me a link to this article, lol. They were an iPhone user, obviously. We're early, check back later. I'm assuming it'll be updated on the salesforce.com/mobile site soon.

I don't think there is an app. I think the "lightning" interface is it. That's the "app".

I hope that's not true, and that it's not just Edge mobile browser support added. The press release does say 'app' repeatedly, though, and they do have apps for it for Android and iOS, as one would expect.

When accessing Salesforce directly on your Windows 10 Mobile device, you do have this new "lightning" interface with Edge. However you can't launch it on the big screen with Continuum and it says browser not supported so yes I do believe there is an app coming...

Just to update this post since Windows Central didn't bother to... This is not an app, but a web app that according to SalesForce, "...basically enables a windows powered phone to become a salesforce lightning desktop experience." using continuum. SalesForce claims to have an app for WIndows 10 Mobile by the end of 2016. So logging into Salesforce using your Windows 10 mobile device opens a web app that can be used on a second screen by broadcasting it with Continiuum. Pretty darn misleading if you ask me and the fact that Microsoft didn't explain this in that deceitful blog post by Steven Guggenheimer is ridiculous.
Windows Central Newsletter
Thank you for signing up to Windows Central. You will receive a verification email shortly.
There was a problem. Please refresh the page and try again.