Samsung dominates the conversation at Mobile World Congress, but Nokia was second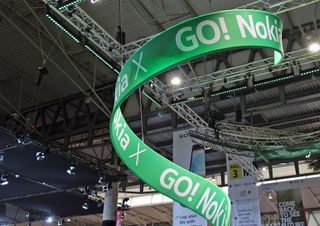 When it comes to Mobile World Congress, there are always a few big stories that dictate the discussion. Whether they are flagship phones or company mergers or just new tech in general, someone steals the show.
For 2014's MWC, that would be Samsung. In research performed by social media listening platform Synthesio, they claim that Samsung was "mentioned 1,246,000 times, or in 44.2% of all online conversations". That number was only followed by Nokia, who were mentioned in 586,200 online conversations, or 20.8% of the time. That's second, but a distant one.
No doubt that Samsung had the most going for it, after all, they announced their new flagship Android phone, the Galaxy S5. Even more, they announced a fitness bracelet (Gear Fit), Gear 2 and Gear 2 Neo, with the Gear Fit receiving a lot of accolades for its bold, unique design.
Meanwhile, Nokia announced a new Asha, the Nokia 220 and of course the Nokia X series of Android devices. It was really the latter that received the most attention though due to its seemingly sensational story lines. If Nokia had announced a Windows Phone 8.1 flagship phone, we're sure the online conversation race would be a lot closer.
Regardless, Nokia was still able to best Sony and their Xperia Z2 announcement. The force is still strong with Nokia, even in 2014.
See the full presser below.
Samsung most popular at MWC with 1.2 million online conversations - twice nearest rival Nokia
Research by Synthesio reveals Galaxy S5 was the best received hardware launch at Mobile World Congress
February 28, 2014: The launch of the Galaxy S5 helped Samsung dominate online conversations during Mobile World Congress, according to research by social media listening platform Synthesio.
Synthesio analysed conversations on social media platforms, blogs and the comments sections of newspapers, about brands throughout Mobile World Congress and discovered that Samsung was mentioned 1,246,000 times, or in 44.2% of all online conversations about major brands. Online users were particularly impressed by the S5's camera and display.
Samsung's nearest rival Nokia was the subject of 586,200 online conversations (20.8%) following the launch of the Nokia X. The Xperia Z2 helped Sony to third place with 18% of online conversations.
Much of the online chat related to the Nokia X cited the use of the Android operating system and the handset's low price, however, 60% of all online conversations related to the phone were neutral, which could indicate that consumers were ambivalent about the device. Blackberry's launch of the Q20 failed to set social media alight, with the handset mentioned in only 250,000 (8.9%) online conversations during the conference.
Catriona Oldershaw, Managing Director of Synthesio UK, said: "Mobile World Congress may have been dominated in the media by news of WhatsApp's merger with Facebook and Mark Zuckerberg's keynote speech. However, social media users were keener to discuss the hardware that was launched. The runaway winner this year was Samsung's Galaxy S5. This builds on the successful launch of the S4 last year and seems to indicate that the online community is a growing fan of the brand. Nokia put in a strong showing, however, many users seemed to be underwhelmed by the X. Blackberry should also be concerned that the Q20 did not create much buzz online."
Windows Central Newsletter
Get the best of Windows Central in in your inbox, every day!
Daniel Rubino is the Editor-in-chief of Windows Central, head reviewer, podcast co-host, and analyst. He has been covering Microsoft since 2007 when this site was called WMExperts (and later Windows Phone Central). His interests include Windows, laptops, next-gen computing, and for some reason, watches. Before all this tech stuff, he worked on a Ph.D. in linguistics, watched people sleep (for medical purposes!), and ran the projectors at movie theaters because it was fun.
Wait, so who here actually wants a Nokia X? I don't want it, but all I hear is how stupid it is. I guess we will see how well it does. It's probably just an experiment anyway.

I may get one if it works with some apps (bluetooth/Wifi) I want. Would not use it as a phone though, Just for things like OBD2 data logging.

The way Daniel worded this article could have been better lol. I know I shouldn't think that but it just has a negative connotation to me how it is like "but Nokia was second"

I mean, the expectations for Nokia to rule MWC were only fueled by people who believed in the 'Lumia 1520v' or 'Lumia 1820' nonsense. I think it's testament to them that they can still trail Samsung, even after the Korean company announced their flagship releases. Buzz is buzz, I guess.

I think most people wanted something more than that Nokia x crap so cant blame them for unrealistic hopes lol

that doesn't mean that there is no such thing just because there was nothing announced there. I Still believe a 1520v is in the pipeline, possibly coming as a 929 or 930.

Not going to lie, attending MWC I was pretty surprised / blown away by Nokia's presence. Really big / beautiful booth, and their developer day setup was great (loved the green Port to Nokia X App Store bus!)

That's normal for Nokia here. Don't forget we love Nokia here in Europe. They have their stronghold here so they have also a lot of people available.

Still going strong! History will bear us out.

Wonder if Nokia's distance from Samsung was because much of Nokia's thunder had already happened before the actual event. How much of Samsung's new stuff had already been in the news before MWC?

Not much. The GS5 was known, but no photos of it had been leaked. The Gear 2 and Fit were also surprises.

Among my friends who are die hard Android fans, the conversation about S5 was mostly about how blah it is compared to S4. Not much of an upgrade, has been the topic of discussion.

Yes, I would say a hefty portion of those online conversations would be about negative things people said about the S5 (I personally hate that fugly back!). But then again, as they say, good or bad, all news is good news.

just before the launch many photos were lured out :D

Cortana in my mind Forget that Build is coming

? how is your comment related/concerned to above post ?

Completely opposite ends of the Android spectrum. The Galaxy S5 and the Nokia X. Is anyone actually surprised. Who pitches the lowest budgeted movie?

With Sony launching flagship devices every 6 months, no wonder. Also doesn't help when everyone knows exactly what you're going to present.

They release a new handset every month because the demand in Japan for tech is much more demanding then in the states so they have to release a new every 6 months.

who all agree z2 is better than cheap plastic ? (plastic has 2 gb ram where as z2 has 3GB ) forget fingerprint and other sensors :-p

Any Sony device kicks Samsung devices in their copying arse :P the problem is that Sony's phones are premium devices...with premium prices, normally.

i can not afford z2 at moment , nor lumia 1020 , will try to use my lumia 920 as much as i could :) yes indeed they are premium like iPhone's are , i will buy z2 in September :)

If there's anything that will drive Sony down the ground it's is their pricing. Look at their PC business, and their TV set business - all too expensive and therefore both losing ventures. The Z1 and Z2 are great looking phones but with prices way up there!

Nokia may have other plans for having the nokia Normandy store. With the nokia Normandy store nokia will get direct access to top android app devs then it is only a matter of time for that app to show up in the WP store. What do u think?

And the best thing, it was good for WP. Oh, wait...

To rival... S5 and Z2... Nokia needs some bang on phone,.. And where is Nokia's nanotech??? Evn Samsung is now waterproof.... I want a nokia waterproof phone

I wish there were a 920 successor

The 1.2 million mentions is meanigless without some kind of context for those conversatoins. If 90% of those 1.2 million conversation was negative and 90% of Nokia conversations were positive then I would declare Nokia the "winner". I'm not saying that;s how it worked out. I'm just saying being mentioned more times than a competitor is not necessarily a good thing.

Then again Samsung mentions were devided between adoration and mockery, so its half good but still excellent.

i just wanna see nokia or sony with 3GB :) and 41 camera.bang first phone and i will buy it. 1520v or sony z2 . just need a good phone is that soo hard that they dont understand it !!!

From the people I talk these matters with, I would get an impression that those 1.2M mentions were pure mockery. And most of them use Android (even Samsungs).

'That's second, but a distant one'? Why so negative. It should've read the other way around like, 'It's a distant one, but it's second! Come on, Daniel. WP will rule!

I believe a lot of those 1.2M conversations were negative on the S5. But hey, as they say, all news is good news. My predictions is that the S5 will sell less than the S4, which sold less than the S3.

From my observation, majority of the conversation for S5 is about the design (back cover), and the internal space (8gb left, from 16gb) Not a really good conversation, mostly bashing about the looks of it.

Samsung blah blah Nokia wah wah!
Windows Central Newsletter
Thank you for signing up to Windows Central. You will receive a verification email shortly.
There was a problem. Please refresh the page and try again.