Samsung Focus owners now hacking on NoDo too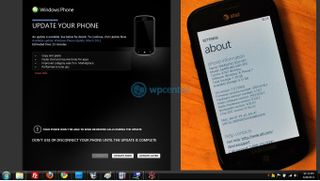 Here's a bit of surprise, evidently that earlier hack we posted also works on the Samsung Focus. You first need to alter the registry to "unbrand" the phone using SamsungRegistry.xap, but once doing so combined with this trick, gave user John973 at XDA to the "March update" aka NoDo.
He's up and running as can be seen from the screen shots he took of the update process and "device info" screen confirming he has NoDo on board. Anyone else feeling risky?
Update: Raphael Rivera has modified the registry app to sideload; change string value to '000-88'
Update 2: The whole process take about 10 minutes and is a little tricky but it totally works. Of course, you'll need a developer unlocked device and some patience. The process is painless though as our device was left exactly as it were before we flashed, so kudos to MS for a smooth updating process.
Windows Central Newsletter
Get the best of Windows Central in in your inbox, every day!
Daniel Rubino is the Editor-in-chief of Windows Central, head reviewer, podcast co-host, and analyst. He has been covering Microsoft since 2007 when this site was called WMExperts (and later Windows Phone Central). His interests include Windows, laptops, next-gen computing, and for some reason, watches. Before all this tech stuff, he worked on a Ph.D. in linguistics, watched people sleep (for medical purposes!), and ran the projectors at movie theaters because it was fun.
When unbranding the phone the reg key has to be set to 000-88 not blank like everyone had done before.

You're right, that's why you need an expert the help you with it. Hacking phones is not as easy at it may seem, it's actually pretty similar with hacking computers. I read news about it through this IT consumerization resource.

Does this void the warranty?

I think unlocking your phone already voids the warranty. I may be wrong.

Once updated, can you "rebrand" the phone I wonder?

hopefully this means the official no do is not far off for those willing to wait for it!!

HOT DAMN! NoDo installing now.

Anyone know the potential consequences of de-branding the phone? Warranty void etc???

Ok, so the first update was the "pre-update" - my OS version is now 7.0.7008.0. I was just able to trigger the March update (NoDo) and now that is installing.If some other Focus owner does this, READ that registry key before you overwrite it to get the factory value. I forgot to do that.

How did you get the second update to install. Zune says my phone is up to date but I only have the 7008 on my phone. Thanks in advance!

If debranding was a warranty-voiding operation, it would be simple enough to reverse. I doubt manufacturers are going to scan your registry for the removal of the carrier string if were you to get service under warranty anyways.

And once you are done, just use the utility to re-brand it (confirmed the Focus string is "ATT-US" - no quotes).

I'll give it a shot if I can.edit: Nah, **** that. I see that Tmobile is getting the update tomorrow. I'll just wait to see what happens for AT&T users.

I was going to try it too, but I don't want to take the risk. Maybe down the road when AT&T isn't giving us Mango I'll try it.

Working perfectly. On step 7 ATM. Will post results soon(i.e. whether or not i get to keep my jailbroken apps or not)

Is this for unlocked phones only?

Yes and No. You need to have a developer unlocked device in order to sideload apps (SamsungRegistry editor). Based on the replies on XDA though you can use the Chevron tool to unlock and update it, you don't have to actually be registered on App Hub.

Installing Nodo now on AT&T Focus. Got the February update first. Thanks Folks!!

I can also confirm this is working, currently installing (Step 8). My Focus was developer unlocked (through App Hub), all I had to do was modify the registry value and use the tunnel to check for updates.Also, yes the default MobileOperator value is "ATT-US"

All done! Backup took forever, but I am now running 7.0.7390.0!

Nodo installed.. Phone Rebranded.. Thanks :)

WOW. Marketplace App Search is WAY improved. The speed improvement is staggering.

This worked great, like others have said the backup step took a very long time! Obviously this isn't a solution to the seemingly flawed update system, it at least gets the power user's access. By the way, no one tell AT&T or Microsoft about this loophole... we may need it when Mango is released!

I got the "pre nodo" to install but how do you get zune to force the NoDO update?

Ok, I did the update but it errored out. Displayed a timeout error. Grrrrrrr. Just freakin bad luck.

I had to format the phone and it worked.

So you got the error too? How did you format the phone?

You will lose all your apps and settings. But if you go to the bottom of the About screen, there is a button to reset the phone to factory settings. You will have to sideload the registry hack again. But the pre no-do will install.

Ok. I got some info from the support site too. The error im geting is 800705B4. I'm gonna try their suggestions first then if it still fails, I'll do what you suggested. Thanks!!

BTW, did you get the no-do update too? I got the pre-nodo update prompt and that is what I'm trying to install.

I can't get the zune to find the No-Do. Let me know if you figure it out.

Hey, I got the nodo this morning after trying again! Try this. Instead of trying to "time" step 6 and turning off data connection just on the right time, what I did instead was turn it on and off every 2 seconds. That seem to do the trick. I actually had to do it twice because due to my bad luck, the first nodo update failed on step 2. I followed the advice another user and plugged my phone on the main board usb port instead of the usb hub in front of my pc and I tried it again and 2nd time it worked. I'm now sporting nodo!

Plug your phone directly the the motherboard's USB port. Do not use a USB hub.

Wow, this is so much better than the broken Android update process!

Hey fellas, did you get the Feb update before No-Do? I only got the Feb update (finally installed after removing some apps) and I can't figure out how to get the prompt for no-do to show up.

What apps did you need to remove? I figured it was the jailbroken apps that were stopping me but i don't want to lose them.

I got the February Update and I just kept trying the same cellular on/off trick (it was around 11 seconds for me) and I received them both.

What you have to do is follow the steps listed here: http://wpcentral.com/new-hack-brings-nodo-todayEXCEPT step 6. Rather, as soon as you manually check for updates in the Zune software, begin counting the number of seconds until it kicks back and says your software is up to date. Then, close Zune software and disconnect your phone. Plug the phone back in and open Zune. Check for updates. When you get about 5 seconds shy of the number of seconds you counted above, disconnect from the ATT Network. (they say you have to wait 10-15 seconds above - I had to wait 55 seconds. Totally depends on your internet connection I suppose). Let me know if this helps!

Confirmed! I just received the NoDo update after getting the February Update and trying for quite some time with the toggling on/off the data connection on the phone.Good times!

i'll hold out at least until june before attempting this. good to know i could get it now at least

How long does the backup step take, did anyone else phone get stuck at the 100% creating a backup for a long time?

Uh, is there any way to get Chevron anymore?

Go to XDA to the WinPho haching forum. Its first or second post.

Rocking NODO on my Samsung Focus Jacksonville Florida and still UNLOCKED!Great improvments in the MarketPlace.....super fast!

"so kudos to MS for a smooth updating process"you kid, right?

Really? You can't figure out how I'm talking about the actual software update process on the phone, not the overall roll out of the update across all Windows Phones?Have you installed NoDo yet on your phone? Probably not. When you do, you'll be impressed how your phone's OS is changed but not a single bit of information, tile, setting, phone number, theme or unlock status is touched. No new OEM software is installed, nothing removed. It's nice and Microsoft did a good job with the updater.

Dammit, now I can't see comments ..

I got the update last night, the process was indeed very smooth. Thanks to everyone at XDA for the hack! :D

Someone tell me what i'm doing wrong.Samsung focus: Rogers wireless.Phone is unlocked with chevron. Deployed the XAP for editing the registryUnder "Path to value" I have the default input when i start the app. "hkcu\software\microsoft\internet\explorer\searchScopes\URL"under "Value (read/write)" i type 000-88After words i press write.If that's wrong someone give clear instructions cause everyone is being extremely vague. After words i follow this: "http://wpcentral.com/new-hack-brings-nodo-today" to the wordThanks for any help

WELP got it to work updating now! 8Dthis is by far the most helpful page.http://forum.xda-developers.com/showthread.php?t=1012189Forgot to make room for the update i think i might need to do this again, make sure you have 4 gb free on your phone :D

Got it to work, not as difficult as I thought, but I have a 16 gig card, and had 22 gigs of **** on the phone, so I had to empty my music, then it worked like a charm

Just a head up. bug where mic wont work for recording video and doing a speech search after you plug in headphones and unplug them. then to fix it you need to plug and unplug the headphones again.This bug is not fixed on my focus

MS update process is only slow if you are coming from Apple IMO. Android folks have no reason to complain google is a mess, i had a cliq and a Milestone xt720 that are still waiting for update. Thanks MS for making updates come and work with all phones and dont have to wait like Google WP7 FTW

this is so awesome i cant wait to try this.

Just got my Samsung Focus updated with NoDo!I'm on Rogers, in Canada, and I didn't do any registry hacking or unbranding. I just did the timing trick on the Zune software (with the Hungary connection) and it updated, no problem. Didn't even have to free up 4GB like I did last time.If only Microsoft had gotten this out faster -- this is easily the smoothest update yet (not that it was hard to top that last one :P).

I want to share with Focus owners using the Hungarian Hack to update..I couldn't get my phone to update. It kept failing on the backup step. The solution was to remove all music from the phone first. Not only did this make the phone backup faster, but it finished the backup first try(I had tried 5 times before removing music with no success). Good Luck.

thanks for all the suggestions/tips guys.I started this journey at 5:30p.m. i read XDA, blah blah blah, and finally got everything I needed, including the Windows Developer **** the Hungarian IP thing, Chevron 7, Samsung Registry (sideloaded, then typed in 000-88 write, then read), etc. I timed the time it took for Zune to tell me my software was up to date. I got it down to a science...but it still took freaking forever.but YEAAAAAAAAAAAY!

Yes! Got my Samsung Focus updated last night, and it's still unlocked! The update didn't fix the music stuttering issue on my Focus though :(I'm sure it's an issue with Samsung's firmware, though.

Has anyone else gotten the updates using only Zune and the timing. Att focus here and I'd love not having to futz with registry settings.

I think the only way to do it is to futz with the registry.Just remember that you need to have atleast 4 gb available.

Is there any other way how to Deploy XAP to Samsung Focus Windows 7.5 . I do not want to pay $99.00 to register to Windows Phone Developer And my phone is Unlocked with at&t Unlock Code and is not Unlocked with chevronwp7.
Windows Central Newsletter
Thank you for signing up to Windows Central. You will receive a verification email shortly.
There was a problem. Please refresh the page and try again.