Samsung Focus update imminent?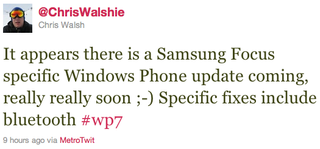 Being a member of the Chevron team, Chris Walshie isn't one to raise false awareness or hope, so Focus owners could be in with some luck shortly, which is fantastic news. According to his tweet (opens in new tab), the update will a Bluetooth fix may be specifically targeted, and hopefully bundled with NoDo. We previously covered Dell teasing about NoDo and a post-NoDo firmware update, and it would be great to see Samsung nail it all in one.
We're not currently aware what the safe steps to update are should you have updated your device prematurely. If any information be made available from a source or Focus user who updates, we will of course publish it.
Via: MobilityDigest (opens in new tab)
Rich Edmonds is Senior Editor of PC hardware at Windows Central, covering everything related to PC components and NAS. He's been involved in technology for more than a decade and knows a thing or two about the magic inside a PC chassis. You can follow him over on Twitter at @RichEdmonds.
Seems unlikely that it would be bundled with NoDo given that AT&T is still in "Testing" and Rogers, I think, has already started rolling out NoDo. If it is "really really soon" it sound more like an individual update.

Might this have something to do with that firmware update that some Focus users are already seeing (at least in Canada)?I'm on Rogers, myself, and I haven't seen a firmware update, but my phone is already at the latest (as indicated by the WPCentral post about it) so perhaps it is bundled with NoDo.I dunno; just guessing, here.

Didn't even realized that the Bluetooth needed fixing. On the other hand, those MicroSD cards...

Absolutely. Got a microSD card I can use, but too many app settings, game saves, et cetera to make it worth resetting my phone.

According to Microsoft's "Where's my update" page, the Focus is listed as "Testing**" with **Estimated testing completion date is early April 2011Microsoft's update site lists "Audio improvements. We've improved the experience of using a Bluetooth headset to make calls when you're playing music or videos." for the NoDo update. Considering it is April 5th, this is some prediction by Chris. An amazing grabs of the obvious. Thank god for twitter.

So what was wrong w/ the bluetooth? I'm waiting for that elusive microphone fix....

For me, if I try to listen to anything other than the Zune player, it won't play through the BT headphones.

I'm glad I'm not the only one wiht the microphone issue. I was hopping that NoDo would solve that issue, but it has not. Otherwise, NoDo has taken care of my one other big issues which was the Marketplace crash (which also prevented the Zune player for working as well).If the can take care of the mic issue, then I'm pretty good when it comes to the stability of the phone.

I just installed the Walshie nodo update to my Focus an hour ago. I wonder if I'll still get the notification for this.

please vote here for whatsapp on WP7, I think that we need it http://www.gopetition.com/petition/44254.html:)

There just was a firmware update. I somewhat doubt there is another one coming this quickly unless they have found an issue with the last one. Bluetooth functions are a little better for me in some area's but call quality in my vehicle still sucks with this phone.

Us Focus users on AT&T haven't had any sort of updates. So maybe this is the firmware update you are talking about.

there was a post on wppoweruser of a focus owner getting nodo but it didnt say whether he was on ATT or Bell Canada! Hopefully nodo for the focus is really coming soon. I was thinking (and hoping) maybe this weekend or next.

In Canada on newly on Rogers network because of Windows Phone 7. Received my Focus two days ago. First day received Feb update and day two received NoDO update. All looks good. No problems and each update took under 20 minutes to complete.1st update I was prompted on my phone via the network. 2nd update I plugged it into my computer at home and sync'd with Zune. Update showed up.Run Windows 7 on my iMac at home.
Windows Central Newsletter
Thank you for signing up to Windows Central. You will receive a verification email shortly.
There was a problem. Please refresh the page and try again.