Samsung GT-i8350 could be "Omnia W"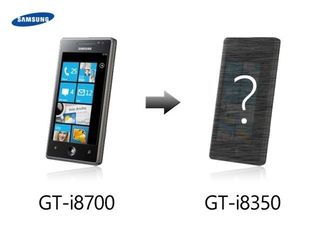 We first heard about the Samsung GT-i8350 in July, when it was speculated to be a follow up to the Omnia 7. Yesterday, we saw that it got its Bluetooth certification, which means it's close to being released. Word is now that the GT-i8350 will be re-branded as the Omnia W and that it will hit shelves in October.
The Mango-equipped refresh of the Omnia 7 will also sport the following:
1GHz processor
512MB of RAM
5MP camera
3.7-inch WVGA screen
GPS
Bluetooth (as we already knew)
Nothing to get excited about here, but hey, it will be one more option out there come Fall.
Source: HDBlog; Via: PocketNow
WHAAAAAAAAT! no S-AMOLED PLUS!?!?!?!?! , guess it wont cost me an other 600$ in october after all. lol

Where did you see that there is no S-AMOLED+??

3.7-inch WVGA screenit should of been : 3.7 S-Amoled Plus screen.

WVGA is resolution, not a display technology.

its cause samsung NEVER uses the term WVGA , they are so proud of the AMOLED ,, if you look up phone specs you always see AMOLED , and not the other stuff. ah well w/e still hope i guess .. but still 3.7 ,, meh

So just the bare minimum...

well if those are the specs, maybe some one at XDA can hack it and make it work on my old Omnia 2 lol just for fun.

the specs don't make any sense, why would they release the same specs as another phone ?? is it anything different from the original omnia 7

Smaller screen.That's probably a refresh of a budget device.

don't know about that, Being 1 yr old, i think they can easily sell the omnia 7 for free so i don't think just using a smaller screen would make it any cheaper at this stage?my point is that most likely the spec info. is not right.

I wonder if it will have the same bunch of bugs as the Omnia7 aswell. Pfff.

Samsung phones have the worst firmware, i wouldn't touch a samsung phone you'll be waiting for updates months after they were released

bah , never had a problem with My focus , my Omnia 2 or my Omia 1or my TV , or my camera , i like samsung lol . maybe the firmware is bad but who cares does are easy fixes, i ratehr have the best harwared ( samsung amoled ) then firmware

Yikes all my hopes of samsung awesomes in the toilet. Not even an 8MP camera.

Yawn...show me some better specs and I'll be back..
Windows Central Newsletter
Thank you for signing up to Windows Central. You will receive a verification email shortly.
There was a problem. Please refresh the page and try again.