Samsung HMD Odyssey+ vs. HTC Vive Pro: Which headset should you buy?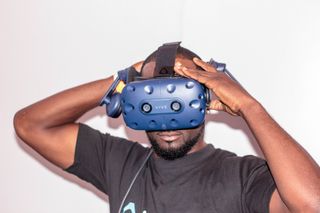 (Image credit: Windows Central)
Premium WMR

Samsung's Odyssey+ is one of the best Windows Mixed Reality (WMR) headsets on the market, offering a high-res display, comfy fit, and easy setup. In a lot of ways, it matches what the HTC Vive Pro offers, except its inside-out tracking isn't as precise, and there's no option for a wireless connection.
For
Complete system much cheaper than Vive Pro
Easier to set up
Minimal screen door effect
Comfortable design
Lower starting system requirements
Against
Tracking not as precise
No wireless option
Pro-grade VR

The HTC Vive Pro is an impressive, albeit expensive, VR system with a high-res display and a precise external tracking system. You can even forego cables thanks to a wireless adapter, though you'll end up paying a lot more for a complete Vive Pro system compared to the Odyssey+.
For
Precise external tracking
Minimal screen door effect
Comfortable build
Wireless adapter available
Durable motion controllers
Against
A lot more expensive than Odyssey+
Takes longer to set up
Black Friday 2019 is the time to buy an Odyssey+
The Samsung Odyssey+ is always a much more affordable option compared to the Vive Pro, but it's been discounted further thanks to a deep Black Friday sale. Instead of paying the usual $500 price for Samsung's HMD, you can instead get it right now for $229 at Amazon. That makes it more than $1,000 less than the Vive Pro, and you're still going to get an amazing VR experience. Just don't wait too long, as this deal will only last for Black Friday.
When it comes down to technical specifications, these two VR systems do appear to be quite similar, though there are some essential differences to make a note of before final purchase.
Samsung HMD Odyssey+ vs. HTC Vive Pro tech specs
Swipe to scroll horizontally
Header Cell - Column 0

Samsung HMD Odyssey+
HTC Vive Pro
Display size
Dual 3.5-inch
AMOLED
Dual 3.5-inch
AMOLED
Display resolution
1440x1600
90 Hz
1440x1600
90 Hz
Field of view
110 degrees
110 degrees
PPI
615
615
IPD
60mm to 72mm
60mm to 72mm
Audio
Built-in AKG headphones
Dual microphones
Built-in headphones
Dual microphones
Tracking
Inside-out
SteamVR Tracking 2.0
Connections
HDMI
USB-A 3.0
USB-A 3.0
DisplayPort 1.2
Samsung HMD Odyssey+ vs. HTC Vive Pro display
Samsung and HTC have essentially put out two headsets with the same display. No matter which you buy, you're getting two 3.5-inch AMOLED displays with a total combined resolution of 2880x1600, a considerable jump over first-gen VR headsets. They can both hit a 90Hz refresh rate for a smooth experience, and they both offer a 110-degree field of view (FOV) to keep you from feeling claustrophobic.
Both headsets have a technical pixels-per-inch (PPI) count of 615, which translates to a picture with less screen door effect (SDE) than first-gen models. SDE refers to the visible lines that appear on VR displays that make it look as if you're viewing content through a screen door, and that's gone here. Anyone who's used a Vive Pro can say that the picture is much clearer at 615 PPI, but Samsung has taken clarity a step further with its Anti-SDE technology.
With your face in the headset, you see PPI at 1,233 rather than 615 thanks to light diffusion around each pixel that removes the ordinary grid. There's no doubt some wiggle room in there, but if the goal is to get a VR headset with a clear picture, you can get it with the Odyssey+ for hundreds of dollars less.
Samsung HMD Odyssey+ vs. HTC Vive Pro design and features
Both VR headsets have plastic headbands that provide a customizable and comfortable fit, as well as room for built-in headphones. Both have a dial on the back of the band to adjust the tightness. However, only the Vive Pro has an extra elastic band running along the top of the headset (and your head) to help keep some of the weight of the displays off your face. The Odyssey+ has just the halo band, but that doesn't mean it isn't comfortable. Samsung has even made the eye box and nose guard wider compared to the original Odyssey, but HTC has also upped the padding on the surface of the face gasket in the Vive Pro.
Audio quality plays a big part in VR. If it doesn't sound natural and doesn't sync up with what you're viewing, you'll be taken out of the experience. Instead of relying on your own headphones, both headsets have built-in over-ear solutions that provide high-quality, 360-degree spatial sound.
Samsung has gone with headphones by AKG while Vive has created its own set, but the experience is essentially the same; you're going to get audio that keeps you focused on what's directly in front of your eyes. Both headsets likewise have built-in microphones that can be used for a variety of purposes, including giving voice commands and, in the case of the Vive Pro, hearing voices outside the headset without having to interrupt your experience.
Samsung HMD Odyssey+ vs. HTC Vive Pro VR experience
Image 1 of 2
While these two VR systems can essentially offer the same apps and games thanks to SteamVR integration with WMR, the setup and ultimate experience does differ. From the start, the Odyssey+ is much easier to set up. All you have to do is install some software (if not already installed on your Windows 10 PC), plug in the headset using HDMI and USB-A 3.0, and sync the motion controllers with Bluetooth. There are no external sensors necessary thanks to inside-out tracking, but that also translates to tracking that isn't as precise as what's offered with the Vive Pro's SteamVR 2.0 system.
The complete Vive Pro system — you can buy the headset separately for about $679 and use it with the first-gen controllers and tracking system — comes with a SteamVR Tracking 2.0 system that includes updated base stations and updated motion controllers. Like the Odyssey+, you must install some software and plug in the headset (with USB-A 3.0 and DisplayPort 1.2), and connect the motion controllers. The base stations take some time to set up properly, and as a whole, the system isn't as easy to pack up and transport as the Odyssey+. However, you're going to see superior tracking from the Vive Pro.
If you'd like to rid yourself of cables running from the headset back to your PC, only the Vive Pro is currently capable of accommodating your needs. Vive's own wireless adapter costs about $251 but lets you unplug for a cordless experience.
Samsung HMD Odyssey+ vs. HTC Vive Pro system requirements
VR is relatively expensive to break into, especially when you consider the PC required to run it. When it comes to high-end experiences and games, both headsets are going to require a modern PC with beefy dedicated graphics (GPU) and a powerful processor (CPU). However, to break into VR, these two headsets have different recommended system requirements.
For comfortable VR, the Vive Pro should have at least an Intel Core i5-4590 or AMD FX 8250 CPU powering it, as well as a NVIDIA GTX 970 or AMD Radeon R9 290 GPU. This is to get the headset off the ground, and you can get far superior hardware to maximize your VR experience.
The Odyssey+, like other WMR headsets, has a much lower set of required specs, and there are actually two different WMR designations: Regular and Ultra. Regular WMR needs only integrated Intel HD Graphics 620 to get off the ground, but something like a NVIDIA GTX 965 or AMD Radeon RX 460 (or better) would be preferable. WMR Ultra, which hits 90 Hz compared to 60 Hz, requires something more like a NVIDIA GTX 1060 or AMD RX 470 for a comfortable experience.
The bottom line here is that the Odyssey+ will let those with less-powerful PC hardware experience VR. The best VR with both headsets will still come from a top-of-the-line PC, but WMR enables you to start slow and build up, whereas something like the Vive Pro requires beefy hardware right off the bat.
Considering the Odyssey+ has been so heavily discounted for Black Friday, you can save hundreds on the HMD and put it towards new hardware for an aging PC. Or you can pocket the money and spend it on other great Black Friday deals
Samsung's Odyssey+ is better for most people
It can play most of the same games and experiences, it's comfortable to wear, it has a high-res display with no SDE, and it's easy to set up and doesn't require as beefy of a PC as the Vive Pro. As long as you don't mind a lack of external tracking and no option to go wireless, the Odyssey+ is an excellent VR system that costs hundreds less than the Vive Pro.
Premium Windows Mixed Reality
The best WMR headset on the market

It might not offer external tracking and might not have the same accessories available. Still, the Odyssey+ (complete with motion controllers) offers a premium VR experience at a price that's far more accessible than that of the Vive Pro.
HTC's Vive Pro is better suited for developers and commercial use
The Vive Pro is undeniably an impressive piece of hardware, especially when the precision of the second-gen SteamVR tracking system is taken into account. Add the option for a wireless connection back to your PC, and the only thing holding a lot of people back is the high price.
Pro-grade VR system
An expensive VR system with its share of perks

A full Vive Pro setup with base stations and motion controllers costs well over a grand, making it inaccessible for a lot of people. Still, if you want high-quality tracking and the option for a wireless setup, this is it.
Get the Windows Central Newsletter
All the latest news, reviews, and guides for Windows and Xbox diehards.
Senior Editor, Laptop Reviews
Cale Hunt is formerly a Senior Editor at Windows Central. He focuses mainly on laptop reviews, news, and accessory coverage. He's been reviewing laptops and accessories full-time since 2016, with hundreds of reviews published for Windows Central. He is an avid PC gamer and multi-platform user, and spends most of his time either tinkering with or writing about tech.