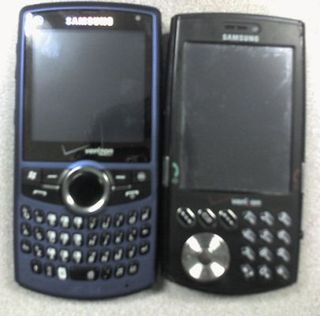 We've seen a few shots of the Samsung i770, but none as good as the above, posted at HoFo [via BGR]. The i770 looks to replace the awkward i760 by ditching the slider and going to a front-facing QWERTY. Palm had better try to get the Treo 800w released on Verizon on October 12th as previously rumored, because there's a lot of pent-up demand for a front-facing QWERTY WinMo smartphone on Verizon. This i770 looks to match the Treo 800w on pretty much every feature and will better it on thinness. One other way it will better the Treo 800w: it's a world-phone -- you can slap a SIM in there for use overseas.
Samsung is also doggedly pursuing their strategy of using the mini-mouse-pad in place of a standard D-Pad, though we hold out hope that the big silver circle surrounding it is clickable. We're doubting it, though, as it sounds like there's a switch to toggle the different pad modes between "swipe to scroll" and "mouse."
Get the Windows Central Newsletter
All the latest news, reviews, and guides for Windows and Xbox diehards.