Samsung Omnia W headed Down Under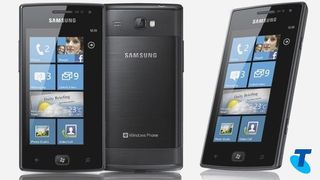 Australia is getting their first second generation Windows Phone, the Samsung Omnia W. The Windows Phone will launch on Telstra and will run $528 AU out of contract. You can snatch the Omnia W for $0 upfront on a $59 Freedom Connect Plan.
The Omnia W is essentially the Focus Flash that is being offered here in the States by AT&T. It sports a 3.7" Super AMOLED screen, 8gb of storage, a 1.4ghz processor and 5mp rear/VGA front cameras. While considered an entry or baseline Windows Phone, the Omnia W/Focus Flash is a solid performer. I have to agree with Wpdownunder's assessment that the Omnia W is a Windows Phone Pocket Rocket.
source: wpdownunder (opens in new tab); Thanks, Sheeds, for the tip!
George is the Reviews Editor at Windows Central, concentrating on Windows 10 PC and Mobile apps. He's been a supporter of the platform since the days of Windows CE and uses his current Windows 10 Mobile phone daily to keep up with life and enjoy a game during down time.
Yeah, this is a pretty good phone, nice and smooth. The only drawback is the build quality, it gets worn easily: it definitely needs a case, and if you live outside the US it's not too easy to grab a decent one at a good price.

Samsung Omnia w in India comes with a carry pouch. i thought that was the norm elsewhere too.

I know in some countries it comes with one, too bad it doesn't here...anyway I'm not a great fan of those cases, they offer no protection when you're actually using the phone, and that's when you're most likely to drop it or something...

Agreed. It's been a couple of days with my Omnia W and I do think the carry pouch is pretty unfriendly. Got to get a case myself.

Finally! But personally im gonna wait till the Lumia 900 is released down here. Plus 500 bucks is too much for the Omnia W.

It's 280€ online here in Europe, it's a pretty decent deal. You can't get anything better for that price ;)

In india it is available for around Rs 17000 (330 A$). That means 200 A$ less.
Lumia 710 is available for Rs 15000.
AFAIK this is the first time, phone prices are a lot less than other countries and almost equivalent to US prices.

Cuz window phones r not do popular among pple so dropping the prices, Android captured 69% market so WPs r trying to capture their

I'd like someone to explain why this is an entry phone (except for the price). It has the best possible screen for a windows phone (Super AMOLED + Gorilla Glass) and internals that are the same for all second gen Windows Phone. Is it all about the camera and the 8GB of storage? It even has a front facing camera. If anyone is going to bring up the size... well for me measuring phone quality by its size is like measuring aircraft quality by its weight.

I have the flash...great phone but it has a pentile amoled screen...no plus here :-/

Neither does any other Windows Phone. So still the best screen for any Windows Phone.

The only things that are "budget" in this phone compared to the high end 2nd gen WPs are :
1. 8 gb storage
2. 5mp camera
Other than that it is a fantastic phone. My sister owns one and it's just as fast as any other WP.

I know it is a great phone. I bought it and I chose it over the Lumia 800 and not just because it was cheaper.

The 8GB of memory, small size and low quality camera makes this an entry level phone. Something I'd recommend to my mum or sister, not something I'd buy for myself.

My 3GS is on its last legs, if something good isn't released soon I'll be another consumer on a 2 year iPhone contract because Windows Phone couldn't pull its finger out quick enough.

Seriously, 3 -4 months into Gen2 for a single base level phone to be released in Australia? Pathetic.

Heh, the size is also the same as the Lumia, regarded as high end...honestly the only difference I actually feel apart from the storage is the build quality. The Lumia feels much more premium, but it's also more buggy and battery life isn't great, and the price is obscene: here in Italy it costs 150€ more than the Omnia, this doesn't make any sense IMHO, it's totally not worth it.

What is this "build quality" thing everyone is talking about. How do you measure it?

Yeah I should have explained it better. Actually the materials are very well put together, but the overall feel of the device is very plasticky. It also tends to slip off from the hand and the plastics parts get minor scratches very easily, if you don't use a case, especially on the sides and on the back. Anyway, if you use a CaseMate like I do I'll get that cheap feeling fixed pretty nicely.

So basically good "build quality" means it is harder for the plastic parts to get scratches than on phones with poor "build quality"?

This plus how actually the device feels in your hand: more premium materials like the polycarbonate of the Lumia or the alluninium of the Titan feel better in the hand and are more satisfying to hold, less slippery, and obviously those are overall more durable phones. Samsung phones generally get worn just sliding them in and out of the pocket a few times or even simply sitting them on a table a couple times. I know what I'm talking about because I also own a Galaxy S2: despite the price the device doesn't feel solid at all and gets worn like hell in just a few days. Cases are an absolute must have on Samsung devices IMHO.

Lg E900 first gen, not linked to any contract/operator, costs 149€ tax included here in Italy. I prefer my Lumia800 but for an entry level WP its perfect !! How much will cost a Tango WP, 49€ ;) ??

Nice to see that there is light at the end of the tunnel regarding whether Australia would see a 2nd gen device... Now, if only Nokia would put a foot here then we will see sparks happen...

Glad to see a Gen 2 unit down under but I can't wait for these clowns to release a premium windows phone, so I made the move to a titan as soon as I could get my hands on one. Problem in Australia is that we done get the sniffles until the US gets over the flu.

Thanks for the coverage guys.
At least we have a start now! (yes it was pathetic how long it took!)
Windows Central Newsletter
Get the best of Windows Central in in your inbox, every day!
Thank you for signing up to Windows Central. You will receive a verification email shortly.
There was a problem. Please refresh the page and try again.