Samsung prepping a firmware update for the ATIV S Windows Phone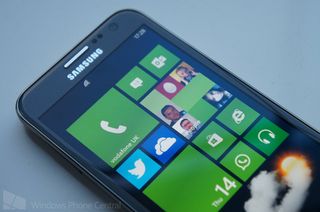 Samsung is preparing to support Windows Phone consumers with an update for the ATIV S flagship device, according to a report over on WindowsPhoneItaly. This firmware update will take each non-branded ATIV S from 2424.12.12.3 (which is Portico) to 2424.13.13.1. Major improvements? The report states that all owners will finally be able to take advantage of Wi-Fi tethering (or "Internet sharing").
We've already got the feature enabled on our Samsung ATIV S, which is also unlocked but it's known that some consumers have been unable to enjoy said functionality. Here are the version numbers for multiple fields on the about screen:
OS Version: 8.0.10211.204
Firmware version: 2424.13.3.1 [previously 2424.12.12.3]
Hardware version: 15.15.1.0
Radio software version: 2424.13.1.1 [previously 2424.12.12.2]
Radio hardware version: 0.0.0.800
Bootloader Version: 13.02. 15.5 [previously 12.12.20.17]
Processor SOC Version: 1.5.32
When can we expect to see this update rolling out? Before the month is out, so stay tuned for notifications and alerts.
Source: WindowsPhoneItaly
Windows Central Newsletter
Get the best of Windows Central in in your inbox, every day!
Rich Edmonds was formerly a Senior Editor of PC hardware at Windows Central, covering everything related to PC components and NAS. He's been involved in technology for more than a decade and knows a thing or two about the magic inside a PC chassis. You can follow him on Twitter at @RichEdmonds.
as Nicole said I am surprised that any body able to make $8625 in four weeks on the computer. did you read this site ----------> Rich6.comREAL

A damn shame too...I would've purchased it to if it would've stumbled upon Verizon's network.

We sell these at my work; I have one at my desk to play with. Don't be too disappointed, the screen Is horrible compared to the 920. Whites don't look white (they look a sort of bluey-grey) and the color reproduction Is off.

That's sAMOLED for you, if you could take that horrible filter off the 920 it would look the same!!!!

What a ridiculous comment!

that "horrible filter" is the ClearBlack technology that's supposed to reduce glare. a nice side effect of it is to reduce viewing angle so others can't glance at your screen, greatly increasing privacy.
also, the Lumia 920 uses IPS LCD, not AMOLED.
get yo facts straight.

Poor viewing angles are not a nice side effect. Nor are they caused by the ClearBlack filter. Reduced angle viewing is a huge disadvantage of LCD screens, as seen on the 920, which pale in comparison to the gorgeous ClearBlack OLED screen of the 820.
Moreover, the image quality on 820 is better than on 920 despite of lower resolution and little grain - The colours are rich and saturated from every angle.

I can't compare to the 920 (never seen one) but my 822's screen is awesome compared to iPhones. Clearer, brighter and much less glare... and with supposed lower resolution. "Retina" display looks like crap beside my phone.

ahahahahahahahahahahahahahahahahahaha

Bullshit.

I was hoping tmo would get it but went with htpee. Yeah, I said that right.

That was one if the biggest blunders in WP history.

Rodneyej elaborate please exactly what you call a blunder? T-Mobile not getting the ATIV-S, Wi-Fi calling or Nokias clear black

The ATIV-S not being widely distributed in the US market!

We'll see if Sprint get around to correcting that blunder this summer. Not holding my breath though. Sprint is much better at causing blunders.

Don't tell me what to do!...

Holy Sh!te, I can finally use mobile hotspot on T-Mobile with my Kindle Fire HD 8.9in, my 1st World Problem solved.

This is my daily driver on Telus in Canada. I've had this feature since day 1.

For some reason, using an "unlocked" Rogers ATIV S I could never get that feature to work on T-Mobile USA. The only downer with the phone really.

For Tmo it depends on your data plan, I can't use it on my Lumia unless I fork over another $5 extra a month =[

Have it on my hd7 and used it a couple times with my laptop until I got a message from tmo to add it to my plan to continue using it.

I have a Rogers ATIV S on AT&T and it works fine for me.

How is it that you have this update when I am on Telus and my ATIV S is only on Firmware Version 2212.12.12.2 ????

I meant I have the internet sharing feature on the ATIV S. I have the same firmware version as you.

Cool thanks for the confirmation!

I'm glad Samsung is still supporting this device especially sense I just got me one Saturday.

Hey, I may love my 920 but the Ativ S is a solid phone in its own right.

Regret? I loved my ATIV S. I only gave it to my sister because it didn't support LTE band 17 which I need for AT&T LTE. Otherwise better than my 920.

I was joking but you have to be full of sh!t to think it's better than the Lumia 920.

So you are the one who is in charge of opinions now?

Just because it's an opinion doesn't mean he isn't wrong.. The ATIV S doesn't even contend with the 920.

I'm pretty sure you're backing up yourself here..? the Ativ S is a fantastic phone, and certainly holds it's own to the 920.

i own one and the camera sucks big time (both its cameras). the screen is great though

Wow first it was HTC pushing out updates and now Samsung....what's next?

A Premium LG Windows Phone!

That will be identical to the Ativ S

The Quantum is still the best WP to date. Keyboard, free tethering, 16GB onboard with no Other Storage bug, free decent nav, wireless Zune synch, and on and on.

"free tethering" americans, uh

Well yeah it is, if you like outdated devices. Being Windows Phone 7 that's why the Other storage bug doesn't affect it and also why it has wireless Zune Sync!!!!

A baby was just born right now. That makes you outdated. You should probably throw yourself in the garbage can.

I'm still supported unlike the LG Quantum, so you first!!!

I had a Quantum, the Panther was MUCH better.

HTC pushed no updates out.. They did absolutely nothing and it is making me regret buying an HTC 8X.. I received updates to my apps that's it, no firmware update..

Don't get me started on 7.x HTC devices. Anything non lumia seems to get ignored after you buy it. Had to flash 7.8 to my hd7.

I had to do the same on my Lumia 710, so your point is invalid. :P

Sony Windows phone with a slidy-out qwerty :D

A Sony WP would be badass, like the water/dust proof one... HELL WOULD FREEZE OVER FIRST.

Ativ S2 with GS4 specs and camera coming? EOS or ativ s2 my next phone;D;D;D

I wonder if they're prepping this finally for US release on Sprint? =[

That would be great. This is a kicking option. If Sprint is not planning to offer a Nokia, this and an HTC 8X would be very enticing.

last update made my camera stop working.. so hopefully this will fix that.

Thats really bad, is it just a black screen?

I never had problems with WiFi tethering... But I hope it will help all those that have.

The first time I shared my WiFi to my laptop a friend said "yeah I had the hotspot thing but got tired if paying extra" (iPhone, Verizon)... I laughed and told him its just a feature on my phone, not an added service (822,Verizon). BOOM

Good to know Samsung still has some love for Windows Phone.

I've already got the update to my Ativ S :)

A year later...lol Just kidding.

Got this huge update today (Norway), haven't noticed anything different yet. But nice to know that Samsung still cares :) <3

oooh, getting an update here too! (norway). :D *installing*

It was not the new one mentioned in the article ;(

Did you update twice? It was two updates. One small, then one big.

Wow! Samsung with WP news twice in one day! Could this be a comeback?

Love my ativs on TELUS only phone on all the big 3 in Canada for wp8

no. the big3 all have more than one WP in their phone fleet.

Its the only wp8 on all 3.... Exactly what I said. Yes the 920 is on ROGERS but its not on BELL or TELUS.

I have an unbranded Ativ S, yet my firmware is only at 2212.12.12.2. Wonder when we'll get it?

i have 13.3.1 :/ and i bought thiss phone 7 days ago :/

I wished Vodafone released 1031 (or whatever it is) which supposedly helps with "other storage", since my 820 has nearly half of its total spent on that bs. WP 7.x didn't have this issue, we could size our "other" via Zune. This is really annoying, and a huge problem.

windows shud cut off wd samsung!! i hate samsung !!! :-/

I love Samsung. The Ativ S is nice.

Ativ s is a sub-par phone. I have one (from work) and I also have a Lumia 920. 920 shits all over the ativ s.

Agree 109%... Why buy a phone that gets zero support and is essentially a S3

did you have s3 and ativ s in hands ????
i did and they are not alike...
s3 is like a soap and ativ looks and feals nice in hand :/

how can you say that ? :/
i had 920 in my hands, it is good device but the only thing it has over ativ s is camera and nokia's support :/
for the looks it depends on the ppl, some1 dont like heavy phones.
and i prefere 4.8 over 4.5
and lets not froget the price ativ s is 270 and lumia 920 is 400, at least in my country :D



Samsung?? Are you kiddin me? It's Hardware Suckss!! the design, it Totally sucks man! :/ i never liked samsung's design, even in Bada, Android, and WP... i'd rather go for HTC or Sony... ATIV S design is Cheap, i'm not talking about specs here... Nokia is far better than Samsung in case of Windows Phone, cz it's binded up with Microsoft and has almost all the rights to include any feature.. :) Lumia 920 is the Best phone this year, even better than iphone 5 :)

Samsung makes its own Display, memory chips... they are all better quality that what Nokia has to buy on the open market. Not to mention the fact that Samsung is doing much better than Nokia. And for me my modified S3... called Ativ S is a much better phone than the Lumia 920 I had.

you are a perfect example of troll, you didnt eaven try ativ s and here you talk shit about it :/
clasic fanboy, and i know that lumia 920 is better phone then ativ s, BUT ativ s is 260 euro and 920 is 400 euro so i would go any time for ativ s over 920
And just to say the best phone doesnot exsist, every1 have his opinion and your is samsung sux :D

i am us at&t user with a canadian rogers samsung ativ s and i cannot get internet sharing to work at all, hoping that this update will enable it


Same here except im on T-Mobile USA

I got the updates last night however internet sharing is still not working for me.

I so wish i got the nokia now :(

Same here got hte update but still no tethering (although it tries for around 5 seconds before telling me rather than instantly in the old FW)

Ps also still have not got hte answer a call with a text option either.

PS my OS = 8.0.9903.10
FW = 2424.13.13.1

Windows Phone world is pretty boring right now

Mine is an unlocked 0424.12.12.2 yet the tethering works just fine.

http://sdrv.ms/12dvlno
Mine just updated to the latest firmware but the OS Version is still behind. How can I update that?

ok us at&t users with ativ s, can you message me or give me tips on how you got internet sharing to work?

Depends on who provisioned your phone; looks lie Rigers locked it down, but SakTel didn't.

I would love to have an ATIV S except I went from a HTC Trophy to a Nokia L900 to a Nokia L810 & the Nokia exclusives (which really isn't fair) have me hooked as well as the apps Nokias push behind WP

What a minute, the firmware version in my ATIV S is 2620.13.01.2, the same version ever since I bought it this February, and it appears to be higher than the update version 2424.13.3.1, yet the radio version is the same as 2424.12.12.2. Will my device be able to receive the update?

Your device will self destruct in ...5...4...3...2...1... ...

Same as you !
My phone is from Hong Kong, what about your?

Oh, I bought mine in Taiwan. Or could this be for Asia only?

Why are you telling us in the USA? We never got a chance to see the phone on any carrier.

This site is on the WORLD WIDE web.

I got the update here in Denmark yesterday, but only because I searched manually for it ;-)
I haven't noticed anything different.
Actually my Ativ S updated twice - first to firmware 2424.12.11.10 then I searched again and it updated to 2424.13.3.1

Good to see best WP get even better. Hope support will continue. Really don't understand why some Nokia users are bitter about it.

I've had a number of Samsung phones. They're horrible about releasing updates. It doesn't matter if it's for an OS or hardware. For that alone I'll never buy another Samsung phone.

I have the following:
OS version: 8.0.10211.204
Firmware revision number: 2424.13.2.1
Hardware revision number: 15.15.1.0
Radio software version: 2424.13.1.1
Radio hardware version: 0.0.0.800
Bootloader version: 13.02.5.15
Chip SOC version: 1.5.3.2 Surprisingly, I can't remember seeing a notification to install an OS update other than one I've got when I was changing the default speech recognition language.
Do the build numbers look like a latest update?


hello!
Did you have any updates since posting this? Also, when did you buy the phone? I have 2424.12.12.3 with no updates available, but my brother has currently exactly the same versions as you mention in your post with no updates available.

Just got the new update! Norway, retail phone.

It's sad to see the Windows Phone users split into Nokia fanboys and the rest.

does anyone know how to force update? i am on a rogers samsung ativ s and my build is
2212.12.12.2

I have a retail one from expansys and still no update...
I live in Portugal!
Any site from Samsung with update dates for each country?

Thanks

By the way, did u all updates from KIES or OTA ?

I have FW version 2424.12.12.3 and my WIFI tethering works well, but still not fget the upgrade, I brought from Expansys.
Windows Central Newsletter
Thank you for signing up to Windows Central. You will receive a verification email shortly.
There was a problem. Please refresh the page and try again.