Samsung releases ChatON for all Windows Phones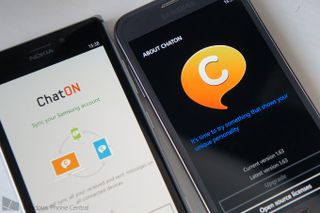 ChatON is Samsung's own proprietary mobile messenger service, available in multiple countries (237 stated on the store page) and supports 63 languages. As one could imagine, it's fairly popular. Available on iOS, Android and the web, Samsung has now made ChatON available to all Windows Phone consumers, instead of restricting it to those who own a Samsung smartphone.
You'll need a Samsung account to get started, but after that's squared away you'll be able to enjoy chatting with friends and group action. It's not a bad app and Samsung has been releasing numerous updates for its collection of Windows Phone software, so we recommend you check it out if you have friends that utilise the service on other platforms.
You can download ChatON (QR code below) from the Windows Phone Store (or the Samsung Zone on hardware from the company) for free. Thanks, Sabahuk, for the tip!
Windows Central Newsletter
Get the best of Windows Central in your inbox, every day!
Rich Edmonds was formerly a Senior Editor of PC hardware at Windows Central, covering everything related to PC components and NAS. He's been involved in technology for more than a decade and knows a thing or two about the magic inside a PC chassis. You can follow him on Twitter at @RichEdmonds.
Alright! Another cross-platform app!

These types of apps are all about how many friends do you have using such app, and to me, i think whatsapp rules the market.

If only there was emoticons like wechat, WhatsApp smileys are ugly.

Is ChatOn pretty good? I'm not familiar with this app.

You can paint messages, like pictures, with it, that's why me and my gf use it :D Just a feature WhatsApp doesnt have :P

How many countries are there? I know its a hard definition to nail down, but wikipedia puts it around 206 sovereign states. What's the other 31?

LOL!!
Well, there's the United States, then the Southern United States, then the Democrats and Republicans.....

A Samsung account? My Lumia protests.

It's alright, my ATIV S protested that I needed a Nokia account for the HERE suite!!!!!

Do consumers really need another proprietary messaging service?

Maybe not the consumers but the platform and the market do. At least in order to grow and be competitive.

I don't really think the market does, but Samsung certainly does. The more people they draw to their ecosystem, the better it is for them.

Oh come on, I have Here+ on my Ativ S. Chat On is a nice addition as it is available on all platforms.

I met my gf thru wechat so i think i'll pass

The problem is that i can only see 5 apps on the lock screen: phone, sms, mail, skype, whatsapp, facebook, mail 2,... and where chaton? what to do?

now there are 160.007 app for windows phone.....


Still only 160,006, this was always available and counted, just only for Samsung phones.

And he's talking about general Windows Phone apps so that still makes 160.007 in that regard.

I hope that new features arrive on the ATIV S and Odyssey first though!!! Samsung release ChatOn for ALL Windows Phones, Nokia should release an app from the Nokia collection for ALL Windows Phones. I think that's a fair deal.

HERE Transit, HERE Maps, HERE Drive, HERE City Lens? They're just 4 that are available on all WP devices (WP8 at least).

I'm not talking about those!!!

Here drive and Here Maps ar in all Windows Phones

@neo158...Lol! Nokia has been more than generous by sharing their navigation services with non-Nokia WP users, and their services are far more valuable and useful than ChatOn. You want the Nokia Collection? Get a Nokia device!

Really, "Get a Nokia device!" is the best you can come up with!!!!! How are the Lumia 1020 exclusive apps working out for you?

I'd prefer Nokia make some of the 1020 apps exclusive to that phone since mine doesn't have a big, fat camera lens that could make use of the functionality in said apps. Nor does my phone have enough RAM to run the app in the first place.

I got a Chines turned English one called wechat (Chinese version is weixin).... kicks some serious bum compared to all of them. I don't use anything but this one now.... people can call me or use wechat.
Has a nice comment and picture feed called moments, has find people near me, has all the other things the rest of them have and more, but its still simple.

ChatOn drains my Ativ S battery. I uninstalled it after 3 days.

Super, count me in now that all WP8 users can use it! Have Ativ S, but was not using it cause friends have HTC and Nokia WP8 devices!

Why can't Verizon just give Windows Phones group text ability again. I don't need an app if I have that.

As a note, Chat On is from Samsung a company from South Korea, thus not subject to US laws for non US based servers. This is a better choice than a US product for people who don't live in the USA.

Dutch and French data is analysed too. Also, Samsung doesn't only have ChatON servers in South Korea but also in Europe and the USA.

Did Samsung only release Chat On? Or also some of their other WP8 apps? Can anyone check on his Lumia or 8X, search Samsung in the store.

Tell me, if Samsung is so crap then why would Nokia or HTC users want Samsung apps on their phones?

There is not a single app or service(or product) that Samsung provides that I desire to use for free or at cost.

Then why comment on here, seems like a waste of your time?

too many apps for text/voice chat... Skype, LINE, Whatsapp, Viber, ChatOn, WeChat, Kakao... can't possibly use all...

237 countries? Impressive considering there's only 196. On Earth, that is.
Now you see how impressive 237 is.

You're forgetting about regional dialects like the British or "Real" English that we speak in England!!!

Actually, according to the UN, it's 205 countries, not 196. Companies like Samsung for example also count in states like Wales in the UK or California and the other 50 states in the USA. Count all that stuff as a seperate country and you easily reach 300 so 237 is not that far-fetched. Only problem is is that it's inaccurate. There are 205 countries in the world, pronto.

I don't believe some of the comments I'm reading here. Some people are actually complaining of having more choice on their Windows Phone? Bizarre!