Samsung responds to Omnia 7 users with fix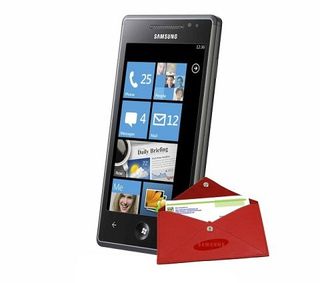 Back in May, editors of French website MonWindowsPhone compiled a list of complaints and bug reports from Samsung Omnia 7 users on their forums. The issues ranged from error messages, to battery life, to minor annoyances. MonWindowsPhone then drafted a letter including over 100 things that they would like to see fixed and sent it to Samsung France.
Samsung responded in July, saying that they were taking action based on the reports of the user community. Now MonWindowsPhone is reporting that a software update is due out in a few weeks that will address many of those issues. The update will also help prepare the device to be upgraded to Mango.
Here's to community action and companies that listen!
Source: MonWindowsPhone
does that phone have a front facing camera? or is it just a render dream? I like that phone alot.

Nah it's the proximity and light sensors you see. I love my Omnia 7 never had a bit of bother at all with it. The screen is to die for.

Yay! The most important fix with this patch imo is the touch buttons being disabled while scrolling down the screen! No more "Back" or "Bing" mistakes while playing Fruit Ninja ;)

Samsung France better send a memo to Samsung in Sweden which seems to be the most clueless bunch of technicians on this planet. Since February 2011 many users of Omnia 7 have had lots of troubles with the phone when it switches between Edge and 3G nets. Many fixes have been promised and even delivered to no avail.This debacle have pushed me and many other to decide to never ever buy a Samsung device again. If you can read swedish there is a ridiculous long thread at Sedish mobile operator Telia:https://forum.tewss.telia.se/topic/2712-skumma-ljud-problem-med-omnia-7-...So I really hope that this magic update fixes the problems for us in Sweden to or else Samsung will have lost all credibility here.

Bruno, finns det inte redan en ROM fix eller något från telia som fixar detta?On English: Isn't there already a ROM to fix this?

If you read the very long thread you will see that there is a fix that helped some guys. This fix have just started to be deployed manually. You have to send your phone in and get a loaner Android (!!) device while waiting.Seems the fix corrects the phone problems, but its still to early to be shure. But there are still other issues that still needs fixing.Really badly handled by samsung so far. The support they have is what scares me from bying more Samsung stuff.

Warning:The KC1 firmware kills the battery life.
Windows Central Newsletter
Thank you for signing up to Windows Central. You will receive a verification email shortly.
There was a problem. Please refresh the page and try again.