Samsung SCH-i760 Kinda Sorta Released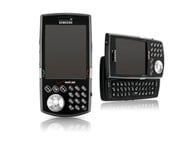 Apparently if you give Verizon's business unit a call and ask for SKU# SCHi760ZKV, they'll kindly set you up with the device that's due to be officially released on Sept. 24th. Or at least they did, who knows if they've shut it down or not yet. The i760 is something I've been looking forward to for awhile, an innovative little slider with a standard keypad and a shifted-down 5-way to make more room for a large touchscreen. We saw it accidentally appear on a corner of Verizon's site before, so it's little surprise that it's accidentally appeared again - but now in physical form in people's grubbby hands.
The specs, they are nice:
60 x 110 x 20 mm
150 grams
Windows Mobile 6 Professional
400 MHZ Samsung (naturally) Processor
128MB ROM
64 MB RAM (54.5MB for the User)
2.8" touchscreen, 320x240
EVDO
MicroSD
Bluetooth 2.0
WiFi (both B and G)
1.3 mp camera
Read: Verizon quietly releases the Samsung i760 | The Boy Genius Report
Get the Windows Central Newsletter
All the latest news, reviews, and guides for Windows and Xbox diehards.