Samsung sees Windows Phone and Windows 8 as opportunity in business market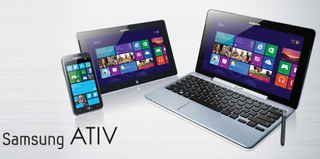 With the operating system juggernaut called Windows 8 looming closer by the day it seems everyone is talking about Windows. Is the conversation going to include Windows Phone more frequently too now?
Samsung's UK vice president has dropped a few encouraging words about where the company sees opportunity in the business sector for an end-to-end solution for tablets and smartphones based on Windows 8.
Samsung unveiled its ATIV range of devices a while back which include Windows RT, Windows 8 and of course Windows Phone 8 products. The ATIV S has for the most part been fairly elusive but with questions still lingering about general availability. Here is what their UK VP said:
There are signs that business is now keen to standardise on a smartphone platform and that IT heads are looking to Windows Phone 8 to fill their needs. With the rapid circling of the drain that Blackberry are experiencing there is a distinct opportunity for Windows Phone to fill that gap. The next generation of the mobile OS will support excellent encryption and other business friendly features.
The iPad is also being used in business but has weak security and lacks Office, the ability for a company such as Samsung to offer an iPad alternative, ATIV TAB and Windows Phone 8 could prove a winner. Graham also had this to say:
Microsoft is on a roll with its launches, yesterday we saw the reviews of the Surface device go out and with it the destruction of the iPad mini announcement momentum. The Redmond based company are owning the news cycle at the moment. Windows is a big deal whenever it comes around but combined with a new version of Office, Windows Phone 8 and the overhauled Xbox the positive effect on the whole catalogue is starting to hit home.
There has been some concern that Windows 8 is being aligned too closely to Windows Phone 8, people are often using Windows 8 to describe them both. Considering how little of the conversation Windows Phone garners maybe it's time to stop worrying about such things. The halo effect from Windows 8 and the pervasive tiled interface we used to call metro should mean Windows Phone 8 is a very direct beneficiary of all this publicity.
If Samsung see the ATIV range of Windows devices helping them assault the business market and they want to call it Windows 8, so be it. We'd just like to see Samsung start pushing Windows Phone to the masses rather than their other smartphone products.
Source V3 via wmpoweruser
Windows Central Newsletter
Get the best of Windows Central in in your inbox, every day!
I call bs...Samsung would roll over for just anybody because they have no class.

Sigh...
I am starting to understand the Samsung hate after viewing some posistive ipad mini and ipad 3 threads here. Seems like it is a combination of ex IOS users that have been raised to hate the common enemy Samsung mixed with a combination of sore loser HTC and Nokia fans after the S line whipped HTC on the Android battlefield and forced them to run with their tails behind their legs to WP8 and after they knocked Nokia down from number 1.
Good times!

Side by side, the range looks stunning.

I second that! I just hope AT&T will get the ATIV S as well. I'm leaning towards it than the Lumia 920, which will be my second choice phone.

My only problem with Sammy is the support they've shown Windows Phone users in the past. Nokia will still be my first choice, but I could still change my mind when I get hands on.

There is a reason Microsoft is pushing out the updates for all the WINDOWS PHONE 8 product for an 18 month cycle. They want to avoid the uncertainty of upgrades received by Android and WP7.x users.

Samsung makes great devices, there's no doubt about that, and with their Android lawsuits against Apple, it's no wonder they're taking a serious look at their options and future. Let's hope this pans out for Windows Phone.

You still have to be careful as Samsung do NOT fix certain issues on certain items:

- Samsung 7 slate, Screen problem, never fixed
- Series 9 ultrabook, wireless issue, never fixed

Both expensive machines.

Samsung is going to have a hard time uprooting HP, Lenovo, and Dell from from many companies. The single advantage Sammy has is the phone, for now. Plus Sammy would have to help with custom images and deployment on the enterprise level. From a support standpoint, Samsung would have to go to school and learn what support really means.

One day before the release of Windows 8 and the Samsung Uk home page has NOTHING about Windows 8 or the new devices.

That speaks voulme for their commitment.



This is true. I've seen Asus promoting their Windows 8 lines like mad. Acer, HP, Lenovo, even Dell! Samsung? Next to nothing! They've announced the devices, but that's it.

Instead of an Ativ phone, we need Ativ Phones!!!

I think this is one of the usual BS we've been hearing hypocritical executives of the companies who claim to be MS partners but behind the scenes rubbishes MS and kisses Google's ass. Sammy has been very busy all year promoting and pushing Android like hell and at this eleventh hour when all the MS partners are feverishly preparing for the Windows 8 and WP8 launch, the worst Sammy could do is to organize a party to outdoor Galaxy Note ll at the eve of Ms big day, just like Google and Apple to take the shine out of MS

Android is their bread and butter. Come on you just can't flat out let them abandon that. You know what, they put out a couple of wp7-7.5 phones that just too week and behind in the market. There's no win there. Same with HTC. They both have the tech and expertise to make WP look great but MS's limitations just too much. They gave up and waited for wp8. Lucky we got something again from Samsung and HTC. Otherwise WP8 would be DOA. Look to Nokia. Good luck with that. Two devices. One made for exclusivity and the other, well, its a piece of shit old tech and clunky design.

Big talk but no show. Which carrier US will get the Ativ S?

Same thing I say tweeted them asking who's getting and support going forward but nothing came out of it only that they can't speculate will keep u informed, the phone has great spec and I'm on tmo so not getting L920 although I'm seriously looking into an unlock version since I'm on WiFi 90% of the time so don't have to worry about slow speed, but I do like the Ativ S.

Instead of a slightly warmed over Galaxy design, Samsung should have based their WP around the Slate series of laptops, and named their phones "Series" (sort of like BMWs). Then they could have had a Series 5 WP, Series 7 WP and Series 9 WP, and a common design language to tie them all together.
Just my .02
Windows Central Newsletter
Thank you for signing up to Windows Central. You will receive a verification email shortly.
There was a problem. Please refresh the page and try again.