Samsung sees Windows Phone and Windows 8 as opportunity in business market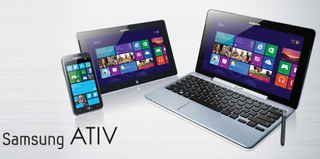 With the operating system juggernaut called Windows 8 looming closer by the day it seems everyone is talking about Windows. Is the conversation going to include Windows Phone more frequently too now?
Samsung's UK vice president has dropped a few encouraging words about where the company sees opportunity in the business sector for an end-to-end solution for tablets and smartphones based on Windows 8.
Samsung unveiled its ATIV range of devices a while back which include Windows RT, Windows 8 and of course Windows Phone 8 products. The ATIV S has for the most part been fairly elusive but with questions still lingering about general availability. Here is what their UK VP said:
There are signs that business is now keen to standardise on a smartphone platform and that IT heads are looking to Windows Phone 8 to fill their needs. With the rapid circling of the drain that Blackberry are experiencing there is a distinct opportunity for Windows Phone to fill that gap. The next generation of the mobile OS will support excellent encryption and other business friendly features.
The iPad is also being used in business but has weak security and lacks Office, the ability for a company such as Samsung to offer an iPad alternative, ATIV TAB and Windows Phone 8 could prove a winner. Graham also had this to say:
Microsoft is on a roll with its launches, yesterday we saw the reviews of the Surface device go out and with it the destruction of the iPad mini announcement momentum. The Redmond based company are owning the news cycle at the moment. Windows is a big deal whenever it comes around but combined with a new version of Office, Windows Phone 8 and the overhauled Xbox the positive effect on the whole catalogue is starting to hit home.
There has been some concern that Windows 8 is being aligned too closely to Windows Phone 8, people are often using Windows 8 to describe them both. Considering how little of the conversation Windows Phone garners maybe it's time to stop worrying about such things. The halo effect from Windows 8 and the pervasive tiled interface we used to call metro should mean Windows Phone 8 is a very direct beneficiary of all this publicity.
If Samsung see the ATIV range of Windows devices helping them assault the business market and they want to call it Windows 8, so be it. We'd just like to see Samsung start pushing Windows Phone to the masses rather than their other smartphone products.
Source V3 via wmpoweruser
Get the Windows Central Newsletter
All the latest news, reviews, and guides for Windows and Xbox diehards.