Samsung SGH-i667 passes BT certification; Samsung Mendel?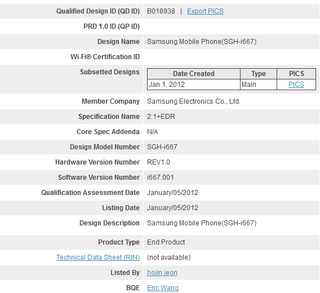 An unnamed Samsung phone, model SGH-i667, has passed through Bluetooth certification. According to Blog of Mobile, the device supports LTE, which means it could very well be the Samsung Mendel. The Mendel is one of three new 4G phones expected to hit AT&T, the others being HTC's Radiant and Nokia's Lumia 900 Ace. If the SGH-i667 is indeed the Mendel, it is rumored be big, sporting a screen larger than the 4.3 inches found on its sister, the Focus S. The Mendel is expected to hit the shelves sometime in the first half of 2012.
Source: Bluetooth; Via: Blog of Mobile
Windows Central Newsletter
Get the best of Windows Central in your inbox, every day!
Hopefully in the 1st of Q2 2012 so it will be close in release time to the 900 from Nokia on March 18. If its closer to June the Nokia 900 may already be in my hands. It would be nice to play with all three before making a choice. Time will tell,

Very nice. It looks like we will have 3 solid new choices on AT&T by mid March. I wish I knew what exactly was coming out with Apollo though. 6 months is only 1/4 of a new contract. Much too soon for me to coax an upgrade from my AT&T friends.

Still I feel inclinded to support Nokia. So maybe I will get an Ace and whatever comes out by xmas time...

Larger than the Focus S - Now I'm finally interested in a Samsung WP7 device. I cannot wait for CES, come on already! Otherwise I think I'm headed to the Titan or whatever the new version is. I want the large screen now that I've played with it.
I'm already at 4.3" in screen size, but now that I've made it there I still want more. Really wanted a Nokia bad, but if it is only going to be 4.3 then I'm going to end up with somehting else for a brand.

Good hope this drives the Focus S and Titan's price down to $99

Can they match the Focus S in performance? And will LTE be a big enough draw? I am really pumped to see.

From what we have heard, Nokia's 900 (or whatever) is going to get all the love from AT&T. Which is fine: Any successful push on WP will promote all the WPs on their network. Once people walk in to see the Nokia, they will be willing to take all the WP's for a test drive and kick those mobile tires.

so Verizon only wants phone with LTE, now all LTE phones are coming to AT&T! :))

damn at&t, share some of that love with vzw

@ silverdoe
I know, right?... We need some serious arsenal on Verizon. I demand that they put at least 3 WPD on Verizon before June.! And, I want advertising to. That's my word!

Samsung SGH-i677 is the Samsung Focus Flash for AT&T.