Samsung teams up with Microsoft to make Android enterprise more secure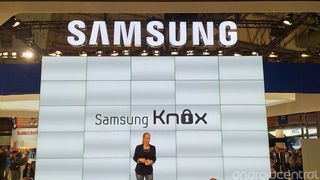 In a somewhat surprising move, Samsung today announced that its KNOX mobile security platform will support Microsoft's Workplace Join and Windows Intune cloud-based mobile device management solution.
This move is in addition to Samsung's Cloud Printing Solution, which uses Windows Azure and SharePoint. Utilising Microsoft technologies, Samsung is looking to improve security and productivity for workers who use KNOX-enabled hardware.
Injong Rhee, Senior Vice President of KNOX Business Group, IT & Mobile Communications Division at Samsung Electronics, commented on the announcement:
Partnering up with Microsoft, Samsung's KNOX platform is the first Android implementation to provide full support for Workplace Join to Active Directory, included in Windows Server 2012 R2.
That all said, I bet many of you are wondering why the companies do not simply work together with Windows Phone. We'll have to see what happens with the rumoured Samsung device.
Find the full press release from today's announcement below.
Friday 28th February, 2014, Barcelona, Spain – Samsung Electronics announced today that Samsung KNOX will now support Microsoft's Workplace Join to Active Directory and the Windows Intune cloud-based mobile device management solution in addition to Samsung's Cloud Printing solution, which uses both Microsoft Windows Azure cloud platform and Microsoft SharePoint.
These Microsoft technologies will improve security and productivity for workers using Samsung KNOX-enabled devices, Samsung's end-to-end secure mobile platform solution which is designed to provide advanced data and privacy protection for enterprise workers.
Injong Rhee, Senior Vice President of KNOX Business Group, IT & Mobile Communications Division at Samsung Electronics said: "Samsung developed KNOX as a secure and complete mobile platform for the enterprise and we continue to evolve it to protect and respond to ever-changing enterprise mobility and security challenges. As a proud and long standing Microsoft partner, we are delighted to be able to offer their Workplace Join users with the full security and support that the Samsung KNOX platform offers. We are also pleased that Microsoft has enabled device management through Windows Intune, enabling enterprise IT managers to take full advantage of the management capabilities offered by Samsung KNOX."
Workplace Join
The Samsung KNOX platform is the first Android implementation to provide full support for Workplace Join to Active Directory, introduced by Microsoft in Windows Server 2012 R2. Offered on the latest Samsung mobile devices, Workplace Join will be available on all Samsung KNOX devices in the coming months.
Workplace Join enables users to register their devices of choice with their company to allow access to corporate resources. By controlling access to corporate resources, IT administrators can manage risk while helping users remain productive. As a seamless experience for end users, Workplace Join offers a second factor of device authentication through Active Directory.
IT organisations will gain the stronger authentication that enterprises demand for access to sensitive resources. With the integration of Workplace Join into the Samsung KNOX platform, enterprise IT administrators can be assured that employees that bring their own Samsung mobile device will be able to be strongly authenticated and allowed access to corporate resources.
Bob Kelly, Corporate Vice President, Cloud & Enterprise Business Development, Microsoft said: "In line with our commitment to serve enterprises and users in heterogeneous IT environments, we are pleased to work with Samsung to bring Microsoft's trusted, cloud-enabled, enterprise BYOD capabilities to Samsung devices. Like Windows device users, Samsung mobile customers will now be able to take advantage of seamless authentication for access to enterprise resources, and Enterprise IT will be able to manage those devices and users through the cloud with Windows Intune. We are also excited to see Samsung use Windows Azure and Office 365 cloud capabilities to give users a smartphone printing experience that rivals desktop and laptop printing results, with Samsung Cloud Printing. We see many opportunities to collaborate with Samsung in the future to continue providing enterprise-grade solutions for BYOD environments."
Windows Intune
Microsoft's Windows Intune provides first class support for Samsung mobile devices supported with the KNOX platform. By implementing management APIs provided on the Standard platform, IT administrators can comprehensively manage Samsung mobile devices via the Windows Intune administration console and enable device access in high security environment, KNOX.
Samsung Cloud Printing with Windows Azure
Samsung Cloud Printing uses the Microsoft Windows Azure cloud platform and Microsoft SharePoint to provide PC quality printing experiences on mobile devices. Mobile users will be able to easily print documents directly from their smartphone, with results that will be indistinguishable from a printout of the document from a desktop or laptop computer.
Windows Central Newsletter
Get the best of Windows Central in in your inbox, every day!
Rich Edmonds was formerly a Senior Editor of PC hardware at Windows Central, covering everything related to PC components and NAS. He's been involved in technology for more than a decade and knows a thing or two about the magic inside a PC chassis. You can follow him on Twitter at @RichEdmonds.
This is a good thing since Android is still unsecure

And Microsoft earns billions from Android royalties.

So we can buy and destroy droid too its in our hands now.

Idk why but it bothers me as it feels like android and Google are literally everywhere these days...even in places you wouldn't expect partnerships. (though idk what this really has to do with windows phone central related news but ehhh....)

Well its Microsoft related so...

Windows Mobile and Windows Embedded use to be everywhere back in the day, it's just the cycle of tech.

I dont have the patience to read the full article. Someone explain what the article is about.... :)

i dont have patience to type what the article says... so better read

I didn't read the article, just scrolled to comments for the fun, slow day lol

You can't stop the machines! Lol

Some interesting things. I like what Microsoft has been doing lately!

Did they have to rename it, Samsung cloud printing.

What a hell... why is microsoft helping make android more secure instead of focusing their efforts in promoting WP in enterprise? Being more secure than android is a great plus of WP, and microsoft is shooting themselves in the foot by taking that advantage away. Am I missing something here?

For MS this might be actually a good move. It makes Android users get used to MS enterprise services which in turn means people will be more likely to move to full MS environment in the future and be much more open to it. I'd say smart move, MS.

Exactly!!! So Microsoft is working with Samsung to make Android better? Sounds retarded!

Because MS is a device and SERVICES company. The service side wants to help make MS services on Android more secure. There's absolutely nothing wrong with that.

Thank you! Many people don't understand the mechanics of business. Microsoft, Google, and Samsung did not become the size companies they are without being strategic about various partnerships. All of these companies make money off of services NOT their hardware. It's about getting your services into your targeted clients hands and as many as you can. If some decide to try a Windows phone, fine, if not, they're still invested in Microsoft services (which makes Microsoft money). At the end of the day, these companies are about making money. Posted via the WPC App for Android!

This is incredible shortsighted. Sure they might make more money in the short run but in the long run they are just decreasing their chances of being successful in the corporate mobile environment.

No, they are not. Microsoft continues to be very dominate in enterprise. It is short-sighted to not work with others to help get your services out into as many hands as possible. Sometimes, to build a brand you have to work along side your competition. I'm sure that Microsoft will also receive some monetary compensation as well with this deal. Being a business owner myself, this makes sense to me. Not everyone is going to want my specific product, as it may not meet their needs, but partnering with a competitor continues to get my brand out there and allows me to showcase what I offer. Doing this has produced clients my way. Believe me these companies have analysts and forecasters who think of both the short and long term results of such partnerships. It's about how this affects the Microsoft brand in long run. Microsoft is a service company. Partnering with others helps improve their services, continues to build their brand, they make residual income, which can then trickle to other products that they offer. When you are a billion dollar company you have to take opportunities such as this to continue. The enterprise market is starting to ramp up quickly. Everyone wants to get in there, which means it affects Microsoft. Partnerships can help solidify their position in the enterprise market. Posted via the WPC App for Android!

There is everything wrong with that. That are improving the competition which in the long run will just cause them more harm then good. Until Microsoft starts thinking strategically as one they will keep screwing themselves like this. WP is Microsoft's gateway for success in mobile and they need every advantage they can get.

I totally agree with your statement. If I were MS I would drop all support for Android and focus on WP. Doin tht would make android worse than it is now and people will end up switching to a more secure and reliable device.... WP! Gotta be aggressive if you want WP to survive and overtake the rivals, ms!!

It would be very disingenuous for them to make this move. They would lose access to hundreds of millions of users. Some of which are enterprise users. Posted via the WPC App for Android!

see Windows and Microsoft are essentially two diffetent things windows is under microsoft but microsoft is the main company, and there is more to that company than just windows and windows phone, windows is not the company, microsoft is

Which game are they playing?

If this move increases MS's security chops - and the pace of adoption, for the WP platform... Well that's a good thin, surely!!!!

Samsung + Security = 2 words that just don't go together

Those are some longgggg and confusing names.. -- I thought I was reading the article wrong, or that there were some grammatical errors at first. Lol

I suspect Samsung Knox doesn't have or severely limits access to Google Play Store. Enterprises running Intune aren't going to be running on Google Docs. Microsoft is probably going to have all the essential services running on this Android "fork?". IT will control what apps can be loaded onto the phone or perhaps they've figured a way to silo work and play profiles like BB. The "Services" component of Microsoft being fortified in Samsung Knox.

In typical MS fashion, WP8.1 will still not feature WJAD support. (my prediction)

Mo Money, Mo Money, Mo Money ; )

Remember Samsung is probably prepping to eventually move to Tizen in the near future

good very good the more usage of microsoft products the more Dependence On MS.

I understand Microsoft wants to make money. So, way to go Microsoft! Help Android and make them more secure.

Uhhhh... Have people forgotten Microsoft makes a ton of money off of Android? Why not build support for it? It doesn't matter if you buy a Windows or an Android phone: Microsoft gets paid regardless.
Windows Central Newsletter
Thank you for signing up to Windows Central. You will receive a verification email shortly.
There was a problem. Please refresh the page and try again.