Samsung throws out more updates for its Windows Phones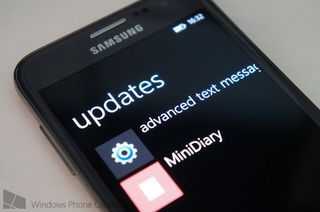 Samsung has been busy as the manufacturer has released updates for two of its Windows Phone apps, as well as two system apps. MiniDiary and AllShare are the exclusive solutions from the Samsung Zone, while Advanced text messages and High Fidelity Position were also bumped to higher versions.
Here are the new version numbers for each app, as well as download links for more convenient access:
- MiniDiary (WP8) - 2.2.5.2 to 2.2.6.1
- AllShare (WP7) - 1.6.4.1 to 1.8
- Advanced text messages (WP8) - 1.0.1.0
- High Fidelity Position (WP7) - 1.5
Unfortunately, once again we do not have access to a change log that's publicly available through the store. Should you notice anything new in any of the covered apps, be sure to let us know in the comments. via: Windows Phone Italy
Rich Edmonds is Senior Editor of PC hardware at Windows Central, covering everything related to PC components and NAS. He's been involved in technology for more than a decade and knows a thing or two about the magic inside a PC chassis. You can follow him over on Twitter at @RichEdmonds.
Loool shame sammy Nokia crush them with your new EOS :P

Any chance we can keep the flame war anti apple and android and not devolve into cannibalism?

Competition within competition, I don't mind it.

Why do we need a flame war at all?

+111 I enjoy my ativs alot. Doubt TELUS will get the eos. As the top Nokia has been Rogers only todate

this is good to see Samsung picking up the competition to nokia, it can only be good things for wp8.

Question....which supports their phones more for windows phone? HTC or Samsung?

I say Samsung, but there are no Ativ S's in the US though, for now. Hopefully there will be an S4 variant with the Ativ S's design. I know sprint will get the Ativ S though.

Are you sure Sprint is getting Ativ S and not a new Ativ model? Samsung is hold a press conference later this month so I guess we'll see what they have to announce.

I may be wrong, but WPCentral told us that a few months ago.

Took the plunge and bought a Ativ S last night.Can't beat having removable battery,SD card slot,4.8 inch screen on the Ativ S. let's see how I like it over my 920.

Welcome to the ATIV S my brother. It gets better.

It will be on my door step Saturday,can't wait :)

I got mine at a great price. I don't understand all of this anger, really.

Me neither,went bought a 64 gig sdxc sd card for all my music and photos.Could not load everything I wanted on my 920.I do alot of traveling on my motorcycle and there are areas were I can't access SkyDrive on my phone,so a SD card is a must for me.

I wonder what the ratio is for wp8 device mfg for updates is?

With this kind of crazy support i wouldn't be surprised if samsung overtook nokia in the windows phone game

Lol. Relax, It'll take more than just some app updates

Lol I believe this was called sarcasm :)

Samsung should put the heat on Nokia in Windows Phone game we will get more quality but still Nokia for me

How come we still don't have allshare for WP8 ?? It's not so cool when my friend can stream videos to my Xbox from his S2, and I can't...

Not about beeing a fanboy nokia or not, it's THE FACTS!
I have Lumia 820 and Samsung Ativ S and please... Samsung far away behind Nokia overall speaking.
Samsung: NO MAPS, BAD SUPPORT, UNFORCED REBOOTS, ETC...

Dont read me wrong, i like the ATIV S i just dont like Samsung support.

Why am I only getting MiniDiary & no AllShare? Is AllShare region specific?

Interesting how this is being reported now when I was able to get both of these updates back on Tuesday. Doesn't matter.
Personally, I find it ironic that so many Windows Phone users are mocking Samsung considering they've been with Windows Phone since the beginning. They launched 2 WP7 devices in 2010, 2 in 2011, and 2 more in 2012. Nokia only came aboard in late 2011. To say that there's a lack of support is really unfair.

I would like to get a Samsung ATIV-S to use with T-Mobile in the USA, but am not sure if there's a model that's compatable with the 4G, 3G, Edge frequencies in the USA.

Any Canadian unlocked phone (Rogers/Bell) will likely work with T-Mobile, though you might only get 3G.
Windows Central Newsletter
Get the best of Windows Central in in your inbox, every day!
Thank you for signing up to Windows Central. You will receive a verification email shortly.
There was a problem. Please refresh the page and try again.