Satya Nadella apologizes for his remarks about women asking for raises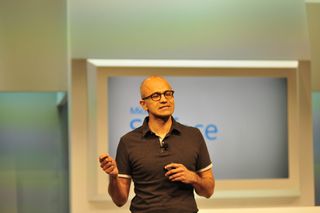 Microsoft CEO Satya Nadella has issued a formal apology for comments he made on Thursday centering on how women should ask for a raise, saying he answered a question about the subject "completely wrong."
Nadella made his remarks as part of a Q&A at the annual Grace Hopper Conference on Thursday in Phoenix, Arizona which centers on women in the computing industry. During the Q&A, Nadella was asked by Microsoft board member and Harvey Mudd College president Maria Klawe what advice he would give to women who might not be comfortable asking for a pay raise. Nadella stated those women should have faith that the system should give them the right raises as they go along in their job. He added that women who don't ask for a raise will get "good karma" from the company they work for in the future.
Needless to say, that remark didn't sit well with many people who took to Twitter to complain about Nadella's statement. He quickly posted a response on his own Twitter account, saying, "Was inarticulate re how women should ask for raise. Our industry must close gender pay gap so a raise is not needed because of a bias."
In the end, Microsoft's PR rep issued a longer and formal apology from Nadella, in the form of a company email sent to all of his employees, where he finally stated that women who feel that they deserve a raise should simply ask for one. Here is his full response:
Do you believe Nadella's final apology was enough to close this issue over his remarks?
Source: Microsoft
Get the Windows Central Newsletter
All the latest news, reviews, and guides for Windows and Xbox diehards.