Satya Nadella is officially named as Microsoft's third CEO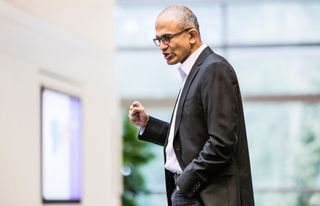 The wait is over as are rumours and speculation. Meet Satya Nadella, Microsoft's new CEO. Officially announced today and currently residing in Bellevue, Washington Nadella is the latest name to lead Microsoft, the massive software and hardware giant. While enjoying both cricket and poetry in his spare time, Nadella will be tasked with heading up innovation at Redmond. This new appointment will take effect immediately, enabling Steve Ballmer to retire early.
Joining Microsoft 22 years ago from Sun Microsystems, Nadella has played an important role at Microsoft by transforming the company's cloud business. Prior to this, Nadella studied Electrical Engineering at Mangalore University before emigrating to the US to study computer science at the University of Wisconsin. It's clear that while Nadella has invaluable experience in system backend and cloud computing, the new Microsoft CEO has yet to prove himself when it comes to consumer-based business, an example being Xbox.
Former Microsoft CEO, Steve Ballmer, added the following to the press release:
Bill Gates, previously holding the position as Chairman of the Board of Directors, will assume a new role on the Board as Founder and Technology Advisor, devoting more time to the company and supporting Nadella in shaping technology and product direction. John Thompson, lead independent director for the Board of Directors, will assume the role of Chairman of the Board of Directors and remain an independent director on the Board.
It's an exciting time for Microsoft and we're sure Nadella will bring new traits and ways of thinking to Microsoft's divisions, not to mention the looming deal with Nokia. How Nadella will work with the newly acquired division will be interesting to see.
Head on over to the Microsoft website for more videos, photos and content about the newly appointed CEO. The company will also hold a live webcast at 12pm PT, so remain tuned to our feeds.
Source: Microsoft (opens in new tab)
Rich Edmonds is Senior Editor of PC hardware at Windows Central, covering everything related to PC components and NAS. He's been involved in technology for more than a decade and knows a thing or two about the magic inside a PC chassis. You can follow him over on Twitter at @RichEdmonds.
This is great news! It's over!:)

Nadella got swag, I like it.

He's bringing swag to Microsoft

Excited to see the innovation that should come from Microsoft. This guy gets it - it is mobile and cloud first world going forward and that is what he says in the interview will be his focus!

Best possible combination: Satya at top and Bill back in businesses.
Well done Microsoft!!! Future is good and time is on MS side.

Congratulations and welcome aboard Satya Nadella. Looking forward to the next era of great innovations from Microsoft.

He's been with the company for over 20 years...

Congratulations Mr Nadella. I hope one of your top priority going forward is the release of Windows Phone Devices on all major network here in the U.S.

Prepare to be disappointed. He's not the CEO of the wireless providers.

Lol! Yes that would be nice..

I hope his priority is to release all services, features and devices worldwide, for a change.

Now this would be a great thing. Imagine having access to xbox music in most countries or even local scout for eg.

Indians rule them all... Yay us

And for giving you the advanced Western education, science, and legal systems that made it all possible - you're welcome
- The British

LOL you win the internets for the day. (BTW Nadella likes cricket too, none of that yank w**k)

you had them all but never exploited them to the best we are good at that ....lets not get into the history and stuff lets just hope for good and discuss about things to come from microsoft ..not Indians or British

I'm Canadian so I'll stay out of the whole Indians and British and who did what when... LOL. But I will say this. India is a huge and growing market and having a CEO from India can only be good, I would think, for Microsoft's efforts in that increasingly important market.

"you had them all but never exploited them to the best we are good at that ...." I agree 100%. Now can we have our jet engine back? I think you forgot to pay for that one.

lol really, all you guys did was stole our wealth for 200 years! Thanks but no thanks to The British!

Little bit over simplistic. While it wasn't said in a nice way the OP is correct. The British legal and educational traditions have helped many nations thrive. A lot of bad things came from colonialism but a lot of good things too.

Man! With no disrespect! colonialism did nothing but affected my country in a really poor way, if you must know, Indian Education System was much more advanced at the time as compared to britsh! And if you'll read about INDIAN Civilization, you'll be amazed at how advanced it was at that time and before the colonialism, India was the richest country in the world, and when they left we had the most numbers of poor people! So all i can say is that they robbed us and did nothing good for my country!

Yeah...all these centuries people robbed us....nd we indians had no history of doin back to ny of em..even so being a now nuclear nation..haha.. Funny..

I wish the Indians would just shut up and get on with it. Truth is, you guys got thrashed by the cowboys in every movie.

Oh yeah! I wish that you keep your mouth shut and go continue you job at ASSHOLES and STUPIDS corporation!

All this from the country that gave us Al Gore.

And for giving you all the things you give to others - you are welcome - The Greeks

Without that Arabic number system 1-9 and and Hindu 0 none of these tech things would be possible. And the most important ingredient. The African binary system 1-0 See the Ted talk by Ron Eglash African Fractales or the Ishango Bone found in the Congo, world oldest math calculator, multiplication,prime numbers etc 20,000+ years old tool. What you spew is colonized history. Each group on this planet has contributed to what we enjoy as a collective today.

Hey guys, congratulations! Whether it's British, Indian or whatever, you've proved chauvinism is boring and divisive. Shut the f#ck up and give our best wishes to man. And for the record the British left India in the 1950s, so I doubt any British person here did anything to any Indian person here because none of us are that old. Look to the future.

So Nadella, when is notification centre coming to Windows Phone?

You know that already. Next question...

Next question? Okay. Will my HTC HD2 get WP8.1?

Probably yes, by the help of xda developers... ;-)

Yes! Pass go and collect WP9.

Bill Gates is coming back too right? As a software advisor, i read it on bing news!!!

Satya Nadella has asked Bill Gates to be a Technology Advisor and he (Bill Gates) has agreed to spend a third of his time at Microsoft to work on next round of products and services.

Okay Nadella, when are Xbox Music and Bing services coming to India? Is there any chance we might see a WP8.1 device at the MWC this year?

Good news is that he is from India, so am guessing he should be more considerate towards it, over the previous CEOs

When is Pureview coming to Kinect?
When is Tellme coming to Bing on Windows 8.1?
When will Windows ship with a full video codec pack?
Where is my waiter?

It's called the home screen.

Never. In fact, we are removing the notifications from the start screen. This way you can GUESS what your phone is doing. Did you get a call, or maybe a text? And sounds are disabled by default.

Congrats the CEO rumors can rest now

and the Elope scare is behind us.

Guess the Elop scare Eloped

Ok guys, time to take off your tinfoil hats

I wonder how Wall St will react to this news.

probably well, considering he was already responsible for a large and well performing part of MSFT

They wanted my opinion and review.

Hahaha...that one really cracked me up...! xD

And why did this take you so long?

he was going through carrier testing for a while

We might as well close the comments now because no one is going to top this. :P

Bet he uses a at&t L920. We will get our updates Now, Varuka Salt.

He needed my Opinion and permission

Carefull with trolling or this might happen to you You have been banned for the following reason: trolling Date the ban will be lifted: ANY DATE From <http://forums.wpcentral.com/>

There are two kinds of trolling. The ones that are fun and harmless, and the ones that deserve to never come back.

There's two kinds of comments. The ones that are related to context of previous comments and the ones that deserve to burn in hell with that German dude which had weird beard

I'm counting the seconds until an android or apple fan boy calls him Nutella.

Really? *facepalm* that's racist, but In a good way.

Not blaming the Android community for it, but I already saw that happen on CNet yesterday... :-/

This just came across as a special news alert on my Bing News app haha.

I thought Sundar Pichai had the upper hand! Btw congrats Mr.Nadella :)

And fianally end to speculation Feeling proud to be Indian

You're forgetting about Raj Rajaratnam?

Raj rajaratnam is not an Indian.. He is a sreelankan

My apology for the misidentification. You must admit, however, that India has more than it's share of corruption. I'm not anti-Indian btw....I've been going there for 37 years.

Corruption exists in different type and different form in every country. Here corruption is very high level. Behind every policy change and bill there is corruption, favouring different groups and people. You know who holds 90% of world wealth.

You are correct. As an Indian friend of mine once said to me, "Your country is corrupt all at the top and mine from the top to the bottom."

Please don't,there's nothing to be proud of, he's the CEO, good,on Satya, but you don't see the Americans go "Bill gates, so prod' do you ? It's just embarrassing.

Well there in lies the difference between Americans and us Indians we are proud of all the billion of us and are happy for them unlike you people who always say ... What's in it for me?.... Get my wind?

Really?. Proud of all the billion of you?. That includes the ones that had done what they had done to "Damini"?.

FYI, if you tell Americans, "Get my wind?" you're basically asking if they smelled your fart.

Fantastic choice! Watched several interviews with him. He's candid, a great communicator, as smart as anyone could hope to be, and gets it. He also has a good understanding of all MS does. Excellent!

Just hope he does an even greater job than Ballmer. The better, the merrier =)

I just hope him being from a Business-focus background doesn't mean my beloved WP and Surface divisions will be neglected. Another thing I would urge him to do differently is to give more attention to the rest of the world regarding services. Google and Apple are way more present here in Brazil...

Read his letter to Microsoft employees, he laid emphasis on mobile devices & cloud computing.

Agreed. I want some Xbox love too.

Excited what he will bring to the WP community .

Yyaaaaaaayyyy....wow, happy for him. Congrats boss.

Excited to see what changes he brings about. I think the Xbox division needs new life, and WP needs to evolve faster. From the little I know about him, seems like a good, different choice.

Wait , he is Indian!!!!!!

I'm not sure if this guy can help solving Microsofts image issues but lets hope he can turn the company around. To me there's two positive things out of this: 1 - Bill Gates is finally returning to a more active role which should help; 2 - Eflop didn't get to CEO, which would be another prize by his disgusting Trojan work at Nokia. Hopefully he'll end up sacked from the d&s division too.

2- lool you need to move on... You are making this way too personal.

The guy ruined my favourite company. of course it's personal. I will move on phone-wise, sure. I'll have no choice. But I'll never forget that rat Eflop. Sorry but no way.