Satya Nadella says HoloLens coming 'within the next year' for developers and enterprise users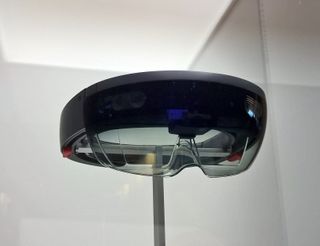 Microsoft has revealed a bit more about its plans for the HoloLens augmented reality system. While CEO Satya Nadella has previously stated that the first version of HoloLens will focus on enterprise users, we now have a timeframe in which initial users might see the device. Speaking to the BBC, Nadella noted that they plan to get version one out to developers in the next year.
From the BBC:
Microsoft has demonstrated a number of applications for HoloLens since its unveiling in January, from augmented reality Minecraft to 3D modeling.
Source: BBC
Can't wait to see what they'll do with it

I can't wait to start messing with the SDK and develop holographic software for it! :D

This is a little disappointing. All indicators pointed to earlier than "within the next year."

What I was thinking too. They risk missing their window of relevance. I guess that's better than shipping (yet another!!) half-finished product though. Maybe this really is a new and improved Microsoft. ;)

Well as long they maintain the marketing-buzz and public awareness, it should stay relevant. The market isn't there yet (unless somebody especially Google suddenly release something). I rather wait it until its fully ready. Half-finshed product will be just nail in the coffin. Especially that people right now have high expectations on HoloLens. Look at Ocolus Rift, its been announced few years ago but only recently is officially launched, they are still relevant and people are excited. Microsoft can do that do if they play their cards right.

Both Google Glass and Oculus Rift were able to hold up a high level of interest over years, none of them is jet available. While I think Glass died earlier this year Oculus still works on releasing a consumer Version. Glass shows, that it's important to deliver a product that realy works and brings a real benefit for the user. Microsoft still has to do some work to show why you should use this. At the moment I see it more as a bussiness device than as something a consumer would spend money for (other than some rich geeks who buy everything). Minecraft on a table my be cool but nothing you spend a lot of money for.

CES or MWC? That's the question :D And is it just coming for devs and enterprise ? And definitely gonna get one a.s.a.p. , I want it to go everywhere ! The price of it hasn't been decided yet right ? I guess it's around 1000$

CES seems like the better venue

For sure around 1000. Maybe less if we're lucky

So the consumer version is years away, typical. Same as the endless wait for consumer version of Occulus.

Except Oculus is nowhere as advanced as HoloLens.

It's not just "advanced" it's a whole new product, VR vs AR

I think this is because they noticed all the bad press they were getting regarding the shrunken field of view, and they wisely decided to delay the consumer version till that gets ironed out. They can't afford a bad first impression, or HoloLens will be DoA like Google Glass. Enterprise only first is the way to go.

Yeah the limited field of view was definitely an issue that would probably ruin peoples expectations, but still a five year time frame seems like an overkill.

I think the five year time could be mean that HoloLens will reach its grand vision. They can still release HoloLens within next year or 2017. HoloLens really needs to work on mpre on its FoV. Its definately an issue and that's why they will release that first on developers and enterprises. Consumers version needs to be really complete and align with peoples expectations. They have just continue to create buzz about it and make good news to keep peoples interest.

Danged if you do, danged if you don't. Bring it to market with no developer support and nothing to do with it and perhaps not even being hardware ready, and people will complain. Let people know that the technology exists, get people on board, have some real world use case scenarios that can drive the core product (to ensure it sticks around and isn't treated as novelty), and people complain. Can't satisfy anyone. Bunch of whiners the lot like you...

And I am sick of people who consider any criticism as whining.

RayWP7, I feel your pain, but what we have to remember is we live in a world where each person has a different opinion; so when something comes out that you see people complaining regardless it means there is a high interest in what the subject might be. After all everyone has the right, or at least they should, to speak.

Damn... Can't wait to get my hands on one of those.

I think build 2016 would be the best launch moment for devs
Maybe even given one away​ ;-)

Hopefully that will be enough time to allow them to expand the visible region to near our full eyesight.

Coming weeks, coming months, coming years. Good progress.

But they have said previously that it would be coming around this year after the release of windows 10

Perhaps they ment that around the same time as release of Windows 10 for HoloLens.

They said in the Windows 10 timeframe. In my opinion is rather ambiguous, as it could mean there is something else planned after Windows 10 or it will be a verrrrry slow rollout. Or maybe I'm parsing it too much lol.

"Within the Windows 10 timeframe"
"Windows 10 is the last version of Windows" So, basically they can release Hololense whenever they want? :P But seriously what defines the "Windows 10 timeframe"?

Initial launch for phone and first year maybe two of updates, I assume

It's like counting infinity. XD Well I would expect they will officially release it around 2016 or 2017. The hardware is almost ready, though I hope they will improve the FoV more.

So google will steal ms idea for google glass

Honestly I'm just buying whatever comes to market first. And whatever people buy is what developers will build for ultimately. Looking forward to what Magic Leap and others have to offer.

I think this hololens business is more of a "look what we can do" hype catalyst for windows 10 and xbox. More publicity than anything. Especially with the Minecraft focus.

90% of the marketing for HoloLens was consumer focused, in home usage. Games, big TV, virtual pets, weather widgets, Skype dominated the marketing material. So of course now they claim it is an enterprise focused device. Ugh. You know Samsung has already fired up their copy machine and will probably beat Microsoft to the consumer market now.

But common person would get bored using hololens. They would use the same thing but in a holographic way.

I really hope that I'll be able to get my hands on one. Would wear that thing everywhere!

Has humanity always been this spoiled? Patience is a virtue.

Why would you develop for a thing without a solid consumer release date? The whole point of developing is that you expect there to be a sizeable audience to get your software.

Before I care, they need to fix the narrow FoV it has.
Windows Central Newsletter
Thank you for signing up to Windows Central. You will receive a verification email shortly.
There was a problem. Please refresh the page and try again.