Satya Nadella will visit India on May 30 to meet young achievers, top CEOs in the country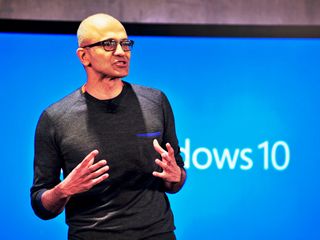 (Image credit: Windows Central)
Microsoft CEO Satya Nadella will be in Delhi on May 30, where he will interact with young achievers, entrepreneurs, developers, and students. Nadella will also take part in an hour-long session with the top CEOs of corporate India, commissioned by the Confederation of Indian Industry.
Nadella's visit will highlight ways technology can be leveraged to foster a culture of innovation aimed at tackling real-world problems. During a previous visit, Nadella touched on how technology can empower the lives of billions of Indians, and his upcoming visit will expand upon that vision.
According to ETTech, the executive will be in the country for just one day.
I m happy for him, India is his native country, but I just dont care a s@@# of what he does. Hope he will be removed soon from its CEO position, he s destroying Microsoft with his blind short term vision !!

Look at the numbers. If they don't improve he's gone.

MS is doing great, maybe you should look at the numbers...

If they fail in the mobile business, they are gone in 5/10 years, pc market is dieing (cloud is just not enough to dominate), don t look at fnancial quarters (too short)...

Why are they gone n 5 to 10 years? Please explain how.

Ms is doing great? Keep telling yourself that. Posted via the Windows Central App for Android

Agree 100% in the long terms damages of nadella/capossela/belfiore will be devastating
Ms-Competitors are eating market share to ms platform/ecosystem even on laptops...

The idea of Windows 10 was by him

do you know!! only and only because of him Microsoft is in a Competition with competitors.

These decisions are not made by one person. CEOs only officially announce them. They may or may not have come up with the idea. - via Lumia 950XL

Sorry, surface, windows 10, hybrids, Azure, office 365 are all from Steve Ballmers tenure at Microsoft. All Satya has done is form more partnerships (oracle, sap, & salesforce, not phone hardware partners either), killed the surface mini, sold parts of what they purchased from Nokia, and seems to be ignoring the mobile space again, the same mistake we know Ballmer under estimated in the past. And please don't talk about Microsoft having apps on all platforms because that won't be enough to sustain them I'm the mobile market. They've dominated the PC business do to hardware sales preloaded with windows, however the same cannot be said for mobile as they don't have the support of other OEMs like their PC business does. This is why they definitely need their own compelling hardware and they simply need to pay developers of the most popular apps or let them take all profits of the apps they make to get them on windows 10/10 mobile asap. If you take into account everything I've mentioned above, can someone tell me of something new and groundbreaking that he's done since taking over? To me, both he and Tim Cooke really haven't done anything; Tim Cooke inherited a behemoth company who's reputation is keeping it on top, outside of that, all Tim has done is come out as a non-heterosexual CEO of Apple making wise cracks about other tech companies because that apple watch, iPad, iPad mini, and iPad pros were already envisioned before Mr. Jobs passed away I'm sure.

Lol I m 100% with you bró

hey!! Dooshbag!! You Literally Don't know any thing about him. so shut you mouth.....and just don't write any thing about him.

@WpGameModer:
Oh C'mon man.
What kind of competition, hehhhh you can just talk about Surface & Azure.
Everybody knows what he had done with MS Products & specially to it's mobile division.
He didn't left a single try in ruining WP/WM.
If you think, I'm wrong, it could be true. But Wait.
Let me talk about His native country 'India' , he couldn't convinced Indian developers to develop apps for WP Platform, most of the bank apps are still missing even though we were promised & talking about entertainment there are 1/10 apps found in WP( or what else you call it WM ). Do you know "Hotstar" is Indian app still not available for WP8.1/WM even though it is available for jelly bean on android while Marshmallow is here.
A lot of news & TV apps are still not on this platform. Just tell me, how you'll justify your statement...??? How?????

from india I support your view, cuase we find it extremely difficult to use wm only because of apps. no apps are present like hotstar, swiggy, voot, tata sky, airtel money,etc, and some apps like paytm, foodpanda, axis bank, myairtel, myvodafone, uber ebay, m-pesa and many others that are non-functional either due to no update or due to update without no fearures being added to them, for that uber is the biggest example. like you search for Kolkata its showing las vegas. I become so irritated to use android. using wm from 2012. but simply its not happening. my 730 is in bad condition but I cant find a wm device to buy. no option for us to choose, only two or three devices. becoming sad for all these. please focus on mobile division mr Nadella. will, will will will, all the things/features/apps of wm are in future tense which never comes in present!!

Apple ceo is also in india

Apples CEO is already in India n is opening a Dev centre in Bengaluru to support iOS devs and obvio to increase iPhone sales. Nadella needs to create a buzz before he loses another promising n growing market to apple :v

To be noted, he visited a Ganapati temple as at first before going anywhere else :p

LOL.....$Apple CEO is in India because they are going down...don't you know Last week apple loose all the money they earn in last two Years....because of Android. ...in India because it cost them less (so much less) to Recover Loss.

I hope he was from Greece so he would support our local microsoft more. We don't even get microsot hardware officially.

That's not how businesses work. Previous CEOs were American. What extraordinary did they do to support Microsoft in US? A company will focus on markets where it has a significant presence and growth potential. Currently, Microsoft focuses more on China. Remember Xiao Na (Chinese Cortana), W10M on Xiaomi Mi4 and special Chinese version of W10? This is because China is a huge market for Microsoft. Many western markets are termed as "saturated". So any CEO, regardless of his ethnicity, will give importance to only growing markets. ~Sent from L830

Well, there are a lot of growing and big markets to support and India is for sure one of them. But also i'm sure that he is a little biased towards india. Judging from all his past moves i have saw the last two years. Are you sure that his origins don't play any role?

Any examples of his biased decisions? ~Sent from L830

Almost every second thing i hear about microsft has to do with india. That was not happening before. It is physical and logical to have a strong bond with his roots. I am not saying it is a bad thing. Some examples: Satya Nadella wants to work with entrepreneurs to connect rural India http://yourstory.com/2015/12/satya-nadella-entrepreneurs/ http://www.ndtv.com/cheat-sheet/at-satya-nadellas-school-in-hyderabad-te... He visited the Hyderabad Public School in 2009 and 2011 and gifted the Robotics department to his alma-mater.

So? What's wrong in that? He's not doing it for free, is he? People have simply started linking Microsoft's projects in India to its CEO's ethnicity for no good reason. Now Tim Cook has planned to create tech centres in two Indian cities. Also Apple is going to set up its retail stores in India. So would you say he's Indian or his decisions are biased? No wonder ignorance and impracticality have grown too fast in the last few years. And fyi, a CEO is not the sole "owner" of the company. There's something called as "board of directors". Nadella can't just do whatever he wants w/o considering the company's interests.

You should read more carefully my previous replies. Of course is not doing them for free (most of them). But as i said there are a lot of big and growing markets. Microsoft seems to favorite india and us. You can't get it out of my mind. It's my opinion. I am sorry i don't agree with you. I am microsoft fan to the bone, and i am not ignorant i believe. But you seem a little biased, too. You asked for examples, i gave you and you said it doesn't matter because is for profit, like we were talking about philanthropy until now.

Same here. It's my opinion. I see no reason to say Microsoft has become biased towards a particular market solely on the basis of the CEO's ethnicity. It's a complete bs. Also there aren't many growing markets left since the 2008 financial crisis, especially in Europe (of which Greece is a part of). And as I said, it's China and US which are getting the most attention. Moreover, many of Microsoft's services are US/UK-only. Even Cortana in India is pretty basic. They launched it in India only because of its large English-speaking population. Else there still wouldn't have been Cortana in India. And again, whenever there is any India related news on this website, people go crazy. Just switch to US edition if you're so intolerant. ~Sent from L830

lol i am already in the US edition, but i can read this. Complains to windows central. But another proof that you are biased is that you are saying i went crazy (all of us anyway) but i spoke calm and gently. You insultent me and went crazy. You must check this. Sometime is you not the others.

I am on the defending side. I being biased doesn't matter as I am not a Microsoft spokesperson or its employee. And by "going crazy" I meant allegations as yours start popping up. You aren't the first person to do so. I never *insulted you. And by "people" I only meant those like you. And y'all are few but create a huge and unnecessary impact here. Anyways, I'm done. Nothing's gonna change by your views. Companies will do whatever is in their interest and not the markets'. And still ignorance hasn't reduced.

All of you people speaking broken english and arguing with each other is difficult to understand yet funny. Gotta wonder if you even understand each other. Do two broken english speakers cancel out the confusion and create understanding? Lol idk, I need to get off the internets

Well saying someone ignorant is an insult. And why are you on the defending side if you are not a Microsoft spokesperon or employee? I thought you're a person expressing his disagreement not defending a strange company.

I didn't say you, particularly, are ignorant. I am just against such a view regardless of the company. Not just Microsoft, people also say the same thing about Google and Pichai. If this is not ignorance and impracticality then god knows what is!

Sundar Pichai asked "Where is Taj Mahal? Take me there" to Google Now in Yesterday's Google's IO Conference. Do you refer such references as being Biased? LOL

"What extraordinary did they do to support Microsoft in US?"
I really hope you are joking, because I don't have the whole day to keep listing all US-only MS services, products and offers.

More than 2/3rds of news on WinC is US-related itself. India related news comes once in awhile and people go crazy about it. Lol.

Microsoft and Windows Central are both US organizations most news is meant to be from here. The reason people have problem here with India is because the remaining 1/3rd news seems to be all about India, while the only link people see is Satya. In comparison, England, Italy, Germany, France, Brazil, Canada, Mexico, Argentina, South Africa, amongst many many, and maybe even China are treated as second hand citizens. Yes India is a big market, but how much of India is actually educated above high school and working in a job to be using some of these services. Early School educational services is a different story and I understand their implementation. But how about do the same in some other countries listed above. Mexico is physically nearer to US and as cheap to work in as India. Why is Latin America ignored? - via Lumia 950XL

"Microsoft and Windows Central are both US organizations most news is meant to be from here." Yeah, and so it is. And no, the remaining 1/3rd is not completely occupied by India-related news. Had there been a writer from China or those countries you have listed, then there would have been news from those countries also. There are not many correspondents from those countries and you expect writers over here to get news from those countries? The two Indian writers live in India and so they get such news. Also WinC website receives huge, unmatched hits from India. And moreover, MS is a multinational company. So it doesn't matter where it is headquartered. I don't see anything good except product launches and data centre initiatives in India from MS. I don't understand what's the problem y'all have with websites reporting India-related news! India is a huge market, has 1.5 times the population of US connected to the internet and is an IT giant. How can you expect less news from such a country? Ignorance has a limit.

I'm not talking abou WC news, the thing is MS is now focusing in India just because of Nadella. Brazil was a big WP market, and it was completely ignored since the L640.

To be honest, MS is a US based company and naturally would support their home country first as does Apple and many others. Do companies who originated in India have major support for the US? If so, please provide some example of those companies to the many US citizens on this site.

Indian companies comprise of start-ups, which MS is certainly not. Only recently India's largest phone-maker Micromax has ventured into Russia and few other north-central Asian states. You expect companies from India to serve US where they don't have any presence? Huh!

Honestly, the biggest reason Apple it's spring overseas countries it's to house the money there to avoid America's taxes on it. Until recently, they could care less because the bulk of they money comes from Americans buying they're mobile hardware. As another commenter said, they've recently began losing traction here in the US to android, so in order to get their, "richest company in the world" title back they've had a change of heart concerning the importance of foreign countries. The question was, " what companies from India support the US like you're saying American companies should do for India"? Your answer about Micromax doesn't fly because last I checked, Russia and north- central Asia isn't in America! I'm not here to argue, but I'll say this, unless your company has some ground breaking technology and hardware, out would be best v that they don't try to enter the American market lest they get swallowed up like blackberry and Nokia did no matter the platform running on their services because Samsung and Apple have America basically all to themselves! Posted via Window Central app for Windows 10!
Proudly rocking my Lumia 1520!

@Deepak Dude I agree you. Don't waste time with these people. Because their comments can't change anything. And yeah India is a great market for every companies. They will come India. And it is a great opportunity for Indians and our programs like 'Make In India'. Dude these people don't understand this. Just ignore them.

@Deepak Dude I agree you. These fools can't understand this. Just Ignore them.
And yeah India is a great market for every companies and they will come India no matter what your comments are. Your comments don't change anything.

Lol dude. - via Lumia 950XL

I'm not talking about US-first, I'm talking about US-ONLY. MS rarely ever goes true-international like Google does after the US launch of a new product or the features are never even comparable, like Cortana outside US is not even half of what is should be. Google Now is almost the same, and you can always use it in English anywhere and have all features, unlike Cortana which is region locked.

Nadella give importance only to datacenter services (cloud first)...

είναι καμια 3-4 .Ο Πανος για παράδειγμα με τα surface. Posted from my NoteBook.
Keep Calm Because P.A.O.K. you are...

Panos maybe has greek origins but his is not CEO though :)

Each time Panay talk to the public he makes troubles :]

I'm excited for this event. Just received an invite.

https://channel9.msdn.com/Events/Satya-Nadellas-APAC-Tour

Exactly. I can't wait to meet him in Thailand at Thailand Developer Day!

Me too. Going to the one in Singapore.

I will continue to say this the day when Nadella cancelled the "McLaren" phone was the day that windows phone lost majority of its market, 20 months without a high end windows phone allowed Apple and Google eat away what we had gain even if the McLaren was full of features we don't need it would of still fill a gap, they better don't give up on mobile they just sold their feature phone division to foxcon if BMW, Mercedes and VW says back in the day "Ohh Ford has 100% of the market lets not try and make cars" we wouldn't have this vase variety to choose from today

Maybe he should take a few million phones with him and sell them .

Having a big bag hanging over his shoulder & calling loudly, " Sale ! Sale ! Sale ! cheap W10 M , cheap W10 M , cheap W10 M, take benefit of my visit and grab these (ridiculous) phone for a price of 1000 rupees. Sale ! Sale ! Sale !

He should stay a bit longer.

Will windows phone have future? I want to buy a new phone which should last for atleast 3 years so need a platform that is worth investing

Windows 10 mobile will see redstone2 so at least next 3 years

Yes it has. We have HP Elite X3 and Surface Phones to come.

Wait for sometime as Nokia will release an android and we'll see if it's worth buying or not.

No, it doesn't. MS has practically said as much.

Bt though u cant boost up sales of Lumia in india

I really do like my w10 phone I hope they continue support the platform a bit longer . My only real issue besides not having the app I need is performance. Get this phone moving open my app in less than 2 seconds please. By the way I both the l550 which is dead slow and the l950xl which fast but still slow compared to other in it's class.

I guess the "when in India" question has finally been answered

Haha. Always in India now. - via Lumia 950XL

Got an Invite! Totally excited to get to see him!!!

Too bad windows phone has become 'untouchable'!

Every time I turn around, Nadella is "India this" and "India that". Good grief, just move the flipping company there and be done with it.

Hi harish... yesterday I got an update on Ms. Office apps on my mobile Lumia 730. I am using windows 10 build .318.... can you please check and share what's new in it.? Posted via the Windows Central App for Android

He will make some calls and then send you a private message. /s - via Lumia 950XL

US and India, the only countries Microsoft cares about.

Because of Him Right now Microsoft is Only company with Most Futuristic / Innovative Solutions. and that thing makes Microsoft king in Long term. > $Apple Out of the Race. (Look at their last 2 years)
> $Google out of Original ideas. (Look at I/O 2016)

Someone who please us to Satya Nadella, leave there in india! Save to Microsoft's disaster in which this pathetic CEO has plunged the company

Probably one of his lectures will be "How to ruin a company through ignoring growing mobile business 101" :D

Apparently Windows Phone was a massive success under Ballmer, going by all the butt hurt in these comments.

Hopefully someone will ask him to explain wp and not throw softballs at him. He needs to start explaining his actions. Just compare 2016 builds Google was way more impressive then ms. I'm afraid mscis just too old guard. The end is near. Posted via the Windows Central App for Android

Damn it I can't think of any when in idea jokes
Windows Central Newsletter
Get the best of Windows Central in in your inbox, every day!
Thank you for signing up to Windows Central. You will receive a verification email shortly.
There was a problem. Please refresh the page and try again.