Here is Satya Nadella's keynote from the Future Unleashed conference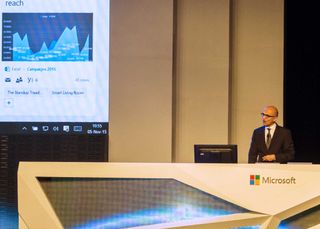 At Future Unleashed, Satya Nadella, CEO, Microsoft, spelled out Microsoft's bold ambitions around empowering every individual, and organization with the tools and solutions that would aid in reimagining productivity, foster enhanced collaboration, and transform digitally in the cloud first, mobile first world.
The first edition of Future Unleashed – a uniquely curated, future-centric technology conference hosted by Microsoft - was held in Mumbai, India last week.
You can now watch the recording of Satya's keynote on Microsoft India's official YouTube channel.
You can also watch the keynote by Shri Ravi Shankar Prasad, Minister - Department of Telecom on 'Digital Indian and India's Unexplored Silicon Valley' here or the one by Julie Woods-Moss, CMO & CEO of Nextgen Business at Tata Communications – 'Potential Unleashed - We're the Connection'. I assume the others will be uploaded soon as well.
The event saw participation from an eclectic group from across industries and all walks of life to envision how technology will empower the lives of a billion plus Indians and how to keep up with the dramatic pace of technological change in India.
He used his "iPhone Pro" again here and also in recent even in London. Windows Phone is dead. Sorry.

...and the world went on.

Your enthusiasm for Windows phone seems to have been on the wane of late! You privy to some information regarding WP that us mere mortals don't know about Posted via the Windows Central App for Android

One day I'm accused of being a MS apologist, next my enthusiasm is 'on the wane'. I can't catch a break here!

I dont know why you bother replying to these comments, what a waste of time. Clearly Satya understand that his customers uses iPhones and not Windows Phone. He also understand that Microsoft has many other very successful products that cant wait for Windows Phone to finally catch up next year. He needs his other platforms to stay competitive, like Office365 is a platform that need to support all end points. Pretty easy to understand that Windows Phone is a niche product and no, it wont get killed because they still need it as a part of the Windows Universal Platform.

WP is dead anyways.. W10M is the way to go.. :p

Lol jeesus (insert "deal with it" glasses) I'm still getting a 950. You have no idea how many iPhone users come up to me like "oooh that's a nice phone" L930 and even back when I was using the L920. So I'd hate to be another one in a bunch with an iPhone.

And then they use it and reality sets in.....

@Dannywarr19:
Don't worry, with that ducking ugly Lumia 950 no one will bother you anymore saying "that's a nice phone.", neither iPhone nor Android users.

Actually, people will be running to say "that's a nice phone".

Thrilling incite....you heard it here first folks.

The reason why he repeats that all the time is bcoz of its app store . Its really up to date all the major apps. The same thing with surface bcoz its a pro device running full windows where iPad cant come close enough to it. Universal apps are really getting off to a good start now. Within 2 years Microsoft might have very rich app store.

Windows Phone isn't dead, just overlooked by great marketing. Apple and Google are great at it :)

What he was most likely showcasing is the Microsoft ecosystem which turns his iphone into an iphone pro. In laymen terms iphone + Microsoft apps = iphone pro.

TechFreak1, that should satisfy everyone.

A friend of mine at Microsoft worked on WP8.1 development for a while title he moved to Azure. All this time he owned an iPhone, because that's what he liked for his personal use.

There's a reason Steve Jobs never allowed his senior developers to use rival phones. How could your friend improve Windows Phone 8.1 if he never bothered using it day-to-day? We never had a chance with that culture...

Microsoft needs to force the Skype team use Skype for Business on WP.

He uses the 950 actually. He was just showing that you can take an iPhone from a crumby game platform to a professional level by installing Microsoft apps on it while also hinting at the fact the iPad Pro isnt pro either unless it has Microsoft apps on it.

You are a dumb-dumb, he's highlighting all the Microsoft apps on all platforms from WP, iOS and Android...I can't stand retards who can't even troll properly.

Yes, windows phone is dead. Long live w10m!

I ve never seen Marchionne driving a Wolksfagen (in public) saying "it s not mine, but I drive it because I want to show you how good Fiat and Chrysler are too"....
I hope his "political correctness" approach will pay in the future, till now, numbers say Nadella drove WP from 4,2% to 2,5% in USA, not a good job at all but he is "new", let s wait another 6/12 months before judging (and finger crossed for wp10 :).

That's a pointless analogy. And that Nadella bit... I don't even..

Cloud first. Lol! What a joke!

Nothing says cloud like being locked into an ecosystem... Err, wait...

Tl;dw(atch).
Did he talk about Microsoft not being a cloud first company anymore?!

18 sensors in the Microsoft band?

Yeah I caught that too.. A bit embarrassing to be honest, but we all make mistakes ;)

Mastermind. Reimaging OneDrive.

Satya in a suit!! Interesting; I don't think I've ever seen any of the tech leaders don a suit for a keynote.

It's India. T-shirts are for teenagers and young men over there. Anyone who is 40+ will always wear a dress shirt and pants, even on a beach. You haven't noticed, formal clothing with sandals or slippers? Seriously.
Example links: http://4.bp.blogspot.com/_G5ORyLfzo3U/TVILqhZnKrI/AAAAAAAAADU/gGvdJ494ED...

The t shirt trend started in U.S but for any presentations whether its a keynote, conference, or any presentation by management schools formals are preferred.

I think the word is not "preferred". I think it is considered a requirement. You stay formal at all meetings/presentations. I met Nadella this October at a similar gathering. He was well dressed but not even close to that, which I'm sure is being imposed on him there.

A Minister in attendance, in India. Nadella better wear a suit. Posted via the Windows Central App for Android

I've seen it in person....nice beach in Chanai and all these guys wearing pants, shirts and flip flops.....they were wondering why was I wearing a Speedo!! But at the end of the day, the chicks were w the Speedo guy, vs the pants/shirt beach guy... .. :-)

Yuu hoo, Surface pro 4 will now available in India from January,2016. Very great....

I'm more impressed that Nadella made a tech presentation in a suit. Until now I didn't realize how unpolished Tech presentations are when the presenter is dressed in douche drab. But it really makes a difference. I hope he and the rest of MS continue to up their presentation game.

Everytime he shows the iPhone he says "It's not my phone, but it's an iPhone" - Always seems to get a chuckle. :) I think people focussing on the fact an iPhone is shown miss the point that it doesn't mean Windows 10 Mobile is dead. The other areas of the business need exposure and there are a LOT of business iPhone users. Microsoft is an awesome software company with some great product - No problem with them making things cross platform. I've used a Windows Phone since WP7 was first available, before it had copy and paste. There's nothing on competing platforms that's been able to to make me want to move away

I'm interested to see where Microsoft takes Wunderlist in the future. I've not tried it out yet but at the same time I've never really fully settled on a "Todo" app. I've had good experience with Trello in the past 6 months, but before that I've used Outlook on it's own, OneNote on it's own, and OneNote combined with Outlook (Main problem is you need to manage things from a PC with desktop versions of OneNote and Outlook to have the Task List sync)
Windows Central Newsletter
Thank you for signing up to Windows Central. You will receive a verification email shortly.
There was a problem. Please refresh the page and try again.