Satya Nadella still 'committed' to Microsoft's phone business despite layoffs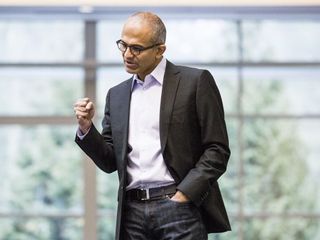 Following Microsoft's official announcement that it will lay off 7,800 more members of its workforce in the next year, mostly in its phone division, the company has now published an email sent by CEO Satya Nadella to his employees that offers additional details on those plans.
Most of these new layoffs will come from Microsoft's phone division, and the company will also take a one-time write down charge of $7.6 billion related to its 2014 acquisition of Nokia's Devices and Services division. Despite these moves, Nadella claims that he is "committed to our first-party devices including phones". However, he added that Microsoft will switch its strategy from a stand-alone phone business to one that will "create a vibrant Windows ecosystem that includes our first-party device family." Apart from Microsoft's Lumia smartphones, other OEMs that have recently launched Windows Phone devices include LG and Acer.
The full email Nadella sent to employees is below:
Team,
Over the past few weeks, I've shared with you our mission, strategy, structure and culture. Today, I want to discuss our plans to focus our talent and investments in areas where we have differentiation and potential for growth, as well as how we'll partner to drive better scale and results. In all we do, we will take a long-term view and build deep technical capability that allows us to innovate in the future.
With that context, I want to update you on decisions impacting our phone business and share more on last week's mapping and display advertising announcements.
We anticipate that these changes, in addition to other headcount alignment changes, will result in the reduction of up to 7,800 positions globally, primarily in our phone business. We expect that the reductions will take place over the next several months.
I don't take changes in plans like these lightly, given that they affect the lives of people who have made an impact at Microsoft. We are deeply committed to helping our team members through these transitions.
Phones. Today, we announced a fundamental restructuring of our phone business. As a result, the company will take an impairment charge of approximately $7.6 billion related to assets associated with the acquisition of the Nokia Devices and Services business in addition to a restructuring charge of approximately $750 million to $850 million.
I am committed to our first-party devices including phones. However, we need to focus our phone efforts in the near term while driving reinvention. We are moving from a strategy to grow a standalone phone business to a strategy to grow and create a vibrant Windows ecosystem that includes our first-party device family.
In the near term, we will run a more effective phone portfolio, with better products and speed to market given the recently formed Windows and Devices Group. We plan to narrow our focus to three customer segments where we can make unique contributions and where we can differentiate through the combination of our hardware and software. We'll bring business customers the best management, security and productivity experiences they need; value phone buyers the communications services they want; and Windows fans the flagship devices they'll love.
In the longer term, Microsoft devices will spark innovation, create new categories and generate opportunity for the Windows ecosystem more broadly. Our reinvention will be centered on creating mobility of experiences across the entire device family including phones.
Mapping. Last week, we announced changes to our mapping business and transferred some of our imagery acquisition operations to Uber. We will continue to source base mapping data and imagery from partners. This allows us to focus our efforts on delivering great map products such as Bing Maps, Maps app for Windows and our Bing Maps for Enterprise APIs.
Advertising. We also announced our decision to sharpen our focus in advertising platform technology and concentrate on search, while we partner with AOL and AppNexus for display. Bing will now power search and search advertising across the AOL portfolio of sites, in addition to the partnerships we already have with Yahoo!, Amazon and Apple. Concentrating on search will help us further accelerate the progress we've been making over the past six years. Last year Bing grew to 20 percent query share in the U.S. while growing our search advertising revenue 28 percent over the past 12 months. We view search technology as core to our efforts spanning Bing.com, Cortana, Office 365, Windows 10 and Azure services.
I deeply appreciate all of the ideas and hard work of everyone involved in these businesses, and I want to reiterate my commitment to helping each individual impacted.
I know many of you have questions about these changes. I will host an employee Q&A tomorrow to share more, and I hope you can join me.
Satya
Source: Microsoft
I didn't understand anything.

Phones go on. Sell lots of cheap ones, make flagships, bring new ones to market quicker. BUT, try also to have other manufacturers sell more.

He doesn't actually say all that. Read again, he uses the word "experiences" for productivity and "services" for the value customers. He only mentions phones/hardware for fanboys. Hmm. Will the new flagships just be one-offs to appease the fanboys? I never understand what this guy is saying...

Ok, I am not a Nedella translator, but I think I may be hearing this... We're going to make specialty and highend devices, like Surface, but it sounds like he may be opening the doors to OEMs to fill some of the Nokia gap. Not a bad idea if the OEMs step up.

yes he does. Paragraph 6 "I am committed to our first-party devices including phones". Paragraph 7 he says that they are narrowing the focus the 3 segments, value, business, windows fans. Value gives basic phone that meet people's communication needs. Business meets business need of security and device management. windows fans meets their need for a flagship. Paragraph 8 says they will have better speed to market. So you see, he does say what realwarder stated.

I guess we wont know for sure until we hear from Paul Thurrott's and MJ Foley's "sources" today on Windows Weekly.

What do you mean "I hope you're right"? It's right there in his email for all to read. That is exactly what he says. How much clearer does it need to be?

I don't understand why he says "narrowing focus to three segments." What segments were they targeting BEFORE the restructuring? The same ones, basically.

I think it means they'll have less models out there, which will be a good thing. The number of Lumia models available is creating confusion

The strategy before was "let's put out a whole bunch of phones with different features and price point combinations. Maybe we'll get a diamond in the rough and have huge sales". Now, it's "Here are 2 value phones for emerging markets, pre-paid, and entry level smart phones. Here are 2 phones that'll have a different windows mobile sku and work really well with our mdm solutions and in your business. Affordable, durable, and business minded. Here are 2 phones that are expensive, but have some awesome unique features and keep our enthusiasts reminded why we can create the best hardware." I think the focus will help them long term. I mean, I still can't tell you about the 535 vs. 540 or 635 vs. 640 without looking it up. And that is crazy.

Lets be frank. They were trying to please only the regular consumers. Neither the fans nor the business people were pleased with recent devices (except for the 640xl)

"In the longer term, ..........Our reinvention will be centered on creating mobility of experiences across the entire device family including phones" That means Lumia will stay for the long haul. Actually, MS did what they have to do. They are cleaning up the mess in the phone division by streamlining the product lines, outsourcing some manufacturing(?), focusing on W10 ecosystem and writing off Nokia purchase. W10M phone is virtually becoming pocket W10 PC with cell capability instead of standalone phones. The flagships should definitely include L1040 which provides differentiation.

Microsoft is going to stop selling 20 Lumia models and just sell three: One will be focused on their Value customers (will be cheap). One will be focused on their Business customers (will have all the control businesses want and will be more rugged) One will be focused on their Flagship customers, us (will have all the new features)

This would be a wise strategy but I don't see any commitment to paring down the Lumia line to 3 models in this announcement!

"We plan to narrow our focus to three customer segments where we can make unique contributions and where we can differentiate through the combination of our hardware and software. We'll bring business customers the best management, security and productivity experiences they need; value phone buyers the communications services they want; and Windows fans the flagship devices they'll love."

"segments" =/= "models" See: Lumia 640 and Lumia 640 XL

While there is no way of knowing exactly if it will be 3 or 4 or 5 products, reducing your use cases makes it way easier to build high end products for them. Its a good engineering strategy. Basically, our 3 best customers were 1, 2, 3. Lets stick with those and leave the rest to the wolves. Basically cherry picking. Their focus this next year should be business TBH. They have a huge opportunity to bring all the W7 people to W10 and provide a mobile device to go along with their OEMs new PCs. The mobile versions of office, onedrive, Skype for business... A lot of large companies are waiting to upgrade their OS' and MS would probably love to provide them with a single ecosystem solution that works perfectly via continuum with all hardware. Surface Hubs would also be a great addition to the hardware line for some companies.

"We plan to narrow our focus to three customer segments..." It makes sense to release one model each (maybe two if they release an XL version as well). Yes, I know I am conjecturing. Honestly, it also makes sense when you consider their other products: Surface, Surface Pro, Surface Hub
Windows Home, Windows Pro, Windows Enterprise So I predict:
Lumia, Lumia Pro, Lumia Business

This man deserves a cookie

+1520.3
Kinda makes sense.

Best translation of the long letter I've seen so far... Well done

I actually think we'll see Lumia, Surface, Surface Pro? Or even a better possibility long term if Intel can get it together. Lumia, Lumia Pro, Surface, Surface Pro.

It's not 3 models. It's 3 segments. That should mean less budget phones and more phones geared toward business and at least one true flagship. I'm hoping that the flagships phone have 2 phones, the performance model 9xx and photo model 10xx .

I'm hoping that they produce an actual flagship instead of this 940xl crap we keep hearing about. Hopefully the 940 and 940xl are the low and business grade phones. Microsoft needs to set a standard, not tag along.

Thank you! I am with you on that one. This whole numbering system doesn't create flagships, it creates "just another duck in the pond".

One model 940/940xl(same phone different size) only equal one device segment. So cannot service business and low end customers.

If you don't see the commitment to paring down the Lumia line to three lines in this announcement, then clearly you didn't read the announcement.

That would make so much sense.

That's some creative interpretation there. How about reading what he said: "We'll bring business customers the best management, security and productivity experiences they need..." This sounds more like backend services and software, not a phone per say. "...value phone buyers the communications services they want..." Skype, anyone? "...and Windows fans the flagship devices they'll love." Ah, yes. They will, in fact, release a feature phone... And THEN they'll turn off the lights.

Not all that creative. Almost every non-fanboy news site I've visited has interpreted it the same way: Microsoft will build three different types of devices. ZDNET has also interpreted it the same way.

Yeah, that's how I'm sadly reading it too. He really only talks about hardware for the last one. The other two are "experiences" and "services" which sound like software. The word "short -term" scares me as well. It sounds like he's saying, "We'll give you one more phone, but that's not our long-term strategy." I could be wrong, but it's hard to be optimistic at this point.

Personally, I interpreted the "short term" statement differently; rather tha implying that this is the "end of the road", I read it as "for now, 3 segments, niche devices (i.e. 1020 successor) will be reconsidered later on". In a nutshell, my interpretation was that for the short term, they will focus on strengthening 3 core segments, then broaden later on.

You're interpretation is quite creative as well. The paragraph right before that states "I am committed to our first-party devices including phones?". For business, those backend services need to run on a phone. They might be able to work on android. Will iphone allow 3rd party software to manage the iphone, limit which apps can be installed, and control the security? So, windows fan will love a feature phone? They writing off the nokia investment. If they wanted to wind down the phone division, right now would be a good time to announce it. He is reaffirming Microsoft's committment to first party devices.

I don't think that's what he meant. I think he was referring to cutting down on the number of device models by having them categorized in three distinct flavours. Perhaps they're finally abolishing the carrier exlcusive models? Maybe moving to more of an iPhone stategy?

That's exactly how I read it. Small model choices = easier, quicker (and hopefully), more stable upgrades.

I don't see what you're saying in Nadella's comments. If I was to look into the proverbial "crystal ball", I would see the following: 1) Low-end Nokia phones (the 4XX and 5XX series) that sell well in parts of the world where people simply can't afford higher-end phones (also, in Wal-Mart in the US); 2) Business-level phones, such as the 6XX and 8XX series, that will focus on managemnt and security issues; and 3) Enthusiast phones, such as the 9XX series. What I think you're going to see is a decrease in the amount of advertising and marketing of these phones, as Mr. Nadella is NOT going to go after large market share of these devices. Microsoft, instead, will continue to court the likes of Samsung, HTC, Sony, and the dozens of other brands to make Windows Phones to compete against Android. For the short run, at least, Microsoft has thrown in the towel against Apple. Lastly, I think the amount of hardware research and development for future phones will drop dramatically (not the phone coming out in the next 6 months, but the next 18 months), unless Microsoft somehow hits a home run with one of their phone models (the Lumia 640XL could have been that model, but it will never be marketed to test it). That's my opinion and, if you disagree, that's cool...

I kind of agree with your interpretation of his statement or your outlook. I think he is going for a similar business model that Blackberry has transitioned to, as far as hardware, inorder to lower cost/risks, yet promote and put emphasis on their software and services; 1) Remaining in the hardware business by continuing to sell the low end Lumias where they sell just enough, mostly in emerging markets and to budget conscious consumers. (like Blackberry Z3) 2) Continue to serve the business sector with mobile apps and services (cross platform) and possibly a device such as a Lumia phablet, but it would be a device for a niche market, not expected to sell a lot. Its purpose would serve to interlink business consumers to Microsoft services and products. (Like Blackberry's transition to software and services and business devices like Blackberry Classic) 3) High-End models for the fanboys, another niche market that is probably not expected to sell a lot, but helps to keep the brand relevant and current and fans/supporters enthused and engaged. (Like Blackberry Passport) Before these new layoffs were announced, there have been recent rumors that Microsoft was going to kill Windows Phone, so, I think there was a little truth in the rumor, although I think Windows Phone will be around, but serving more a niche market that serves to promote and sell their Windows 10 services and products. But, I hope I'm wrong and it gains market share, but it doesn't sound like a lot of advertising money, effort and promotion will be put into making these new devices bigger than just niche devices that are apart of the Windows 10 ecosystem. All of that to say, that I think he is saying that the hardware business will remain, but with a different purpose and expectation. It will no longer have the goal of competing with IOS and Android, but just like the Surface line, a tool to lock in consumers into their ecosystem, products and services, nothing more, nothing less.

If that is indeed true. It should be a good choice. Take for example iPhones come in two versions, and Samsung has been doing the same. GS6, 6Edge and Active. Just saying.

The business segment is a little strange, I would expect all phones to have that security since it's the same OS. I'll wait and see what devices they actually sell in the future

I think Microsoft will sell 3 models of each 3 catgories CEO Nedella spoke about. There will be 9 models of Windows 10 smart phones. some of the current Microsoft brand Lumia budget smart phones will survive. 3 New Flagship Microsoft brand Lumia smart phones will launch in this fall

Microsoft Mobile, as expected, is dead. Future Windows Phones will come from the same place as the Surface and the Microsoft Band and the time of endless Lumias is over with future portfolios being much smaller and focused on specific segments. Posted via the Windows Central App for Android

@DJCBS
That's a good thing. WP future is much brighter now.

Yes that is a good thing, produce phones in line with Surface models and the mess created by Nokia is sorted Those who claim Nokia would have succeeded on its own does not seem feasible when you look at Sony's current position where they are more diversified but potentially stopping production of phones. So Microsoft and Nokia made the correct decision here. Nokia can continue in business and the new Lumia segments will be successful for Microsoft.

If it's only sold in limited market (just like Surface and MS Band), then screw about this plan. MS will left a crater of windows phone user in some market. Oh yeah, OEM will fill in that blackhole, but hey....what OEM? No one is making serious WP but Microsoft.

There's still over 20k old-Nokia employees I think (45k initially)

25000 moved to Microsoft. 12500 were already fired in the "first round". Now another 7800.

You're right, I had remembered wrong.

Well done!!!
Clear Nokia mess and start afresh. That's the way forward.
Nokia deal was an expensive mistake.
Surface needed good few years to get it right. Next is Windows Phone devision . In couple of years WP will have 8-10% market share (as in Europe now). I am optimistic.

I dont know if I would say it was a mistake. It was an expensive neccessity if they wanted to keep WP going. The other OEMs were ignoring WP, or worse, making junk. MS needed its own manufacturing and distribution capability. They just didnt need to be as massive as Nokia. If Nokia had continued, I think they would have had to have scaled WAY back as well. If MS had not bought Nokia they would have had 2 choices. Kill WP completely, or start your own global manufacturing and distribution channels from scratch. The latter might have been cheaper, but probably not faster.

Essentially: a) they had too many people doing similar jobs since the Nokia purchase, had to let a bunch of people go b) they had too many phone models, from now on there'll be 3: entry, flagship and business That's all.

Look at the Surface line. They arent trying to be a PC OEM with that product line. They focus on innovation and creating inspiring ideas to encourage OEMs to step up their game. They bought Nokia, a massive phone OEM. It was a defensive move of sorts because no one else was taking WP seriously. Now, they are saying, we cant keep trying to be Nokia, the massive handset hardware company, we are scaling back to something more like what the Surface line is to the PC OEM market. They will proably keep their best designers, engineers etc, but they wont keep making 18 different budget phones for every individual market. I think the hope is also to also give room for OEMs to start making Windows devices. If MS is flooding the market with so many devices, why would Samsung or others want to step in?

I believe that's exactly right.


If you didn't understand, then Satya was successful.

I'm just surprised there are 7800 people working on phones, and this is all they can deliver.

Most of those people are on the production line and have nothing to do with design.

Watching the man speak is boring, reading his email is even more boring.

You have to know how to speak corporate PR as well as well as the dialects of vagueness and PC. Posted via the Windows Central App for Android

Sounded a lot like limited inventories of value phones and a few Flagship devices to keep the fan-base happy in the short term. From there, push the hardware expectation (ecosystem) to players like Samsung, HTC, Acer, etc. Same as they do with the Tablets and PCs. As long as we see a Flagship in the fall with W10M, I am fine with looking at devices from Samsung and others in 2016 and 2017 - even if they are just copies of Android devices running W10M. In short, I wouldn't turn away from a Samsung Note sort of device with Edge, a good processor and lots of RAM running W10M. After all, if Nadella pulled the plug today, what else would we be looking at?

Streamlining the business model. Not just focusing on phones but on devices capable of running and taking advantage of Windows 10. How many Lumia devices are there, 20 plus? Make sense to rationalize the workforce if you're only making fewer lines of phone model.

I care more for the people that got fired......... :'(

Maybe most probably those got fired is from factory site..

Layoff is not bad. Firing is. This only tells the new employer that the employee services were not needed to run that business anymore.

Layed off is different than fired. Layed off employees are elegible for a severence package and I hear MS has a good serverence packages. Plus it looks really good to other employers that you worked at MS. So I'm sure those employess will still have bright futures ahead of them.

Well 7800 employess are official employees of microsoft which might get some benifits. But there are many contractors that microsoft works with and each of them with many employess that they specifically hired for their microsoft assigned projects, they will lose their jobs and they are not part 7800 figure. But on the bright side, we know something for sure: microsoft witll be in your hands, on your desk, on your wrist and in your living room and soon on your eyes.

Best comment of the day. Thank you. Though they're not being fired.

And I'm willing to bet that those cuts are coming from low-wage factory workers and not important Lumia design/software teams. I'm going to be one of those outliers and say that this is a good idea. Microsoft controls 97% of the Windows Phone market. That's extreme. They have tons of OEMs signed to make WP devices and Microsoft is killing their own supporters. Microsoft needs to withdraw from the low-end market. Maybe not completely but enough so that there's room for OEMs to breath. They need to (and apparently are) slim up the Lumia line. Nokia started it by releasing an unnecessary range of devices which left Microsoft with a huge mess. Hopefully Microsoft is done with that line of thinking.

I think the majority would agree with you that this is a good idea. Nokia depended on selling phones, MS doesn't. They'll make the software, which is what they do, and make a couple or 3 phone models, leaving the rest to OEMs. They're replicating their pc business model, basically. Which is a great thing.

Unfortunately the OEM's dont exactly have a good track record with thier WP offerings. The two models quoted in the article are the same low end dross thats doing nothing for the platform, unlike the PC business phone OEM's already have a successful platform, android. I dont see them changing their attitude towards Microsoft's platform when the same issues still plague it.

Which is precisely the point. Why bother designing, manufacturing and selling phones if you're going to be crushed by the manufacturer of the very operating system that you designing for?

@thefman, but an important difference with phones is that a phone an OEM makes for Android can also be a Windows phone with minimal additional effort. Not no effort or no cost, so some won't bother, and there's still the question of distribution taking the extra models, but on net, the arguments for an OEM to offer at least a Windows Phone version of their Android phones are solid. So if MS makes the example and flagship phones to generate buzz and provide examples for the OEMs, then leaves the lower-priced part of the market to the OEMs, that's a win for everyone. If/as Windows Phone gains market share, hopefully there will also be some OEM Windows Phones that are not just repurposed Android, but to your point, that probably won't happen until the market is there.

Not to mention that techinicaly microsoft makes Asha (cheap android phone) and those pay as you go $20 Nokia phones which they are getting rid of and limiting their phone manufacturing to Lumia.

I disagree with you heycori , I suggest working on it's own is way better , it controls 97% and that's insane in one OS , so reaching a 100% is better IMO

Sounds like the same old same old. Are they finally going to support features on windows phone at the same time that they do on iOS and Android? if not, then I doubt anybody will pick windows phone again seeing as how the best MS experience is on non windows platforms.

I understand what you mean. I think that MS was waiting for Windows 10 to add the same features that are on IOS and Android. I think once Windows 10 is available we will see feature parity when it comes to MS products.

We wish, don't we. Lets hope that actually happens.

WP isn't really missing many features from iOS or Android. It's the apps that are problematic. That's not entirely up to MS, hopefully all this app porting will spark some development this fall (full disclosure: after 4 years with WP I'm switching to Android this fall)

Lousy timing to switch to Android. Don't you at least want to try W10M first?

I would still choose Windows mobile. Keep in mind that they have been working towards creating Windows 10. MS is focusing their resources there instead of 8. For example, the iOS office apps are better than Windows Phone 8. Once 10 comes out thenthe Windows mobile version will be leaps and bounds better because it is running the full desktop version of Office on a mobile device.

This is very true. If you have Technical Preview goto the Beta Store and download the new office apps. They are worlds ahead of iOS and Android.

Take in mind, that all the core apps where attached to the OS in previews version, now with wm10 the are apps and can be updated individually from the OS as they can be on android and IOS, so seeing from that perspective, they have more control about the development of the apps without rewrite the whole OS, Deus! Even the store app can be updated itself.

Tightening the focus is a good thing. I do feel for the people being laid off though, I've been through that and it's rough.

All he pretty much said today was Microsoft paid way too much for the failed Nokia experiment, and that they concede. Men and brethern, the future for WP looks very cloudy.

Did you read the letter?! They have too many employees in redundant positions in mobile! The CEO just acknowledged and assuaged all our Lumia fears as best as words could, and people are still angry and afraid. This NEEDS to happen! They're firing the teams that have been making redundant low ends!

Cleary you didn't read the letter.

I did in fact read the letter and from a strictly business aspect (no sentiments attached), he's saying that they're writing off ~7 billion dollars from the purchase. If you think these "redundant employees" are solely responsible for this, you clearly have no idea how businesses operate.

Yeah, you can see it through clearly if no emotions attached. As MS fanboy, I just hope for a sunny morrow after this sandstorm.

As I said before, I expect fewer handsets with better quality and commitment (like the Surface Team). But I think they'll still try one more time with Windows 10 Mobile and Terry Myerson in charge, if this doesn't work ... then yes, dead Lumia.

That's the point: Are Terry Myerson and Joe Belfiore capable of leading the Windows phone and hardware across the whole Windows devices?

No. They both need to be canned!

I think the problem is mainly marketing strategy. If they don't improve it, W10M has a dim future.

I'm not worried. I'll be rolling with Windows Phone till the tires fall off.

I was on the webOS Titanic playing with my Pre 3 next to the violin players. I'll be here until Microsoft pulls the plug.

I'll be rolling right behind you, enjoying the ride. Here's to good tires.

While fixing your tires, I'll be waiving my iPhone as I drive by..

The consummate Judas Iscariot.

First, there is no universe where I believe what Nadella says. Second, I have zero confidence in his competence. Nokia should never have sold. Microsoft has lowered the standard, and has created nothing but sub-par devices. I'm convinced if Nokia had held onto the devices division we'd STILL be seeing REAL flagship devices unfettered by the idiotic decisions Nadella has made. I don't consider the two rumored devices coming out later to be true flagships, and I don't believe we'll ever see another flagship. We MIGHT see a high-end device or two, but not a device that clearly outsteps the competition. I believe we are seeing the end of Windows Phone.

Well, keep believing that then :) I'm sure there is no point trying to convince you otherwise.

You do realize that Nadella never wanted Nokia, right? Most of what you're complaining about happened under Ballmer

Can someone please explain to me what a flagship is then. How is an octacore processor, 5.7 inch 4k screen, 20mp pureview camera, with SD card support not a flagship?!! Even the lower hexacore is a damn flagship. How many octacore phones are you sporting right now? Look I'm as disappointed as anyone with MS over the past year or so, I think they are a bunch of idiots. But it boggles my mind how people say those specs are not a flagship.

Those are flagships. Pay no attention to the man behind the curtain.

I know the knee-jerk reaction to this is to be negative, but I beleive that there are certain assumtions you are making that are just wrong. Nadella was opposed to buying Nokia, but eventually gave in. I can see the reason that Satya didn't want to take this on, but I also see why Ballmer had to do something to salvage their main WP manufacturer. Nokia was on the Verge of moving to Android, and chances are that it would have resulted in WP becoming a second class citzen with yet another OEM. I also would not have been surprised if Google stepped in and bought them just to cripple MS' phone efforts further. That being said, nobody owns their own manufacturing plants anymore. It's an old school philosophy from an old school company. Don't get me wrong, I love the quality of Nokia devices and I appreciate that they were made in-house, but that doesn't take away from the fact that iPhones are impecible devices made by Foxconn. Also bear in mind that Nokia is the reason that there are low-end "sub-par" WP devices. When WP 7 launched there were minimum specs that were impossed that Nokia thought were too costly. They forced MS to agree to tweak their OS to work on lower end devices so that they could replace Symbian phones in developing nations. That was honestly a good move since that is the only area seeing growth, but it still it did lower the value of the brand. Satya has made one thing clear, he wants MS to grow on their strengths which are Software and Services. The hardware simply showcases the underlying software, so beyond reference devices why compete in an area that is not your core compentency? Look at Surface Pro 3... it took a few iterations to get it right, but it shows what MS software is capable of. Yes the hardware is awesome, but clicking the pen to open One Note is what makes it shine. The touch friendly OS is allowed to be front and center, and that is the type of thinking that is being applied to phones (I hope) At this point you can't only offer flagship devices since so many people rely on low end Lumia's, but by minimizing the product line you can offer the best in class low, mid, and high end devices. The low will fill the space of the 52X, the mid I would assume is the 640 line and the high end will have the cameras, continumm and facial recognition that truly showcase what the OS can do. Will this save Windows Phone Mobile? Time will tell, but right now it can't be called a bad move. Trust me, I don't want to be forced to move to iOS or Android, but I also know that MS has to do what's right in the long run. If the time comes is 1-2 years that the phone OS is axed, I would be bummed, but I know that their apps and services will live on on any device I pick up, and that is the goal after all.

Doom and gloom... The other motto of WC. What would you do differently? Nadella is cleaning up every mess at MS one by one, and given everything on the table at this point, things are looking more optimistic than ever. Maybe you're not sold on his strategy so far, but I'll bet you every penny to my name that there is at least one flagship windows mobile device available within 12 months, it's not even debatable at this point.

That's the whole idea behind parallel universes--somewhere there is a universe where Nadella says exactly what you want him to say and is truthful in doing so. Nice dramatic effect, though.

A flagship doesn't necessarily have to be the best device in the world. Only the best device in the lineup.

Go home. We'll see what we see and if that's it, we'll go down fighting the good fight. Its what men do. When its all said and done, that stripe on your back carnival barker, will still be yellow.

I hope this means less wasting time with cheap phones

Don't count on it. Microsoft's strategy may just be to double-down on cheap, low-end Lumias that are (barely) capable of running Windows 10 apps in a desperate attempt to grab market share in developing countries.

A very large %age of the world's population can benefit and afford these so-called cheap phones. A much smaller %age are able to afford the high-end devices. Why not develop and sell both?

But wp fans been glorifying on these low crap. Nadella gonna make them cry.

So...fewer low budget phones over saturating the market and more flagship phones that actually drive adoption? Maybe the phone and tablet divisions will work in tandem on future devices. But...ya I have not idea what he just said.

Cutting fat, and making muscle work be more agile. All in all, sucka for the lais off, but if you put in your resume you worked at Microsoft, you're have an advantage.

So pretty much Daniel was right and they're focusing on high end hardware

You're actually surprised? It's not like we couldn't see this coming from a mile away. And Microsoft never really made much of an effort to hide it either... Posted via the Windows Central App for Android

I was actually more summing up the letter than anything. Obviously this was going to happen and I, as someone who wants higher ends phone, am happy about this move. Microsoft doesn't need to justify its low market share if its making profit and cutting back is the most effective way to do that.

And the value phones are not going to be so low-end anymore. The 640 is a fantastic example of that, it's a cheap phone that doesn't feel cheap and has a fantastic value of money. I imagine the 640 is going to be the low end of the Lumia phone line-up from now on. I don't think we'll be seeing anything like the 435 ever again. It was an ugly chunk of phone anyway. ;)

Yeah, definitely. Microsoft needs to leave the 435-type devices to BLU and Cherry.

Or, they're focusing on low end hardware for new Lumias but ensuring the new handsets are (barely) capable of running Windows 10 apps.

Windows 10 isn't done yet. You know that, right? There's still a lot of optimizing to be done. If its as bad as you say it is when its released, then you can whine about it every other comment

SO going forward MS will be cutting down on confusing model numbers and release a Flagship. mid range and a low end handset? If thats the case I'm super happy with where they are going but still feel sad for people whos loosing their job. IMO, Windows need to be present as a 3rd platform and need to play a long term game. I also would say MS should go a step further and fix issues with google.

More like high end, low end ,and business. I have a feeling the high end will be the 940 and their Business will be the 940xl.

That doesn't make sense. 940 and 940XL are going to be mainly differentiated by size only. In fact, it makes sense if each of the lines (low,mid,high) come in two sizes. Regular and XL.

This is all Nokia's fault. They created this huge range of Lumia devices available in only select markets and got no money from it. Things like 1020, 920, 930, 1520 - should have been global. Having those xx5 range is still ming boggling. Microsoft if like they say, become focused, we may see MUCH better line up. With all these Lumias let to die by end of 2016 and by then have an even stronger brand that represents ONE Windows.

Its ridiculous the crazy number of Lumia phones...absolutely ridiculous. Apple has two (not including the old 5s,c series). That's the way its done RIGHT. I actually like the fact that MS is going in the direction of fewer phones...even three is more than enough. Have a large screen high end model, a middle of the road model, and a low end model for areas outside the USA (we love our high end machines).

The difference to Apple is that Apple has a working phone OS that doesn't need a complete rewrite every two years.

The instability of their mobile OS comes down to the awkward lack of direction of WP over the last 5 years. With W10 the core unification (which they have been working toward since WP8) will be basically complete. Apple, on the other hand, has multiple completely incompatible and disparate systems, kind of like Windows back in 2010. As the mobile landscape shifts and people can pack more power in their phones and more easily move between screens/form factors, this unification will become increasingly important. The reason for these dramatic reworks was to position for this sort of future, and my guess is that it will eventually pay off. If anything could bring Apple crashing down, it could be that their device/software paradigm is no longer compatible with the way people use devices. MS is thinking about the future of computing, Apple is thinking about selling gold watches running another proprietary OS. I'm not sure your pointless comment warranted any kind of analysis, but whatever.

Not bad. Better outcome what I expected. Still keeps some lights on by catering all 3 price points.

I'll keep hope alive for a Win10 flagship but it's ominous looking out Redmond way this morning.

He just said he's committed to devices and aims to please 3 very distinct customer segments, one of which is the crazy windows nuts that may or may not frequent this site and desperately want a new W10 flagship. If it wasn't obvious before that it's on their agenda (not to all, see various internets), it sure seems to be now.

I don't understand comments like yours. Nadella just said "we're commited to phones and will be producing flagships", and then you say things are looking ominous for those who want flagships? What article did you read?

That's a great leader!
I feel bad for the people that will be fired but as Satya says this is required, also they promised quick production and Flagships, so let's see what we get ahead from this new man!

Yes, focus on less phones and bring those to all carriers with no variations. Stop with exclusive phones.

They are going to offer business solutions on devices such as Blackberry, Iphone etc, they will put their software on low end Android devices and then they will offer their own high end flagships.

"Headcount Alignment Changes", that's a new one...

$7b is way too much. And it is not the end, You have to pay every single employees after that. Nokia's hardware division has more employees than its other divisions. So it's essential to keep a balance between profit and number of employees. If income drops and number of employees be same then overall profit would also be drop. Satya Nadella is maintaining the balance.

Still committed, only less so... Nutella ¬_¬

So many armchair quarterbacks on here...

Blah blah. When's the 1040 coming out is all I wanna know.

Unless it falls under the flagship -segment, it's never coming out.

Seems like they are trying to make room for, and encourage new partners, to make new handsets rather than being the dominant manufacturer. Make the whole Win10 ecosystem such that partners will want to be a part and grow it that way. Seems like a good idea to me.

Selling 20 Lumia models and not having a combination with 5" 1080p screen and SDCard slot was a failure already.

Good we will see Satya in Reddit soon.

If they greatly minimize their phone products into what you can count on your hand, we better see full releases on all carriers with no modifications and expanded worldwide releases. When you have that few products, you need yo have the software and hardware completely down and maximize the availability of said high end and low end "flagships". If they are creating a new class of devices and innovating, they better hope their OEM partners follow suit like they did with the 2-in-1 devices in the laptop segment or expect the mobile first , cloud first mission to fail. Google and Apple have software that creates an ecosystem lock in, most people wont actively seek Microsoft apps on an iPhone or Android phone

It is what it is. What it isn't however is required. This is not a required move. People keep talking like MS is day away from BK. This company has money out the ass. This simply a move to satisfy investors. When a CEO of any company worries about investors more than than products and consumers, it never ends well. I'm fine with the changes as a consumer, I however have never been able to support any leader of any company who has ever put shareholders above it's supporters and the history of the company.

So who do you like as a CEO? You realize there is a board, right? I agree with your sentiments, but as a CEO his job is to actually drive the company in the direction to make the most money. Its kind of the point.

Yes, and he will probably do a very good job at that. We are in agreement here. As an investor I would love him, as a consumer or employee I don't. For instance, I work for a large bank. They bring in a new CEO known for consolidating and then selling. Now as an investor I would love him. As a an employee or customer I have a hard time supporting what he does, which is what he as CEO is supposed to do.

$250 740 value $450 840 business $650 940 & 940xl flagships If they reduced the portfolio to the above, i think it would make alot of sense. Oems can have the volume market <$250. 97% lumia marketshare is really unhealthy for WP.

If 97% of Lumia marketshare is unhealthy, then 100% Apple must be really sick, but obviously isn't.

If they are going to make this work it is time that all three of the models make it to all four of the major US carriers. No more exclusives. If carriers won't promote the phones, then put the right radio in them and sell them in the MS stores.

I laugh at some of the comments here. Everyone is now a business mogul.

This is very, very simple. Steve Ballmer make a wrong move in attempting to acquire Nokia because of the redundancy of employees the company had in the business (hence why Nokia was struggling in its phone business...too many employees). This is a restructuring move to realign Microsoft's idea to the Lumia line and the OEMs in reaffirming its stance on Windows 10 Mobile. It was a wrong move by Ballmer (who I never really liked as a CEO anyway), but I also wish there were other ways we could push this forward. I still have hopes for Windows 10 Mobile after using its most recent beta and build, and I think it'll be a help that now the apps I have on my phone now can be used on my desktop. :) GO MICROSOFT!!

Bullshit, he can't wait for WP to fall, and buying Nokia was the biggest mistake ms ever done, should have let that company die

Windows 8 was their biggest mistake. Love it or hate it, it ruined their reputation.

if Microsoft wants to make it's presence felt in mobile OS, they should bring basic changes in their mobile oprating system. either they should stick to the apple mood where you have this one UI n the OS is deployed on a single brand phone with very few phone introduction in a financial year with focus on a particular segement of market. or they should go with tha android way to open up and have more flexibility lile different UI, so that different manufacturers have tgr ability to have differentiation among their own product and with the product of other windows phone manufacturer. Right now they are confused, anyone opposing my point of veiw please explain it to me how HTC M8 (wp) is differentiated with 930? or even as a whole how a wp manufacturer will differentiate with another one, and i am not talking about specs or logo I am talking about perception. perception that plays vital role in buying process.

You guys are complaining about a PHONE, meanwhile thousands of people are losing their job. Perspective...try it

I like the way you think there. If it was a Nokia forum, that would have made sense. But as this turns out to be originally a windows phone fans forum, people are more worried about the future of WP. Even this site name got changed to just windows central for a reason you see! Posted via the Windows Central App for Android

People lose their jobs every day. Life goes on.

I was thinking about getting a new phone - I guess this further moves me towards an iPhone. Will be the first non-windows phone since Jan 2011 for me. Sad story of a compelling platform with no real vision...

We need to figure it out what kept windows phone have low market share
Lack of apps
Customization
And obviously Microsoft's marketing
Now we can see that after 2 device failure of surface rt devices. Microsoft got it right with sp3. Ppl considered useless in front of ipads made it superior to in comparison apple devices. And there seems no way for Microsoft to make a return in phones like how they did with surface.
Now with windows phone I want Microsoft to concentrate more on customers from enterprises who can stay loyal with windows 10 mobile for a long term.
Lets agree that windows phone is not very easy to understand by avg users who just want a smartphone for instant messaging. I still seen few users with windows phone who struggle with the OS.

The main reason in the US was severe phone fragmentation between carriers. There was never a single phone on all carriers at the same time. Especially the big 3. There was no way to advertise them with this much fragmentaion(carrier variants released 4 - months apart)

If Nadella came out and said these exact words "I swear to God and Vishnu and by my dead mother that my personal goal in life is to take the mobile market from Android and iOS, and dominate the world with Windows 10 Mobile and Lumia. I wont leave Microsoft untill I achieve that goal. I even have LUMIA 4EVER tattooed on my left ass cheek. So chill the fuck out. Good night!"; people would still be coming here to say that Microsoft is giving up on mobile.

Hahaha! I'm crying actual tears!

The probability of people on the internet saying MS will/should/already did abandon WMo/Surface/Bing/Xbox/Windows/everything is completely independent of every conceivable factor actually.

Pretty good! But you could also flip that and it would still be true. Nadella could say (I know, my words are not as flowery as yours!), "Microsoft is completely dropping the smartphone line, effective immediately. Any employee that has anything to do with Lumia or WP or W10M is punching out for the last time and going home as I speak. Good night!" and people would still be coming here to say that Microsoft is committed to mobile and is expecting to overtake iOS next year and Android in 2017, with 130% market share by 2019.

You missed the last sentence: "But I will keep using iPhone as my daily driver and I will prioritize iOS and Android whenever possible"

HAHAHA!! :'D The best I read in years... cried in laughter :'D literlly "ROFL" dude...

I​ said Microsoft needed to pair down and stop making so many low end phones for what seemed like no reason and everyone here attacked me, now that Microsoft is doing just that because they realized how much of a waste of resources it was everyone is agreeing. #sigh

After all it's windows central .. It's obvious :D

I think it's the perfect time for " highs and lows " article ... Where is that guy... Jason ? :)

Guys, this means offically no more 1020 replacement. We kind of already knew that though.

Not true the 1020 replacement would be the new flagship phones being released. Megapixels DO NOT matter past like 15mp lol.

Is really Lumia line going?? These was least I expected. It seems WP line is in doom. Lumia was decent brand over Samsung etc .. Doing different ... Something different from Android nonsense. Its time for Windows to do something good or some other brand to come up...!!!

I honestly have very little to zero complaints with Mr. Nadella's movements so far as Microsoft CEO. He's making all the right calls as I see it to right the ship and drive forward into the future. Well done and I can't wait for my Continuum flagship Windows phone this fall.

Continuum is what got ppl more excited. I'm more excited about cortana and Xbox application.

Tick.....tick.....tick......tick.....tick............

I would see the doctor about that tick.

I think the Lumia brand is dead and it will be succeeded by the Surface brand (Surface Phone anyone?)

Microsoft is seeing Windows Phone traction in the enterprise space, especially in developing economies (but also the U.K). As a result, I think we'll see Microsoft stop chasing consumer hits such as Snapchat, and instead, focus on bringing all enterprise and productivity solutions to Windows. This means apps from Salesforce, Slack, SAP, etc. Posted via the Windows Central App for Android

MS ruined an excellent hardware making company named Nokia. If you were not serious about phones, why did you buy it? Is not all these a cover up to hide a bad purchase? MS should understand that they may be the king of the SOFTWARE world. But the ONLY company to have challenged APPLE in the hardware segment is NOKIA. You cannot survive without a quality hardware, the touch, the display and all those things. May be you are planning to sell hardware only in USA just like SURFACE. Shame on you.

Anyone will agree that LUMIA 2520 is better than SURFACE, HERE maps is better than BING maps, XPRESS music from NOKIA is better than XBOX Music

Sounds like Daniel drafted the email based on his article recently on how the sky is not falling. :) Indeed, more focused phone portfolio, room for other OEMs. And to stream Elop - "ecosystem, ecosystem, ecosystem!!!".

Please. S.N. A lot of nice pretty pictures and warm fuzzy bull spewing from both ends. This man continues to repeat the same "good times" are coming narrative and typical upper echelon rhetoric without ever actually saying a thing.
...
With his slow flagship procurement and repetitive low tier phone productions this man is so full of it. Can we get leadership that actually says something and/or believes in the Windows brand. Because this man is questionable.

I hope with the flagship high end model, there is an XL version and a regular version. I want a high end phone but I don't want a 6 inch screen! I wouldn't want to downgrade my phone to a mid range just because they dont offer a 5 inch high end!

http://yle.fi/uutiset/microsoft_vahentaa_suomesta_jopa_2_300_tyontekijaa...
This is in Finnish but basically says that most of R&D gets boot. That's that then. This 'short term' portfolio is I guess what currently in pipeline and then sky falls.. 2300/3200 workers in Finland will be fired. San Diego unit will be closed. Peking unit will be downsized (surprisingly still small team designing feature phones will remain) Espoo Finland will be in charge of flagships and Tampere takes care of mid tier.

nutella, i still have faith in you.

Interesting corporate double talk but he does explain how cutting thousands of jobs will help them produce a compelling product and app eco system that will drive people to retain or switch to Windows phone. All they are doing is throwing in the towel and making sure the fiscal footprint for this dying end of their business is as tiny as possible.

The wording of the statement is quite interesting: "We'll bring business customers the best management, security and productivity experiences they need; value phone buyers the communications services they want." Nowhere does it say that they'll bring those experiences and communication services to Windows Phone / Windows 10 Mobile.

I think it's implied that these are the 3 types of segments that they're targeting with devices (and software I guess) including the windows phone portfolio. Nothing cryptic really.

"We'll bring business customers the best management, security and productivity experiences they need; value phone buyers the communications services they want; and Windows fans the flagship devices they'll love." Any reason you redacted the sentence? The wording is much more interesting in full context.

Omg just kill WP already and WM10 just a pleaser for hard-core fan boys.

I think this is all good news for the future of handsets running a Windows OS. I won't call it brilliant as I think the strategy was becoming more obvious as you observed the trajectory of the in-house Surface business for PCs. Surface is a focused business that offers a couple clear choices between S3 and SP3 and build quality is undisputedly strong. I would welcome an environment where there are at most 2-3 quality Windows phone offerings at a given time (or during a 12-15 month cycle) that are available on at least the two major carriers and hopefully on #3 and #4 if I'm inclined to carrier hop. Something flagship-ish for myself and hopefully something more mid-range for my wife every 18-24 months would suit me fine. I'm sure we'll know more soon about where the 7800 comes from in terms of roles but for starters I'd guess that if your function had anything to do with convincing or assisting other handset manufacturers to make and launch Windows phones then it's certainly time to update the resume. I'm both excited and optimistic for the next five months as it is apparent that we'll see the first assortment of these focused offerings launch by year's end.

Any more details? Sounds like the Windows Phone devices will stay but they will actually speed up device development. Not clear how they will be improving second party phone OEM activity though.

Too lazy to read all that Sh!t.

About 2300 out of 3200 in Finland. Lean and, hopefully, mean - I guess is the only positive spin I can put on it.

I'll say this for Nadella, he can say a lot, without really saying anything. Playing-it-safe beauracratic speak at its finest.


This is what I imagine Microsoft is focusing on with phones: A low end phone for budget segment, mid range for businesses, and high end for fanboys. So erase all the variants and push three phones that will (hopefully) be available with all carriers much like the iPhone or HTC One. Hoping this will eliminate the confusing model numbers for consumers and will encourage other OEMs to step up and fill in the gaps.

Whenever a CEO qualifies "committed" with "still", you know they aren't. I wonder what other doozies are in the upcoming financial report.

That was my thinking as well. I figure that the Lumia devices being released later this Fall, will be the swan song for the phone hardware division.

"a vibrant Windows ecosystem..."

Microsoft has lost far too much ground to Apple and Google under Balmer. Satya has some tough decisions to make.

It only can get better. Microsoft may probably adopt some variation of the Google Nexus model,
where Microsoft defines a baseline standard
and the rest of the industry just does their own varitiy of product interpretation as usual. Buying Nokia as a hardware manufacturer operating their own plants
for sure wasn't Microsoft's business and never will be. Who knows, maybe Lenovo will buy some Nokia stuff
and then also liceneses the rights to use the Nokia branding
and even hires design services from the remnants of the still existing old Nokia. Wouldn't be too bad.

Google Nexus model failed miserably, just like Android One initiative.

It's about time WP was shaken up...dump dead weight for the new energized MSFT and Win10...kudos Satya!

The hits just keep coming. Writing off the entire Nokia acquisition is definitely a step to confirm his commitment to the phone business. Well done. [/sarc]

End of the road...., Boyz II Men anybody else? Edit: What about the elephant in the room? Applications, applications, applications...

MS will close all factories and let the Chinese produce. In the meantime, those OEMs kill us with crappy phones. Times will getting harder for MS. They need to get into the home automation business, they need a more promising automotive solution. Instead, they focus on nerd devices. The next billions devices will be no holo-computers. The strategy is plain laughable.

I purchased a 920 3 years ago thinking that surely apps would surely follow. We know how that went. Vastly improved, but still third fiddle. Last week I got a new 640XL (beautiful BTW) looking forward to the new windows OS. After this announcement the phone is going back and I am switching to the competitors phones. I did not hear any commitment to to mobile phones in Nadella's announcement. It was about as nebulous as a politicians promise, in fact it seemed to open the door for a complete exit from phones.

So you love the phone but you're getting rid of it? Clever.

Did you read this: "We'll bring business customers the best management, security and productivity experiences they need; value phone buyers the communications services they want; and Windows fans the flagship devices they'll love."

now I remember the business ad featuring the 640 XL, seems like that's the business phone here, the 535 will be "value" and 940 will be flagship, and nothing else, good, that's some common sense at last

Lumia X, Lumia E and Lumia N series.. Anyone who knew Nokia will understand the above. Frankly, this makes perfect sense and certainly will be an improvement over the current jungle of similar phones competing with each other.

In other words the Nokia acquisition was a complete failure which is on Ballmer.

You guys and your paranoia...Nadella must be feeling so helpless that he doesn't even have hair to pull.

"We'll bring business customers the best management, security and productivity experiences they need; value phone buyers the communications services they want; and Windows fans the flagship devices they'll love." So can we finally agree that the "no more flagship" doomsday posters can put a sock in it once and for all?

We are all forgetting about the Asha line of feature phones as well. I think a good portion of the layoffs will be tied to that.

Lumia phone should be low end & business, Surface phone should be flagship

Lumia is phone.
Surface is tablet.

He is saying he is going to make everybody happy. Darn you guys sound like a bunch of teenage girls discussing something a boyfriend said. What did he mean? What was he trying to express? What was he feeling? Does he really care? Boo hoo hoo.

So they will make Android phones - and maybe keep Windows phones parallel

Sounds like a homerun to me.

I believe that Microsoft has three ways for the mobile industry: The first, would create an excellent " flagship " with a competitive price , and another device with entry price , but median specifications. The second way would be releasing Windows Mobile for downloading, ie, create ROMs for Androids devices and send it for FREE. The third? Well, throw the towel, get a good Android and work with it. In fact, I see that Microsoft had a ready OS framework for mobile. Google took the visual "desktop " with icons , and created a mobile system. It worked! The MS already had this system, but wanted to reinvent the wheel by creating the TILES, that went very wrong with a bad market acceptance. I do not think MS go get reverse scenario, unfortunately. But, lets see...

I think that with the launch of Windows 10 mobile we'll see a launch of a complete set of entry, mid(businesses) and flagship devices all running Windows 10 mobile with a global release within 2 weeks after there announcement. Signaling a complete re-start of Microsoft mobile strategy. Sounds logical for Microsoft to kick off Windows 10 Mobile this way.

Huh...I dont trust him....waste my time installing visual studio ...

What the heck are you talking about?

introduce cortana feature in bing and msn same like gogle did

It's tough to hear of and see that (the layoffs).but its necessary for now. Hopefully the 1/3 if the layoffs in Finland can find work with Nokia in the near future or other Finnish phone makers

They bought the company and kicked the employees. Wow! Such a great power! Just joking.:)

Nadella is just a fucking hatchet man.. Hope he sleeps well.

Just budgets devices now folks
Windows Central Newsletter
Get the best of Windows Central in in your inbox, every day!
Thank you for signing up to Windows Central. You will receive a verification email shortly.
There was a problem. Please refresh the page and try again.