Scribd pulls its Windows Phone and Windows 8.1 apps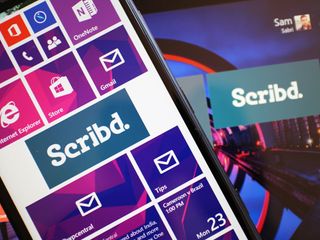 The official Scribd apps for Windows Phone and Windows 8.1 have been removed from their respective store fronts, less than a year after the online e-reading subscription service added support for Microsoft's mobile OS as a universal app for both platforms.
The service offers users a chance to read over 400,000 e-books for a fee of $8.99 a month. Scribd also allows users to upload their own documents and has millions of those kinds of written works to choose from. After a soft launch in June 2014, the Windows Phone and Windows 8.1 versions were formally released one month later in July.
However, the apps were not updated since July and now both have been pulled from circulation. We reached out to Scribd for comment and got a response back from a company spokesperson:
The response would seem to indicate that Scribd is at least considering a return to the Windows platform, and it's possible that the company could release a universal app for Windows 10 in the future.
Thanks to Ezra for the tip!
Is this the nicer way of saying we're abandoning?

MS itself doesn't bother work universal apps why would they?....(MS just released delve office on android and IOS, universal apps for windows ON way).. Who knows when? Tired of all their promises, they remove more useful features than adding them in new versions.

They are only making Office available as a universal app for Windows as well as every single pre-installed Windows 10 app. But sure, they don't care about universal apps at all. Of course the universal apps for Windows are only on their way and not available yet because Windows 10 itself isn't even out yet. Your last sentence isn't even true.

and how do you know? do you work for Microsoft? Windows 10 hasn't been released and it's obvious Microsoft would want to develop for it, for the one platform which is the future. you don't know anything, so I don't know why you are talking about. again Windows 10 is the future, and like it or not, still it's a future that is months away. because it's obvious Microsoft will develop for it since it will be the same app running on WIndows 10 for phones and Desktop and tablets.

no body is talking about real reason why apps are ditching WP platform. I'm very +ve its about revenue ... tell this to Rubino ... who argued with me like a little kid

It's always about the money :)

@buddy007 you do realise Scribd _is_ a Universal app? You also know the preview of the touch app is well, in preview? And will be released this year around the same time as 10.

Best user experience is to take that experience away? That must have been a really terrible app.

It was a web app, probably something like an experiment.

It was pretty bad. Basically a web wrapper. I didn't enjoy the experience.

See also: Trivia Crack. Web Wrapper Apps will be met with derision when they don't offer feature parity, smoothness of interface, or adhere to OS UI guidelines

If windows 8 apps are being pulled as well, even when they are supposed to be reaching millions of people. why would w10 have more apps than 8?

It won't. Dead platform walking. Where to next, guys?

Starting slowly to think after all similar news, that is really the case...

I'm still positive with the platform. If the main productivity things are either integrated into OS or provided as apps by Microsoft only, i will stay with this platform. Somewhere i'm happy that i do not waste my time on useless apps available on iOS and Android :P

Because Windows 8 has most of its marketshare from desktops and laptops and not from tablets and most non-tablet-users don't care too much about apps. As to Windows 10 having more apps than Windows 8, that of course remains to be seen, but with the universal app store plus a much better public perception of Windows 10 the potential is undoubtedly there.

Why would anyone use a Windows 8 app when the web browser is RIGHT THERE? It has never made sense to me.

I still prefer to use the app version of Mint even though the desktop is right there. Apps are better optimized for touch and for easy navigation.

Why don't you do the same thing on your phone? Because the app is optimized for the experience you are on, be it desktop or mobile.

I actually do use the web on my Lumia Icon more often than apps, because most apps (that also have websites) for WP suck, just like they do for Windows 8. That is if they have apps at all which is usually not the case.
Some exceptions of course - Windows Central and Disqus are two of my most used apps that are both great on WP. But on my W8.1 laptop/tablet I prefer the websites for both, since they offer full functionality and the web layout is much more refined.

I focus on the lingo and tone of the statement. Seems like it could go either way. I don't think they would mention/care about user reviews if it wasn't coming back. Seems like they'll return with universal Windows 10 to me.

I agree, I think they are genuine in looking toward something tangible for Windows 10/universal.

Yes and I think lots of developers are doing or thinking about this to pull off there apps and design or again with universal app so easily they can give best experience to users.... So yes this is absolutely nice strategy...

It's was a WebApp, users post bad review, they're removing the app because they're listening to users, and will be building a real app :)) that's what I see with their statement.

More news is bad news for Windows (Phone).

Sure seems that way huh... :(

btw, is that a photo of you for your avatar?

Its a conspiracy so that Microsoft starts allowing android apps - they might as well at this point

They should stand firm and not succumb to pressure. If Android and iOS can have their own distinctive apps and features, so can Windows.

Please stop this nonsense. We need Android apps. It's the only way forward.

i guess u want to open the floodgates of hell with all of the apps that can potentially steal your shit. WP doesnt even have a 'virus scanner' app and android has tons of them.

@onysi even windows have tons of viruses and AV programs so don't you use windows ?

Microsoft had to know when they started making apps for iOS/Android and not WP that everyone would start pulling their apps. Shameful.

Except, not really because one thing has nothing to do with the other. Microsoft is a business, of course they're making Android and iOS apps, the past two and a half years have proven that platform exclusivity of Microsoft services has not been enough to bring Windows Phone forward. On the other hand, serious businesses have a lot of other factors to consider when developing apps than whether Microsoft is developing apps for Android and iOS or not. That's ridiculous. Not to mention that while some developers are pulling their apps, others are coming in. I don't get where this distorted perception is coming from. Why are you even here if you find everything so horrible and if Windows Phone is dead anyway?

Methinks you NEED to look up the definition of the words need and only. It's the ONLY way you'll figure out that your comment is incorrect.

@ Axmantim Let me rephrase. Windows Phone is not a financially viable platform. The singular route to viability is to permit applications written for Android to run on Windows phone. @ Onysi And as to Android apps stealing your stuff, the reason there's no virus scanner on WP is because there can't be. That does not mean apps can't "steal your [stuff]" on Windows Phone. Indeed they can and they do. As a matter of fact, Android has apps available that can change the permissions given to other apps, thus giving you much greater safeguards against the unwanted stealing of your data. Overall, Android, properly managed, is much more secure than Windows Phone. To wit: Android supports application locking Android supports granular control over permissions Android provides a task manager to show you which applications are running at any given time Android allows installation of firewalls to monitor what apps are sending and to where And many more security features. Sure, if you sideload applications from sketchy places on Android, then you are taking your own chances. But that's the same as installing any application on Windows desktops.

@xI'mtc you can't comment "Windows Phone is not a financially viable platform" this here. Rubino will delete comment and threaten you :P ... I said this and all my comments were deleted

Everyone always claims their comments were deleted due to a differing opinion of a moderator. I'd probably bet that you said it in an offensive way and that's why your comments were deleted, or the comment was flagged by someone as spam and it was deleted without being checked.

I definitely don't use offensive language ... it was Rubino who threatened by saying he will take care of me ... and next I see entire chain was deleted

Exactly...just like Blackberry. /s

The Android experience on Windows will be amputed if google services isn't part of the deal & I don't see Google making that available anytime soon with MSFT. Blackberry runs thousands (perhaps hundreds of thousands) of Android apps....BUT, it only runs those apps that are not google services dependent. It's a nice sentiment to say you have access to all these apps but not all become fully functional and depending on the android runtime setup, will be laggy compared to native apps and the ui within the app will typically be inconsistent relative to the rest of the phone. I currently have a blackberry and the novelty of running android has simply increased my angst. Although I've been able to plug some app gaps, it's an, "almost but not quite" frustration that lingers beneath the surface. Bottom line.......running android (at least with no access to google services) is not a solution.

We already have distinctive features and apps, ones that rival both iOS and Android. Heck some apps even outshine their counterparts on other platforms. And yet WP has seen miniscule traction when faced with iPhone and Android. Why is that? Could it be to do with the fact that some very high profile apps are still missing (Snapchat) and are unlikely to ever see the light of day on WP. Consumers have ignored WP for much too long now, so major developers are beginning to pull out. They focus more on iOS and android. Therefore, running Android apps will grow WP's library of apps. This will not only negate the "App Gap" problem, but it would also bolster the hundreds of thousands of apps WP already has. And the npoint about viruses? I'm pretty positive that with a little bit of research and common sense, users can avoid virus filled apps from Android.

The answer is because Microsoft has allowed this to happen. Microsoft has the financial clout to demand more if they really wanted to. There is a obvious solution (at least here in the states) Pull every phone from the carriers go it alone. With the right marketing and the right phones they could turn things around in a year. Carrier exclusive deals and carrier controlled updates have hurt the platform and have strangled it to irrelevance. On top of this the total lack of marketing and advertising has made the platform virtually unknown. If... and I mean IF Microsoft truly wants this to change they need to completely rethink how they are doing things. They are still building stores and need to continue doing so and have in place some type of payment option for the phone and just allow the customers to BYOD to their choice.

Eventually they will have to if they want to become significant. I believe the app UI design in Windows 10 is going towards android for a reason.

It isn't at all going towards Android. How do you reason that? Because of the hamburgers? Jeez...

No no and no. Have a bit of patience. Windows 10 will change all this in an forseeable time. When companies can target desktop, laptop, Xbox, phone, tablet ect. with just one single app, then we will see an increase in apps and app updates.

When companies can target desktop, laptop, Xbox, phone, tablet ect. with just one single app, then we will see an increase in apps and app updates. What is your evidence for this statement? Nobody has explained to me how, or provided a shred of evidence to support the assumption that Windows (Universal) Apps will attract developers to create Windows versions of their iOS / Android apps. And do we really need Windows Apps on the desktop, when there are countless x86 alternatives that offer better funtionality and run faster? We don't even know how many people will upgrade (free) from Win 7 / 8.x to Windows 10. So stating that market share will increase has no foundation.

Apps are about brand access and simplicty of access/purchase. If you have a tablet/phone and you want to read books you go to the built in Store and search for books. If Scribd doesn't want to have access to Windows users, that's their choice, but pointing to x86 apps as a replacement for Store apps is not a solution in this case. In some scenarios desktop apps exist and offer better functionality but not in this instance. There is no x86 Scribd application. Store apps definitely provide the best access to users. Cortana on the desktop suggests apps first when users use search. But as you suggest, until lots of people are using Windows 10 all this is mute. Time will tell how successful Windows 10 is and that will impact how many apps are written to support it more than the technology.

Rome wasn't build in one day mate... And this won't to be won in this year. But if you think about it for a minute - how do companies work? They make money for their shareholders and the shareholders couldn't give a rats ass about anything else but money. It doesn't take much imagination to guess that size of the target audience matters for the size of profit, therefore it should be reasonable to expect that companies will follow suit and go with the money. I'll bet that within the next 5 years we will see a new lawsuit against MS for the user based monopoly they will have created by that time.

I have been with Windows Phone for more than four years. The time for patience is over. The platform has proven that it is going nowhere (well, maybe digging a little deeper into the ground). Tinkering around the edges, making some things better while making other things worse (which is what W10 will do) is no kind of answer.

Well there are plenty of Android devices to choose from. Why not make the jump not and let the rest of us enjoy our Windows experience...

You can't enjoy your Windows experience when someone else points out its shortcomings in the app market? You are one fragile man. I too have been with Windows Phone for several years, and I will be until it's dead, because I think the platform is great. But the app situation is dire, and W10 will not in and of itself change that (designers of phone apps really couldn't care less about the desktop users, for obvious reasons).

When on earth did I ever say anything about app shortage? Try read my post again and you should find that I, with the help of sarcasm, told him to stop whining.

@Mortenvs you can still enjoy windows experience ... how does his comment interfering with your enjoyment ?

To say it interferes my enjoyment of WP is a bit if a stretch, but these completely negative comments on everything from app-gabs to the occasional news story related to something not strictly MS (like today's post on the new MacBook) is beginning to take some enjoyment out of bothering with the comments section. A community of whiners isn't exactly joyful...

he has a point ... you need to accept it ... ever wondered why WP market share did not grow in past 3-4 yrs ? 5 yrs back there was IOS and blackberry still android was able to penetrate the market ... because of its availability and features

Because Android is a Google product, and Google is evil. I consider my use of Windows phone to be a principled one, not a technological one. I have no love for Apple, but I am not morally opposed to Apple. If I leave Windows phone,I will probably go there. I don't agree that Google, which I consider to be the world's most successful spyware company, has a right to exist. It will take an awful lot to get me to use one of their products.

agree with you mate ... WP is going no where ... its absolutely insulting to use WP. even their APIs are horrible ... no wonder developers are reluctant to develop on WP

This is the problem. It's not just that there's an app gap. It's that literally everything on Windows Phone is bad. Browser, email, multitasking, keyboard, notification center, media playback. You name it, it sucks on Windows Phone. Add to that the fact that even MS' own ecosystem is terrible on Windows Phone, from Skype to Office to Lync to OneDrive, and it is clear that anyone not calling "foul" at this point is suffering from Stockholm syndrome. And then, also, there's an app gap.

Seems like de ja vu for my day one wp7 mind. I'll stay, only because there is no better place to be. I'm not holding out hope for universal apps. The media player app on xbox is very sad, smart glass startup time is too slow, there is nothing on the xbox I'd do on a tablet (vice versa). Universal apps will drive up the specs and testing costs for devs. Web 3.0 is coming with our local businesses providing apps to streamline their services but only on android and iphone. If they can get android apps on w10 it will fill those messy gaps allowing msoft to focus on iot and wearables platform. Its time to close the book on apps ( open the door) and look forward to new technology innovation.

I blame snap chat for being the saddest ,useless & pointless app ever invented! I mean ........come on!

That may be certainly true about SnapChat - since you brought it up. However the 16-35yr demographic have this 'need' to use it, not because it's good (I don't see the point esp when you can do a screen capture and keep whatever pics come through so they don't expire), but as the case very recently, a younger colleague who loves her Lumia 1020 with a passion is socially alienated from hers peers and social group of friends because they all use this crazy app and she's forever getting jibed about being on this lame Windows phone and she should get a phone that can run Snapchat and not be left out. She is quite torn about it and I truly feel for her.
This is why this SnapChat crap is dicriminatory and quite rude that SnapChat either will not build, or allow others to build (Rudy), an official app, or at the very least allow third party apps to hook into the service - after all they have to supply the API. Isn't there a law against discrimination, because it has all the markings of it. I'm not trivialising discrimination by the way... it is abhorant.

They are certainly a component.

Another.. The end is near....

They said WP was a ship that never sinks :D

The Titanic didn't sink right away either.

Yup it struck with iOS and Droid in 2012.
Has survived 2013 and 2014.
All the lifeboats (flagships) are used/gone.
Now it has been torn apart in 2015, all those who boarded it aren't gonna survive for long....

I never want to ride a ship that you are captain of.

Who me..? If I were the captain, I wouldn't take you aboard.

And they rebuilding the ship.. (win10)

Yup. Took her 2 hours and 40 minutes to sink, exactly 103 years ago to this exact day ;)

Glad to see someone got the reference. Cheers!

Just curious, who the hell was seeing the clock in that chaos..? :P

Well at least were in better shape then bb who hides their Android support in the shadows

Titanic was the best ship made, till it sank. And had it been some other ship, it would have sank faster.

'Was'. No one saw the keyword in this one... Posted via the Windows Central App for Android

Hard to sink when it's still in drydock.

What will we do without Scribd... :heavysarcasm:

Many of apps that are being pulled out are not of very much imp. For a good no. Of users .!! And the needed ones never made the way to platform and later everything is said like
"hope so everything will be alright with windows 10".!! If they don't care for current windows how will they care for the update.!!! Depends how microsoft presents it to devs.

The app was crap, simple as that. They were "testing the waters" with a crappy app that nobody wanted. There was really only one outcome of possible of that test...

Not surprised anymore at all...

This is really getting irritating

If this person did or didnt. The fact is that apps are being pulled when the app gap is supposed to be closing

Bet a lot of doomers never used the damn thing anyway lol

That's a nice way of saying screw you guys...buy an adroid device or iPhone ...i know..i know ..thats not what they said

Made a mistake by getting a Windows Phone. Even MS releases the Office Delve apps first on Android and iOS.

There are some really inexpensive Android phones out there. If you aren't happy, no one is stopping you from switching. I personally like Windows Phone as an OS and other than a banking app or two, it has everything I want available for it. I can certainly see where it isn't for everyone, however.

We want to switch to android but how to sell my windows phone? No one is interested in this bull shit.I've made a big mistake that i bought a WP.

This is just making news? They've been gone for a month at least now.

I bet nobody here ever used this crappy web wrapper app. Which is probably why they pulled it in the first place...

Office delve is available on Android, iOS. Widows will get it later. I don't mind having MS' apps on other platforms but why can't MS wait until they offer Windows App and at least launch them on all platforms at same time ? It seriously looks like MS is gonna abandon Windows Phone. Microsoft Azure & other services are future for them but not the consumer platform like WP & Windows.

This -> "I don't mind having MS' apps on other platforms but why can't MS wait until they offer Windows App and at least launch them on all platforms at same time ?"

If the Office apps are ready right now for completing platforms, you think they should hold off on making money off them, just to wait for the WP version to be released? Microsoft's objective is to make money off of their services. If their strategy revolved around not hurting the feelings of WP users, they'd be in trouble.

Making money by giving them away?

Making money by pulling people into Office 365 subscriptions with the free mobile apps as catalysts, yes.

Err No, why spend billions of dollars acquiring a section of a company, time and effort in fitting some of those employees into a new re-org. Seriously, think about it. How dumb would it be abandon it now?

Large companies do stuff like that all the time. MSFT took a writedown of $6B on their aQuantive purchase a few years ago. And they were working on OS/2 right up to the time it was killed (I don't know the numbers but their investment in OS/2 was probably a larger fraction of MSFT's net worth back then than the NOK purchase was these days).

So then why do they keep releasing Lumia devices and have announced that flagship devices will be coming with Windows 10? To give them up at launch?

Internal inertia. Why did they release Kin phones to stores ... only to kill it a couple of months later.

They have released a couple of Windows phones in the past weeks ranging from low-end to mid-range with at least one high-end device coming later this year. All of which have been promised to get a free update to Windows 10, which is being put many resources into and is finalizing what Microsoft has been building up to for years, namely the unified core and the universal app platform. I haven't yet read a single convincing argument to back up that Microsoft is already now planning to give up Windows on phones besides the fact that they are much more committed to Android and iOS development than they were at Windows Phone 8 launch, which is no valid argument because the past two and a half years have proven that platform exclusivity of Microsoft services and apps has not been enough to bring Windows Phone forward.

They gave up on McLaren. Zune. Kin. So it's not unprecedented.

We don't know yet if McLaren was given up entirely or if it was just delayed but even so, giving up one single phone is not remotely the same as giving up an entire platform that Microsoft keeps investing in through new hardware and an upcoming big software update. The other two products you mention did not have the same long-term strategy backing it up as Windows Phone does with universal apps and universal OS. As I said below, it's definitely not out of the question that they might give up Windows Phone in the future but we aren't there at this stage because the resources Microsoft is putting into it right now are too great too make that a remotely sensible option. I assume they are going to give Windows 10 on phones at least a year before they consider letting go of it altogether.

They wouldn't put all the resources into the mobile version of Windows 10 and the universal app ecosystem if they were planning to abandon it, wouldn't they? Surprises me how people here often look past that totally obvious fact. Surely they may consider abandoning it in the future but I'm sure that wouldn't be before one year after the launch of Windows 10 at the very earliest.

The reason everyone else is getting stuff first is simply because they are breaking office out of the OS and it would be dumb to wait for win10 to launch elsewhere. Win10 will be the great equalizer for MS apps.

Because office has to move quick. There is unbelievably strong competition out there. They can not afford waiting for windows 10 to be finished!

Google is making all the pains to bring down WP. Shame on Google! Posted via the Windows Central App for Android

As long as its legal, I say more power to them. Not their fault Microsoft is so preoccupied with ios and android to bother with their own platform.....

As long as its legal? I find it funny that Microsoft got dragged through courts for including IE in Windows and that was all fine and dandy, and this BS is happening and this is all fair game. The "We Hate Microsoft So Anything Goes" bullshit combined with Microsoft's "We Dont Want To Be Like Them And Are Going To Play The Nice Guy Role" is starting to drive me nuts.

I've never even heard of it, so I don't really care that much. That said, based on their comment it sounds like this was a web app and not a "real" windows app: "a WebApp last fall was our first step in that direction" If so, its no wonder it wasn't very well received. Especially when there are so many ways to read e-books.

Yeah, these companies put out crappy web wrappers and then go "hmm, well it wasn't well received, so we give up". Shocker.

Im seeing a pattern. We ask for apps; Developers give us a majorly watered down buggy version of what iOS and Android get; we give negative reviews and complain; They pull the app and give us the "be happy with what you get attitude" but try to sugar coat it with their PR department.

That's actually a great point.

Ok, but seriously who cares? Did someone actually know of this app and use it? Ooooh they left windows as an app. And windows will fold tomorrow BC of it. ​

Maybe the reason why they're pulling the app is because of a lack of users.

They actually had too many. Couldn't keep up.

They probably pulled it to concentrate on making a Universal App version ... oh wait.

Who cares they were useless to me

Somebody says this every time an app gets pulled.

This whole comments thread is a repeat of everytime an app gets pulled.

Not really. Most the comments are 'Im getting an android cause an app i didn't use isn't available!'

xD
But ... but ... We are doomed because of this!!11!!!

:D:D:D best comment in days

Best reading experience = no reading experience at all.

I hear a lot of this news but they aren't apps that I use so I hardly ever care.
I got what I need on my phone that's enough for me...

The tunnel vision of some of the users here is funny: "I never used the app, so who cares!"

Well when little-used apps leave the store its not a big deal. That's just called logic.

Disappointing, but truth is the Scribd apps were crap. Just web wrappers. Hopefully they will make real apps going forward.

Well if they have a decent web app with all these new improvements coming to Win10 (of which I am not exactly sure on what improved) it might be more attractive to focus on the web app.

There are two words that don't go together: It's "decent" and "WebApp"

I wish you guys would get in the habit of asking these pulled apps what their download numbers were and what they were on other platforms including active user base. All we ever he is basically "because"

This is alarming, apps being pulled isn't good for the platform. Is it maybe because of the lack of apps the windows user doesn't use apps that much?

Its because you didn't do enough.

Uhm... They pull the old versions apps to make the UA later

This was a universal app. Of course it sounds like it was more or less just a web wrappers, so...

Twitter is an UA too and it often crash on my 1520...

I love Windows Phone and having been using it since before it was Windows Phone (I started with an HTC HD2 running WM 6.5.5, then an HTC Trophy running WP7.8 and later the HTC 8x, Lumia 928 and Icon running WP8.1). I'm currently running Windows 10 TP build 10051 on a Lumia 635 I picked up for cheap during the Holidays. I really enjoy the Windows Phone UI and find it to be a spiritual successor to webOS (my favorite mobile OS). I have used various Android devices since Cupcake version 1.5 and still find it clunky at various times (I currently have B&N Nook Color, Samsung Galaxy Nexus and HP Touchpad running 4.4.4 KitKat and Nexus 7 2013 running 5.x.x Lollipop). I do love the customization and hackability of Android, which webOS also featured with the PreWare capabilities. However, unlike webOS or Windows Phone or even iOS, Android often does not behave consistently (both in performance and UI). I see progress but I haven't seen a fully-realized release yet. The sad truth is this for those who enjoy a variety of high-quality apps: get an iOS device. Both Google and Microsoft make their most popular apps available on iOS, while you also get Apple's app selections as well (and the third-party apps are typically the best on iOS). If you want a hackable and very custimizable OS get Android (or Cyanogenmod or AOKP or any other permutation). I'm not sure where Windows Phone fits in right now – I bought Windows Phones because of the operating system and later the cameras in the Lumias. I'm hoping Windows 10 delivers that unified approach that actually incentivizes users to adopt the Windows Phone platform; right now I don't feel incentivized to use Windows as an ecosystem since Windows Home Server and Windows Media Center were abandoned, and Windows Phone hasn't received the Microsoft apps that its competitors currently enjoy. I invested a lot of time and resources into those platforms only to see a lack of vision, focus and execution. Now the best mobile apps are released on other platforms first. For reference my personal device is the Lumia Icon and my work phone is the iPhone 5S. I have faith that Microsoft can capitalize on the excitement and promise of Windows 10 but I have had my faith misplaced in the past (webOS). I remain hopeful for now.

This app never showed up in windows store.... I think there are lot more apps never show up in windows store... Store Pro shows up lot more apps!

While it is not a good omen that another app has disappeared.... All those that were paying $8.99/month for this service please raise your hand. I know I won't. In my case, and YMMV, I read books on an e-reader.

Good thing the apps that disappear ate the ones I've never used.

People on this website are ridiculous. Saying you regret buying a windows phone because an app is pulled that you have never used. You people crack me up.

Lol yeah, people just like being miserable.

I agree. I really don't get some of the people here, every time an app gets pulled, the apocalypse is near and the moaning ensues. Where are all those people whenever a new app gets announced? And of course whenever Microsoft releases anything for Android or iOS that serves as absolute proof that Microsoft is about to abandon Windows Phone besides the obvious fact that Microsoft is investing tons of resources into the mobile version of Windows 10, into the unified core and the universal app store. Not to mention all the devices they've announced in the past week that are definitely going to get a free upgrade to Windows 10, plus at least one flagship device coming later this year. Honestly all this bitching is getting pathetic. Do yourself and others a favor and move away from Windows Phone if all you are getting from it is frustration, anger and the feeling that Microsoft doesn't love you and spare us the crying. It seems some people need to complain about anything to find fulfillment in life. And no, I'm not saying you don't have the right to complain or that all you should do is applaud whatever Microsoft does. But when all you do is complaining then there is obviously something going wrong.

"in order to ensure our readers are receiving the best reading experience possible, we decided to pull that version of the app" Can't wait to see how no app provides a better experience than the current one!

Yup, 2015 will be the year I jump ship to Android. Enough of this tbh.

Will you keep posting here and complaining or will AndroidCentral get that honor?

Another app, that I haven't had the chance to use, bites the dust... But oh well at least their website is still accessible right ?? Scribd helped me a lot during my college projects

On Windows... nothing as of now.

I have a question, does a Windows user have a different focus or view on applications than the average IOS and or android user? App devs say they drop off because of a lack of interest. They say, we are going with IOS and or android because it is a bigger market. Yes, those markets are larger but are these apps really that big apps on those platforms? I'm thinking not really, but I wonder.

I don't know about "free" WP apps. They exist to get you to use a company's online services so the lack of a userbase shouldn't be that much of a reason to pull the app (other than support costs, which can't be that high). It must be that WP users almost never use these apps. The other platforms have an order-of-magnitude more users, so creating and maintaining an app for them may be justified. For paid apps like mine, the numbers are so low compared to my Win32 programs (99.3% of last year's sales were my Win32 programs, 0.7% were for WP) that I can't justifiy spending more dev time on my WP80 app. I'd like to make it Universal at some point but that's low on my priority list since it will require significant dev time. WP and WinRT were destined/designed to fail. Even more baffling, I've heard that development on Win32 has essentially stopped inside MSFT. They're pouring everything into WinRT/Universal. I've said it numerous times but I'll say it again ... we have a front row seat to the largest corporate suicide in history. I just don't understand it, especially since the only viable solution is/was staring everyone in the face back when Win8/WinRT was originally designed.

"Even more baffling, I've heard that development on Win32 has essentially stopped inside MSFT." Where did you hear it from? From people talking like we're talking or someone on the inside, close to development decision makers?

They are removing it because they want to. I mean, they listened to feedback so it's better to pull and then users will not have it? that sounds dumb. I dislike Kik team, but it was a windows phone 7 and it still works today on Windows Phone 8.1. even if it hasn't been updated since 2012. so it's not about the app not working, or bugs that made the experience crap. They are probably waiting for Windows 10.... no matter what people think about it, one platform will be the future for Microsoft ecosystem. of course I think it is dumb to remove the app. better leave it and ignore comments and feedback. and then work for the Windows 10 future while it reaches RTM.

That was a very smooth way to say "We're not interested"

Basically, they made apps on the cheap for Win/WP to gauge the market. Obviously they didn't generate enough business from it. Was the reason because of poor app quality? Maybe, I didn't use it and it sounds like not a whole lot of people did either. I take their response as a "wait and see" approach regarding Windows 10 to see if app usage picks up on PCs/laptops/tablets as well as phone market increasing. If Windows 10 gets WP market to even 15%, you're going to see a whole lot more apps, and quality on par with iOS/Android.

Hell yeaaah closing that app-gap!... oh wait, wat? :/

Just for comparison i wonder how many apps come and go on android every year. Probably a lot. If an app goes belly-up it's not necessarily the platforms fault. Premium offerings have to compete with free ones and there has to be a compelling reason for people to choose it. Anywho departures aren't always a sign of the platforms imminent demise.

The bottom line is NO company will pull an app down if it brings in more money than it costs to build & maintain it. Also, NO company would avoid developing an app that would bring in more money than it costs to build & maintain. The app was either not profitable OR they believe they will get a higher return on investment if they use that money & resources for other platforms & projects. I don't believe these companies do this because they have deep hatred for Microsoft. They are making decisions based on money. That is why Microsoft releases apps & updates for IOS & Android first. They aren't abandoning their platform. They are simply putting money & resources where there will be the most profit. No difference. That is what this company is doing. If it costs too much for companies to develop & maintain apps, perhaps Windows10 will make a difference by making that whole process cheaper. *Optimism*

Get a grip folks. The number of apps entering the WP ecosytem is larger than those leaving the WP ecosystem. With this said, Scirbd doesn't have a very large subscription base on iOS and Android either.

The sky is falling! The sky is falling!

Making 200 versions of the same junk phones is still not working Belfiore.

Another Bay Area company.

what is the app for? I also wish AMEX pull their crap web wrapper application out.

I emailed them about this in December, when they pulled the apps at least 4 months ago. I got the same canned response. I was about to subscribe, instead I uninstalled the apps and stuck with Amazon. They had no offline support anyway so they weren't very good so it wasn't a huge loss, though I liked their selection.

Won't be missed at all. Screw them.

They are saying the same to you as well. And they are doing good on ios and android while WP users are screwed. Lol! !

They are not returning. Just a formal reply.

Really in this month just like 9 developers abbandoned Windows!
What is Microsoft doing about this???

Honestly, I'm thinking my Lumia 930 would be my last Windows Phone. Enough of that awful feeling of being second class to iOS and Android users. I'll be glad to return to iOS and leave this ugly app crying platform behind

Who cares about Scribd these days? I surely don't.

I'll preface my comment with the fact I don't know why Scribd decided to pull it's app from the store. My opinion is that it is not the quantity of apps in the store but rather the quality and availability of highly sought-after apps and games that provide a decent revenue steam for developers, along with a competitive mix of flagship and low cost phones, that will make the Windows phone platform a success. It seems this would be an obvious statement but for some reason the obvious continues to elude Microsoft. That said, if the quality of common apps improved, the Lumia 940 (or whatever the next flagship will be called) is best of breed hardware with something unique, and the Windows 10 O/S followed suite I will be very interested in returning to the platform. In other words, makes some kick ass apps with some kick ass hardware on Windows 10 and you might just be able to attract a broader audience that developers can make some money on. Posted via the Windows Central App for Android
Windows Central Newsletter
Get the best of Windows Central in in your inbox, every day!
Thank you for signing up to Windows Central. You will receive a verification email shortly.
There was a problem. Please refresh the page and try again.