Digital book service Scribd formally launched as Univeral Windows app, try it for free with this promo code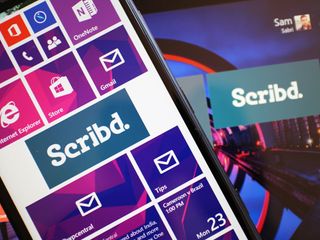 A few weeks ago we discovered apps for Scribd just hanging out in the Windows Phone Store and Windows Store. Turns out that was a soft launch and the company was just getting warmed up. Today these two Universal Windows apps are officially being launched. Read on to get promo code to try out Scribd for three months without spending a dime.
Scribd (www.scribd.com (opens in new tab)) is a digital library that was founded in 2007. A Netflix-like subscription gets you access to over 400,000 books from over 900 publishers. You can get an online library with no due dates or late fees. A killer service for any bookworm.
However, like most subscription services, you might find some books that are only available to read after purchasing. That's because Scribd works out details with authors and publishers for all books.
The service itself looks really solid and the apps for Windows Phone and Windows 8 look good too. Here are the features you can look forward to in the apps:
Instant access to 400,000+ books from 900+ publishers in every genre
Discover new favorites with our editorial collections and personalized recommendations
Millions of user-contributed documents and written works
No limits: read as much as you want service is available worldwide
Works across your iPhone, iPad, Android, Windows device, or browser books are synced automatically
Pin your favorite book to the side screen for easy access
To celebrate the launch, Scribd has given us a promo code to share with you. Use 'windows90' as a promo code to get a free, three-month trial to the Scribd service. You can also just click the link to get quick access with the promo code already entered:
We're going to play around with the service since we love to read. In the meantime, sound off below with some good book recommendations and your thoughts on the app so far.
Get the Windows Central Newsletter
All the latest news, reviews, and guides for Windows and Xbox diehards.
Is there a limit to how many people can use the promo code?

Its posted here so probably not.

I don't understand how to use the promo code. :/

Makes you enter a cc in order to use the promo code. Thanks, but no thanks...

Just give yourself a reminder to cancel before 3 months is up

What does carbon copy have to do with a promo code? So, they want more email addresses?

Credit card. Not carbon copy.

Oh haha I don't have one... So I suppose I can't use the promo code... I see what you mean, so if you forget to cancel...

Haha read on to get the promo code.

I thought they would be no adds, and boy was I wrong. Used the link provided. Cannot zoom in, l625.

It won't let me pin my first book to Start. I have the same problem with one book in the Kindle app, too, though. :(

Hi there. This is Jerry with Scribd's Customer Service team. Could you email support@scribd.com and describe what's happening and what book(s) you're having trouble with? We'll be happy to try to help you!

The Windows App doesn't load on my surface rt

It's forever stuck in the loading screen on my Venue 11 Pro as well.

Hi Eduardo and Tales. This is Jerry with Scribd Customer Service. I'm sad to hear that. I'm not sure what might be happening, but if you email support@scribd.com perhaps we can help!

Thanks for the promo code!

It is working on my Surface 2 and my Nokia Lumia 1520.

I don't like giving cc for trials and having to cancel. Impress me with your product/service and make me call so I subscribe to not miss anything.

Does it say that it will automatically roll into a charged subscription and that you'd need to cancel it? Also, does this have 'pause-and-play' across devices? If I start reading on my Surface and then switch over to my Windows Phone, it updates the bookmark accordingly?

Launched as Univeral app.... Sounds interesting

I have been using Scribd on my Nexus 7 tablet for a while now. I'm very happy to see they have a Windows phone app now too. I read about 5 to 6 books a month, so for me the monthly membership fee is a bargain. And I love how the app keeps track of what page I'm on when I switch between reading on my Nexus 7 or my Nokia Icon. Posted via Windows Phone Central App

Massive fan of scribd apart from their poor provision for WP users. This app is a step in the right direction but it needs to be able to sync books to read offline and also you need to be able to remove things from your library without having to login on a PC. If we pay the same subscription as Apple/Android users we should get the same service!

I signed up today and have been using it all night and find it fantastic! I downloaded the app on my lumia 920 and surface pro. Works like a charm! Everything syncs and keeps my place in multiple books. Looks like im going to become a paying customer sooner rather than later.

Real a** move by scribd to make it require a credit card even If using a promo code