Scribd brings Windows Phone and Windows 8.1 users unlimited access to thousands of books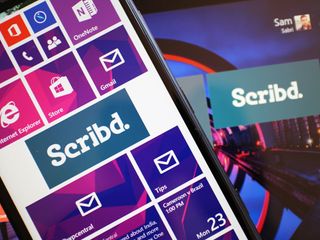 Scribd (scribd.com (opens in new tab)) claims to be the world's largest digital library with over 80 million users. The service features a subscription available for a monthly fee of $8.99 that allows readers unlimited access to more than 400,000 books from over 900 publishers, including Harper Collins, RosettaBooks, and Workman as well as New York Times bestsellers and literary classics.
Scribd also is the world's largest digital document collection, with millions of user-uploaded documents and written works. While the app has been available for iOS and Android for long, the official Scribd app has finally arrived for the Windows platform – as a Universal app for both Windows Phone and Windows 8.
The app features editorial collections and offers personalized recommendations that help with the discovery. Available worldwide, the subscription offers unlimited usage across all your devices on different platforms, including the Web browser. All your books are synced automatically across devices. You can pin your favorite books or the ones that you are currently reading to your Start screen for quick access.
While the app has a neat bookshelf-like design to emulate a library, and an intuitive user experience, there's one challenge. You must be connected to Wi-Fi or have an active data connection to read books. An offline functionality would've been great especially since a lot of reading happens on long flights.
Download the Scribd app for Windows Phone 8 devices from the Windows Phone Store and for your Windows 8 devices from the Windows Store (opens in new tab). Scribd is like a Netflix for book lovers, and similar to the real-world library memberships. Check out the app, and the service if you haven't heard of it, and let us know how you like it.
Windows Central Newsletter
Get the best of Windows Central in in your inbox, every day!
Bring some more Official Apps like this :D;D

That's not a bad price if you read a lot and don't care to actually own the book after reading it. I might do this.

Yeah, that's a steal, considering the amount of books they have. I'm a little turned off by he lack of offline functionality, but I still want to give the app a try.

I'm actually wondering when safari books will release their app. I have unlimited corporate access to the tech books they have. right now android and iOS have it.

Hey i loved your start screen of your phone ,can you send the picture please Posted via Windows Phone Central App

I'll share it later this week when I do a post about my Start screen. Look for it Thursday or Friday. #tease

:/ Waiting from long time ... -_-"

does it have the GOT series?

Just did a search and didn't find the GoT series. Lame.

Wow great . Good to see such apps cropping up in our Market . Keep it coming .

Yay!... More official apps.
Boo!... Subscription price and required connection to read.

Trust me, if there was no subscription price, then the app would be crap. But, I do agree with you on the lack of offline functionality.

When official nokia windows 8.1 release for lumia 625??

I know I'm OT, but, I love ❤ your startscreen! Could you give your background image to me? :D

Some of the user reviews are calling this a web app and complaining about usability in navigating long books.

Bummers ...without offline ability its a no go...at least for me .

This is great! And the price is very reasonable.

Web wrapper. Such a bummer.
Windows Central Newsletter
Thank you for signing up to Windows Central. You will receive a verification email shortly.
There was a problem. Please refresh the page and try again.