Secret client 6cret now available for Windows Phone from Rudy Huyn (it's back!)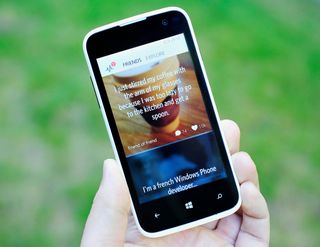 6cret is now out for Windows Phone. 6cret is a new app from Windows Phone developer Rudy Huyn and is a client for infamous app Secret. We've known for a few weeks that Rudy was working on a Secret client for Windows Phone. Not familiar with Secret? It's a very popular app on Android and iOS where users can leave anonymous messages to their circle of friends.
Here's what you can do with 6cret:
Secret posts come from friends, but you won't know which one.
Write back anonymously.
When people love your secret, it spreads to their friends and can travel around the world.
Say what you're really thinking and be yourself.
6cret allows you to post anonymous messages with friends, co-workers and people nearby. It's taking a bit of flak in the media lately for allowing school children to anonymous bully classmates. But with most things, it's a tool and how you use that tool is ultimately up to you.
6cret is now available for free in the Windows Phone Store. There are ads, but you can remove them via an in-app purchase of $1.29. The actual Secret app was just launched earlier this year, so it's good to see an option for those on Windows Phone. Take it for a spin and let us know what you think!
Update: Rudy has just tweeted that the app has been unpublished so he can fix a Facebook login bug. We'll let you know when the app is back up.
Update 2: Looks like the app has been republished. You'll find 6cret in the Windows Phone Store with an update that fixes the Facebook login bug! Enjoy!
Windows Central Newsletter
Get the best of Windows Central in in your inbox, every day!
Thanks Rudy Huyn for supporting WP

Rudy doesn't support WP, Rudy IS WP ;)

He does support us though... =D

If rudy made his apps for IOS there would be no point to stay on WP expect for Cortana...

You mean, if Rudy made all of his apps for ios...that already have the official versions of these apps.... Hmmm.. Huh... You ok there pal?

Says it's unavailable for my 1520

It's unavailable for my 1520 too... =(

He is the mind and soul of WP!

Rudy needs to work for msft - it is ridiculous how prolific this guy is. Good job, thanks for bringing the apps the content creators won't bring!

He does have almost a monopoly. :) not a bad thing.

Does it connect to Facebook and Twitter or is it a new social network app and website?

It connects. It uses your FB friend network. The secrets you receive belong to your FB friends, but they are posted anonymously, and the secrets you share are received by your FB friends

Are revived by all of them on fb or if they use the secret app?

Only secret users. Secret is like a social network within another social network. Think Social networkception

Uses my FB friend network? I knew there was a reason I didn't want this. The same reason I never wanted Facebook... You kids enjoy!!!!!

dat 512 mb banner tho. Jk i am happy with my 1320

It _does_ support 512 MB devices, 1320 or 520, it will run on any configuration.

How many times you read the word secret on the first paragraph. Quick!!!

Thanks Rudy! Just one word! You're awesome. Best of luck mate :) Downloading it now..

They should have a banner that says that for all the other oems that haven't updated their hardware

Yeah. Banners for everything..
512MB supported..
WP8.0 supported..
My ass supported..

Not supported... I can't lift that last one! (JK)

exactly what I was going to say... come on TMobile... you're killing me!

Can't you just use Preview for Developers?

Rudy huyn could make better app like ask

He unplublished it a few minutes ago due to a bug in logging in Facebook

Yeah we know, added a note.

Even if I click on the "unpublish" button, app remains on the store during ~1 hour. The new update has been submitted to manage facebook login when you have the facebook app

I know it's offtopic, but is there any info about what's happening with the Live Lockscreen Beta app?

You can take that question to the forums, let this thread be only about 6cret.

Dude, you are the best. Much thanks and respect for your work.

Btw, opera mini beta and UC browser preview have just been updated

not available for Lumia icon on 8.0

Outside of a few tweets from Rudy about this app, i've never heard of the service.

Secret app is quite dangerous because teens usually overeact to shaming and all the bullshit that follows , some countries banned it . I think it's just stupid oh.. and Rudy needs original ideas for new apps

Unless you want some other developers to make half-assed apps, then sure, lets do that. But in my opinion, I prefer that Rudy makes quality apps that don't exist in Windows Phone and other developers can make original apps.

OMG The one time i said he needed to do original apps everyone jumped down my @$$! Careful mate!

Crap, only for 8.1. Come'on Verizon!!

Preview for developers? Surly that's your easy avenue into WP8.1?!

Went back to 8.0 because of WIFI and battery problems on the ICON with DP

Aah, the Icon, of course.
Sorry to see that people such as you who push the WP high end are being let down by the carriers.

Rudy, you are a star WP developer :-)

Rudy is the best. I was going to complain about the FB login problem but I see he's already working on it.

When I first read this weeks ago I literally thought which app he was working on was a secret lol

Similar to Yik Yak or am I misunderstanding it?

Will I or won't I get this? I'm not telling....

This is the fifh 6app... Can't wait for the sixth 6 app!! :P

Rudy, could we please create app for Google Hangouts? Please, please...Hate to use it via IE page.

+1 In the meantime you can try im+ for google hangouts, haven't found anything better so far.

App pulled from the store...

Rudy is the best, I wish he could make a hyperlapse app. I don't know much about programming or coding but he would need instagram's API in order to do one right?

MS is already developing that. There is an article somewhere.

Rudy why not show love for Windows 8.1 users?

Windows 8.1 is a lost case... I never use the "metro" side of it.

Playing around with it. How do people add backgrounds?

With the official app for Android.

a BIG thank you to Rudy !!!

Which phone is in the picture?

Looks like the Blu JR, or sth like that.

BLU they made a review two days ago :)

Thanks for the support, Rudy, as usual. Although I must admit that I find this app utterly disgusting...

Yea, it's bad enough that people think they are big and bad behind a keyboard on forums and such, let alone totally anonymous posts that could possibly "go viral".

Here in Brazil, the government had this app pulled down from the App Store/Play Store in some States because people were posting naked photos (and some other shit) of their ex's, which ended up in some people commiting suicide.

Just got email from Facebook "We detected a login into your account from a new device named "Android on Nokia Lumia 920) like iPhone". I'll wait for the bug fix!

Cant log in with facebook =(

"Facebook accessed from : Android for Lumia 920 like iPhone" - that's the security text I get on logging in! Shady job Rudy, not impressed.

I think IE in 8.1.1 has something similar as the user agent, maybe its related

Yes. Its because mew IE update. Not Rudy fault.

Don't think so. When I log in from IE11, it says, accessed from Internet explorer on Windows Phone. Nothing to do with IE.

Can't log in with fb. It just opens up fb and when I close that down the 6cret app is nothing but a white screen... :(

The first update is also live!

Can he fix all of the bugs in 6tin before he does anything else, I'd happily pay for it if it 1, worked with the notification centre, 2, didn't resume to a blank screen every third time, 3, was able to open a match on resume....

The app is available for download

Lol i was expecting this, you rock Rudy

Whisper is so much better.. Hope this will be his next work. Great Dev!:-)))

Not available for my device? Lumia 920, cyan, 8.1.1dp in Australian region.

It's unpublished because a FB error. Just wait :)

Not available on my 1520.3 with WP 8.1 Update 1 Preview.

READ THE ENDING OF THE ARTICLE

I can't download the app, it says my phone doesn't support this app. I have a HTC One (M8)! I have the newest phone on the market and I can't download a simple app?

Read the ending of the article.

Rather neat, so this is where most of his time has gone. Good job man

Not available for me :(
WP 8.1 update 1 Dev preview , Lumia Black firm. Region : France ( same country as rudy :/ )
Somebody else in my case ?

Read the end of the article.

6book please XD! Kudos Rudy! Thank you for creating awesome apps like this one! :)

I think the icon on the live tile at least on the small one is a little large compared it to the other four "6apps" and personally I think it looks better in the smaller proportions

It says it is not available in your country for L 525 In which region is that available

Read the end of the article!

Salute to Rudy! We need more developers like this!

Not available for Lumia 525.....wtf!!!

Read the end of the article...

Its unavailable for my Lumia 625 in India

Yes. Because it has been pulled due to a FB login issue. Should be live as soon as it is fixed...

Not working on 620 although 512mbs supported. I guess its tu di with the region. I'm in India for region settings. Anyone in India got this working?

India is not getting this app, sorry. Also please don't read the article nor the comments here.

Cant download on my HTC 8x

The app is not available?

Yes it is, only you can't have it.

Thanks and keep up the great work Rudy! Don't listen to the senseless comments about developing something else etc. You're the saviour for the dearth of official apps and their ancient versions!

Is it even supported for 512MB RAM devices? I can't download it.

Yes it is. Rudy unpublished the app because he found a bug with Facebook. He updated and republished it but the store is delayed. You will have to wait a bit more.

People, you can't download it because Rudy pulled it to fix it up. You're given eyes and brains, and you only need to read the last paragraph.

When is Rudy going to make universal Windows apps??? I need these on my Surface!

Hope you publish it again soon.

Now we just need a good Tumblr client for WP.

Agreed. Why there isn't even an option to save images is beyond me.

Agreed. A few days may not be a lot for Microsoft, but for Rudy it's pretty substantial. How should I put it...he seems faster than the rest :P

6cret is now available for download!

Another great app from Rudy!! Downloading right away..

Do people actually use these things?? This is just another example of how meaningless the supposed "app gap" for WP is... because 99.9% of apps are just gimmicky like this!

Rudy! How about Glide...??

6cret but still v can't upload or save videos on 6tag. Not a full 8.1 app yet?

I just tweeted Rudy this morning about uploading videos that are already on the phone to 6tag and apparently he's working on it for a future update. And, yeah, it'd be amazing of every Rudy app was universal!!

And my other apps (6Snap & 6Tag) are riddled with bugs. Any 6app by Rudy is a FAIL for WP.... Good for users, but fail that WP can pull in the real deal.

I love how Rudy gets praise for breaking terms of service of companies, steals ideas from other WP devs, and he still gets incredible praise. He has not made an app that was so freaking amazing that it has changed WP in the eyes of the world! Cut him some slack and let him be human because he has not made a difference in the sales of WP, just be honest with your self's.

Lol secret, putting on a mask and put a big question mark on it, now that's a secret.

Microsoft, hire Rudy before Google or Apple do that.

Who gives a crap,way too much attention for apps like these,social media crap. Make a decent working lock screen app first, more people are using and will appreciate that. I would pay for money for the lockscreen to work well,but i wouldn't pay to have the ads removed for an app like this. Freaking hyped apps like this secret app will be installed once and never used again (at least by me)

Works perfectly on my 1520

"Your facebook account hasnt been signed up.." Doesnt work. Facebook login issues on lumia 920

It's doesn't support with my L520 :/ I cant install it :( anyone can help? :/

Either the app doesn't work properly, or 0 of my friends use secret.

Does anybody get an error when publishing a secret with a photo, saying "can't retrieve data"?

I get the same error. Don't know why.......

Rudy is king! Thanks for another great app.

Is not awesome, on lumia 625 i can't post.

Great looking app but I cannot comment on other secrets.

App looks awesome but I cannot post or comment on others posts
(920)

U cannot comment on a post which is from a third degree profile

Ok thanks. I get an error though saying 'can't retrieve data' when trying to post a secret. Unsure why?

Its shame everything is requiring Facebook to function. Whoever invents an app that is popular that is independent of facebook will be a millionaire. Love Rudy tho, no disrespect but uninstalled.

See my video review of the app and the bugs it contains yet. http://youtu.be/AtQZxYM67oU

From some of the secrets I can tell this doesn't only pick up WP stuff, but It seems the postings are few and far between. Is this just me? Or does the service work this way? Either way, thanks Rudy, awesome work. J'aime ton travail.

Updating it seems like a problem. While updating apps... All other apps download alright but 6cret stops and pending and then asks to try again. :/
Windows Central Newsletter
Thank you for signing up to Windows Central. You will receive a verification email shortly.
There was a problem. Please refresh the page and try again.