Seidio Innocase Surface Combo for Samsung Focus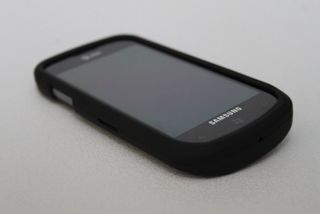 We've reviewed a slew of Seidio products in the past and have consistently found them to be worth recommending. When looking for a case for a new phone, Seidio is one of the manufacturers that should be on your list of brands to research.
The Seidio Innocase line of products has a couple of different pieces. This review covers both the case and holster for the Samsung Focus. Read on for the full review.
Design/Fit
The Innocase Surface case is a two-piece design that snaps over the front and back of your phone (much like the Mobi Hard Shell Case). The case is very lightweight, and offers a slightly rubberized feel that helps you keep a good grip on your phone. The cutouts for the different buttons and ports are generally well placed and are sized in a way that leaves the phone easy to use, though I did experience some issues with some audio cables that no longer fit into the headphone port after installing the case. The best part about the case is the fact that it doesn't add much size or weight to the phone.
Seidio's holsters have been some of my favorite accessories for the last few phones I've had. The offer the flexibility of carrying your phone in a way that is secure without giving up much in the way of thickness on the device itself. The holster for the Samsung Focus features an off-center clip that secures the phone without obscuring the headphone port. The face-in method in which the holster retains the phone helps protect the screen of your device from cracks and scratches.
Quality/Value
One thing about the Innocase Surface Combo is that it can be used with or without the holster, making it a pretty flexible option for a case. The case itself doesn't fit the phone as well as previous Seidio cases that I've used, but I haven't experienced any issues with the phone falling out of the case or anything like that. The holster does a remarkable job of holding the case and phone in place without making it impossible to get in or out when needed. The belt clip is sturdy, and rotates to either side allowing you to use it in a vertical or horizontal position.
Conclusion
Between the flexibility that the Innocase Combo gives you, the security that the holster provides, and the quality of Seidio products in general; the Innocase Combo case is definitely worth looking into. Additionally, Seidio offers both the case and holster individually, offering you a number of different options. All of these options are available from the Seidio online store.
Get the Windows Central Newsletter
All the latest news, reviews, and guides for Windows and Xbox diehards.