Epic Games worked on Gears of War 4 for six months before Microsoft took over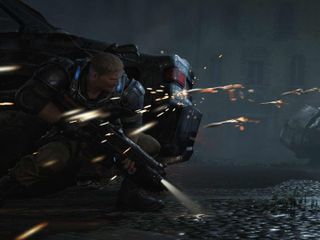 Gears of War 4 is now deep in development at Microsoft's internal studio The Coalition. However, a version of the upcoming Xbox One shooter was started by the franchise's original creators at Epic Games.
According to Game Informer:
Epic Games worked on their version of Gears of War 4 for six months before deciding to abandon its development. Epic is now working on other games, such as the free-to-play multiplayer shooter Paragon. Meanwhile The Coalition and Microsoft are scheduled to release their vision for Gears of War 4 sometime in late 2016.
Hmm, maybe Sweeney had other plans for the franchise. Would explain why his been quite sour over UWP as of late :P. Or he knows something we don't.

What other plans? Which part of they abandon its development....u didn't get lol

A person can have other aspirations for a franchise that differs from his or her colleagues. Furthermore even if a project is shelved few months doesn't mean it's cancelled. Unless the studio comes out and says it outright or gets closed down and no one steps forward to either license or buy the IP.

Paragon is so awful, that's why I am glad Microsoft took over GoW and now we will have a better version again like what happened with Halo 5. some companies don't care about the franchises after a while.

I agree, I can't wait util microsot make some changes.

Unbelievable. I bet you'll try to trick me into believing that Microsoft got all of the Halo info from Bungie when 343 was formed as well...

Its been said by 343 that the halo story is laid out multiple games in advanced.
Posted from Windows Central for Windows 10

I think they're using much of what Epic Games had created for Gears of War 4 out of respect.

It's set in the future and a character's name is JD? Why that's basically the whole game already done!

Paragon is no longer going to be free to play
Windows Central Newsletter
Get the best of Windows Central in in your inbox, every day!
Thank you for signing up to Windows Central. You will receive a verification email shortly.
There was a problem. Please refresh the page and try again.