Shocker: EA confirms new FIFA, NHL, Madden and NBA titles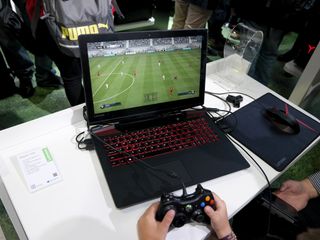 In an announcement that will surprise precisely no-one, EA has confirmed its next batch of sports titles for the coming fiscal year. As will probably keep happening on a yearly basis unless EA decides to cancel, we can expect to see FIFA 17, NHL 17, Madden 17 and a new NBA Live title sometime in the next 12 months.
The news came out of EAs latest earnings report and while not surprising news, it does give us some timelines to expect the new stuff. FIFA, NHL and Madden will all be out during Q3 2016, right around when we'd expect them. NBA Live will follow later, scheduled for Q1 2017 right now.
This all fits nicely with what EA has already announced regarding its not E3, but at E3 time event next month in London and LA. We're expecting to see three new EA Sports titles there and it looks like we've got the confirmation on which those will be.
Richard Devine is an Editor at Windows Central. A former Project Manager and long-term tech addict, he joined Mobile Nations in 2011 and has been found on Android Central and iMore as well as Windows Central. Currently you'll find him covering all manner of PC hardware and gaming, and you can follow him on Twitter and Instagram.
I am somewhat surprised to see that another NBA LIVE is coming, actually. The games never reviw or sell well. The franchise is a total mess, and has been for almost a decade. That they keep trying is good for competition, I guess, but it's not like it's leading to better sales. In fact, the games are selling WORSE every year. How about MVP Baseball guys? At least you'd be hitting a market without competition.

Pro Evolution Soccer was selling better than Fifa for yearssss at some point, but EA kept at it and kept improving the game, and pretty much nobody buys PES anymore, all Fifa.
They might be hoping to do the same thing with NBA

The difference is NBA LIVE WAS good, but was thrown into ruin over the last decade. It was turned to garbage, and can't get to anywhere near relevance now. IT apparently only sold 8,000 (not a typo) copies in its first week last time. EA has already said that the new one isn't going to launch for NBA season, instead putting it out in early-2017, after ME: Andromeda. It even sounds like they might be turning it into some free-to-play (pay-to-win) release that resembles a glorified version of what they put on phones with FIFA annually.

I remember playing the hell out of MVP Baseball 2005. Loved the owner mode in that game

The real shocker for me will be if they start making Madden for PC.

Not this time. FIFA only one mentioned for PC again.

Well I'll keep waiting I guess. Haven't bought Madden since they discontinued it for PC in 2008.

Lol my grandfather was looking for a golf sim sadly ea(about the only name left for pro golf) doesn't have a PC port so he was talked into a ps4(he had a snes before he had a PC) only to annoy my cousin on psn(thank god)

No MLB game :( Posted via the Windows Central App for Android

I want another fight night game! I dont much care for the UFC games.

Every year I hope and pray 2k will make NHL again but they never do :( EA ruined that series once their only competition (2K) lost its licence. But if I remember correctly now EA isn't the sole rights holder so I'm pretty sure 2K could make a game again. Posted via the Windows Central App for Symbian

I still buy and like PES...
Windows Central Newsletter
Get the best of Windows Central in in your inbox, every day!
Thank you for signing up to Windows Central. You will receive a verification email shortly.
There was a problem. Please refresh the page and try again.