Should you buy an ergonomic keyboard?
Here are some buying tips and advice if you are considering swtiching to an ergonomic PC keyboard.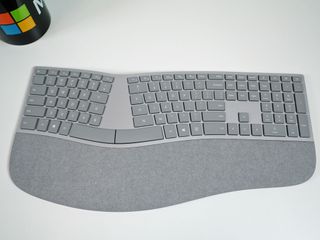 A few months back, I reviewed the Surface Ergonomic Keyboard, which is an updated version of the Sculpt Ergonomic from years past. Ergonomic keyboards are very divisive because typing is such a personal experience. People adapt to something they use extensively, and it is hard to imagine something being any better.
The question is, should you try an ergonomic keyboard? Here are a few considerations if you're contemplating one.
What is an ergonomic keyboard?
Ergonomic keyboards focus on natural hand and wrist position for long typing sessions. The most common keyboards users get with PCs, including Microsoft's Surface Keyboard, are just elongated rectangles with 108 keys.
While these keyboards are excellent for short durations, users must squeeze their shoulders, elbows, and wrists together to make their hands perpendicular to the keyboard deck.
Alternatively, science referred to as human factors and ergonomics (HF&E) studies how human bodies interact with hardware in an attempt at optimization. This type of research is used by Microsoft across the board for Xbox gaming controllers, mice, keyboards, and even HoloLens so that the device fits naturally and does not cause excessive fatigue.
Typically, ergonomic keyboards split the keyboard keys down the middle between TGB and YHN and the space bar. Those sides are then angled upwards and sometimes domed so that the center is higher than where your pinkies go.
Using an ergonomic keyboard for the first time is very disconcerting. While it will feel better for your wrists and elbows, it is usually not an instant love. I used an ergonomic keyboard for many years, switched to a "regular" keyboard and then went back, and it still took me a week before it felt "right" again.
So, why do it? In the long-run, typing on an ergonomic keyboard just feels better, your arms tire less, and you can even type faster and more accurately. Plus, you will reduce repetitive strain injuries (RSI) where you can cause damage to muscles, tendons, and nerves from typing.
Do you game a lot on the PC?
I'm not a hardcore PC gamer. But if there is one thing I do know, it's players love gaming-specific keyboards with anti-ghosting abilities, mechanical switches, macro keys, and good backlighting.
While you can get some of that in an ergonomic keyboard like the Mistel Barocco Ergonomic Split ($167), most mainstream ergo keyboards will not be a desirable choice. With the Mistel, however, you can at least pick which Cherry MX switches you want (Brown, Cherry, Blue, and Red).
The Mistel is not a traditional ergonomic keyboard that has a curved design, but the Split does allow custom configuration and alignment to better match your wrist position. The downside is you have two halves of a keyboard that can slide around a bit on your desktop.
See Mistel Barocco Ergonomic Split PBT RGB Mechanical Keyboard (opens in new tab)
So, you "hunt and peck" for typing
Two of the most valuable classes I took in high school were Typing 101 and Typing 102. I had no plans to be a writer, but here we are, and I'm grateful to my teacher for drilling us repeatedly. The reason is that I'm a "real" typist, which sounds elitist, but it just means I type with all hands down looking at the screen and typing as fast as I can think.
Many people do the "hunt and peck" method typing with their index finger. They look at the keyboard, find the letter, look up at the PC screen and then the keyboard.
For those typists who "hunt and peck" there is no reason to consider and ergonomic keyboard. These devices are made for individuals who type with all four fingers and the thumb looking to maximize efficiency, typing speed, and alleviate fatigue.
How to shop for one?
The ratio of regular keyboards to ergonomic ones is about 20:1 making a choice to buy one hard and limited. Microsoft is likely the most well-known maker of ergo keyboards.
The Surface Ergonomic ($129) offers an excellent typing experience, but recent concerns over the Alcantara degrading over time raises some flags. The Alcantara used here is different from the new Surface Pro and Surface Laptop, which has an extra polyurethane coating to help protect it – the Surface Ergonomic does not. Indeed, after many months following my review I too have seen some wear, which is a shame.
See Surface Ergonomic Keyboard (opens in new tab)
The Matias Ergo Pro Keyboard ($195) is also an impressive offering, but very expensive (I have that one as well). The Kinesis Freestyle2 Ergonomic Keyboard ($134) gets good reviews and is cheaper.
Probably one of the craziest keyboards is the $340 Kinesis KB600 Advantage2, which is bizarre looking. It too has its adherents who adore it, and even I'm tempted to give it a go (for science!).
What's fun about these keyboards is just how radically different they can look, yet look natural at the same time.
See Kinesis KB600 Advantage2 (opens in new tab)
Finally, the "classic" Microsoft Natural Ergonomic Keyboard 4000 is still available for a very doable $56. This keyboard looks dated because it came out originally in 2005. It's still around though because people swear by it and – let's face it – it's one of the more affordable ones on the market. You can also still find the Microsoft Sculpt Ergonomic – the predecessor to the current Surface Ergonomic sans Alcantara – though it's about two times the cost ($114) of the Natural Ergonomic Keyboard 4000.
Take your time and shop smartly
My advice for anyone considering an ergonomic keyboard is straightforward:
Go to Best Buy or your local PC store to see what they have on hand, and; try one in person.
Order from Amazon.com or any online retailer that has a lenient return policy with no restocking fee.
Order a few different models! It may seem odd, but try to order two or three different models and types of ergonomic keyboards. Just try them at home and see which you like the most, and then send the other back.
Ergonomic keyboards take time to adjust too, and I'm talking possibly a few weeks, not hours. The reason people swear by them though is that the switch is worth it.
In the end, picking an ergonomic keyboard is difficult. The industry caters to regular keyboards, shoppers do not get much opportunity to sample them in person, and they can be expensive. If, however, you are a serious typist I urge you to consider making the switch.
With the advent of microeconomies, small-scale companies, and distributors like Amazon you can now have a much wider selection of real ergonomic keyboards compared to 10 years ago. There are some fascinating devices out there, and you may find one that suits you very well.
Are you an ergonomic keyboard user? Let us know in comments which keyboard you use and why, or share some advice to those who may want to switch!
Windows Central Newsletter
Get the best of Windows Central in your inbox, every day!
Daniel Rubino is the Editor-in-chief of Windows Central, head reviewer, podcast co-host, and analyst. He has been covering Microsoft since 2007 when this site was called WMExperts (and later Windows Phone Central). His interests include Windows, laptops, next-gen computing, and for some reason, watches. Before all this tech stuff, he worked on a Ph.D. in linguistics, watched people sleep (for medical purposes!), and ran the projectors at movie theaters because it was fun.
I picked up the Surface ergonomic keyboard for work (got my boss to buy it) and the dam thing does not work with Windows 7.... we are stuck with it in the office. $129 down the drain... I'll hold on to it, maybe in a few years we'll upgrade to Windows 8 (10 is not supported as our apps dont work with 10 very clearly tested)

Weird that it doesn't support Win7. However, that's on you. From the product description page:. Compatibility and localization
Top-line system requirements: Requires a PC that meets the requirements for and has Windows 10

It's still very odd. A specific limitation put in intentionally it seems. Like how the Xbox One wireless dongle wasn't compatible with anything but Windows 10

Your right, I didn't look but, IT'S A FREAKING KEYBOARD, not a webcam or something. In my 20+ years in IT I never saw a keyboard driver issue like this. Even the old Microsoft keyboards (older ones), if they were not compatable, the "media" buttons would not work but, the main keyboard would. I didn't expect anything less. Time to find a way to HACK IT...

David, I'm in CT!
I'll buy it from you...

Sure, $129.99... You might as well buy one from Microsoft. It's brand new and not going to give it away when I want to MAKE IT work.

Me too. I just tried it at Westfarms mall a few hours ago. Going to have the wify buy me one. She owes me a birthday gift.

did update driver for it. the surface one will not work on 7 most work with 8.1

I tried the Keyboard on a 8.1 machine and it worked.. So I might try to extract a driver from 8.1 and inport it in to 7, it's possable that it could work.

That is just ridiculous that a keyboard would have an intentional artificial limitation to just one OS; seems like Microsoft is rather desperate; like they were in the days of Vista when they made crap specifically compatible just with Vista to force people to switch.

Surface brand one remember surface started with 8/8.1. The wireless 3050/5050, ergonomic 4000, all work 7-10

I have the Surface ergonomic keyboard and it is not in use anymore, bluetooth keyboard is terrible. I never liked bluetooth mice or keyboards and I should have stuck with that. Had too many delay issues and extra key presses with the keyboard. I got the Natural Ergonomic Keyboard 4000 instead that is wired and that has been great.

I got 4000 at my local for Walmart 28.00$ yesterday on sale love it and the zoom slider

I actually use the Logitech K350 as it doesn't have a split spacebar and the curve is more gentle than most other ergonomic keyboards like the ones Microsoft makes.

I got onto the ergo-keyboard thing a very long time ago. It was a week-long learning curve. Now I wouldn't choose to work without one.

I'm a touch typist. I tried to get used to the Microsoft ergonomic keyboard back in the early 2000's and absolutely hated it. I went back to traditional keyboards. And I have absolutely no issues with the SP3 keyboard. I have a wireless Logitech keyboard w/touchpad for my main computer, which I also use for gaming, and I have no issues with it either.

Have you tried the SP4 keyboard? Once you do you realise the keyboard and especially trackpad were garbage on the SP3 in comparison lol

As they say, keyboards are a very personal thing... I was in the original hardware focus/beta group for the first Microsoft Ergonomic Keyboard. I was very much determined I would not like it, as I am a fairly fast touch typist (easily maintain 180+wpm). However, after a few hours of giving it a chance, I fell in love with the more natural placement of my hands and also noticing that my typing speed increased about 20wpm. Even to this day, I adapt to most keyboards rather well (laptop/etc), but when I want pure speed, I go back to one of the older Microsoft keyboards, as I can push past 200wpm, where a traditional keyboard I tend to top around 180wpm. It is a very personal thing, and I was truly surprised by my love of ergonomic keyboards. I have friends that 'love' the keyboard on a MacBook, and I find their keyboards to be the worst on the market.

I LOVE my Microsoft Natural Egonomic Keyboard 4000. I own 3 of them and can't stand typing on any other kind of keyboard. The price is cheap (you can find them as low as $30 if you shop for it, especially around the Holidays) and they are pretty rugged.
I am very hard on keyboards as I started out way back in the day on IBM 360 terminals which you needed a hammer and spike to get to respond to a keystroke, so I POUND keys. I highly recommend them (even for gaming, which I use one of mine for.)

I use the Microsoft Natural Egonomic Keyboard 4000 at work and love it. I just got back from the Microsoft store looking at the new Surface model and it doesn't have the kickstands in the back which I use depending on how I sit throughout the day. So that's a no go for me, but it felt nice otherwise.

Short answer to the headline: yes, you should. My choice has been the Surface Ergonomic. It looks great, but more importantly works very well. In my work setup, my employers Surface Pro 4 is plugged in to Surface Dock, which is powering a Dell 27 inch monitor. Bluetooth on the keyboard works great for me. A tap on the keyboard will wake the SP4 the same as if I tapped on the Type Cover. There is a learning curve with ergonomic boards, but it doesn't take long to get the hang of it if you are doing lots of typing.

Ergonomic keyboards are great. The surface ergo keyboard is nice to type on but it's one of the least ergonomic ergo keyboards Microsoft have made in that range. They removed inverted tilt and reattached the keypad, both negatives for ergonomics. They've maintained the split and the angled keys at least.

I do actually type "for real," with my fingers on the A, S, D, F, J, K, L and ; keys initially and type with my eyes on the screen at all times while my fingers go 75-90 words a minute. I'd love to have an ergonomic keyboard.

I'm the same way, but damn I tried one and I couldn't even begin to type with it. I supposed I'd need to sit with it for a while.

Weird thing with MS is they are actually stripping out the ergonomic features in their ergo keyboards with each generation....all the stuff that studies say make a difference. The latest thing to be dropped is the inverted tilt, and they re-attached the keypad which would be a negative in ergonomics. Still really nice keyboards but they do keep removing the ergonomic features with each one

I have two Sculpt keyboards - work and home - and love them.

To really love an ergonomic keyboard, it takes a couple/few hours of use, especially if you are a touch typist. The same is true when using one for gaming, which I actually prefer as the separation makes it easier to find my positioning when doing a lot of excited button mashing. As I noted above, I was in the original beta for the first Microsoft Keyboard, and was determined it would suck. I was proved wrong and fell in love after a couple hours of 'forcing' myself to use it. With all keyboard, give them a chance and yourself time to adapt, sometimes something different will work better and be surprising.

I've been using an ergonomic keyboard from Microsoft for 20+ years. My current is a Natural Ergonomic 4000. It is only the SECOND keyboard I've bought from Microsoft, meaning these things last and last! I write code and game with it, so much as that the WASD keys are completed faded! It's been so long that I've forgotten when I bought my current keyboard. My next KB will definitely still be an Ergonomic keyboard from Microsoft but this time, I want backlit, split space bar and it must be wired.

I've been interested and looking into an ergonomic keyboard for about a year now! I've had me eyes on the Microsoft Sculpt Ergonomic combo that comes with a mouse. I've been so frustrated with the lack of options for this style of keyboard though. I mean within a realistic budget. I'm not spending a hundred fifty dollars, let alone close to two hundred on a freaking keyboard. No way! So that leave me like three options. The MS 4000 which, though effective and arguably nice, is still massive in size and ancient in design. Then there's the Sculpt I've been interested in and I don't know, at least one from Logitech. I work on a keyboard all day and already suffer from pain in my fingers, mostly due to having large hands and living in a world where the only people to ever design mice are people with baby hands. I end up having to claw the damn thing and my fingers drag across the desk/housing surface. Anyway, I know an ergonomic keyboard is best for me long term and I'm set on getting one but as with most everything in life there is no "perfect" option. You don't get what you want. You get what you need. I hate settling.

Funny thing, I still have a Microsoft Natural Mutimedia Keyboard 1.0a for home. They are great for gaming, they are very confortable for typing, They have Mutlimedio controls (that work in Windows 7 AND WIndows 10). Microsoft stopped making them years ago, when they break, I find used but, great shape ones on ebay for CHEAP, then I pull them 100% apart, fully clean them and use them till they die. I"m on my 3rd. For gaming, I really like this one the best. This is a image of the exact one i am using now... very conforable to type on If the image does not show go here.. http://i.ebayimg.com/images/g/-HAAAOSwYlRZLz-o/s-l1600.jpg