Shred It! - downhill fun for your Windows Phone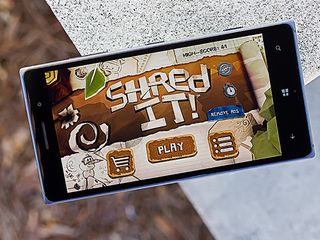 No argument here. There are a boatload of endless runner games in the Windows Phone Store. Luckily, while these titles seem to be growing like rabbits, most of them are entertaining Windows Phone games to pass the time with.
Extra Miles Studios hopes that their offering, Shred It!, will soon join the ranks of the quality titles in the genre. The game places your gaming character on a snowboard and you will have to maneuver around, over and under a wide range of obstacles.
Shred It! is not available for low-memory Windows Phones and in playing the game over the past few days, it comes across as yet another entertaining Windows Phone game to fill our endless runner appetite.
Shred It! stands out in many ways, with the first noticeable way being the graphics. The graphics and animations are paper-craft in style and looks good. The main page will have options to choose one of the two gaming modes as well as options to access the game's menu, check in on the daily challenges and visit the game's store.
The game's menu includes options to access the settings, view the leaderboards, tap into the game's social venues (Facebook, Twitter, etc.), review you gaming stats and achievements as well as view the About screen. Settings for Shred It! covers sound/music levels, turn on/off push notifications, set the graphics quality and replay the tutorial.
The two gaming modes include an Endless Slope mode and a Checkpoint Challenge mode. The Endless Slope mode is just as it sound, an endless ski slope full of obstacles to avoid and leaves to collect to unlock the Checkpoint Challenge mode (500 of them are needed).
Checkpoint Challenge is a timed game where you are racing the clock to make it from checkpoint to checkpoint.
Customizable Characters
Shred It! has plenty of opportunities to customize your skier. From skiers to outfits to boards, you can spend the paper clips you earn during game play to beef up your paper skier.
As an added bonus, the Windows Phone version of Shred It! comes with 12,500 paperclips to give you a jump on outfitting your characters. Oh and along with buying gear in the store, you can use paperclips to extend your game play after you crash and burn.
Game Play
The goal of Shred It! is simple, survive the slopes as long as possible. Controls are equally as simple with tapping left or right on the screen to move your skier left or right. Swiping up or down at the screen will cause your skier to jump or duck.
Obstacles range from fallen trees to boulders to canyons to jump. You will even run across a stray animal or two to avoid and bridges to navigate. As with most endless runner games, the further you progress in a run the faster the pace of the game becomes.
One nice aspect of game play with Shred It! is that every run was different. This adds to the challenge because you will not be able to memorize patterns and will have to stay on your toes for new patterns of dangers in the snow.
I will say it took me a few runs to get the timing down with the jumps and ducks. Do not be surprised if you think you still have room to clear a fallen tree that you end up tumbling head over heals in the snow.
Overall Impression
While many are burnt out on the endless runner genre, Shred It! is a slightly refreshing installment. The graphics are well done and game play offers a new environment and challenge. The game seems to have a bit of an attitude (not in a bad way) that helps with the addictive nature of the title. There is a lot to Shred It! that helps it stand out with gaming controls possibly being the only routine aspect of the game.
If I had to put my finger on a downside to Shred It! it would likely be slightly slower load times. Dialing down the graphics didn't seem to help much. The delays aren't pain staking, just noticeable.
All in all, Shred It! is a fun gaming title in the Windows Phone Store that breathes a little fresh air in a very populated gaming genre. Let us know in the comments below if you take Shred It! out for a spin.
George is the Reviews Editor at Windows Central, concentrating on Windows 10 PC and Mobile apps. He's been a supporter of the platform since the days of Windows CE and uses his current Windows 10 Mobile phone daily to keep up with life and enjoy a game during down time.
Doesn't support 512 mb...:(

I tried dwnldin it...
But it showed requires 1gb or more ram

You should scroll down at least actually. The banner says supports 512mb ram. But when go to store, it says 1gb.

Thanks. The game showed available for the Lumia 520 the other night but is not available today. I've updated the review to reflect non-512 support.

I just updated my 520 to a lumia 830. It is the best thing I ever did. The lumia 830 is so quick and responsive and the screen is beautiful. Even a friend of mine who has iphone6 is jealous of the screen. Something about the screen that makes it look sooo good. Anyways this is going to be happening a lot more. With windows 10 512 meg games are probably going to become rare. Most people should update if games are that important to them.

Low memory devices not supported!

It doesn't support 512MB RAM

Fix the post!!! It doesn't support 512 mb ram :'(

Another company aggravating my pet peeve. Go to the website and it shows it as only available for Apple and Android. To me this just add to the app gap perception. Microsoft needs to address this "post haste."

Yeah, I see this all the time although an official app is available for WP. Marketing bias or ignorance.

Mistake in post! It doesn't support 512mb! :)

Realized it's free on Android

Free* *with in app purchases

It says 512mb supported but the app page says it requires 1GB RAM

512mb ram is pain the ass
Need to upgrade soon :/

Requires wifi...will download later. Games looks good.

hey hey .. did anyone realise it doesnt support 512mb Ram devices yet? anyone?

A game with IAP that is also need to be bought.. Interesting..

The game plays fine on my iPod touch 5. It has also 512mb.

Def need more snowboard games. Hope ssx will be here one day

I thought it was 512 supported? WTF

Not available for my device... L1520... WTF!?

Not installable on my ativ s

Dont like that they made the snowboarding unrealistic by not attaching the characters feet to the board and keeping the normal tricks; but otherwise looks decent and something fresh.

It is not downloadable for Lumia 930 either smh
Windows Central Newsletter
Get the best of Windows Central in in your inbox, every day!
Thank you for signing up to Windows Central. You will receive a verification email shortly.
There was a problem. Please refresh the page and try again.