Weekend Entertainment: Listen to A Silent Film or watch Inside Out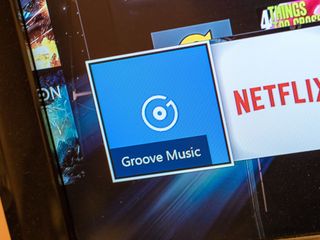 Every week, lots of new stuff drops on Groove Music and Movies & TV, and it becomes hard to keep up. Well, that's where we come in. Every weekend we'll highlight some of the hottest albums and singles on Groove Music.
We'll also let you know what movies and television shows just dropped on Movies & TV for your viewing pleasure. It's the weekend, and we'll help entertain you.
Groove Music
A Silent Film - A Silent Film
A Silent Film is an alt-rock band based out of the UK that has been around for a decade. Their new self-named album is only their third studio album but the first under their own record label.
A Silent Film features 11 new tracks, all of which are worth a listen. So far, my favorites are Something To Believe In, Lightning Strike, and Paralysed. If you're a fan of bands like Coldplay and The Killers, then I'm sure you will enjoy A Silent Film.
Listen to on Groove Music (opens in new tab)
DJ Snake - Middle
One of the hottest DJs of the year is at it again with his newest single, Middle. The song features his signature style of R&B/hip-hop mixed with some groovy electronica. For those that enjoyed his songs, You Know You Like It and Lean On, you should definitely give this new song a listen.
Listen to on Groove Music (opens in new tab)
Movies & TV
Inside Out
When Riley, an 11 year-old girl, moves from the Midwest to the big city of San Francisco, her five emotions are hit hard with all the changes. The emotions Joy, Sadness, Disgust, Anger, and Fear are all fighting to be the one who has full control of Riley's mind in order to help her navigate her new life how the see fit.
Watch on Movies & TV - $19.99 (opens in new tab)
Do you have plans to watch or listen to something else this weekend? Let us know in the comments below! Also, if you have any suggestions for next week's post you can always hit me up on Twitter @JonDollison. Have a great weekend!
Silence. Is a wonderful sound...

Harry Nilsson - Coconut, currently spinning.

I hate that you can't rent it.. So far hopefully..

second half of Games "The documentary 2" called the documentary 2.5 dropped yesterday on Groove. No mention? Second half of a classic! Get it.

I mentioned the first last week :)

haha cool, but the second is better! :P

Inside Out was a fantastic movie. Highly recommend Posted via the Windows Central App for Android because it's superior to the Windows Phone one

Inside out was a good movie no question but, far from Disney/Pixar's best... Still worthy to watch...

Watch Beasts of No Nation on Netflix. Worth every second.

19.99 for Inside Out? No, thanks.

I don't understand how digital movies cost so much. $20 for digital only? For $3 more on Amazon, you can get: Inside Out (Blu-ray/DVD Combo Pack + Digital Copy). Why would you not do that option? Or why don't they sell the digital copy for less? I might would bounce on a $10 digital copy, but if I'm spending that much, I want the Blu-ray and DVD. Jurassic World was worse. They wanted $35 for the digital copy because it was a week or two early. Can get all three for $20 Tuesday.

but apparently you can watch it now, instead of Nov. 3
Windows Central Newsletter
Get the best of Windows Central in in your inbox, every day!
Thank you for signing up to Windows Central. You will receive a verification email shortly.
There was a problem. Please refresh the page and try again.