Get it now: Simple Calendar version 2.0 is now live in the Windows Phone Store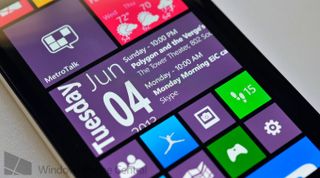 We gave you a sneak peek last week of Simple Calendar version 2.0, featuring a swanky new Modern UI inspired Live Tiles and easy to read calendar system. While version 1.2 had been sitting on the Store we promised we'd update you when that major revamp went through and sure enough, it's live now.
Version 2.0 brings with it a bunch of new changes, including another new Live Tile that we didn't show you the last time: Gob. That's in addition to Frodo, which we used in the hands on video. Gob has a background which matches your theme (dark or light) and dare we say it's our favorite.
Now we should also clarify, the app is free but to unlock the more stylish Tiles, or remove the ads, you'll need to fork over some money in a Paymium type model—that is you only pay for what you want to use. It's kind of an ingenious option for developers and consumers, as it lets you try out the app and basically use it at will, but you can upgrade within the app if you so chose.
Other new additions that we covered in version 2.0 include:
Lock screen support
More tile options
Account colors
Fast App Resume
And you can pick it up here in the Store for Windows Phone 8 devices. Shout out in comments on your thoughts!
Daniel Rubino is the Executive Editor of Windows Central, head reviewer, podcast co-host, and analyst. He has been covering Microsoft here since 2007, back when this site was called WMExperts (and later Windows Phone Central). His interests include Windows, Microsoft Surface, laptops, next-gen computing, and arguing with people on the internet.
Been waiting for this!! Oh and....FIRST

Wow, this is really awesome! The actual app could use a bit of a speed boost, and better margins, but having this data on the lock screen is a killer feature.


I'm liking the lock screen action alot

Hmmm, the second time the lockscreen updated all my events are now private?
I didn't change anything :(

Sucks that lock screen doesn't show all day appointments. Worthless to me without that.

well, i did update i but i dont hava FRODO tab! :/
yeah, didnt read the article... Fuk me, right

You do have it, keep swiping :) Yet .. You still have to pay which is frustrating

no, i dont.. just color and no color. :/

Here i can see it, but need to pay to have it on.


If I make the in-app-purchase, will I have to pay if I re-install?

Not really sure .. But this is the most possible scenario.

Nice, but think 99p is a little steep for a single live tile (edit: that said, I did buy Frodo ;) )

Not only do I have to pay to remove ads... I have to buy a live tile? Sigh... can I have version 1 back please?

As did I, but only because I have that $25 MS voucher sitting there.

I know its only 99p.. But i cant bring myself to purchase just to have fancy date info???

Are we android users?

99cents is less than a candy bar. I support the developer and actually purchased both live tiles and unlocked ad free...4 bucks...less than a cup of fancy starbucks, and my homescreen is now even more beautiful:


Are we android users?

99cents is less than a candy bar. I support the developer and actually purchased both live tiles and unlocked ad free...4 bucks...less than a cup of fancy starbucks, and my homescreen is now even more beautiful:

http://i.imgur.com/23ljolD.jpg

Hei what is the name of the clock plus weather app you are using?

whats wrong with inbuilt default Calendar app?

Nothing. It just doesn't look as good as Frodo!

And you can't read entries in month view. This is way easier to read and see entire schedule.

it's poorly laid out and useless.

Why is the hotmail birthday calendar not shown by the app?

Well it's not as attractive as i thought. At least now that i have to pay to get it. Chronos calendar Is much good looking and has way more options for lesser price. That said, you guys must try the side load version if TimeMe. I got the HTC clock look and updates time every minute unlike the store version which updates every 30 mins.

You need to developer unlock your phone. Lol.

Chronos is full of bugs and disorganized, and this comes from someone who bought it and was a part of the beta. It's get's high marks for customizing the live tile, but it's not easy/fun to use.

Really? I thought it was simple enough. May be i like a little sophistication. Lol. Buy the classic looks and live tile customization makes it my preferred choice.

For whatever reason, it was showing muliple calendars and one of them could be editied, the other could not, and then whenever it was syncing, one of the calendars was constantly returning sync errors. Plus, while the tile was customizable, the main screen was not and it looks rather fugly.

Oh.. That is sad. I had two live ids and two google accounts synced. I got rid of the live tile once i started using TimeMe which shows a bold time, with date day and even weather. Oh, did i forget even battery? Lol.

I agree with it being nice to customize the Live tile down to the smallest detail, but for me, it's easier to scan my calendar with Simple Calendar.

You beta tested Chronos Calendar? Chronos's raison d'etre is quite different to Simple Calendar's. It's not just a display front-end to the phone Calendar. It can either use the in-built calendar data (but read-only owing to OS limitation), or directly (read and write) to MS or Google accounts. And soon, I hope, Exchange. This is its big win. Now I'm not limited by the crazy constraints of the built-in app. Now I can see events from over a year ago, if I wish. Not just two weeks. I also get great navigation and filtering. Sure the main view is not Metro, but it's clear and simple. Sure the preferences are a bit scatty, but it's improving. Yes, the data entry panel is tiny, etc. I hope the dev keeps it up and concentrates on features and not just glitz.

+1
Damn right. @Assassin, if beta was what you tested, how can you call it buggy? I mean, betas ARE buggy! Another sad part about simple calendar is that it shows private appointments as "private appointments". That is crazy!

I can call it buggy because I have both of the RELEASED APPS PLUS THE BETA. The beta is invite-only and I worked with the dev on what was going on and such, but for whatever reason, it was constantly returning multiple sync errors...and that was on the released version.

So, there are parts of it I like, but also parts that I didn't. Simple Calendar, for me, is more or less what the default WP8 calendar should've looked like, in my view.

dont get it i cant make wide tile and i dont have frodo option ????

same here... dont even see where to buy it.

Update the app guys, you will see the options

In the live tiles page in settings, above the square tile is the wide tile. Tap that to get more options. I initially didn't find a thing coz i had the light theme and the wide tile was white too. So the page looked as if only the square tile options were there.

do you know if this app will be available for 7.8 too?

If I make the in-app purchase, do I need to pay again if I need to re-install? Just so I know.

IAPs are tied to your Microsoft ID, so if you re-install you will not have to pay for any of your IAPs again as long as you are signed in with the same MSID on your phone.

Aha, thnx. Not that i want to play greedy, just good to know.

Front size way to small, no private appointment's, they don't show what they are so what good is it.
Month view to small to see appointment's it like the native app.
Week view 8 is way to go and that was just updated today.

now frodo is there . it startet showing as soon i gave it acces to lockscreen one time


This thing still can not keep my appointments private on my own phone like chronos can.

Imo Frodo looks dog ugly, reminds me of lagwiz (touchwiz)

U$1.29 For a single live title. No way. From 5 stars to 1 star immediately.

Ugh. You show him, wielding the cudgel of a 1 star review. You suck.

Oh my God, it costs a whole $1.29.! It's the end of civilization

Agreed that having to pay $0.99 for the app (just to remove ads and NOT to add functionality), but then having to pay $1.29 PER TILE is COMPLETE and UTTER BS!

Agreed as well. Just charge $2.99 for the app and include everything with no ads....

Want to love this, but hard to when it doesn't show all the calendars you are subscribed/synced to in Hotmail. Only the "Primary". Sad.

Are you sure? Mine is showing my Family Room calendar events, but it's lumped in with my Hotmail calendar (not color coded differently or anything).

I have Facebook calendar and my son's sports team subscribed through hotmail calendar and neither show up.

Probably the best third party app I've seen for calendar. Wish I could edit in it but overall its great. My fav is the lock screen, just awesome!

Too bad you can't use Bing wallpapers with it.

I'm a little disappointed. It has great features, but there is some basic functionality missing. You can't edit an existing appointment without exiting the app and opening the default calendar. Also multiple calendars from the same account are not color coded like with the default calendar.

This is a known feature issue that has nothing to do with the dev. When Simple Calendar first came out, I asked about this and the dev mentioned that MSFT didn't give out the ability to edit like that. The dev was hoping for that to change. Maybe it has and we don't know yet...would love to hear back on this...still, I like the colorless theme and would love to see that as an option for all tiles pinned to the start screen...

Since I live out of my Exchange synced Default Calendar the various Calendar Apps for WP are pretty much useless to me. A damn shame as that are much more usable.
I know MS is trying to avoid sync errors like the plague they are but really, it shouldn't be necessary in WP8 to continue to give us the least of both Worlds.
This is the king of glacial pace of improvements that MS has GOT to change to stay relevant and growing. Their current development model is to take years to implement new ideas, then watch their competition - cough APPLE cough - copy all the good points, but fail to improve fast enough to stay ahead. Not good.

Lol this calendar is anything but simple..

Might be great option for people who have a lot of appointment's but I find the built in calendar works just fine for me

Shadowing keeps setting itself to full on the lock screen. Lumia 620

I purchased both the Frodo And Gob Live Tiles. It provides me all the info i need while looking "Metro" cool!

Good app. Like it so far but would like full screen calendar instead of this small view

OK why is it free, but you get into the app and to get Frodo you have to pay to remove the watermark..that sucks :-(

The load time is not instant like the default calendar. I would buy this if I could just have the tile load the default calendar app...

Neat and cool calendar but i still prefer the simplicity of the stock calendar.. just my 2 cents = )

Looks nice, but when I read about lockscreen support, I thought that meant being able to choose the app for the detailed status slot, like with the default calendar. But looks like it just takes over the lockscreen wallpaper. That's... disappointing.

Yea, I also thought it somehow overlaid the info on your existing lock screen setup, looks like another OS limitation.

Yes wanted to do that too.

Can it be removed from the lock screen?

After reading the last review I bought the pre-updated version because it looked well done, to only find I now have to purchase more tiles. It's a nice looking app but I don't think its worth $4 to me with the added tiles especially since further updates could add more tiles to purchase. I prefer to pay for my apps up front, same reason I don't buy those freemium games.

There's an error in the store for me when I try to purchase the live tile style, anybody else having this issue??

The biggest drawback for me is that you can't set standard reminders and appointment durations. I know it's because the app uses the stock WP appointment creator and i would beg MS to include options for that in 8.1.

What's the weather app that shows 3 day forecast? Hot pink color on your screen.

Vieather (you have to search for it on a PC as it doesn't seem to show up in the app store)

These are expensive prices for individual tile styles

Sigh, I have Appointile but then not happy with the calendar portion of this app and yet Simple Calendar does support lockscreen notification like Appointile yet :)
Can't win :)

Wow. The dev has nailed it. The new live tiles are just plain SEXY. Now this is what Windows Mobile Calendar App should be like. No advanced setups, no confusing instructions, just install and ready to go.
So with a heavy heart its Adios to Chronos Calendar for me which is a pretty nifty calendar app in itself.
Simply put.. Simple Calendar gets the crown.

I must admit, it's quite depressing to see the amount of comments complaining about the price. Less than 2 bucks to support a hard working dev.

I think that a part of it is because of an unintentional bait & switch stemming from the preview article last week. I grabbed the app after reading the article and waited for the update, which I assumed would also be free. When that expectation proved wrong, I was a little disappointed, but bought a tile, anyway.

I think what you're missing is not that this has a pay-option to remove ads, but to have to pay EVEN MORE to use a FREAKIN' TILE!

I paid the $2 to support the dev based on the review last time, I didn't expect $2 to turn to $4-$5 in order to get other tile options. At this point it becomes obvious that future updates could have more tiles to purchase, so $2 will eventually be what, $10? Sorry, it becomes a rather expensive app for simple calendaring. I paid my $2 and will continue to use it without fancy tiles because it is a good app.

I notice that in the video, the FRODO tile has bigger font than I'm having right now..is there a way to edit the font size?

Nice update. I'll check out the trial tiles and see if it will work for me.

Hmm... I have 2 hotmail calendars (basic, and birthday) and 1 facebook events calendar.
The app is only seeing 1 (my basic), and I find no option to add my other calendars.
Anyone having this?

Yep. it doesn't support all your calendars. It's a pretty useless app until it does that.

Maybe it offers great functionality, but that app looks to be the opposite of simple. That live tile is a complete and utter mess. Couldn't they have devised a more elegant design? It would appear that most of the good designers are working on iOS apps.

One thing that I noticed about this app before the upgrade, as well as many other calendar and weather apps, is that the live tiles don't update unless u open the app. I have background enabled. Am I missing something? Its pointless to have a live tile, much less call it a "live" tile, if it doesn't update live.

.99 for the app plus 1.29 for different tiles? Isn't that a bit much? Come on. Plus, it doesn't support any WP8 room calendars or Facebook calendars.
Nah, I'll stick with the default calendar app.

It is showing my Family Room events, though it's not distinguishing them from my regular calendar events (no color-coding or anything).

Okay so all my Outlook (rooms, personal, birthday's, etc) calendars are bundled into the main Outlook one, and then I have my work calendar.
Cool, I see it now. Thanks.

As nice as the live tiles look in this app it is simply useless to anyone who uses multiple calendars. Until you can add EVERY calendar you have synced with the phone it will NEVER be able to replace the standard WP8 calendar app.

It appears that all the Outlook calendars are bundled into a main Outlook (wiithout different color distinction) calendar within the app. At least mine appear to be.

It doesn't support or display multiple, distinct calendars from outlook, google, yahoo etc. It also doesn't show Facebook events. You also can't make appointments from the app itself and have to go back the the default calendar app anyway. It's basically just a pretty filter for your main calendars from each service. Still has a long way to go for it to be of any use to me.

Is there anyway to edit an appointment, if there is I can't seem to find it

This is utter BS! I can see paying to remove ads, but to have to pay for additional tiles? That's effin' BULLSH1T ALL THE WAY and now I P.O.'d about paying for this in the first place. As soon as this was out, I upgraded my version to this one and then happily forked over the $0.99 to remove the ads. I didn't read the article about how the other tiles were hsving to be bought, and had I known, I would have stuck with v1.

Christ, and the price for those 'upgraded' tiles is way out of line with what you get- which is basically NOTHING. Hell, you can't even change the tile color FFS!

I didn't think it was possible, but this makes the Xbox One look good.

You had to pay 99 cents in addition to the $1.29 for the tile? I paid for the tile but don't even see any ads nor a way to pay to make them go away...

Same here there's no ads in mine at all after updating. Only had to pay for the tile which I did because I like the look of it.

That's the thing...there is nothing in the app that tells the user what they are paying for. Even the article makes it sound like you have to pay twice (one to remove ads and the other to get the tile). When I clicked on the 'buy this tile to remove trial', instead of charging the difference between $1.29 and $0.99, it makes me pay the full amount.

Already have chornos and weekview8 so I don't think I'll be using this, I would if more features are added and the cooler live tiles become free too though..!

Yep, no problem supporting devs but the old bait and switch I simply just can't support...poor show for such a nice app

Looks pretty sweet, was mostly interested in the large Frodo Live Tile... Won't be using as my daily driver until that's included.

Simple Calendar... I would consider the word primitive. :)

Come on, is it so hard to include a week view?? I don't care for fashionable stuff unless basic, yes, BASIC functionality is there... Even more since Microsoft won't include it before GDR 3 or so...

What about windows 7.8 ??

This is nice, thanks for heads-up.

TGhe basic colorless tile used to put all the text in the accent color, so that I could match the color to the theme color. I liked that.

Now the date can be the access color, but the appointment text is in white. Lame. So I have to use GOB to have everything match the theme color, but that only can show 2 appointments.

Not sure why the colorless live tile had to change in this update.

Also, the lock screen text is not bright white. it is dull. So, it doesn't match the date and time text. Lame.

Aside from that, I love it!

Anyone else having battery drain?

I have the app and while I like the fact that it shows mult appts at the same time, something the native app should have done, I find the inability to delete or edit a hastle.

With the Free version i only see My live calendar. Do i have To pay To see the other calendars?

Sorry, looked wrong. Other calendars do show up

Ok but doesn't support multiple calendar and most of all I can't edit my exchange cal... Deal breaker for me! Too bad, it sure looks good

Have been in contact with Wes (the Dev), over all of this. Doesn't seem like he's going to change anything soon. I let him know my feelings about paying extra for a tile that does ZILCH. I mean, if it actually allowed you to say, change its color or if it added some cool functionality, that would rock. But simply forcing people to pay for a change of font is BULLSH!T.

People, if you use Simple Calendar and haven't 'upgraded' yet, DON'T. IT ISN'T WORTH IT. You get NOTHING whether you pay or not.



woah there cowboy.. let me see - you're crying over the fact that a developer is trying to make a few bucks for the hundreds of hours he probably put into writing this app? Go whine somewhere else.

Love this app and the tiles! Happily paid to remove the ads AND for Frodo - $2 I won't be missing too much unlike cheapo Assasin.

puh-lease...coding these days just ain't the same when the development tools practically do it all for you.

and you really need to read my other comments because nowhere did i say that i hated paying, but i hated paying for NOTHING. there is absolutely ZILCH in this release that makes it worth $0.99 + however much you want to spend for tiles.

this morning i turned on my phone and saw the notification about the release being out. i didn't even bother to read the article (my mistake), and i 'upgraded'. i even paid to remove the ads without giving it a second thought because hey- he made an app that i use and like so yeah i'll support him. but then when i found out about having to pay for a tile that does NOTHING! hell, you can't even change the tile or font color! what a waste!

again, to those who haven't 'upgraded' i would suggest you don't.



Maybe go with Android or jailbroken iOS so you can steal the app and not pay the Dev?

You dont think 99 cents is worth it for a live tile? Hey, heres an idea.....DO NOT PAY 99 CENTS FOR THE LIVE TILE. I unlocked all funtionality in this app and it was 4 bucks....less than a fancy coffee at Starbucks.

idiot...show me where i didn't pay for the app. i already mentioned a million times that i paid the $0.99 without hesitation, but am quite mad that i had to dish out another $1.29 to get rid of that stupid watermark in the tile.

i don't drink anything from starfuks because i am not some douchebag elitist wanne-be.

$4.00 for a calendar app, for THIS calendar app, is way over-priced. what functionality did you gain? oh lookee...a couple new tile designs that you can't even really modify. lock screen support? yawn.

look, i'm sorry you can't read and/or comprehend things, so leave that to those of us who can.


There appears to be a bug where if you have the box checked for "Stop showing today's all day appoints after:" and its after that time it won't show any future all day appointments. Aside from that the calendar does its job.

It would be fine if the whole app could be purchased once but to have to buy the app to remove ads and then to have to buy each tile, and at such a price, is a bit steep in my opinion. I'll just stick with the default calendar for now.

After I updated the app it is much slower to load then it was before.

So how exactly do you find Frodo and Gob or where/how in app to upgrade to them? Please!

So bummed out that lock screen doesn't show all day events. Wish I hadn't updated l, because the colorless tile shows appointments in white now instead of agent color.

A shame I can't edit the appointments from the app, the rest is awsome

I've been trying to disable the lock screen for past 15min and could not figure it out. Prior to that it would ask me if I want to enable lock screen. Now I hate the way it looks and can't take it off. Do I need to uninstall and reinstall the app?

Just go to Settings->lock screen and change the image provider

All that does is change the lock screen picture but my calendar events are still plastered on my lock screen. Thanks for help though

wpnut, I wasn't reading into your post correctly. I thought you meant settings in the Simple Calendar app instead of the phone settings. I got it to work and wanted to thank you. Not sure why I didn't check the phone settings first.

Just downloaded the trial of this and I can't believe you can't have a different color for each calendar. Even the default calendar allows this.
Windows Central Newsletter
Get the best of Windows Central in in your inbox, every day!
Thank you for signing up to Windows Central. You will receive a verification email shortly.
There was a problem. Please refresh the page and try again.