Sneak Peek: Simple Calendar 2 redefines Modern UI for Windows Phone 8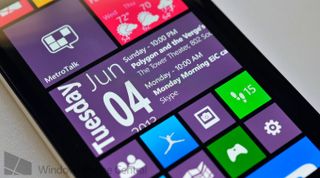 When it comes to the calendar app on Windows Phone, there are generally two camps: those who don't mind it and those who yearn for a different, more configurable experience. And let's face it, a lot of that comes down to how complicated (and scheduled) your life is.
Simple Calendar, currently available for Windows Phone 8 as a free app, is about to get a nice update to version 2.0. We've been using it over the weekend and you can color us impressed.
Check out our video below to see what's coming next!
With version 2.0, users are treated to more Live Tile configuration options, including some very "Modern" designs (we're partial to 'Frodo'). In addition, Lock Screen support is on board, which allows you to use your own custom image with an overlay showing upcoming appointments. This has a two-fold effect as it allows you to show more than one upcoming meeting and two, frees up the "Detailed" area for another 3rd party app e.g. Skype, Email or Missed Call.
Finally, version 2.0 brings the ability to assign colors to multiple accounts and performance improvements.
Early look at Simple Calendar version 2.0
What's real nifty about Simple Calendar is there is no separate login—it integrates fully with your default calendars, allowing you to create appointments on the fly and have them synced to the Cloud.
Version 2.0 is due shortly and we'll of course tell you when it's live. For now, you can pick up version 1.2 here in the Store for your Windows Phone 8 device. Free with no ads.
Daniel Rubino is the Executive Editor of Windows Central, head reviewer, podcast co-host, and analyst. He has been covering Microsoft here since 2007, back when this site was called WMExperts (and later Windows Phone Central). His interests include Windows, Microsoft Surface, laptops, next-gen computing, and arguing with people on the internet.
Does it also shows the events on facebook like the default WP calendar?

I just noticed that myself. Probably not a deal breaker, but its sometimes good to see upcoming Facebook events.

It is a constant deal breaker. Im not using ANY third party calendar until the biggest community ever gets an API to be integrated in all these calendars. MS wake the F up!
How am I supposed to use a calendar that wont show me all my appointments?

Yeah, this is my only complaint with Chronos Calendar - needs Facebook integration. Oh well.

Also, Simple Calendar looks amazing. Will give it a long, hard look.

Monthly view really needs to show the actual contents that you saved. And been using WP since launch, still haven't gotten used to the calendar in agenda mode.....

Well as far as facebook integration I would not want the FB calendar items in the main calendar. I use the calendar to note and remind about my law practice calendar and bill dates etc and as a record of what I do during the day. That said as long as I dont have to automatically have that integration and can opt out I have no problems having the capability to have that on the calendar Once I retire I wonr care.

It is for me. :( A good chunk of my social outings are on Facebook.

Do you guys know that you can subscribe to the facebook calendar with the outlook live calendar in the web interface?
In that way, your Facebook events gets synced seamlessy with your windows phone.
There are also websites that allow you to filter the events according to rsvp.

That's interesting.. And how do you do the synch with Facebook? Not so straightforward it seams..

it seems here nobody knows that as long as you add your facebook login to the phone, every events by all of your contacts in facebook are shared in the calendar, along with the birthday and so on. Is that so unkown?

I think as the title indicates, they want to keep it simple. I actually really like their layout.

It certainly does look amazing. I can't wait to try it out.

Mine doesn't look anything like the images! How do you get the big text on??

You...you didn't read anything in the post, or headline, did you? lol

Lol .. Daniel plz write everything in the headline next time :P

Read the article ..
Update hasn't come yet

shake my d...i'm at work head?

Yeah! Obviously didn't get my attention enough..

While I am one of those who "don't mind" the default calendar, I do find myself wishing that microsoft would give the live tile a slight face lift (at least). I like simple, but I don't like boring.

Haha, right? Yeah. The default one needs a visual update. The only reason I do like it a lot though, is the Facebook event intergration.

Monthly view really needs to show the actual contents that you saved. And been using WP since launch, still haven't gotten used to the calendar in agenda mode.....

I want the built in calendar tile to flip to show upcoming appointments. That really is my only gripe with the default one. Oh, and the fact that it defaults to day view and not month view.

Looks good. I would also like it to have Facebook events.
Also what is that weather app you have on your start screen in the video?

Vieather. I'll do a post on that today too.

Nice, look forward to it. I thought it was a new AccuWeather app. The style looks similar to the Windows 8 app.

I don't care about these apps. When are you going to do a post on a release date for the NOKIA 925 on TMOUS? I'm getting impatient with my HD7. I'm about Reddy to toss it against a brick wall.

Hd7 still looks really good. Especially the blacked out att version. Can't go wrong with that kickstand eithr.

this is how WP calendar should have looked like :(((((

Anyone know if this will work with an Exchange calendar?

So according to one of the reviews it does, have not tried it myself.
I will wait for the new version to be released to try it out.

No Exchange, no point. If it has it, I'm buyin'!

So I downloaded the current version and it does support my Exchange calendar. Looking forward to the upgrade now..

Current version supports my exchange.

I've grown increasingly disappointed with Chronos calendar and I like this apps integration with the default calendar so I'm getting this.

For me it's the opposite. Now chronos gets all of my multiple google calendars, even displays the events in the same color that I configured in google's settings.
Full love to chronos here =)

Why? I'm crying right now ... :(

No week numbers?

Microsoft never added week numbers to the build in calendar, but many people use week numbers all the time in Europe, especially for business. This would be a very welcomed feature!

I'm assuming the specific week number out of all 52 weeks in the year. Best guess I could come up with.,

Doh! 1.semester computer programming ;-) Okay I get it, Americans don't use weeknumbers which must be why it's ignorred by Apple, Google and Microsoft. Probably why Symbian was such a success in Europe. Week 1 is first week with 4 or more days in it.
So week 52 or week 53 can be the last week of the year. ALL agreements with e.g. Hospitals, Work partners, Birthdays, Parties are initiated by "I have time in Week xyz, what about you?" or "Let's schedule the next meeting in week xyz" or "Come by for blood sampling anytime in week 10, 20, 30, 40 and 50. Then we will meet again next year"

Yeah Daniel. Don't bother with the article at all, just one really long Headline, please. :-)

Will download when updated..

I really like the new tile, I just wish that the tile would launch the default WP8 calendar app.

does anyone know the name of that weather app on the top right tile displayed on the image above? looks pretty cool and I'd like to use it on my Lumia but can't recognize it.

Its already been asked above in the comments, and answered

Still waiting for a calendar app that displays my Outlook/Exchange categories, including colors that match those chosen in Outlook/Exchange, and provides the ability to display a shared calendar (overlayed or some clever new way).

I can get you "close". Save your Outlook/Exchange calender out to an ics file. Log in to your outlook.com account (just assuming you have one) and upload the ics file into a new/existing calendar. Want a cool month view? create a live tile link to your outlook.com calendar. It's very readable on my 920. Actually, a lot more readable than the month view in this or the default calendar. What kind of shared calendar do you want to display? A shared Outlook.com calendar (doesn't it do that?) or a shared Outlook/Exchange calendar (do the download/upload ics file for that). And yes.. I know that having to keep up with things manually is a non-starter for some.. This method works good enough for me once a week for syncing work events. In fact, it's just a 2 minute gyration easily accomplished at work..Not like i'm incapable of pissing away a few minutes (or more) at work occassionally.
I've complained to Microsoft many times about all their different calendar products. It's silly. WP8 calendar is different than the Windows 8 app calendar is different than the Outlook.com calendar is different than the Outlook/Exchange Calendar. At a minimum, the WP8 calendar and Windows 8 app calendar ought to have the current look, feel, functionality of the Outlook.com calendar. Next, they need to work on the more advanced features like you mentioned.

Just downloaded....can't wait for the update!

Beautiful live tile. Can't wait for the update!

Looking forward to Frodo mode on this app!

Can you edit Outlook appointments in the new version? Or do you still have to open the native calendar for that?

I was hoping for the same thing

Thanks for the article Daniel, and thanks to everyone trying it out!
Just wanted to clarify that ads will show up after 7 days, there is an option to remove them in the menu bar.

Is there a way in the new version to show calendars from the WP8 rooms?

Current version is not bad at all, I think I'm gonna keep it.

what's that app with the footprints? (Green Icon)

Yep, I would also love to know what that app is!

The app with the green footprints is part of the Fitbit Tracker app. Provided you are a fitbit user, the Fitbit Tracker is just about the best Fitbit app available for Windows Phone right now. You can also pin other parts of the app to your Start screen, like the number of floors you have climbed, calories, miles, and your activitiy meter.

Have been using Chrono, but it has been very glitchy as of late. Will love to see this update.

REALLLLLLY liking this calendar.

Where is this "Frodo" setting???

It will come with the soon to b released update

Can we edit appointments now?

Daniel...do you know the anticipated release date of the update? I'm really looking forward to it.

Needs to sync bidirectional with the built in Calendar App an Outlook Exchange. Untill Third Party Apps can do this (ahem, r u listening MS?) I'm stuck with the built in Caendar :-\

Chronos Calendar your move!!

I love the Frodo style.

Is there a wp 7.x support?

Just watched the video and was pretty stunned to see my birthday there, lol. Must've been linkedIn, right? :)

Can I sync the app with Chronos? I would not want to put all of my events back into a new calendar app.

I just dont want my personal schedules in any cloud. Chronos calendar allows you to keep your meetings private..

Simple Calendar does not store anything in the cloud

What happened to the update?
Windows Central Newsletter
Get the best of Windows Central in in your inbox, every day!
Thank you for signing up to Windows Central. You will receive a verification email shortly.
There was a problem. Please refresh the page and try again.