Skype adds link sharing feature to help users invite anyone to chat online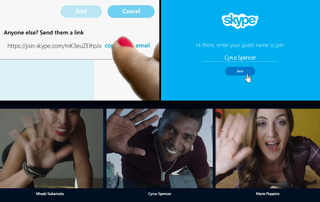 Microsoft wants to make it easy for anyone to chat with anyone else via Skype, even if a person doesn't have an account for the messaging and VoIP service. The company is rolling out a new feature that will allow Skype users to invite anyone else to join a chat by sharing a link via email, social networking apps and more.
Microsoft adds:
This new feature is available first in the US and UK via Skype for Windows and Mac, along with Skype for Web, and will roll out to the rest of the world in the next couple of weeks. The ability to invite others to a chat via a shared link will be added to Skype mobile clients in the near future.
Source: Skype (opens in new tab)
there are many people out there who do not have skype or any real reason to use it... so this is a way to open the door.

Because of this: "No Skype account or app download required. Now you can use Skype to chat with anyone." That's huge. That instantly makes Skype the most appealing chat client on the market, as anyone can easily use it.

It is not true. We have skype installed in machine/device then only we can start conversation. I have tried but it is not working without Skype in machine. Even they are displaying message that you must have skype installed in your device.

I already have this feature in Croatia. Got it yesterday and tested with a friend. Looks useful.

no this is cool and should allow for more people us it especially those who use other services like ivideo and such. Skype used to be at the top of the list, but is not common with the average "younger" person anymore... And who ever though imessage/ivideo (or what ever it is called) would be so popular...

I want it to be attached to my phone number or at least easy to find me like Facetime I hope windows 10 have video calling built in like facetime

The setup for the new app does ask for your phone number for friends trying to find you.

I recall reading something about Microsoft launching a Messenger-style app for Skype, which would allow users to do what you're proposing.

We already have this on WP since last week

I wish Skype in WP was fast n zippy. It is, well sort off zippy. But I hope it would compete with the other IM's some day. Speed is everything.

Now that Skype messaging is part of the messaging app, it has eliminated any slowness for Skype. It is an awesome experience now.

it's not exactly zippy, but it's zappy :)

I wish broadcasting feature will arrive soon to compete with Evil Hangouts.

I already have it (in Germany).

Does this mean I can do free LIVE events with Skype?

Precisely what I was thinking. I imagine that this feature is likely a direct port from Skype for Business which already allows a user to have guests and Skype for Business users all connected to the same meeting.

So this would be in direct competition to Google Hangouts on Air?

That's really good. But need to work ontime notifications and optimization of voice quality with reduced data speed and having the option of finding friends with phone number instead of skype name. These are the reasons other voip apps are gaining momentum such as viber,imo,tango especially in developing countries where data speed is low. I tried some of them and they really work very goof at low data speed and most cases voice quality is worse than Skype of course.

That's awesome because its becoming like iMessage but better. Everyone will be able to respond no matter device or app presence

I like this idea a lot! Great for chatting relatives who have emails but don't want to make a Skype account. Seems more secure than tinychat

Yeah creating an account is what deters and slows new users to using it when they already have video built in with other OS but its a start to try to blend everything together.

Skype needs to be more open to give or let subscribers use the cell phone# with Skype. Then if vacation even the phone cannot roam, with Wi-Fi connection, to the cell phone# Skype can be use. That will make Skype not to be miss on the phone. That also a benefit to find friends' house phone & cell and sync their existing Skype's profile.

Woah! They be trippin' at the MS house :p Sounds very useful, though :D

Nice try but the desktop version still looks like crap on high dpi display.

if this require a 'skype plugin' to be installed, how would this work on a smartphone that doesn't have skype installed? The idea of this (at least to me) is that it works on any device or may be i got it backwards? Does this mean Skype is now using WebRTC like Firefox Hello? Are these invite that you send out emcrypted? or the big backdoor experts are sniffing in invisibly? I tried it on an x64 pc and it asked for a plugin to be installed..I thought it was pretty pathetic and lame attempt to press release a feature that doesn't quite work as advertised.They made it sound as if you just click to join and your webcam and mic would work right from the browser without any plugin. Even after installing the plugin, the calls never came thru...it just keeps saying 'missed group cal'. This has FAIL written all over it Microsoft/Skype. Precisely why Hangout/ other video/messaging mobile apps are giving Skype a run for its.money.

Skype needs to fix its current issues. My contacts are a mess and my calendar has a bunch of unwanted birthdays. It's bonkers!

German is the mother-tongue in more European countries than English, French, Spanish or Italian. After English, German is the second most important language worldwide for business, tourism and diplomacy. In central and Eastern Europe, German is the most important foreign language.you can take your German Skype classes through http://preply.com/en/german-by-skype
Windows Central Newsletter
Get the best of Windows Central in in your inbox, every day!
Thank you for signing up to Windows Central. You will receive a verification email shortly.
There was a problem. Please refresh the page and try again.