Skype becomes the new Microsoft Messenger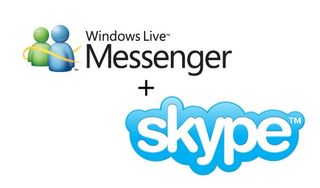 Microsoft seems to be taking its Skype acquisition and integrating it further into the arsenal of products and services the company offers - namely Messenger (or Windows Live Messenger). An article has been published on the Skype blog detailing what's on the horizon for Messenger users who now have the opportunity to connect to their Microsoft Account within the Skype client.
The Messenger user base is huge. Microsoft owns the IM market and with its Skype purchase, the company is turning into a communications giant. So what's being included in Skype? Well, one can activate video calls and initiate messenger chats already, all that happens now is all Messenger contacts are synchronised down through the Skype client as well.
We'll soon see contacts stored on Microsoft Accounts being used simultaneously by multiple services.
The Skype team has already started moving everything across with the release of Skype version 6 for both Mac and Windows. This release enables logging into Microsoft Accounts, which allows users to access Messenger contacts and carry on as if they were utilising Windows Messenger. Messenger itself is stated to be retiring in the first quarter of 2013 - except for mainland China.
Highlighted features of Skype for those who are looking to upgrade from Messenger:
Broader device support for all platforms, including iPad and Android tablets
Instant messaging, video calling, and calling landlines and mobiles all in one place
Sharing screens
Video calling on mobile phones
Video calling with Facebook friends
Group video calling
The Skype client for Windows 8 and Windows Phone 8 will boast similar functionality and connectivity that will keep all consumers in touch with one another. We're unsure what's going to happen to the Messenger app for Windows Phone and Windows 8, but we assume it'll remain for Facebook Chat and more.
Be sure to head on over to the Skype Support forum (opens in new tab) should you need to enter into discussion about the planned changes, as well as tweeting out with the hashtag #SkypeWLM.
Source: Skype
Rich Edmonds is Senior Editor of PC hardware at Windows Central, covering everything related to PC components and NAS. He's been involved in technology for more than a decade and knows a thing or two about the magic inside a PC chassis. You can follow him over on Twitter at @RichEdmonds.
Does this mean that Live Messenger client is going the way of dodo?

I have one question. Skype is blocked where I live (Oman) while Windows Live Messenger isn't. So will WLM still work after the merge? Because Skype won't for me.

Too early to tell at this point.

Kevin, um, i think you are on the wrong MN website. LOL

I want a WhatsApp-like experience with skype on my WP7 phone. I don't see why this wouldn't be possible with a server based messenger infrastructure behind skype now.....

Not Whatsapp for WP like experience I hope!

:) No, more in terms of its functionality.

+ 10
Exactly..or even LINE for that matter...
Good God.. why are all these Messenging apps so crap? LINE was boasting it has 2Million registered users.. Seriously? WHO CARES!! Have they even bothered to rectify even ONE of the issues I complained about?! NO! all they care about is getting people registered. There recent update only addressed a problem with Registering. hmm.. Go figure..
Right, Skype! Show us what you got!

This better mean the Skype client gets a major UI overhaul because the win32 and WinRT versions look like ish...

I guess you never tried Skype for Linux. It's terrible on linux. I like the interface on windows though.

Exactly. Skype UI is just terrible.

Metrosexal Skype is quite nice, but the desktop version is hideous. I'm gonna miss the gorgeous WLM UI. And especially the picture sharing feature.

even the Windows 8 Skype app still retains some of the bubbly UI elements that just reek of cheap scamware apps. Skype needs a new logo and needs to lose all of the stupid startup sounds and other ICQ-esque garbage.

Can wp7 user install the new Skype app that can receive calls in background?

WP8 users can't install Skype atm let alone WP7

Seems like a logical move and definitely for the better. The Win8 Skype app is beautiful and seamless when switching between the RT/WP8 app!

As a previous Android user, I wish we had an official Gtalk app from Google. Nimbuzz isn't working all-too-well for me... :'(

Does that gtalk still exist? O.O

Heck yeah bro... Almost all of my buddies that have an Android use Gtalk...

On Windows 8, it really seems like the Messaging app and the Skype app should be merged at this point. It's really weird when I get MSN messenges in both.

I agree! Actually, Skype should be conformed to adhere to the Messaging API so it can plug into Messaging like Facebook and messenger does.

I assume that's where this is heading

I dunno about the Skype app, but you can turn off receiving messages in the Messaging app so they just go to that one. I turned it off on mine because I was using the MSN client as well and getting chats in both places was annoying

Skype for video Kinect is what I am waiting for......

+1
Very annoying I can't use my Kinect cam for Skype, but I can for WLM..... Hope this will change now

After they integrated Messenger into WP7/8 and Win8, now they're doing away with it. I love the idea of them switching to Skype, but hopefully they'll be able to release an update that will integrate it into the Messaging hub in Win8 and WP8 like the current Messenger does.
I know they said they would be integrating it into Outlook.com, so hopefully all of that will happen next year.

I was thinking about this and came to the conclusion that nothing's gonna happen to the Messaging app in WP7/8 and Win 8. They will simply continue working as the IM-only portion of Skype. Just think about it this way, the Skype app will replace the Live Messenger app. Your messages will still go through.

Is nobody terrified by this....
I mean really... "microsoft sky.net"
it's only a matter of time before the machines take over

I think "excited' is a better word.

Haha, this is how the terminators will start. I wonder if they will look like Arnold?

Absolutely. This is why a group of Sith Lords and I have commissioned construction of a Death Star. We'll watch the destruction of humanity by the machines as they battle the zombie hordes.

Seriously guys? Hahahahaha

I was beginning to wonder if I was the only one who read the sky.net error message in the article. Lol

Lmao. But we have one chance to stop it...

I just hope Windows Phone 7.5 messaging experience won't suffer because of this. :S

It doesn't have to. I was thinking about this and came to the conclusion that nothing's gonna happen to the Messaging app in WP7/8 and Win 8. They will simply continue working as the IM-only portion of Skype. Just think about it this way, the Skype app will replace the Live Messenger app. Your messages will still go through.

This kind of disappoints me to be honest. I use both Skype and Messenger for similar purposes, but I keep them distinctly separate, and for good reasons, too. But I don't blame Microsoft in the slightest. I'm sure this appeals to the majority of their customers.

This is the problem I have with w8. Skype and messaging notify me sometimes!

And they (techbloggers) said Skype was a bad acquisition. It was brilliant. :)

Cool. Streamlining services that could be seem redundant is never a bad move , IMO

Am I the only one freaked out by the fact that they call it sky.net? Evil is coming O.O

Not through Microsoft that's Google

And that's NOT all folks. Microsoft has told their Cloud MSP Partners (like our company) that a full merge is in the works with Skype and Lync for Office 365. They are really focused on "One Platform to Rule Them All" with business and personal lines getting grayer all the time. Seamless transitions are really nice and we're looking forward to these capabilities for our entire client base.

Does this mean you can use the SMS WP7.5/8 client now to IM/text people on Skype since it currently (or previously) supports WLM?

The answer appears to be yes. This is great. This helps WP7.5/8 have an iMessage like feature. Skype is way better than iMessage as it is available on more platforms and has a large install base. Well played.

You can IM through the Skype app on 7.5 and I doubt that will change. 7.8 may possibly allow something extra via the built-in messenger stuff, but I doubt that too :P

Wow I don't use any of these services a lot but I know many that do and once I tell them about this it will be an eminent platform change for a lot of them keep it up MS.

One way to take Apple head on...
Apple have always boasted about its "FaceTime" and its new "iMessage" but this merger is perfect!
Since Skype is available on most platforms, MS is really conquering this area :)

Just better be able to still send IMs on wp7.

Also hope they keep all the WLM features like SMS and emoticons (emotions on Skype suck so much compared to that available on Windows 8 and Windows Phone 8).

from the original thing I read yesterday it sounds like the WLM network itself isn't going away, just the WLM client. the WLM network will remain as part of the Skype system

Exactly. All messages will still go through. Doesn't matter if you use the Messaging app in WP7, WP8, Win8, or the Skype Desktop or Metro app. They will share one common messaging network.

So what name is disappearing then Skype or WLM?

Integration is one thing I miss about webos all your messaging was together not just SMS and fb I keep wondering what would it take to get this done on windows phone because fb and Twitter shouldn't be the end yahoo Skype Google talk need some integration might as well start with Skype messaging

Sky.net, Microsoft's plan to control the world (and Apple&Google).

Bye Bye windows live welcome skype

They need to get Skype working correctly on some brands of win7 mobiles
Windows Central Newsletter
Get the best of Windows Central in in your inbox, every day!
Thank you for signing up to Windows Central. You will receive a verification email shortly.
There was a problem. Please refresh the page and try again.