Skype for Business begins replacing Lync with latest Office 2013 update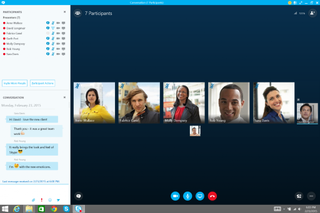 As promised, Microsoft has begun the process of replacing its older Lync business-themed messaging software with the new Skype for Business client. The transition, which was first announced in November, is being rolled out as part of the Office 2013 April monthly update for business customers.
Microsoft says that the transition from Lync to Skype for Business will be completed for most Office business users by the end of May. However, it has given IT administrators the ability to control when the Skype for Business user interface is rolled out to their customers in order to help make the change easier to handle.
Microsoft added:
The company has indicated that most existing hardware and software that supports Lync should also support the new Skype for Business software.
Source: Microsoft (opens in new tab)
Microsoft needs to combine all Skype services and allow you to add/combine services/features, with our clients everyone wishes to keep what they have and as soon as they hear about another account or changes they avoid it just like OneDrive for Business which is limited to only 20,000 offline file sync and online version is poor compared to OneDrive. Like all the recent changes however is still very confusing for many.

Not very confusing. Business users who use this, know what it is.

Agree, we deploy Business services on daily bases however sadly end users such as directors in SMB prefer to keep their current accounts as they are which causes issue. I like what Microsoft is done with Exchange Online, Office 365 installation and many other areas however OneDrive for Business, Skype for Business and few other areas are still rough diamond and they need to simplify them, also migrating data/configuration between services if that person has allot of data which top managers intend to do so as they've been with the association the longest in most cases.

OneDrive for Business sucks only because it's SharePoint - they should have never built ODB on it.

I think you may be correct on this

It is confusing, but I thank them for working towards simplifying their product range with elimination of unnecessary services, and integration between their own services and our devices, with Windows 10.

Agree however is taking rather long time and clients are not as patients as we are :-)

Do they have the WP App ready for this. Surely not :)

While we see the Android and IOS apps released :/

There is neither an iOS nor Android version of Skype for Business available.

I personally like Lync and it's name

I do like the name, but Skype for business sounds better

Yeah, I think this is a dumb move. The Lync name is great and the UI is infinitely better than Skype's UI. I love Skype, but I hate Skype's UI, especially the desktop client. They should've made Skype more like Lync.

You didn't read the article did you? Skype for Business has its own client. From the screen shot it looks much cleaner than the regular Skype.

Which is great. Clean and simple is how the business client should be. It should allow you to get right down to......business.

I read the article, and my comment still stands: The Lync name is great and the UI is infinitely better than Skype's. They should've made Skype more like Lync, not Lync more like Skype.

I totally agree. At my work everyone hates Lync and I don't know why. I agree with others here on the ui, etc. Plus no ads

You won't see ads in Skype if you have money in your Skype account (Skypeout credits). The same should (presumably!) apply to Skype Unlimited, the premium annual-pay service. If you never want to see ads, just put some money credits in your Skype account. If you frown upon it, just continue and watch the ads, so that you pay Microsoft by watching those ads. Very simple. This makes it a free service for all and ad-free service for a very cheap price (you can even get "free" Skype credits valid for up to 12 months if you buy certain, Office 365-campaigned products, like the Lumia 640 phones, etc).

Will this be another WLM to Skype move? I hope not. Is Skype up to it, Lync users?

I would have preferred they replaced Skype with Lync instead of the other way around.

And that's because?
I'm asking because I really don't know :|

Who the hell cares about lync which is a part of msoffice... In my view office should only have word,excel and powerpoint... Rest of them should be developed individually...

This will be interesting. I use Lync everyday at work and the company I work for explicitly says to not install Skype on any company computers. I think because it allowed some computer infections in the past. Either way this is going to be real interesting moving forward for me.

For now, your IT has the ability to keep the Lync client for its users; allowing them to update you to the nee SfB client when they are ready. Regular Skype has a different client (cannot say if the same bugs won't be present)

Regular Skype penetrated firewalls. IT admins weren't all that satisfied about that :). Also, the peer-to-peer nature could make you share bandwidth with others which might have affected the network at work. I say "might" because Skype is closed source. Not sure exactly how it all works.

Finally. I like decisions that make sense.

Combine? So it can remote too like Lync?

I wish my company would switch to this. We all have Google Apps accounts (ick), but everything was fine for us communication-wise when we used GTalk. That got phased out recently for Hangouts, and then Google killed GTalk. We've lost a lot of functionality, including sending file attachments (quite useful!). I know I'm not alone in this. Now the company is fragmented. Officially we are on Hangouts, but a lot of us, like me, use third party chat clients that hook into the GTalk API, which Google claims wont be killed.
Google Calendar is sub par features-wise, Google Sync is a mess to sync to Outlook (the errors never end, we tend to ignore them)... Ugh. These Google guys are not business friendly... Really wanting Microsoft over here

It's branding/UI tweek only. The Lync architecture remains the same. Lync already federates and allows im/voice/video to Skype.

Are google hangouts better than Lync meetings? What are the differences? Why does major nelson use google hangouts occasionally, rather than Lync?

Lync is one of those Microsoft products that had SO much promise and SO many uses, but once again the lack of educating/training on those features along with inconsistent experience from workstation to phone made people abandon it after using it for long enough to learn all of the features. The meeting feature (along with screen sharing) was never widely adopted as WebEx and GoToMeeting. When users/companies tried to use it for that, there were sometimes issues with external end user Microsoft accounts and other gotchas. We have clients who LOVE it as an internal company instant messenger... But with the right education, training, and product development focus... It could have been so much more. We use it internally, but keeping conversations together with context in place as we move between devices during our business day has proved inconsistent at best and maddening at worst when conversation pieces that have timely significance are lost in the interweb, not surfacing until they show up in Outlook's "Missed Conversations" folder (a great feature but another thing that needs education of the end user). Hopefully the move to focus on the well-known Skype brand will make everything better. We will see.

Been using skype for business for a few weeks now. Seems almost the same as Lync.

My company IT will never roll these changes out until their hand is forced.

I'm pissed off that the linking of my skype and hotmail accounts is still not really working great. People see two of me logged in! So annoying. And then services like the phone number you can choose to show where you are calling from doesn't work!

This. Some friends and I linked our old MSN accounts to Skype and instead of being consolidated, we all appear as two logins which is annoying as gets. Better still, we can still message the old MSN accounts. Why MS chose to keep those around instead of merging them completely to Skype is beyond me.

Is the update straight up updating Lync in place or installing Skype for business in parallel? That would seem like a nightmare to update in place and having people in your business freaking out that Lync is gone (regardless of how much IT prepares them).

Ok why is that guy to the left in the pic standing beside a fan, WTF is that all about!?

More perplexing is why Microsoft continues releasing official screenshots with Google Chrome pinned to the taskbar. Mind-boggling.

If it is from Microsoft, that is. Maybe Windows Central posted it from their own setup?

I think he's French, so...

Skype will definitely make business user very miserable. Skype ui has to be rewritten and rethought from the ground up. I can't see how it can efficiently be used to present graphs, pictures, allow for pen and other means of communication aside of voice. The international keyboard stumbles all the time and does not enter correct characters in second language, copying text from moving around the screen instant messaging box is a heroic task and arranging size and position of windows of people talking is impossible in "modern", read it "backward" Skype application. Is Microsoft shooting itself in its foot again? I hope somebody there is thinking tho Skype interface and functionality really seriously.

Hey Please folow the Best Tutors and For jobs http://preply.com/en/french-by-skype
Windows Central Newsletter
Thank you for signing up to Windows Central. You will receive a verification email shortly.
There was a problem. Please refresh the page and try again.