Skype adds Captain America: The Winter Soldier characters as emoticons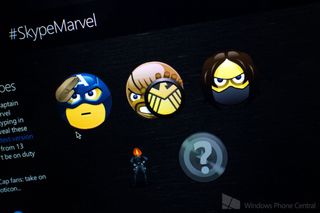 Emoticons make conversations more interesting. They help show how you feel. If you're a Skype user, then there new emoticons you might want to start using. They've introduced five new "hidden heroes" emoticons based on characters from the upcoming blockbuster film, Marvel's Captain America: The Winter Soldier.
The five new, limited edition emoticons, include Captain America, the mysterious Winter Soldier, Nick Fury and Black Widow. These emoticons are "hiding" within Skype.
To add the new emoticons to your IM chats, try typing in (captain) (bucky) (nickfury) or (blackwidow) to reveal these limited edition characters. You'll need the very latest version of Skype, where they should be ready to deploy from March 13th. The emoticons will be available to different platforms at different times, so if you can't use them right away, you may have to wait a little bit longer.
We have mentioned five emoticons, but only revealed four characters. Who's the fifth character? You'll have to unlock it by answering questions on characters from the movie. Visit Skype's Hero Hub to answer the questions.
We don't want to spoil the fun for you, but the first hint is a GPS coordinate. Just type it in Bing to find the answer to the first question. There are three questions in total.
While this is obviously a cross-promotion with the upcoming movie, Marvel's Captain America: The Winter Soldier, a recent survey shows that many Skype users are going to enjoy the new emoticons. The survey had 2,058 respondents within the United States and United Kingdom, revealing 57% of them want new emoticons based on comic book characters. Skype listened and delivered!
You can grab the latest version of Skype at the Windows Phone Store and the Windows Store. Captain America: The Winter Soldier starts showing in theaters on April 4th, 2014. Are you planning to watch it?
Via Skype Blog; Thanks for the tip, Kyle M.!
Get the Windows Central Newsletter
All the latest news, reviews, and guides for Windows and Xbox diehards.