Skype announces end of support for Windows Phone 8, details future plans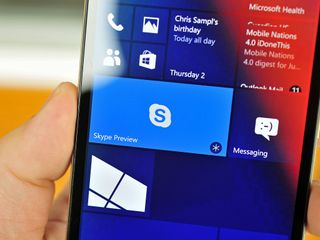 Microsoft has unveiled its plans for the future of the Skype platform today, announcing that they are slowly transitioning over from a peer-to-peer module to a far more modern cloud infrastructure, which allows Skype to work better across multiple kinds of devices.
Because of the transition to the cloud, Skype is having to leave some older, legacy devices and platforms behind:
Skype says they will continue to support Windows 7, 8, XP and Vista, Yosemite on Mac, iOS 8 and Android 4.03 operating systems, and obviously Windows 10 and Windows 10 Mobile. So if you're using a relatively new operating system, you're good to go.
Microsoft has also spoken about the number of bugs many Skype users have been experiencing recently, such as notifications not syncing across devices and messages popping up hours after they are sent. The company says this is a result of the platform slowly being transitioned over to the cloud, and once that transition is complete, these bugs should be ironed out.
Finally, Microsoft closes out with a promise to commit to Skype where users want it:
So, there's a lot going on with Skype right now, with Microsoft recently launching its new Skype UWP preview for Windows 10 Mobile users and an updated online web version. Skype says the transition to the cloud should be complete over the next few months, so very exciting times ahead.
Zac Bowden is a Senior Editor at Windows Central. Bringing you exclusive coverage into the world of Windows 10 on PCs, tablets, phones, and more. Also an avid collector of rare Microsoft prototype devices! Keep in touch on Twitter: @zacbowden.
So its gunna stop working on my pre3?

I suppose no if you have Windows 10

I recently used my Pre3 for a few days, because I had to reapir my Lumia 950. I was very happy to see that Skype still worked.

Hey Hey!! Another Pre3 owner! I don't use it much though as my daily driver is a 1520 but when I get to missing WebOS I pop my sim in and use it for a few days. I still think WebOS was the best mobile OS and way ahead of its time.

Other Mobile OSes are still trying to catch up to the design language and accessiblity of WebOS, and no one has ever found such fluid multitasking or functionality. Oh, what could have been...

webOS is a beacon of what every phone OS should be. Windows Phone adopted some concepts, but then gutted them. Frustrating.


I will never forgive HP for what they did.

Hp, graveyard of failed mobile operating systems.

This confirms what MS has been saying before, the desktop app (x86) is on its way out.

NO. They'll keep supporting Windows 7, Vista and XP. How would that be possible without the desktop app?

Not for very long though, at most 3 more years.

3 years is a long time. XP and Vista may be going by now (if they want), but Windows 7 and 8 are still rocking in a lot of PCs. Anyway, in the long run, thats the idea.

" a web-based native version of Skype for other supported platforms like Linux, Mac and previous Windows operating systems " If I understand it correctly, the new Skype for Linux will be the new Skype desktop on all platforms in the future, maybe when it gets feature-complete.

I never expected Microsoft to pull Skype from Windows Phone 8.1 users so soon after the advent of Windows 10 Mobile.

Same. Wow. It doesn't seem right that Skype is ending support for WP 8.1 before Whatsapp does, I would think that it would be the other way around, whenever that was planned to happen.

Especially considering that is their own platform, WP8.1 devices were still being sold not that long ago, and there isn't a huge difference between a WP8 and W10M app.

Windows 10 app is alot different on mobile

Are still being sold now!

Well the W10M app that will be released with the OS update for aughust 2 is a lot different its actually the same as the pc skype UWP and its much much better than the 8.1 ...

But the opposite side of that coin is that What'sApp aren't all in on Windows 10 Mobile either, so we miss out on the things UWP can offer because it's still an 8.1 app. W10M users will obviously prefer all-in, balls to the wall Windows 10 support over 8.1

Welcome to the new Microsoft: "We don't care that you invested time and money into our platform." It's inexcusable for Microsoft to kill support for any of their services on WP8.1, considering how many users are stranded there because of them, and given that WP8.1 makes up like 89% of all Windows mobile users.

Well, after using WP for 5 years, my next phone will definately be running android because of MS bullshit.

Same here, will never risk another MSFT phone after 8 8,1 was dumped so quickly.

no worries, Skype run better on Android than on WP. I can barely use Skype on my WP, it always showing "Resuming..."

Yeah, after being abandoned for Windows Mobile 8 just months after buying my Lumia 900, then being abandoned for Windows Mobile 10 having a Lumia 1020, I now refuse to use a Windows Mobile phone on principle. It's a shame. Maybe they can earn back consumer trust some day.

Don't hold your breath waiting !

Geeze, people take this so personally. I have a $40,000 Toyota and have to pay over $100 if I want a map update, which is stupid in the extreme. It's business, I guess.

But they're giving you the option of paying to have the map updated. would be a different story if they tell you that the nav system is no longer supported and there is nothing you can do about it, other than buying the 2017 model of the same car.

WhatsApp still works on WP7.8 (at least it was still available a few months ago), while Skype was killed there years ago. MS should support more their older platforms specially when considering that there are still a lot people using WP8.1.

It's not being 'pulled' from anyone.

If it will no longer work, what is the difference really?

It will most likely work (as the app supports both p2p and the new cloud based infrastructure) for quite some time. You may just have trouble sending/receiving photos, which is already the case on WP8.1. No longer available on the Store but it's there on your Windows Phone 8.1 if you have it.

If I read correctly, they say Windows Phone 8, not 8.1

Same difference. The two are pretty much the same. W10M is so different.

They may be same in terms of UI, but that does not mean they are same in the code, backend, etc

Oh yeah, thanks to vhyr below (from the skype support website) : "As a result, some platforms will no longer be supported after October 2016, but you can still use Skype for Web directly in your browser." Scroll down on the linked page and go down to Skype for Windows Phone to see for yourself. https://support.skype.com/en/faq/FA10328/what-do-i-need-to-start-using-s... So what I said still applies. It's done.

Not supported =/= Not working. You're still jumping to conclusions.

I may agree. In the same skype support page they say that Android 2.3 systems (< 4.03) can still run Skype v4 (instead of the latest v6), hence all the "unsupported" devices should still work, kinda, after October 2016, with less funcionalities and features maybe (attachment, groups, etc.) but they should. WP8.1 treated as like as Android <4.03, IMO.

8.1 has more/different API's compared to 8, so let's not pull the trigger just yet. Then again, whoever uses Skype on 8.1 or 8 (even on 10) has to admit it was so... ssssooooo slow. I actually stopped using it. The UWP though... I'm liking what I see.

Read the link and you'll be enlightened. In this case, it is really same difference...

Skype's website states that support for WP 8.0 and 8.1 will end in October 2016. https://support.skype.com/en/faq/FA10328/what-do-i-need-to-start-using-s...

Dont worry. Nadella's iWatch is still getting strong support from Skype. Just check the support page of Skype for iOS devices. You will laugh

I figured they'd continue supporting their core WP8.1 apps at least until the end of their software support lifecycle for WP8.1, which would have been (last time I checked) July 11, 2017.

Maybe their UWP app will actually follow MDL 2.0 guidelines instead of the funky bubblicious approach. I really hate the whole aesthetics of the product, especially when it makes no sense up against any other MS product. Hey skype team, It's not 2002 anymore. You can change styles now.

WP8.1 is only 90% of Windows phones. No biggie.

So now I guess people left out in the cold (W10M not officially released to their phone) have a decision to make. They can: -go the Insider route -buy a new phone -no longer use Skype and find something else to use (not likely) That's a bummer. Thankfully, my dad doesn't use Skype on his 640 and hopefully he wouldn't have a need to. :(

Won't he just go to W10M eventually? Right after the anniversary update would be a good time

That's a bummer. Thankfully, my dad doesn't use Skype on his 640 and hopefully he wouldn't have a need to. :(

Your Dad's 640 is on the official list of devices that are eligible to upgrade to Windows 10 Mobile.

Yep, but he has the T-Mobile variant of it. As far as I know, T-Mobile hasn't released it officially. I have one too, but I went the Insider route to get W10M.

Yup, tmobile still hasnt released the update for it. And unfortunatly going the insider route looses features such as voLTE, wifi calling, and HD voice :/

Are you sure? My T-Mobiole 925 and 635 both still have Wifi calling on insider release preview. i don't have a t-mobile branded devcie that gets fast ring insider to know if that's there in fast ring or not.

Well it works if you don't reset your device after upgrading, but I don't personally enjoy using windows 10 mobile w/out resetting it as I've had issues with messaging and various other things. But yes I've gotten features like that and visual voicemail to work w/out resetting. Sorry, should have clarified xD

T-Mobile hates you for using Windows Phone. You need a better carrier.

I have so much to say but I won't. Just know that your statement amuses me because there really is no "better" carrier. AT&T likes to support...at their own whim.

AT&T's Lumia 640 has been updated. Where is T-Mobile? The writing was on the wall with T-Mobile's horrible treatment of the Lumia 810. And they haven't improved one bit since.

Fair point, but where is the update for the AT&T branded 640 XL? The 830? To be honest, no carrier is actually excluded. Some do better than others though.

Does ooVoo have a WP app? Idk, but if they do they're pretty solid and even allow group video calls through the mobile app. But it's still ridiculous Microsoft can't support they're own platform. Main reason I left it. Posted via the Windows Central App for Symbian

The Insider route was closed at the same moment when W10M was officially announced. At least I am not being able to get the Preview on my 630, but if I am wrong I would appreciate any helpful guidance.


The people that 'wont officially get W10M on their device' won't be able to grab the new Skype app anyway. The new Skype app is Redstone only because of some audio API that's only available on Redstone builds.

By carefully reading the support page I'd think Skype for WP8.1 will follow the same route as Android <4.03 or iOS < 8. The basics are handled. Not the new features. Check by yourself what they say for unsupported devices from Google/Apple.

I Skype my son on his L640....

The article says Windows Phone 8, not 8.1

Official Skype support page says that WP8 AND WP8.1 won't be supported after October 2016.

Skype says they will continue to support Windows 7, 8, XP and Vista, Yosemite on Mac, iOS 8 and Android 4.03 operating systems, and obviously Windows 10 and Windows 10 Mobile

So yeah, no Windows Phone 8.1.

Huh....Like it got the best support on the Windows phone up until now

So MS ***** 90% of the Windows Phone users. Never trust MS again, they just stab you in the back.

XP users are luckily safe from Nadella's latest purge. XP is relatively new OS.

It's MSFT dude, it's SN...who has mission to kill Windows phone. I feel embarrassed for the friends who bought windows phones from my recommendations...I still use one...but feel we are cheated ! Posted via the Windows Central App for Android

What support the provided so far.... Skype was slow and ugly looking app.... It was one of the dead app on 8 and 8.1. Now they are developing UWP app for windows 10.

The latest W10M Preview is very nice looking, they've added a lot of polish - It's starting to make the iOS/Android versions look like chopped liver.

Thanks to at&t, I'm still on windows phone 8.1 :(

Go Insider if your phone is eligible! The "Release Preview" ring is the best for release-quality builds and it gets there after Fast and Slow. :)

And if my phone is not eligible? It is still working perfectly OK, and yes, I do use Skype. Should I now throw it away?

I use Skype frequently as well and I have a 640 which was luckily among those devices upgraded to W10M. I think it should work for quite some time now. (Even with the new infrastructure; contrary to popular belief, the Skype WP8 app has hybrid support for P2P and the cloud one). I still have Skype on a WP7 lying in a drawer and Skype messages worked on it when I last checked. The only problem may be sending/receiving files but the WP8 client wasn't really good at that to begin with, so not really any different.

"web-based native version of Skype for other supported platforms like Linux, Mac and previous Windows operating systems". What about the 32 bit desktop version?

It'll probably go away eventually so they only have to support the Web and UWP clients on Windows.

Eventually it will be phased out - They said that was the plan a while back. Microsoft are constantly expanding the UWP APIs and as they do they take advantage of them first - Eventually the UWP will be able to do most of what the desktop app does, if not all of it - They could always drop the odd feature if they wanted to, but I'm guessing UWP gets parity with the desktop app fairly soon

Well, F you too Microsoft!

So, if I had an Android device, I would be fine. However, I have a WP 8.1 device. So, MS can't support that MS device. This is why people are leaving Windows phones behind. I don't plan on upgrading to W10M until next year when eligible on my carrier. If they leave me behind, I will reward them by leaving for another platform with device support.

Use the insider program to upgrade to the release preview and then switch to production.

I know this, but I shouldn't be required to do so to get support on my Winodws device. I don't want to be a beta tester. I want a finished product.

Even production build is also similar to beta version, you never get finished win 10 device. They keep on improving features with more no. Of bugs, issues. If you report any bugs or issues simply they stop support you.

8.1 is already a Legacy OS, so I'm not sure what you're trying to say. Clinging to the past isn't helpful to anybody. People want a better experience? You have to move forward and make some sacrifices. Second, if your carrier doesn't feel like upgrading you to W10M, that one's on your carrier, dude. You know you can bypass the carrier by downloading the insider preview and stick to production build for basically the same experience, right? Third, platform with device support? Who? The only one I can think of is Apple and even they "force" you to upgrade every 2-3 years. And finally, let's not talk about Android here. You'd be lucky to get one, maybe two updates if the OEM feels generous.

Except that not all Windows Phone devices are upgradeable to Windows 10 Mobile. No further Insider Preview upgrades and support for them either. Windows Phone 8.1 is only 1 version behind. No good reason to stop supporting that.

Whilst I agree partly with your argument, holding on to a (possibly budget) phone on a legacy OS thats well over 2-4 years old doesn't make much sense to me neither. Its not as if Windows 10 Mobile devices are *that* expensive. If people are willing to shell out money to upgrade to another OS and phone, just be honest and jump ship, don't use this example as an excuse. Android/Apple phones usually last about 2-3 years as well before they need to be upgraded (Android being the exception, but they don't see many OS updates, unlike MS and Apple) And secondly, it probably has something to do with Silverlight API's being restricted. I guess this is the problem MS has when it comes to rewriting their OS from the ground again. Support shouldn't be dropped, but I guess they have no choice in this case.

That's easy to say but considering that T-Mobile only has one W10M phone with wifi calling, it kind of sucks. If you update the 640 to W10M, WiFi calling no longer works. If WiFi calling is needed, it sucks.

Well... XP, Vista, 7 all happened years before 8.1. Yet they are all supported.

Skype will continue to work on Windows XP, Vista, 7, 8 and 8.1​. The issue is with Windows Phone 8 and 8.1. If Microsoft continues to support Skype on Windows Phone 7, I'll have the same sentiment as you.

Finally someone with some common sense. Thank you bro. People should just get a new phone. Stop holding on to old hardware. Those phones had old processors. They just cannot handle windows 10 mobile. Accept it and get a 550, 650, or 950 or, some other phone that can handle the OS. Posted via the Windows Central App for Android

8.1 has many more users than W10M. So, call us legacy. It doesn't change the fact they are rsking stabbing their users in the back. To clear the air, I am an Apple critic and former Android user. I currently only own Windows devces (CPU, Surface 3, XB1, and WP8.1). I love Windows 10, but am frustrated with their lack of progression and direction with W10M. I will see where the platform is when it's time for my upgrade and assess then. However, I am becoming disgruntled. If they can make me disgruntled, I suspect less loyal people will jump ship quickly. That is not a good thing.

8.1 a legacy OS? Dude 10 is still in incumbency. My 950XL just got the double tap to awake function which was available in the legacy OS since the beginning.

Android 4 was released in 2011. We're not talking about OS updates here, but app support. Nearly every android user in the world is on 4.0 and above. Effectively Skype is supporting the last 5 years of android, and the last 6 months of windows phone. Hence the problem.

you forget to mention that Skype works better on Android than on Windows Phone.

I switched to Android because I couldn't stand Microsoft's lack of support for their own platform. Haven't looked back. Posted via the Windows Central App for Symbian

Microsoft is going out of their way to push WP users to Android or iOS by killing support for WP while making all of their apps better on those platforms. News flash, Microsoft: If you piss off your most loyal fans so much that they switch platforms, they're not going to continue using your services on those new platforms.

Fair point, but there are some oddballs like me who still use their services on the other platform.

Yep, I am soon done. last month using MS services as well. Thank god. no more money to those ********. I ditched groove 2 months ago. been on apple music which is much better. the office 365 is next. buh by microshaft.

My question here is, by the time Microsofts plans takes flight, possibly by 2017, who will still be using Windows phone 8.1, however why is Microsoft still supporting kitkat, my guess is besides market share they probably still want to keep mind share of skype being relevant

It's really because the development environment is pretty much the same just higher versions have more features to use. So you can create a package with all the features and they will only work on the appropriate version. MS completely changed how apps are developed. w10m has a compatibility layer that if removed would let it be more efficient. So I think that's the end goal. This will be part of their store cleanup and pushing devs to update to windows 10. Abandoned apps will disappear.

WP8.1 is 90% of all Windows phones and W10M tanked totally. When WP8.1 phones die there wont be any Windows phones.

And with this, 80% of Windows Phones won't be able to use Skype. I doubt the majority of this people will upgrade to W10M. Myself included.

How did you come to that conclusion? Skype will continue running as normal, it just won't get updates.

The WP8.0 and 8.1 app won't be supported after October, 2016. I hope you're right and it continues to work after that. https://support.skype.com/en/faq/FA10328/what-do-i-need-to-start-using-s...

Still using Skype WP8.1 on 920. There's no really solid upgrade within the ecosystem. The 950 is just not worth it right now and I still am not confident enough in W10m as a daily. Seriously considering a detour to Android until MS gets serious about mobile.

Went from my 920 to HTC One M9 (Android) and I've had a really good experience. The one thing I miss is Cortana. Other than that it's a great device. The HTC 10 is even better. I still have the 920 around too because that device is so uniquely brilliant. Works with Wi-Fi in the house. Posted via the Windows Central App for Symbian

Cortana is available for Android although it's still in beta testing. Not all regions can download it officially from the Play Store, but reputable alternative download sources do exist so it is possible to install Cortana on virtually any compatible handet, even if you're in an unsupported region. https://apkpure.com/cortana/com.microsoft.cortana

At this point, you don't lose anything by doing it. You can always come back when you're either over Android or the Panos phone appears.

I agree that the 950 probably isn't worth the $550 they're charging for it. But if you can land the buy one, get one free deal if it comes around again, you can sell off the XL. I did it twice, and netted $440 through Amazon for the XLs. That made the out of pocket cost for the 950s around $220+ tax. It's a huge upgrade from the 920 and totally worth it at that price.

When i first read this i was thinking about how Skype seems to still be branded as their own entity and not a part of Microsoft so i was thinking they made an independant decision to no longer support Windows Phone.

Wow, Microsoft is actually destroying Windows for phones.... good jobb Microsoft... Posted via the Windows Central App for Android

Microsoft is adding more applications to android and ios, pulling off windows applications. That's business however, as they have more users on the other platform, leading Windows user with lack of Microsoft's very own application for first, and not forcing up other application developers to act.
Is it the end for windows users?

NOt the end for Windows users, but the beginnning of the end for Windows phone/mobile device users I suspect

Seems more like a push for UWP to W10M and W10 in general.

So Microsoft decided to ditch it's own customers... Win 8.1 is most stable Mobile OS, MS just ruined it's market with 10 and it want to loose old users too.... Best way to turn loyal fans to enemies

sounds like a broken record. and very familiar. winphone 7 ring a bell?

While I personally think Skype on WP 8.1 is one of the worst programs/apps I have ever experienced in my life, this is just one more asinine decision by MS. So, the 8 or 9 people I have convinced over the last couple of years to use WP will not be able to use Skype anymore. Most of them have either a 1020 or a 640xl and they are general users. They will not go the insider route. I am so sick of getting crapped on by MS. After 20 years using their products, I am very close to being done. And that is a very hard fact for me to come to grips with.

The 640 XL was in the first batch of WP8.1 devices to get the official Windows 10 upgrade. Those specific users don't need to join the Insider program. They just need to download the Upgrade Advisor to enable the upgrade to W10m.

That is if their carrier allowed the update. We have the 640 xl on ATT, with no update to be found.

I wasn't aware there was an AT&T version of the 640 XL (mine is a dual SIM Hong Kong variant). I know that AT&T did officially release Windows 10 for the 640 because I have several family members with that phone who have the official upgrade.

Yep, that came out first before the 640 did (on AT&T), at least officially. Also that doesn't make sense for ATT. How can you release to two but not the others?

In seven months when my contract is up I'm switching to iPhone. My 920 has been great but I'm over the lack of apps on WP.

Your 920 is STILL on contract? That phone is nearing 4 years old. I feel for bunch of WP8.1 users on L640 etc but for 3.5+ yo phones like L920.

This actually makes me indignant. I will complain MSFT's ear off.

Ending support for WP8.1 makes perfect sense. It is the past and MS needs to focus exclusively on the future, like Vista and XP. Wait, what?

Except Microsoft sold a good number of phones less year that can't upgrade to Windows 10 Mobile even thought they were new phones.

Exactly. And the consolation on the many phones that were not upgradable was that those phones would continue to have a perfectly working windows 8.1 environment, just not Windows 10. Then a dozen apps cancelled 8.1 availability and then moved to 10. Now even Skype is 10 only. Becomes a sort of not so subtle "upgrade or else" at exactly a time when, shock, there are almost no phones available for 10 (up to date models that is). I could see cancelling 8.1 support, but strategically I'd have waited on that tidbit until the end of 2017 or at some market point where we were saturated with available 10 phones and the upgrade path made obvious sense. Now we are at a low point in the market and a fairly popular app from MS themselves stops being available on 8.1? Next will we see Office cancelled? This isn't just putting 8.1 devices to gradual pasture, it's telling people using those devices "put on your lifejackets"...

But W10 only has around 11% penetration of all windows phone devices... Seems like the masses will be without skype..

New design is nice in Skype UWP.

just for comparison imessage works on iOS 5

Yeah but Windows 8 phone is dead

what about windows phone 7?

"By focusing our efforts on the devices and operating systems where the majority of our users are, we can concentrate our efforts on what's most important such as call quality and new features." About 86% of windows phones are running Windows Phone 8.x, only 11% are running Windows 10 Mobile.. Not surprised at all though.

Fine by me. My old iPhone 4S is still supported, but yet "the end of the smartphone beta test" Lumia 900 is not (which is just as old if not a few months younger than the iPhone 4S). At least I have FM radio on it!

The issue here is that MS is trying to become enterprise only at this point. They have no desire to be in the individual consumer space anymore other than with Xbox. Every decision and move they have made over the past year or more shows that to be the case. When they say they want to focus on where the majority of our users are, they are only thinking about enterprise. The day will come when MS is no longer a consumer company at all.

Yes. that's the path they are going. Windows for desktop will be killed next cause WP was their only bridge to get some apps to the store and now it is gone.

ROFLMAO. They can't support Windows Phone 8.1 but the Apple Watch can get support. Priorities, baby!

Ahhhh Typical MS retoric. WE will focus where the majority of users are......but wait......NO we wont!

We have a Lumia 640XL user leaving for iPhone and a Lumia 640 on T-Mobile also leaving to iPhone in our family (largely because WXM update is nowhere to be seen on these two devices). I can no longer offer them hope nor a sustainable alternative platform; I have given in to supporting their decision to abandon ship before these murky waters take us all. (sounds dramatic, I know, lol, but you get the point)

That's so bullshit. It still works on Android 4.0 and iOS8 yet WP8.1 which is very much capable in handling a modern app is now a legacy platforms. They never bothered to make a proper WP8.1 app. They made a decent WP8.0 app back in 2013 and they mostly left it the same. Never truly bother with WinRT8.1. More than 60% of the WP market won't have access to this, since we will be limited to either WP8.1 or W10M TH2.
FU Skype team. You never truly bothered with WP.

The argument to go iPhone for a few years and see if W10m is more widely available/supported is starting to look like a no brainer. If Apple were OLED the conversation would be over (silly Apple, wasn't just size you took years to catch up on).

Are they f*cking nuts? They kill what they touch, fu*K you MS!!!!
Will not upgrade laggy & battery drainer windows mobile 10! Better buy cheap Android device.,,,

P.S. was going to buy xbox, definitely chainging my mind, will buy PS instead. Microsoft brand is dead for me, FU!!!!

Dude running Skype needs to be canned. He's been making bonehead decisions ever since MS bought them. CEO needs to take charge here.

It is Nutella who is making decisions like this. He owns skype, not the other way.

Were you a MS exec sitting in the meeting room? I'm gussing not. I would think he delegates a lot of decisions like this to division presidents. It explains why Skype decisions have been particularly bizaar since it was bought by MS.

Well, I'm never buying a Windows Mobile device again. Microsoft supports android 4.0.3 and ditches their own win phone 8.1. Way to respect your own customers. Apple/google understand and love their users way better than MSFT.

So am I blind? Where does it say that WP 8 is being left behind?

On the Skype support page. You can scroll up to find links in the comments.

Whatever the technical reasons for the move, the end result will be that it'll push even more Windows phone users onto competing platforms. Let's be honest: nobody's really currently buying Windows 10 Mobile devices, besides the fact that there's a paucity of them out on the market. The Lumia 950 will be almost year old hardware in a few months. No matter what PR-speak the executives mouth, this is Microsoft *even more*, getting out of the consumer handset business. They're holding open the door and handing you (the guy with a Lumia 920/1020/640/1520) your hat, basically.

Wow, I read this article on a different site, which read something like "Microsoft ending support for Skype on Windows Phone". I almost dropped my 950 XL and was about to buy an iPhone. Then, I had to look and see what Windows Central says. I ultimately knew it wasn't true, since they just released the UWP for phones, adding in Messaging Everywhere, improving the overall quality of Skype, etc. And now adding Skype stuff into the cloud?! Then again, removing support for Windows Phone 8.x, that's a little early...

Just a matter of time. I would not feel too comfortable.

I would still drop your xl and buy an Iphone. its like moving from black and white tv to full 4k streaming video, with all new stuff. or, better yet, its like moving from a 286 computer, to a core i7. I know, I did it. I left my 1020s in the dust for iphone 6s. We could not be happier. and soon the surface's are gone for ipads. By microsoft. NO ms services, no MS nothing. IM DONE!

MS putting another nail on W10M coffin for me. My 925 dont even get Redstone Insider builds, not even the public TH2 Builds (btw TH2 Insider builds works fine on L925), but now UWP Skype wont work on TH2, the wp8 app will be out of support, i'm feel being relly left out, since i bought my L925 with a promise from MS that ALL WP8 PHONES WOULD BE UPGRADABLE! Now i'm really considering Android or iOS. Thx MS

How long until Microsoft kills W10m and stops supporting it? It is only a matter of time now. Why does anyone trust them and buys their phones? There are so many examples of them dumping support prematurely. I guess 99.5% of the market has learned this lesson. Posted via the Windows Central App for Android

Any word on Skype adding ability for users to create account via individual mobile number similar to Viber and Whatsapp? I remember hearing that it would eventually happen this way, which would naturally allow Skype to better compete with the likes of Whatsapp and other messaging platforms.

The beginning of the end of windows Phone 8.1? I still believe they make an deployment error ;)

These comments are just cancer. -.-

Would that make Microsoft a carcinogen? Posted via the Windows Central App for Android

Nope. The carcinogen is people's paranoia and stupidity. Like, what are people even afraid of? Literally the only thing 8/8.1 Skype gets updated with is Seems Faster fixes. Never new features. I doubt 99% of people crying out "Microsoft are abandoning us!!1" even noticed the difference that the Skype updates they value so much made over the past two years. It reminds me of everyone moaning "Windows 10 doesn't let you disable automatic updates!!" when 99% of users don't even disable that feature in the first place. People are just looking for an excuse to whine. -.- -massive sigh- rant over. Seriously though guys, get a grip. This barely affects anyone directly.

Great argument! "Microsoft didn't support it anyways!" Why would anyone continue to buy these devices when Microsoft abandoning it's devices has become basically guaranteed for Windows phone users. How long until they stop supporting apps for W10m? Won't be long with its market share and lack of OEM involvement. Posted via the Windows Central App for Android

This sucks. I guess I'll need to buy a new phone.

Yeah, probably not. I really like WP/W10M, but I'm tired of this stuff.

Basically another big FU from MS to it's users.

Yeah staying on 8.1 is becoming less appealing by the day.

This is like buying Nokia and destroying its name all over again. Sheer brutality.

Its shame what MS is trying to do.In this regard hats off to the Whatsapp team for supporting wp by continuously improving the app. **** MS Skype

The way MSFT has treated its most loyal consumers, the ones who bought WP8 devices despite the paucity of apps and what not, recommended others to buy windows phones, and stood for the platform, has made me sad. I am not going to buy a windows phone again. F**k you Microsoft.

Attention Windows Phone 8 users. You still have "all the apps you need", instead of Skype, you can use... um, what the hell can you use?!

I guess the phone and messaging apps. or some 3rd party half baked ****....

Hello Microsoft. And goodbye. Apple loves my money. And by the way - you suck :)

I Keep runing 8.1 in my 1520 and i prefer over windows 10 because of stability, battery drain reasons and because except of visual change there isn't something special about windows 10 mobile. Also 8.1 is very light and my phone is very snappy.
And now they don't give me suport..
If this is realy happen i quit my phone and i didn't look again for any microsoft product! Same on you microsoft!

Hm. That's all about MS. There are three other OSs. And my favourite Nokia WP (just my hobby-cell) will be used with others, not Skype. I wil, however, buy WP or MS gadget never after, surely not WP10 or MSurface. Good business.
István Kemény, Hungary
Windows Central Newsletter
Get the best of Windows Central in in your inbox, every day!
Thank you for signing up to Windows Central. You will receive a verification email shortly.
There was a problem. Please refresh the page and try again.