Skype ditches 'Highlights' in design shift to 'simplicity and familiarity'
Skype is saying "goodbye" to its Snapchat clone, Highlights, as Microsoft shifts towards a "simplicity and familiarity" in its design.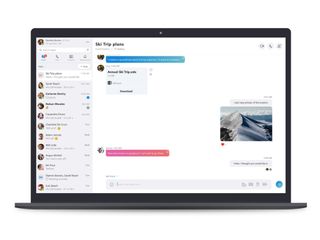 To say Microsoft took some heat for its Skype redesign, which first landed last summer, would be an understatement. The biggest criticism levied at the overhaul was that it felt like it was trying too hard to imitate Snapchat, from its colorful design language to the "Highlights" feature, which is basically a clone of Snapchat Stories.
Following a torrent of negative feedback, the Skype team said it was listening to users, eventually leading to the promised return of missing features and a rethinking of Skype's design language. And, yes, that includes the removal of Highlights.
In a new blog post (opens in new tab), Microsoft's director of design for Skype and Outlook, Peter Skillman, says that the team has taken a step back to focus the on "simplicity and familiarity" at the core of Skype's design. From Skillman:
Skillman first highlights the changes to its mobile apps, noting that it is focusing on decluttering the UI and moving to three buttons at the bottom of the app: Chats, Calls, and Contacts. As part of the shift, the Highlights feature is has gone out the metaphorical window.
On the desktop side of things, Skillman focuses on changes to the design to make things easier for those coming from the classic Skype experience. While the modern look is still here to stay, Microsoft has moved the four main navigation buttons to the top-left portion of the window, just above your chats. "Decorative elements," such as the squiggle shape cutout for notifications, have also been removed for a more conservative design. That's in addition to both light and dark themes, along with a Skype "Classic" blue theme, Microsoft says.
"We are listening to your feedback and are wholly committed to improving the Skype experience based on what you are telling us," Skillman says. "We hope this updated design makes Skype easier to use and provides a better Skype experience." While Microsoft is still addressing feedback, you can contribute your own ideas and vote on others at the Skype UserVoice site.
The blog post comes after Microsoft decided to backtrack on plans to retire the classic Skype desktop app on September 1 in order to implement highly requested missing features in Skype version 8. Some of the features currently in the works include split view, improved privacy settings, and the ability to search for a message in a chat. In the meantime, classic Skype users will continue to be able to use the app for the forseeable future.
See at Microsoft (opens in new tab)
Windows Central Newsletter
Get the best of Windows Central in in your inbox, every day!
Dan Thorp-Lancaster is the former Editor-in-Chief of Windows Central. He began working with Windows Central, Android Central, and iMore as a news writer in 2014 and is obsessed with tech of all sorts. You can follow Dan on Twitter @DthorpL and Instagram @heyitsdtl.
Thats cool nobody really used the Highlights feature. But nobody really uses Skype also lmao

350M monthly active users.

How does MS define "active"? IMHO, as admittedly not an expert in this field, I would think that MS would want to use similar metrics to Xbox Live, ala engagement model. 10 active users, each only sending one message per month, is a different indicator of health of the product than 5 highly engaged and satisfied users all using it, and all of the features, every day.

Yeah I believe it. I get phishing messages from random bots multiple times a day if I allow anyone not on my friends list to message me

After using WhatsApp and WeChat extensively, Skype is the only one which gives synched messages on all devices.

The whole Skype sage has such a confused freaking mess. A true case study of how to take a trusted and loved brand and run it right into the ****** ground. Good job guys!

Hummnm. I've been wondering about this. I thought there was a cluster **** of back, and fourth, going on. Did MS ruin Skype?

No. It just became big for being one of the first usable voice/videocalling over the internet services. But people have ALWAYS complained that it's too complicated and not so reliable.

So Microsoft are trying to simplify it and people still complain!!!

They just keep changing things minds, pushing the UWP version, then after pushback keeping the desktop, then changing Lync into "Skype for business" that runs separate from Skype, then deciding against that and moving Skype for business to the Teams environment, pushing Skype on WP10 to be the main messaging app handling texts and Skype, then killing WP10. Skype should have become the single and abvious thing everyone with a Windows machine uses to chat and call, but after all these years it still feels like a work in progress rather than a dependable feature of Windows.

Lync and Skype for business is the same thing, just a re branding of the name. And how that affects you? My company uses Skype for business but I had never use my personal account on it, I use my company's account.

By the wasting of MS's efforts it affects all Microsoft users who deserved better focus on other products, or in this case even other versions of the same app.

Microsoft should have just discontinued the Desktop version regardless rather than drag out it's slow demise, as according to others on here no one uses Skype anyway!!

When Microsoft acquires a piece of software or a whole company (like Nokia) - that is like a guarantee that it will be run down or made unusable. Skype, Wunderlist, you name it. It is more of a "catch and kill" - approach than anything else.

I dunno, Minecraft and LinkedIn seem to be doing alright... :) Mixer isn't terrible either. I agree though, much of the time things don't end well for MS's acquisitions. Here's hoping they can turn things around for Skype.

Yeah I don't think they do it on purpose they just really ****** up with Skype. Especially when WLM was and still is a superior product. In contrast, Microsoft buying Minecraft has been the best thing to ever happen to the game.

People suck! I can't have anything because of all you ingrates >=[

Are they going to bring back proper granular controls?

Too little, too late, no one uses Skype anymore... 😞

For kids, sure. You have Snapchat and countries with emerging markets use WhatsApp. WhatsApp is barely used in the US. Skype otoh has 350M monthly users, so your claim rings hollow, sorry.

Europe is now an "Emerging market"?...

No, Emerging Markets use WhatsApp does not equal to WhatsApp usres are from emerging countries. Logics. That's all. Still strikes some.

I still use skype, true, a lot of people I used to chat to on skype have moved to Facebook messenger. but i have never used FB messenger for voice, but with Skype I do. Great for chatting to someone in another country with no cost.
I do not use Whatsapp or any other messenger system, as i said to people they can contact me via, FB messenger, Skype, normal phone call, SMS or even Email, that is more than enough.

If that's the case then why did users complain when they tried to do the respectable thing and kill the ancient Desktop client!!?!

Is it just me or have all the bots in Skype stopped functioning? Skype has also vanished from IFTTT.

I hope all the bots have stopped working. What is this thing about Bots? By all accounts Ms have them in Yammer as well.

Why? Conversational computing is the next, next paradigm. Mobile computing in the form of smartphones will remain the defacto point for computing until battery tech catches up and graphene is the new normal.

Dan, do you have any insight, opinion, or insider talk or news from your sources that can give us ANY indication of plans for Skype or what direction they are going in? What does Skype look like this time next year 2019 going into 2020?

I hope they concentrate their efforts on increasing functionality such as the ability to move my video picture to anywhere on the screen on certain app versions.

As long as it's the UWP version only then that's fine.

I know I was just complaining about how MS keeps messing with Skyoe, but how would it be received if they made Cortana (also?) a default contact in Skype? Makes 'her' seem more like a person.

And here we go...again. Honestly, what a mess Skype has become as they constantly chop and change their minds about everything. People may claim 'Oh but 350 million users', but as Brad Sams has said, it's stagnated at that number for years now, while the likes of Whatsapp usage dwarfs it.

Good, my family using Skype didn't like the changes with Highlights. What's the Skype situation on Windows 10 BTW? Is the UWP Store app (which is currently split between 12.x and 14.x branches) still the end goal? Or is the NEWER 8.x desktop installer available at skype.com (replacing the classic 7.x) becoming the developmental focus? I note that Windows 10 users can download 8.x directly now, whereas before the desktop installer was hidden on the site's d/l page.

What's Snapchat Stories? Remember, some of us still have Windows phones...

It's the stories Snapchat tells you via a computer generated voice and video about whatever is happening around you. It gets the videos people around your location posts and put it in one location. So yes, people can see whatever kinky stuff you send to your partner. 😉

Maybe I am not set up correctly but why do I not get skype updates automatically as part of my Office 365 subscription when I get 60 minutes of calls thrown in? To get the latest version I have to reinstall it from the MS store. Seems dopey or is it nadella's way of just making me consider moving to android alternatives? As it stands fb messenger seems to do everything I need so this update thingy is just one more reason to drop ms.

I use Skype all the time for video chats, messages and sending/receiving data while chatting.
I still don't understand why MS needs to reinvent these basic functions of Skype.....

They're just trying to go after Facebook, Snapchat and Twitter.
Windows Central Newsletter
Thank you for signing up to Windows Central. You will receive a verification email shortly.
There was a problem. Please refresh the page and try again.