Skype Preview update appears to be causing crashes for some users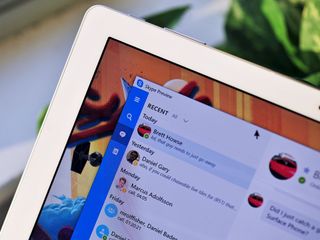 A new update to the Skype Preview app appears to be causing it to crash for some users. Reports from users indicate that the updated build, which comes in at version 11.10.146.0, causes the app the crash on startup after installing.
The update appears to have rolled out overnight, and we've since received numerous tips about the issue. A number of posters on Reddit and AppRaisin are reporting the problem on both PC and Mobile as well. Curiously, the crash isn't impacting everyone equally; some users are able to get the updated app to run just fine (as has been the case here).
We'll update this post should we hear anything from Microsoft on the problem. In the meantime: Have you been experiencing issues with the Skype Preview app crashing following an update to 11.10.146.0? Let us know in the comments!
Thanks to everyone for the tips!
Download Skype Preview from the Windows Store (opens in new tab)
Windows Central Newsletter
Get the best of Windows Central in your inbox, every day!
Dan Thorp-Lancaster is the former Editor-in-Chief of Windows Central. He began working with Windows Central, Android Central, and iMore as a news writer in 2014 and is obsessed with tech of all sorts. You can follow Dan on Twitter @DthorpL and Instagram @heyitsdtl.
Broken for me on my PC and laptop. Works on my 950 XL at least. PC and laptop are RS1, Mobile is RS2

PC and Mobile both crash - release preview. Amazing they could let that happen on such an important app. Very disappointed.

It's Microsoft. What do you expect.

Hasn't worked on my 950 since it came out. Skype worked fine. Sp has only opened once. Even tried reloads and different phone profiles and phones, I think it messed up my account

Skype was a rock solid, useful app for. Skype Preview has always been a piece of junk for me. Video quality took a nose dive and even connecting is a crap shoot.

Broken for me too. Wont open on PC or Mobile.

Broken on my 950Xl release preview

How can a world-class software company like Microsoft do this? I mean regardless of Insider, Preview, Beta... Crashing for so, so, so many users like this is only acceptable for Alpha software.

Yup. Crash galore. It's unusable and i went back to the reg messaging app. Mobile and PC.

Same. Uninstalled for now. Frustrating.

I did that as well. Unfortunately even after uninstalling I receive text messages but cannot send. If I reinstall I can't do either. Some hooks must be left by the app and it kills text messaging.

Go back to settings, and select the regular messaging app.

Works OK on my PC and 950XL :-)

Imma try now and let y'all know.

I must have gotten lucky, mine still works fine. It did, however, reset my Microsoft Messaging app back to the default. I had to switch it back. Overall I like Preview, but it must improve for dual sim functionality. It steadily sends messages from the wrong sim, regardless of me choosing the correct sim each time, which is annoying in itself.

Yes, I also received this crash bug, the app can not sign in with my ms account! Very annoying....

Crashing for me too! Actually I was trying to start app on mobile and pc, reinstalled it, and came here to look if I hopefully wasn't the only.
Let's hope get fixed soon!

Won't work on phone or PC with latest update. Using the latest anniversary update build. Have uninstalled, restarted, etc. No go.

Crashes on my Lumia 950, but works on my Windows 10 laptop.

Yep, crashing on Mobile & PC. Both are up to date, Release Preview.

Crashing on my Lumia 830. Works on my Dell XPS 15 9550 running Windows 10.

Ita crashing on my Lumia 950 this is crazy!

I have 11.10.145.0 in my Surface Pro 3 and it still works. I have 11.10.146.0 on my 950xl and it crashes every time i try to open it. I just checked via the store on the surface and it says there are no updates so .146 must have been pulled.

I just re-downloaded on my 950 and it still installed 146

Broken bad. Not only does it crash but because I used it as my default SMS client I can't send or receive texts anymore. Even if I uninstall it and use the default messaging app in WP10. Lumia 950 on AT&T

That's odd. I installed and removed a few times. (not installed at all right now) and I have been texting with my wife since then just fine.

With the app uinstalled nothing sends and nothing received. With the app installed I can at least receive messaqges but cannot reply. Even though the messages say they are sent it never goes out

Sorry, this may be a stupid question. You have rebooted since removing, right?

Repeatedly. It seems I have gotten texts to work again with the default messaging app but had to do a soft reset 3 times to get there. After this I am weary of ever installing Skype Preview again.

You can change the default messaging app back to Microsoft Messaging in Settings. Either that or you can remove the Skype Preview and it should return to the default setting of Microsoft Messaging

I actually don't see the setting after the last build for some reason.

It's in Settings>System>Messaging under Default Apps.

That's what I thought. The setting isn't there at all for me right now. No dropdown of any kind.

Unable to sign in from the web browser too. I think the app is crashing because of server issues.

Yep, I thought this too. It seemed to be a sign in issue. A few months ago my wifes 1520 was doing the exact same thing, my 950 was not. What we determined is that her desk at work is a little limited on cellular data (not bad, data works), and when she tried launching the app, it would crash at sign in. At home on wifi it was fine. Moved her the the app a week or so ago and has been fine. It is still working fine for her now. Not sure if it updated the app for her or not yet though. I assume not being that she is on cellular.

I can log in from the browser so this can't be a server issue.

Works fine on my PC and 950XL, albeit video messaging doesn't work. Vido fine, no audio. Recipient gets "Video not found" when I try to send it to them.

Yup something overnight borked it on my 950xl release preview :(

[title]... as does Twitter, Windows Central and others. (might give mine a reset).

Funny thing is: it took two WC app resets to post that comment.

Working good on all my Windows 10 devices. All are on AU.

Slightly off subject, but why in the heck is Skype not offered as an option for 'default video calling' in Windows 10 Mobile settings? This is their own product for crying out loud. Stuff like this is embarrassing and what is killing them.

It also doesn't show up under "share," so it is definitely a preview - not a finished app.

Ok, then leave the old app up so we can use it as a default.

It crashes for me on Mobile when I try to use Video calling. Audio would work, but no video. And when I would try the video call again, the app would crash and I couldn't do anything. Had to reboot my phone, and messaging was all messed up until I rebooted yet again.

Crashes on both PC and Mobile for me. Gets to the splash screen and then just dumps me back to the Start Screen on mobile and just exits the app on PC. There are posts on the Skype community as well.

Broken for me. Even and uninstall and re-install didn't work.

That's why its good not to pull all of your eggs in one basket. Although I use other messaging services like what'sapp and more. Most of my friends, family, and coworkers use skype. And I'm the only one who's missing messages. Having to tell everyone to text me. I have a Windows phone, and I'm the only one who's having problems. Boy when it sucks, it really sucks!

I've also found that this IS an issue with the Skype app itself and not the update for Windows 10

Looks like they just updated the app. Works for me, both mobile and PC now.

Same here! I just downloaded it again and it's working now.

There's a new update 11.10.147.0 works now

and there's no way to rollback and they don't push the older version when they notice something like this, THAT is what I find unacceptable, now I got a useless phone

I uninstalled it yesterday after the update as it wouldn't launch but had been planning to anyway as after the last update it started unlinking contacts so some would show up as separate Skype and SMS contacts while others would still be merged but it wasn't possible to send them SMS anymore. And, and a bunch of contacts stopped showing their names and instead just numbers. Such a shame as if all the features they're adding recently actually just worked it would be a decent messaging app.

Saw the issue on a Lumina 640XL but strangely it still worked on the PC. New release has just downloaded and the issue is fixed.

No issues on my Laptop, 950XL, nor my Desktop at work. In fact I like this update very much, as it brought back the ability to edit the last sent message by pressing the up arrow key.

So, I got an update to .147 last night on both PC and mobile. It solves the crashing issue on my Surface 3 and Lumia 640. It seems WC aren't interested in reporting this crash-solving update (I notified them over 12 hours ago), so I'm posting it here.

It's been a much better world after ending my trial of SMS relay in Skype Preview. Even uninstalled Skype from my Lumia. Messaging app on Windows Mobile is just so much more stable. I do miss texting on my desktop, but definitely not worth the headache and mess with contacts/convo sync. Ugh. Getting flashbacks as I type this.